A call from Mary Kelly a worker at the Ithica SPCA on August 2, 2006 asking me to call her.

I was told 4 ferrets were surrendered on July 31, 2006 to the Tompkins Co SPCA, who did not have room for them. She was asking if I could do anything to help? I offered to take them in here. Nicky T. went to the SPCA to pick them up. Nicky, Mike and I met in Cohocton at the 390 exit at 6:30 PM on August 2nd for transfer from them to me.
Updated: December 15, 2011
Mau earned his wings this afternoon – he is now whole and dancing on Rainbow Bridge
Shelter mum
From Mau's far away mom

Oh Brenda, I am so sorry to hear that he is no longer with you. Mau was so lucky to have you to take care of him. These little fuzzbutts are such fighters. They really grab onto and make the most out of their time here with us. We fight so hard to keep them as happy and comfortable as we can....but the illnesses they come down with can be so nasty.

Thank you for letting me know. I'm sure my Chip Chip welcomed Mau with plenty of dooking and weasel war dancing... I'm glad he was able to open his Christmas gifts. I am so sorry for your loss. Michele
Updated: August 9, 2011
Hi far away mom – mum let me open the box you sent me – I was not feeling good this morning but I was feeling better so mum let me check out my presents before she put me back to bed – take a look at me checking the things out – thank you for my presents – thanks for helpen mum take care of me – I love you Mau
Updated: July 31, 2011
Brenda, I just read about what has been going on at the shelter. I am so sorry that you have lost so many little ones. The rest of the fuzzems are so lucky to have a shelter mum like you to take such good care of them. After reading your updates I do believe that your hard work and love are what has kept so many more of them from leaving this world. I am glad to hear that Mau is doing better. I do have his "coming to the shelter anniversary" gifts to send him (in place of his birthday since we don't have a date). I will send them out this week to him. I hope things resolve themselves soon..I can't even imagine how exhausted you must be. Give my love to all the little ones and please know that you are all in my prayers.
-Michele
Updated: July 28, 2011
Mau has brown poo – he is still on Albon in his morning soup -
Update: July 27, 2011
Mau left a huge pile of green slime – I have added Albon to his morning soup - he was having trouble walking this morning – he is acting like he does not feel well - he is a concern because he is more compromised then most - he has insulinoma – so if anyone is going to have an issue it is going to be Mau – I am watching him closely – he is still willing to eat his soup so that is a +
Update: April 24, 2011 - Easter
Hey far away mom – look at us – thanks for our Easter Presents – we love you

Mau and Marshmallow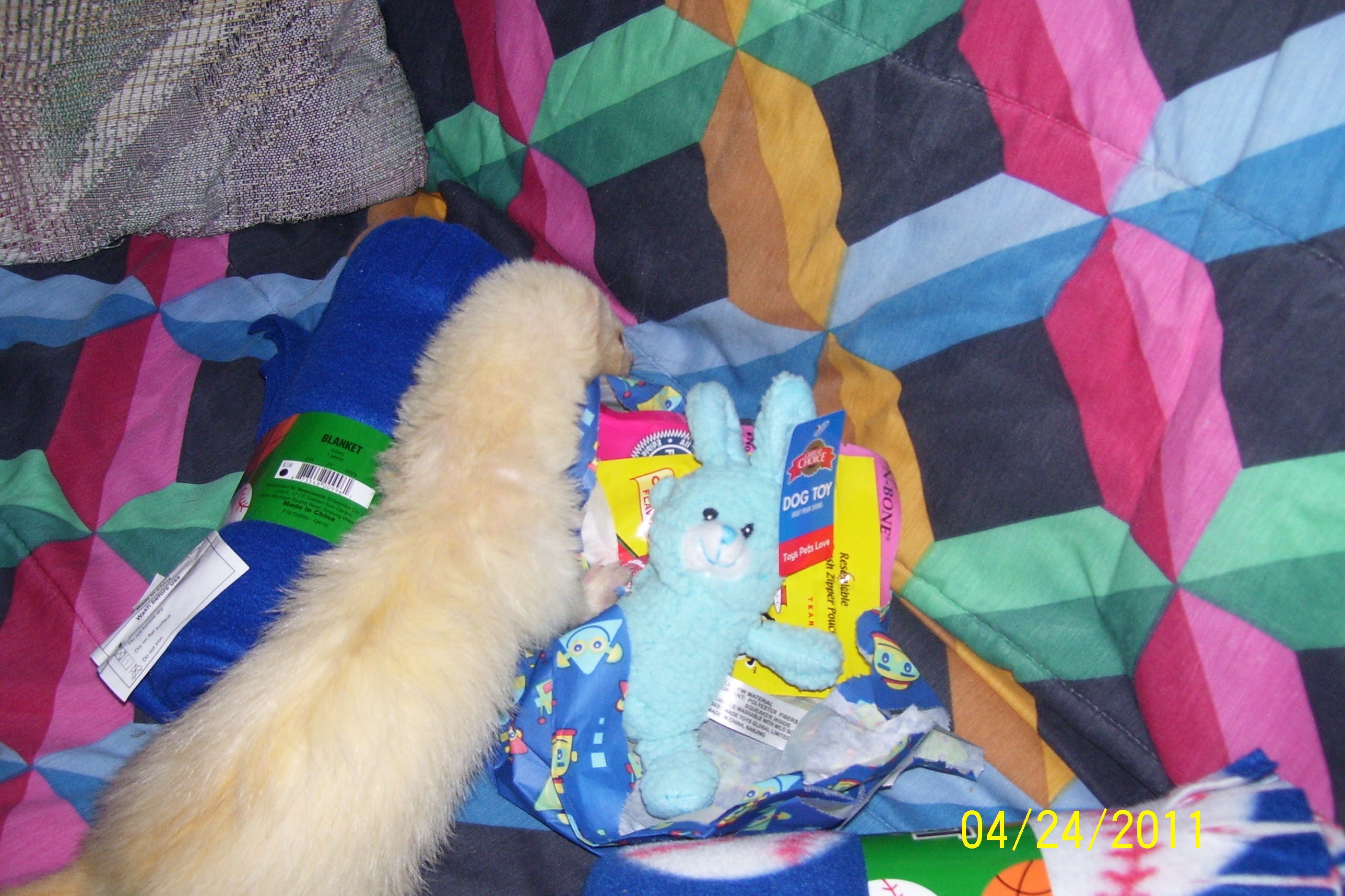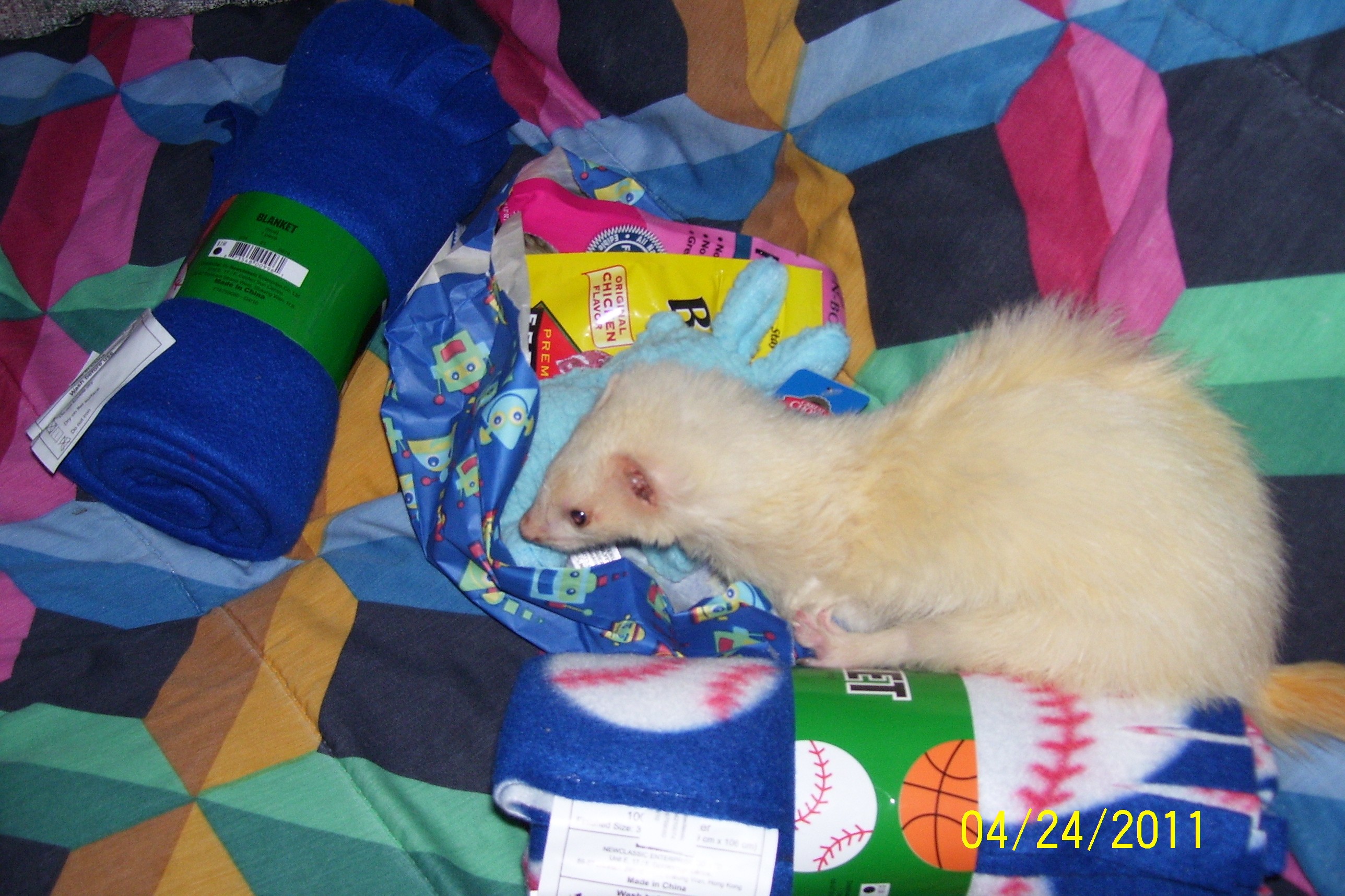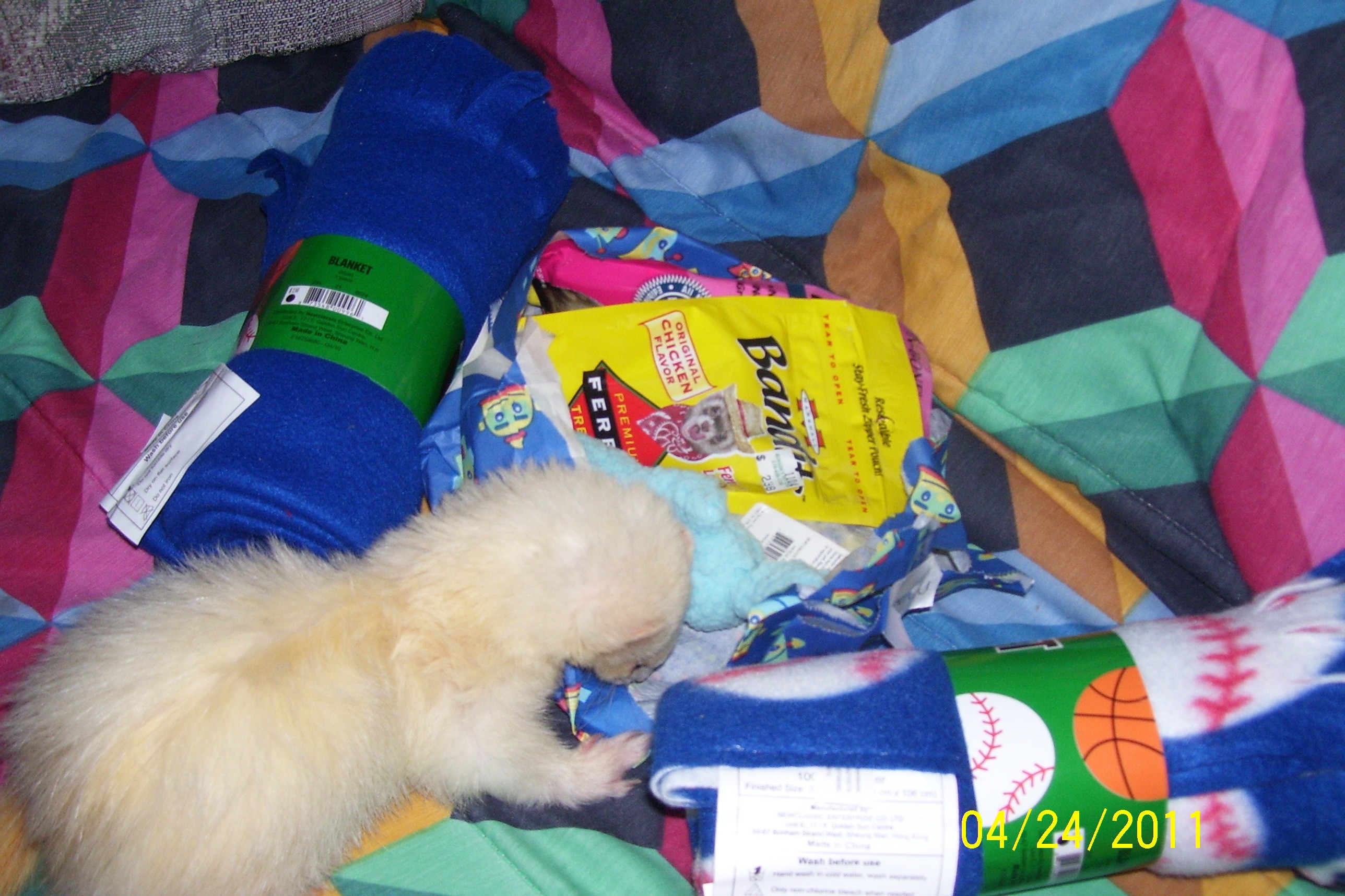 Update: December 29, 2010
Hi Mau and Marshmallow,

Hey far away mom – merry Christmas – we love our presents – wow you sent us lots and lots -

I was so happy to see the pictures of you guys opening your presents on your mum's website.

Yup! Yup! Yup! Miss Mindy is working hard to get everybody that got presents up on the site – mum finally got them all taken – mum says we are all so spoiled we stink -

I hope you enjoy them.

We love them – you pick the best presents

I'm really glad that Teddy was able to open a present.

Yeah mum likes to make sure any new kids that come in get something

No ferret should go without presents on Christmas!

Hummm that is what mum says too

I wanted to wish the two of you and your mum a Happy New Years! Take care little ones.

Thanks we want that for you too tell our cousins we said hi and we hope they had the same kind of awesome Christmas we did – Mau and Marshmallow

-Michele
p.s. Axle, Chip, Chloe and Romeo say "Dook dook and hi!"
Update: January 3, 2010
We had been wanting to help out some shelter ferrets but until coming to your site hadn't really known how to go about it. It is the least we can do to help out with these little cuties. We hope that Mau, Marshmallow and Bear II are all enjoying their gifts. Our fuzzies had a wonderful Christmas and have added even more to their toy chest (actual children's toy chest) full of toys. They're worth it though! Again, it was a pleasure meeting you and we are thankful for your hospitality. Please tell Mau and Marshmallow that we said hello.
-Michele
Update: December 26, 2009
Mau and Marshmallow's far away family came to play!

Hi Brenda,
Thank you so much for your hospitality. We enjoyed meeting each of the ferrets. James especially had fun playing with Delilah. I forgot to explain one of the gift bags. In one of the bags was a ferret shirt, hanging tunnel, and itty bitty cuddle cup...these are all gently used (washed) items that I figured you could add to your used inventory on the website. Also, there is a large fish tunnel that is for all the ferrets to share! Thank you again for having us, we enjoyed our visit immensely. Please tell Mau and Marshmallow that they are even more adorable and sweet in person.
-Michele and James

They brought presents for Bear II and Snowy-Bowey too. As well as a bag for all the kids here.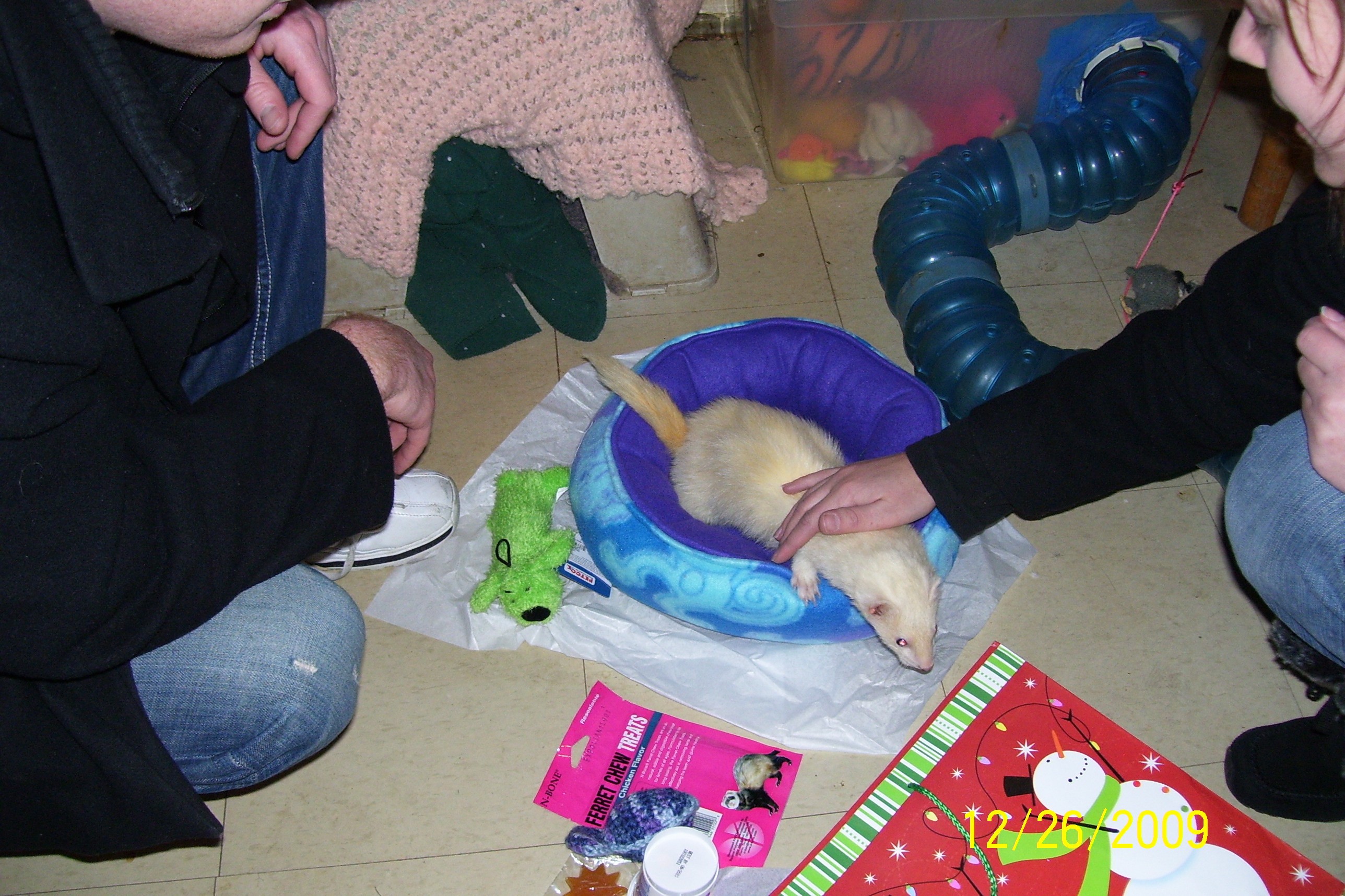 Mau's Presents From His Far Away Family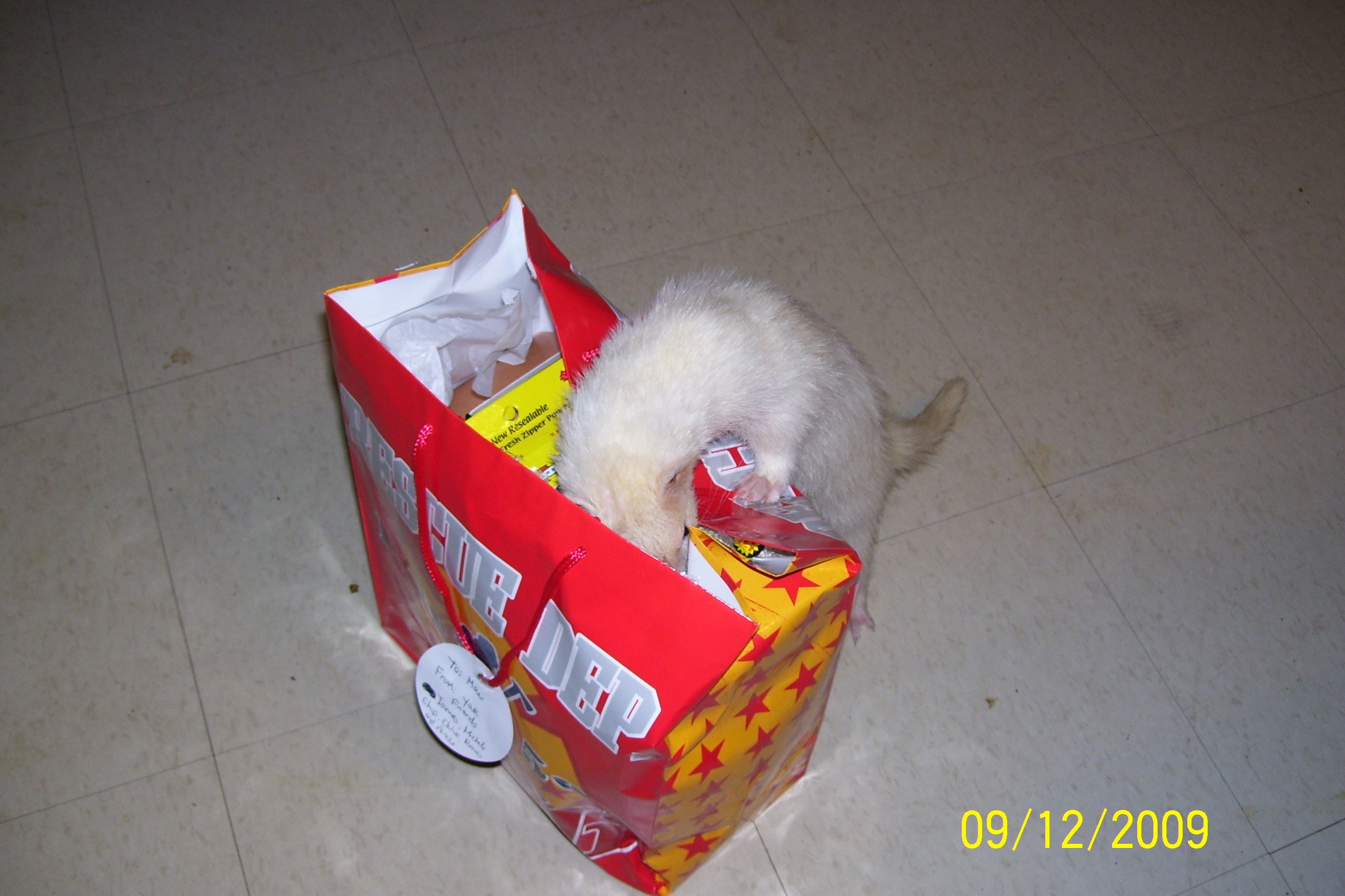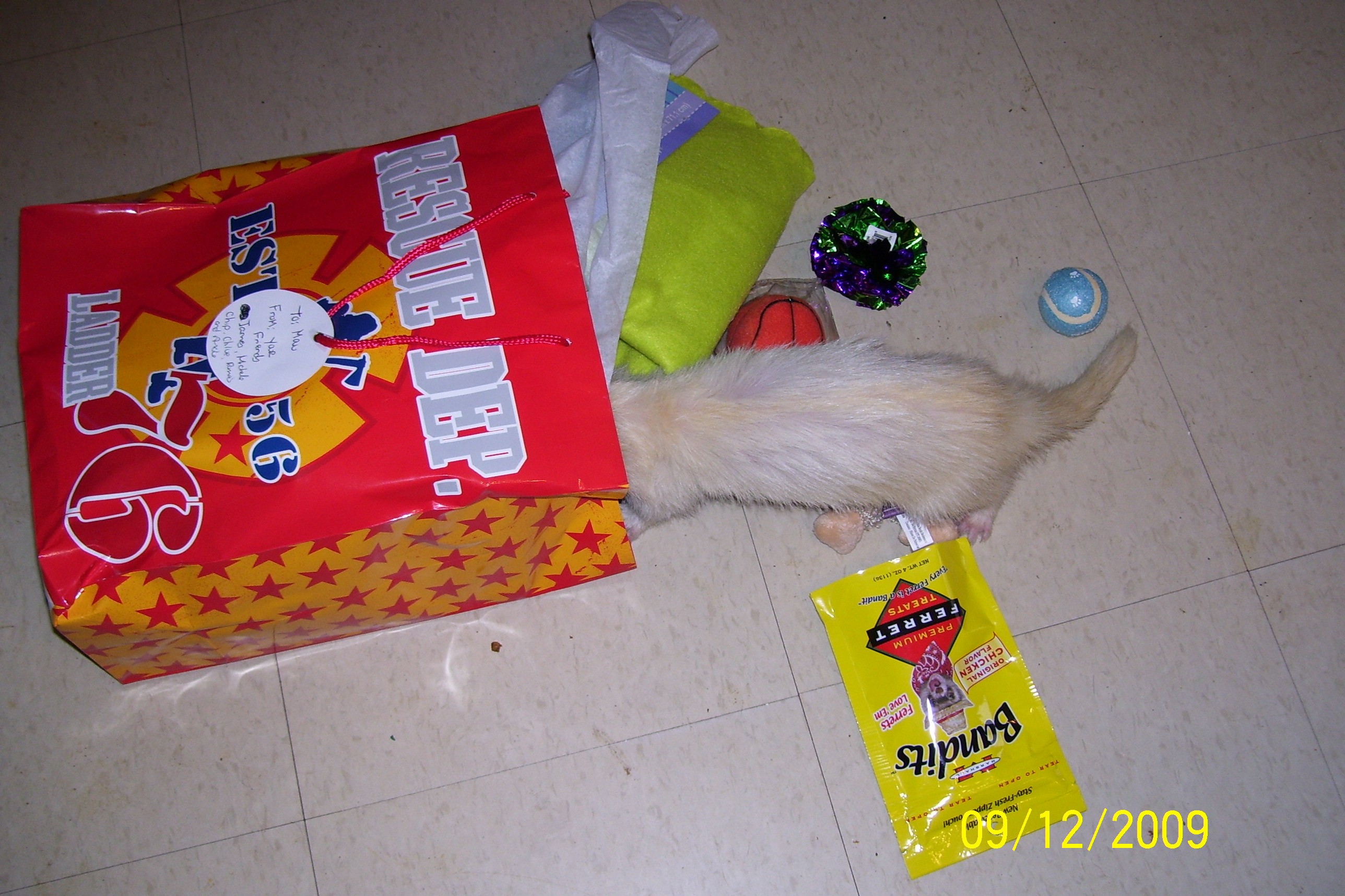 Christmas Gifts 2010
Hey far away mom – we got our presents you sent - The present for the shelter kids mum let Teddy open – he is new here and did not have anyone to buy him presents so she let him open that package – when he got in it – it made noise – he jumped off the couch and ran to hide – once he found out it was not going to chase him he thought it was a cool present – Mau – Marshmallow - Teddy