Tinker Belle AKA Tinker Stinker

Tinker (Stinker- meant lovingly)
Arrived at the shelter on August 13, 2006

Tinker earned her wings on October 3, 2011
I was contacted by friends that live in the Bronx N.Y. area early in August of 2006. These shelter friends know I work with and rehabilitate ferrets that bite. I am of the opinion that all animals bite because humans have caused them to do so, for one reason or another. During rehabilitation I pay close attention to what causes these little ones to be so fearful of me and others, what makes them bite to cause harm.

Tinker's story: Tinker was found by a woman in a New Jersey park running free. Carol captured this little girl, took her to the vet she uses to be cared for. You see Carol is not a ferret owner, but knew enough about animals that this little one would not survive if left to her own devices.

This vet clinic is the same clinic that my Bronx friends use for their ferrets. The clinic called the Bronx couple to see if they would take Tinker. Maria and James agreed to come get this little ferret girl to call as their own.

It became very apparent, very quickly that Tinker Belle was not going to have any of it, she would bite to draw blood no matter what these folks tried to do for her. Maria and James know I work with these little Dracula's so Maria contacted me to see if I could help. They were so thrilled that I had room and was up for another challenge they drove the entire distance from the Bronx to Naples to deliver her to me.

Tinker got here on August 13, 2006. Within days I knew she was fearful of anyone putting their hands in her cage. I would suppose the first time the original owners tried to get her up she bit them and they hit her, so when I stuck my hands in her cage she would bite to the bone letting me know she was not going to be hurt again, or come out of her cage in my hands.

My challenge has begun. I had to first teach this little ferret she was not ever going to be harmed and if she did not what my hands in her cage that was okay with me, I would wait until she was good and ready to disembark from her cage in her own time.

I would stand in front of her cage with a bottle of Ferretone and wait. It did not take long for Tinker to realize coming out of the cage to my hands was a good thing to do.

It took me about a week for her to realize she was not going to be hit when I was at her cage, she was allowed to make her exit at her own pace. Not too long after Tinker came here; Kristie one of our shelter friends that had been here when Tinker came to live here; watched as Tinker came to her cage door and gave me kisses on my face before she walked into my hands to get up for play time.

The Ferret Depot helps me to help these ferrets. Without the Ferret Depot's help, I would not be getting the word out there that there is a way to fix the little ones that need fixing. I spend hours on line teaching far away families how to make their ferrets feel safe enough not to bite.

Tinker Belle will now allow my shelter help to pick her up, play with her and occasionally she will kiss them too!
Updated: October 3, 2011
Tinker has earned her wings.
Updated: August 6, 2011
Tinker Stinker was bouncing around waiting for her soup
Updated: August 4, 2011
Tinker Stinker did more dancing and chasing this morning than she has in a very long time so she is feeling better.
Updated: July 18, 2011 - ECE Outbreak
Brooklyn is still with us – Dexter is now suffering black poops – as is Tinker Stinker – we have 8 cages tagged with suspect tags – 2 of which we have marked confirmed –
Christmas Gifts Picture - 2010
Hey Mr. Tim – I got to open my presents today - I love what you sent us – oh Milo Stevie and Sugar came to our shelter just a couple of weeks ago – so we decided we would share our presents with them – we hope you do not mind – pictures on the way – Tinker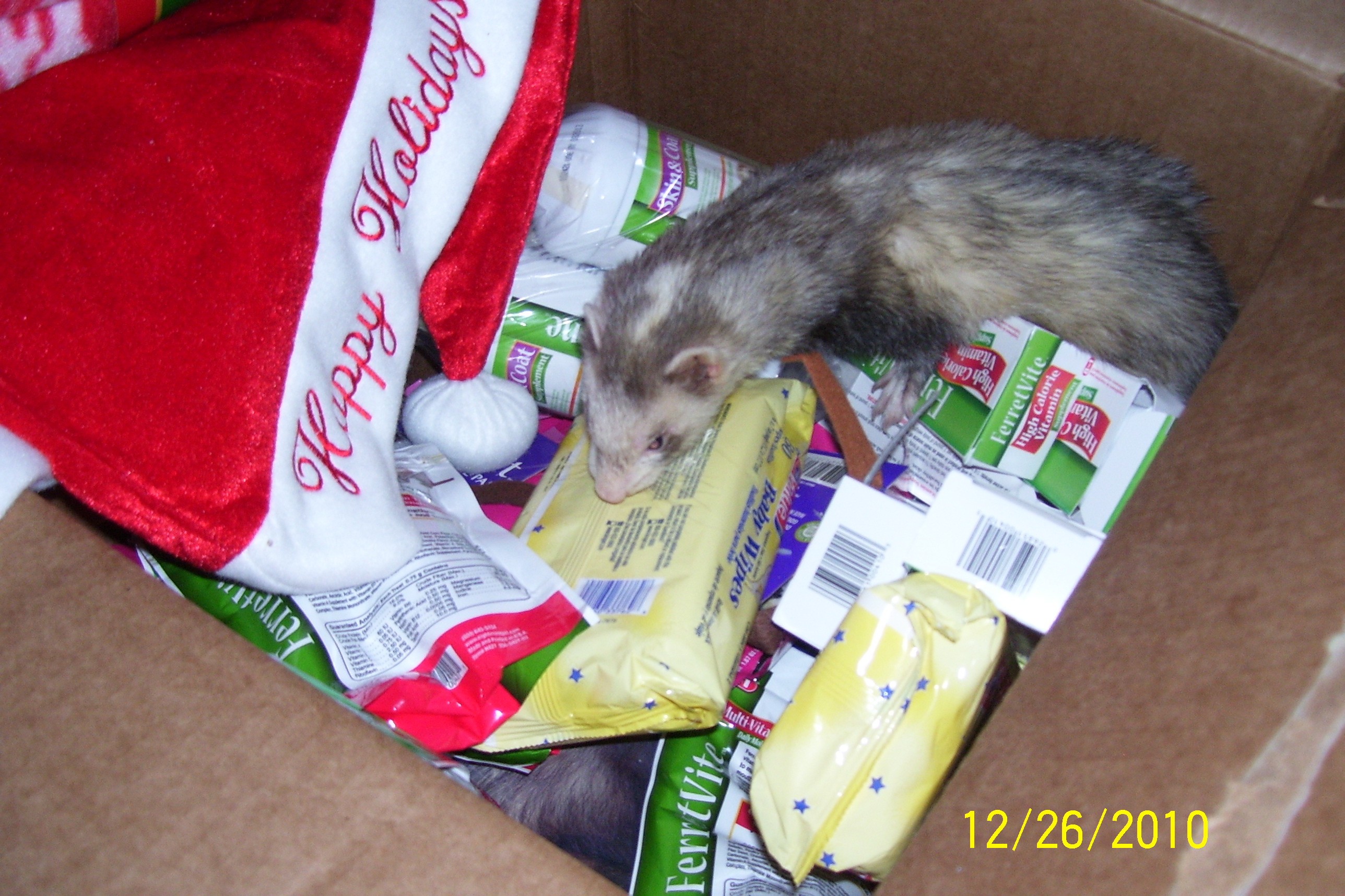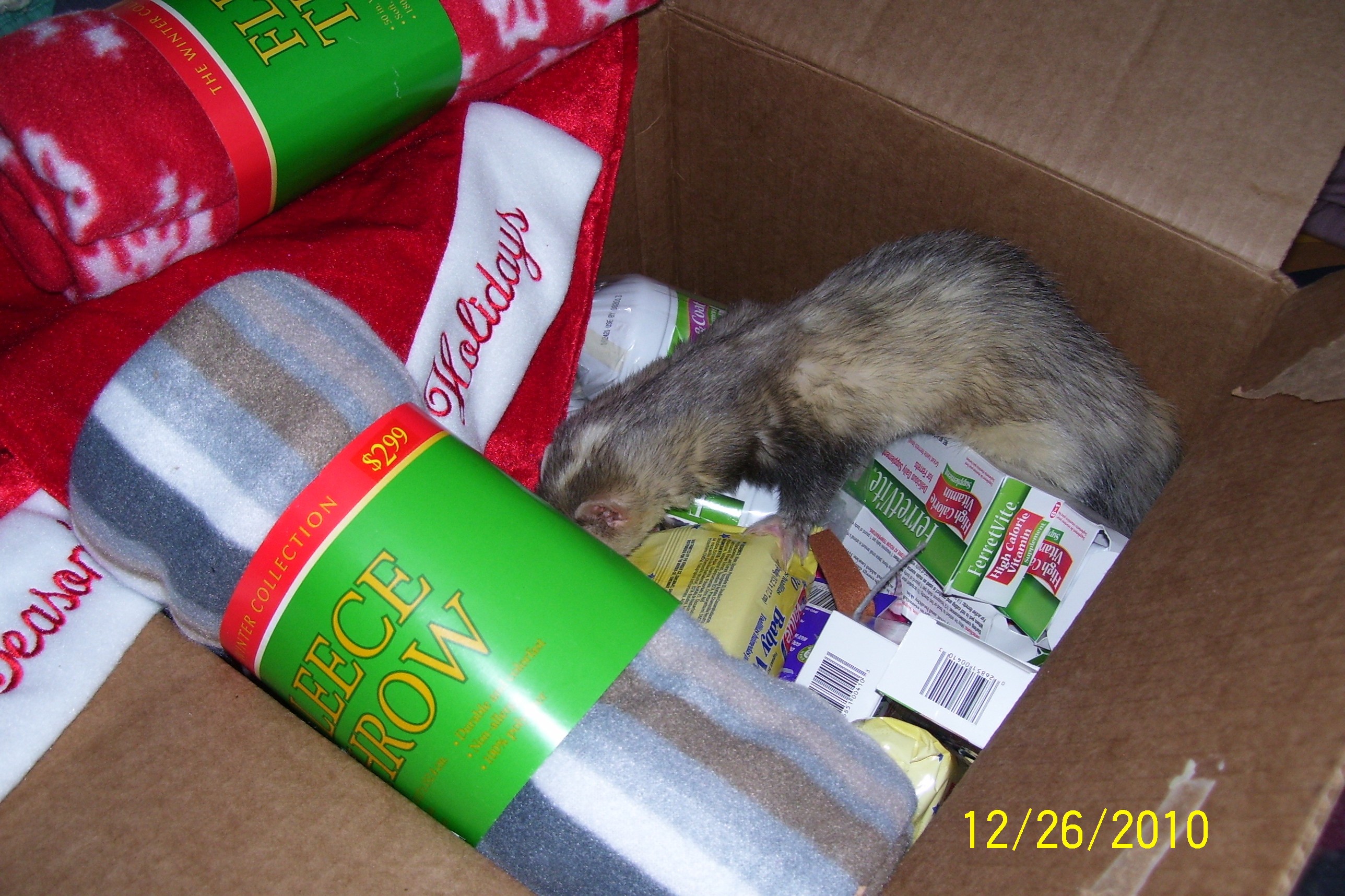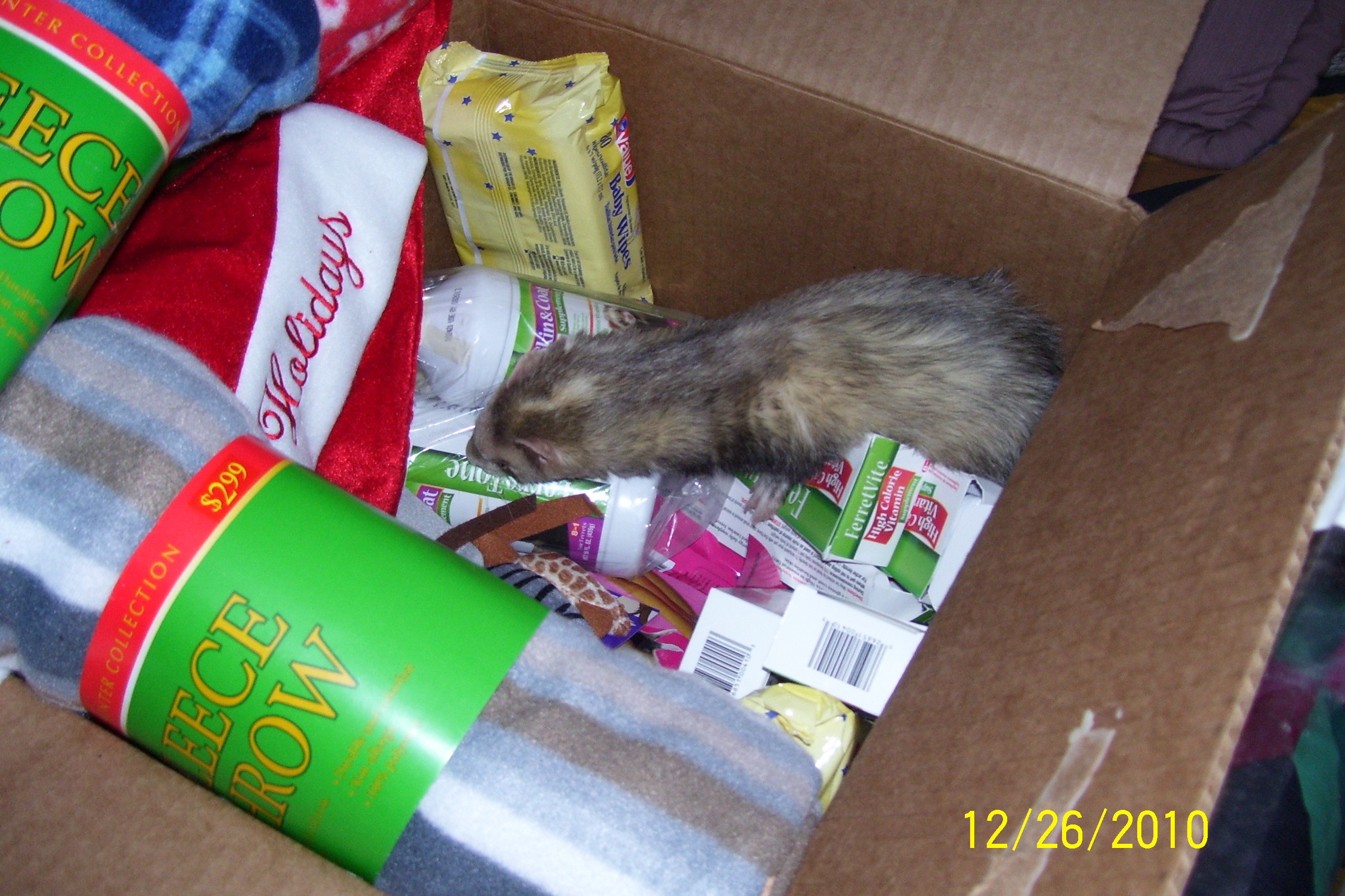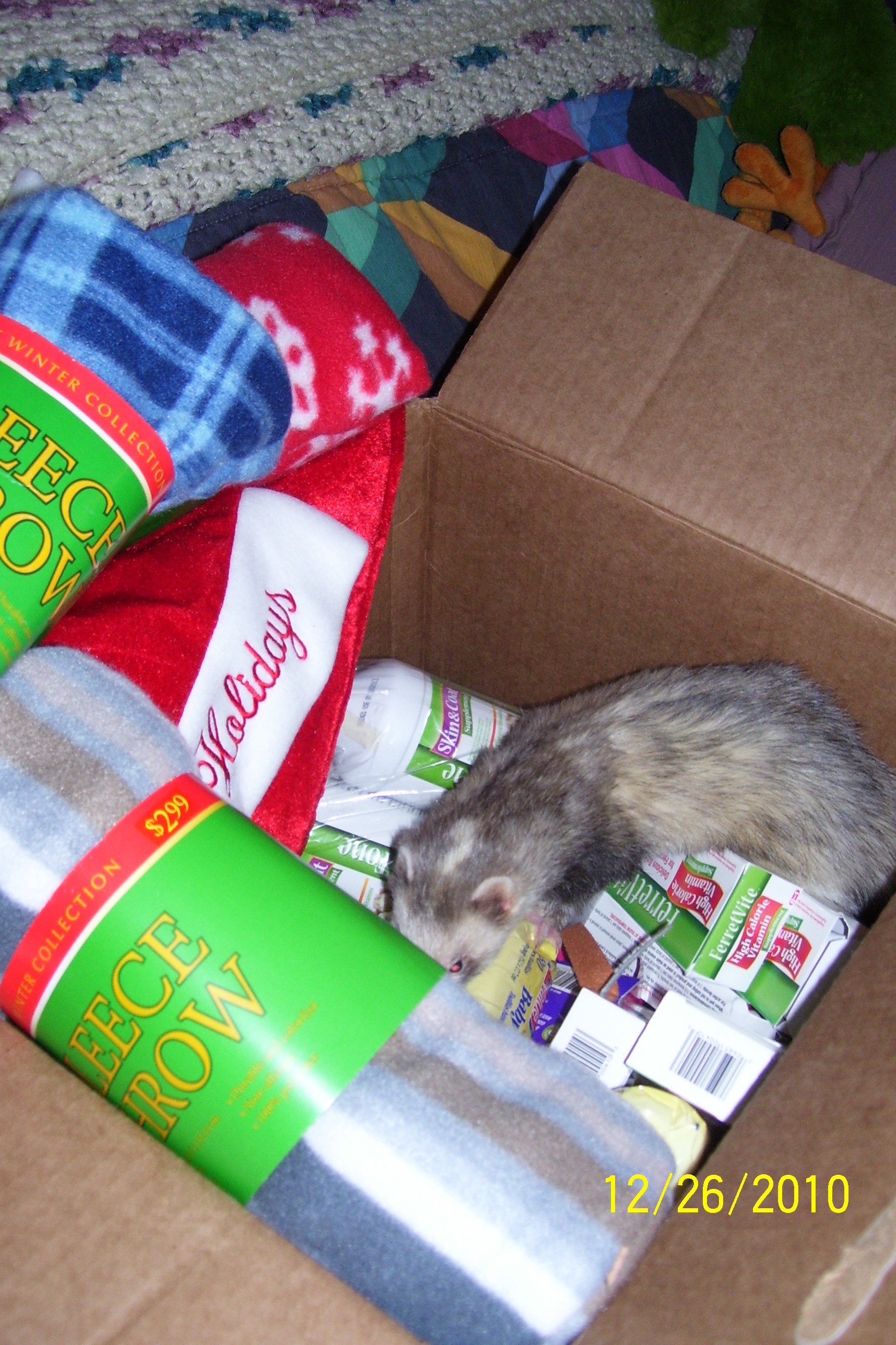 Christmas Gifts Picture - 2008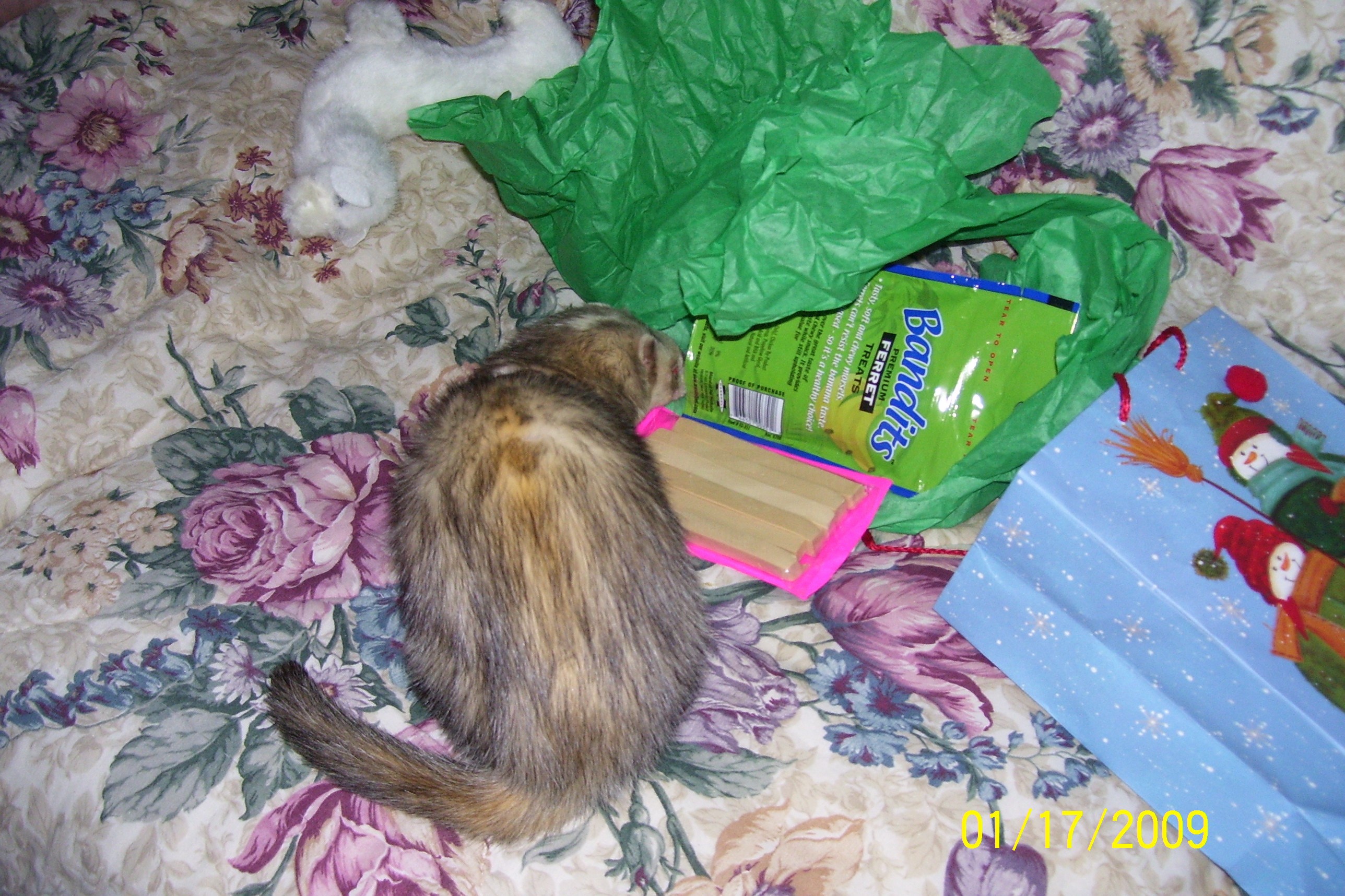 For Tinker from Kristie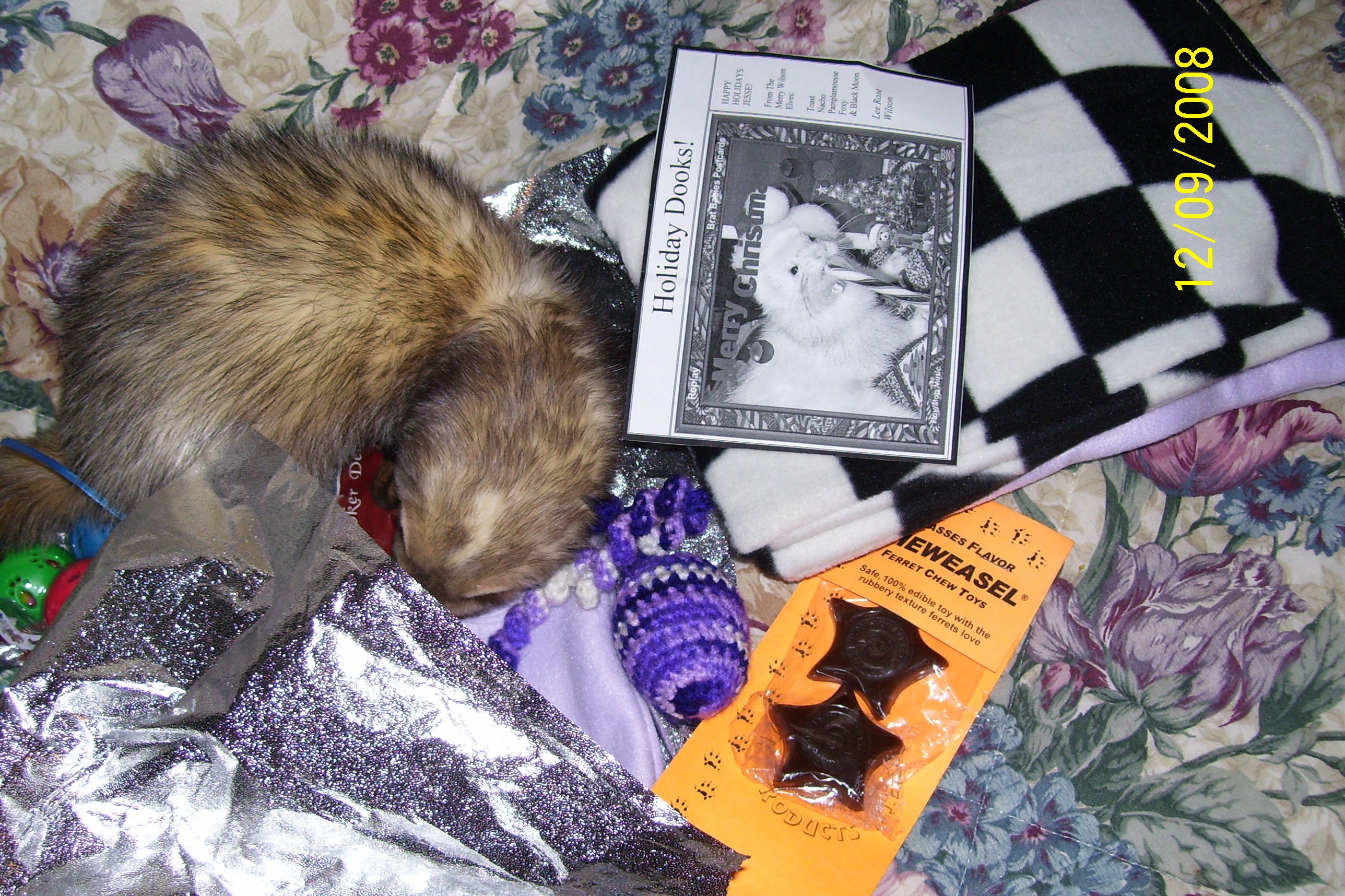 For Tinker from Lee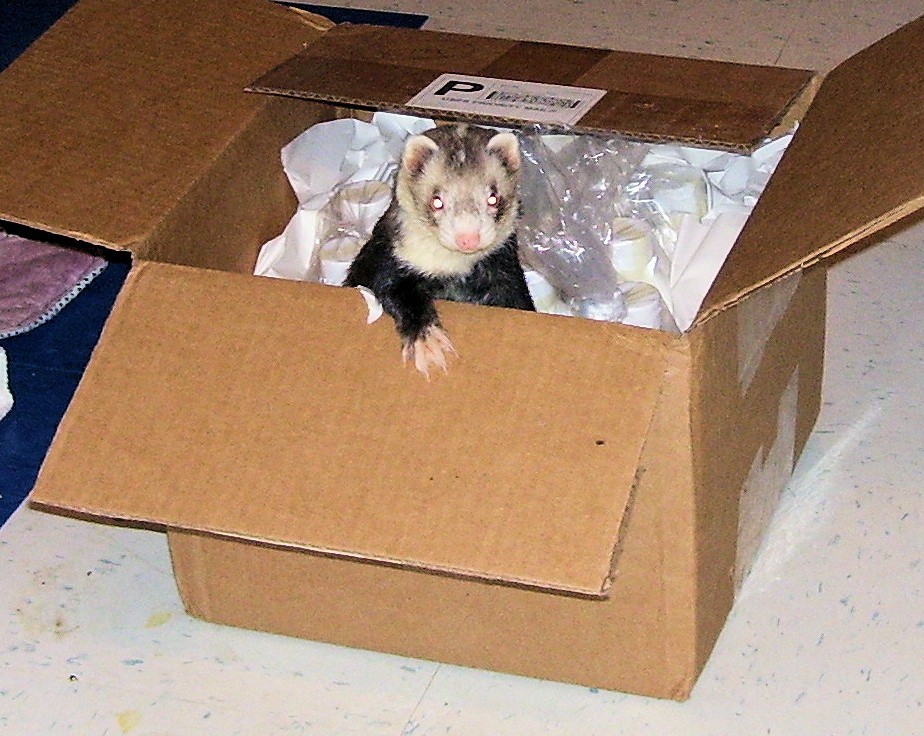 For Tinker from Walker