Welcome to Lakeroad Ferret Farm Rescue/Shelter, Inc.
Bjorn, AKA Bain & Silky

• Surrendered to the Shelter on September 10, 2016.
• Bjorn, aka Bain is a male.
• Silky was a male. He died on March 10, 2018.

• Would you like to Sponsor these two?
• Read about how they arrived at the Shelter by clicking here, or read their latest updates below.
January 10, 2018:
I found Bain doing the flat ferret thing yesterday and then again today when I got home, I took him in to get a BG - his numbers were 45 so he is getting soup with meds with his brother Silky now.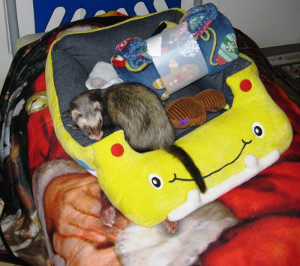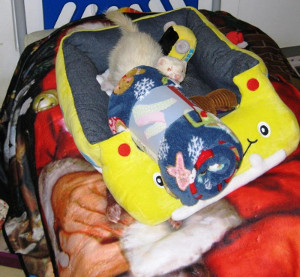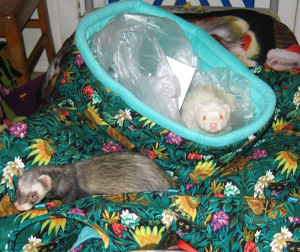 September 30, 2017:
When I was pulling kids out of cages for "out time" yesterday mid-morning I got Bain and Silky up.. I set them on the floor, Silky flopped like a wet dish rag. I watched him for a bit to see if he was just getting his "get up and go" he was not. I got the test kit out to test his blood - it was 30 something - I don't remember now exactly. I gave him a Dex shot. He is now on soup and meds twice a day. He was looking and feeling better by the time I was to do soup and meds and shut the shelter down for the night.
June 25, 2017:
Tina and I got coroplast attached between Raine, Bane and Silky cage, Raine kept taking their blanket from their hammock and pulling it into her cage. She can't do that anymore.
March 20, 2017:
I had put Junior in the kitchen so I set Odessa into the bathroom, saw who I thought was Farnsworth set him in there too. It turns out it was not Farnsworth, Odessa was getting beat up again. I thought maybe I had mixed him up with Jax so I went up to see if it was really Jax in the upstairs bathroom.. It was, I am now holding a ferret that I have no idea who it is, it is getting late I need to get my butt to work. I start looking at room tags, I realize Bain had gotten into the playroom with Odessa and Farnsworth. I put him back into the ferret room with his brother, start looking for Farnsworth he was up top in the sleep box. I got them all sorted out and headed off to work.
December 12, 2016:
Dear Mr. Butch and Miss Debbie, Mum let us open our presents. She took pictures of us so you could see what we chose. I found the coolest crochet eggs. We may have a bit of a problem we all seem to like the blue bed Miss Sandy made for us.. Mum says once she gets all our pictures taken she will put our names in a hat and pick who actually gets the blue one. LOL
Oops - I think I like the tan one best. We will see how this all comes out after Christmas. Thanks for helpen Mum take care of us
Bain and Silky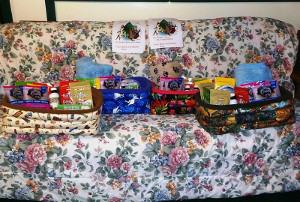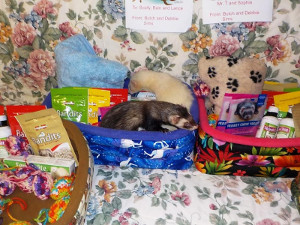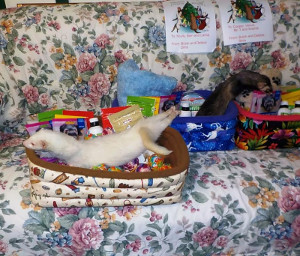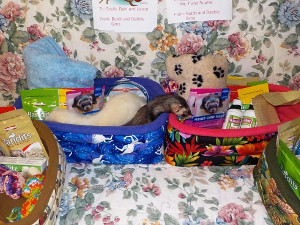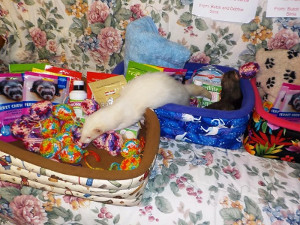 December 10, 2016:
Mum let us get into the box you sent to us from the Angel tree. Mum got pictures of us checking out the stuff in the box. She had to set a bottle of ferretone in the middle to get our attention. Thanks so much for all the filters for all our fountains. Thanks for helpen our Mum take care of us.
Bain and Silky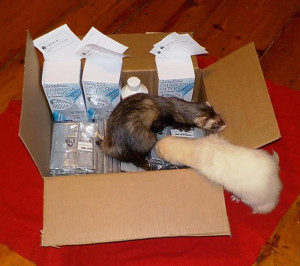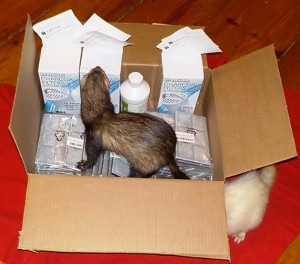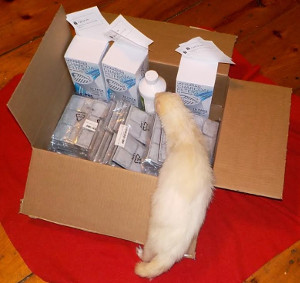 December 4, 2016:
Dear Miss Anna, we love the Christmas box you sent us! Mum took lots of pictures of us checking it out.
We love you!
Bain and Silky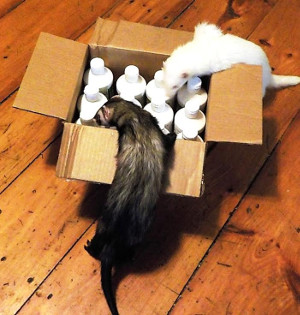 September 24, 2016:
Silky was a bit nippy and standoffish when he came in, I think he had been hit because when I would reach for him he would bite me when I tried to pick him up. This morning when I opened their cage he walked out to greet me and allowed me to bring him out. He still was not ready to stay still in my arms but I expect that is because where they came from they were held not let out to play. He will soon learn that he will get out and about time every day.
September 16, 2016:
The other two ferrets that came in on Saturday came in with the names Bjorn - I have changed him to Bain the second is Silky I can live with that name. I started these boys on soup last night - they took it by dropper and could not get it fast enough.
---
Initial Contact, Owner, September 2, 2016:
Dear Ms. Johnson,
I'm writing to see if you can help us with our 2 ferrets, Bjorn and Silky. My husband bought them 3 years ago at Petco. Since that time, we have moved and he is about to start a new job as a truck driver and will be out of town a lot. We no longer have a room where they can play outside. They have been in their cages since we moved 2 months ago except when we hold them. I've mentioned to him to thoughtfully re-home them on Craigslist, but he is not willing to do that. He read that some people adopt ferrets to use as prey for other animals, and he is afraid of that happening to them. We want to make sure they are safe.
I can bring them to our vet to make sure they are up to date on shots and bring their food and water. We live in Glens Falls. It's about a 4 hour drive. I can drive them over one day. Please let me know if space is available. Thanks so much.
Jacqueline