Welcome to Lakeroad Ferret Farm Rescue/Shelter, Inc.
Bear & Weezely

• Surrendered to the Shelter on August 29, 2009.
• They found a forever home on August 21, 2011! Read their latest updates below.
• Bear was a black sable male. He has left for the Rainbow Bridge.
• Weezely was a silver male. He left for the Rainbow Bridge October 17, 2015.
Bear and Weezely came to this shelter together on August 29, 2009 because their owner was incarcerated.
---
February 21, 2016:
Hi Brenda
Sad news. Bear gave up his fight with insulinoma. I couldn't let him suffer any longer so he went to Brockport Vet. I guess we are done with having kids. We've been ferret parents for 22 years and it still hurts to lose them. I would like to donate everything I have to you: a large double cage on wheels, toys, balls, blankets, all the sleeping bags, hammocks, food, medicine and whatever else I have. Thank you for all your help and for letting us take two of the best ferrets we have had. They will be greatly missed. The house is too quiet already.
Steve
January 02, 2016:
Happy New Year Brenda!
Bear is still hanging in there, so we need more duck soup please. Let me know how much and I'll get a check out to you.
Steve and I hope you have a wonderful 2016.
Chris
October 19, 2015:
Hi Brenda
Hope all is well with you. I have sad news. Weasey finally gave up his strong fight with insulinoma. He fought a long and hard battle and hated the meds but they did help. I had to take him to Dr. Edwards on Saturday. I couldn't let him suffer anymore. Poor Bear does nothing but sleep now. He is definitely lonely.
I will keep in touch with you.
Steve
June 17, 2015:
Hi Brenda
Thought I better update you. Bear is doing pretty good. He's still bloated looking but seems healthy. Had a good checkup in February. Wease is back on meds for insulinoma. Not losing weight
But some days the meds don't look like they help at all. Some days can't walk or control body functions. Most of the time he is pretty normal and active. Been seeing Dr. Edwards monthly.
How are you and all your fuzzy kids? Hope you are all well and healthy
Steve
March 8, 2015:
Hi Brenda
It's been quite a while since I've up dated you. Sorry about that.
The kids are both slowing down a bit with different things. Bear seems to have the spleen problem back again with his belly swollen on the left side like last spring. Doc wasn't very optimistic for him, but he's still here and tries hard to play but it doesn't last long.
Then there's Wease! He runs most of the time but is having more and more trouble because of the way he gallops on our slippery floors his legs slide out from under him constantly. He then just lays down til I pick him up. Don't know if it's arthritis or an old injury. His limp has gotten worse over the years, but he still follows me around like a puppy.
Wease really likes that duck soup that I got from you, but Bear still won't eat much of it. They both eat it but Wease would eat it all if I let him. I'm just about out of it and wondered if I could buy some more from you.
I've got a great picture of them curled up together in their cage, but I haven't figured out how to send pictures yet from my new smart phone. As soon as somebody can help me out, I will forward to you.
Best regards,
Steve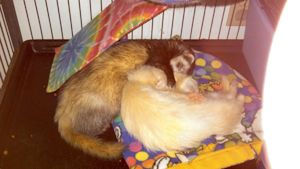 September 02, 2014:
Hi Brenda
Thought I'd better check in with ya. Took the two kids to see Dr. Edwards last week for their annual checkup. Both passed with flying colors. Bear has put on all the weight he lost last spring when he got sick.
I still can't get him to eat more than a couple licks of soup, but Wease will eat a whole bowl if I let him!
They're both starting to slow down a little. When I get them out at night, they both end up laying down on separate blankets after about 20 to 30 minutes. I give them both at least 30 minutes out loose, whether they're playing or sleeping. I think it's still good for them because they usually wake up and play some more after a quick nap.
I'll keep in touch.
Steve
July 1, 2014:
Hi Brenda
The kids are doing fine. Bear has recovered from his medical problem he had in April and he's been putting his weight back on. He hates the duck soup but he'll eat some of it only if I force him to. Weazy loves the duck soup.
They both hate this heat we've had, but they cool off a little when I take them outside in the grass to play. Other than that they're both doing fine. Hope you and all your fuzzies are doing good and enjoy the holiday.
Steve
May 5, 2014:
Brenda – I'm feeding Bear and Weasley the soup in the eye dropper. They won't eat it yet out of the spoon, but they're getting used to it little by little.
Weaseley is full of it full time. The only time he slows down is after he's been out running for a half hour. When he curls up in the blanket on the floor, then I know he's had enough. He still follows me around like a puppy. Bear is usually off on his own and can't be bothered too much with playing with Wease and I.
Steve

Hi Brenda
I just sent you $50.00 donation thru PayPal for the little fuzzies, wish we could afford more! Bear is just about back to his normal self again and we are so happy to have him back. We were so worried about him and really thought we were going to lose him. He's back eating like he should and picking on Wease again. He still has a little Moxy left, so we continue giving it to him twice a day, till it's gone. He's still a little cuddle bug, but back to playing again, which is nice to see. Steve is giving both of them duck soup in the evening, just to keep them used to it. Wease likes it and takes it with no problems, Bear not so much, but we still get it down him. Thanks so much for all your help, it really helped keep us a little calm and not worry too much.
Thanks again!
Chris
April 27, 2014:
Hi Brenda
Thanks for getting back. The meds are Carafate and amoxicillin. Each every 12 hours. Carafate on an empty stomach.
The foods are Gerber's chicken and gravy and Hills dog/cat prescription diet. I take some of each and mix them with warm water and either use an eye dropper to feed him or a spoon and let him lick it off, but he doesn't eat much with the spoon method.

Shelter Mum's response:
Okay when my kids are dealing with ulcer I use Carafate 20 min before every feeding, depending on the space between feedings. If they are just taking a few mls then I offer soup every 2 hrs. We use duck soup, I am going to send you some it will ship tomorrow morning. Is this the correct address?
Personally I think the hills prescription diet sucks and will not give it to our kids, the kids eat what they KNOW, giving them something they are not accustomed to eating when they are sick only makes them sicker. IMHO. Do you have a 5 ml dropper? If not I will send with soup.

Steve's response:
Brenda,
I have some duck soup that I mixed with the Gerber's and water and fed him this morning with the eye dropper. NEWS FLASH – He is eating as I type for the second time today!!!! He's finally eating his regular food. By the way, I was mixing in small amounts of his regular food with the Gerber's and prescription diet. I crushed it up and added increasing amounts to the formula and used either the eye dropper or the spoon.
They gave me two droppers: 1 – 6 ml and 1 – 3 ml. I've only used the 6ml so far and even that gets clogged up with the chunks of food that I crushed up with Chris's mortar and pestle.
I still have about a week's worth of medicines to give him, but if he is eating now maybe he's on the mend. But I do have some duck soup and droppers and I will continue to use the duck soup, so you don't have to send any.
Thank you very much for the offer and the help. I will keep you up to date with any changes.
Thanks again, Steve

Shelter Mum's response: Is the soup the kind you bought in the store? or homemade? Scroll to the bottom if it is store bought.
Awesome news - it is good you were mixing the foods.
We use a blender so if you need to keep him on this a while you might want to consider that. I have never been able to get the kibble crushed enough with a mortar and pastel for dropper use.
Yes it sounds like he is turning a corner, keep him in Carafate and Moxy for that full week.
Okay unless it is the store bought then you should be using the REAL Duck soup.
Thanks good luck. Brenda

Steve's response:
Brenda, it is the store bought duck soup. It's Marshall's "original duck soup mix." I take it that stuff is no good?
I just read the web site you included and see that it is no good. But he has been eating on and off all day – on his own without having to force feed him. His poop is even starting to look better too.
Would you still be able to send a little of your duck soup after all? He told me he didn't like Marshall's and wanted to try some of yours.
Thanks again, Steve

Shelter Mum's response: The store duck soup is not harmful and as long as he is getting better we will not mess with it; however he cannot survive on that alone - REAL duck soup they can live on and maintain their lives if they stop eating kibble all together. All our kids get real Duck soup from the day they come in so they learn to like it and I can administer meds in the soup (except Carafate).
I Will ship the real Duck soup today, they did eat and like our soup when they were here. I will get that out today for you.
April 26, 2014:
Hi Brenda
Thought I'd better drop a line and update you. Weasely is still doing good. Very active and always picking on Bear. I don't know where he gets so much energy, but that's a good thing I guess.
Bear, on the other hand, hasn't been too good lately. I took him to see Dr. Edwards last week and Doc kept him for a couple days. After x-rays and other testing Doc says he has a stomach ulcer.
I've got him back home, giving him two medicines twice a day and a mixture of baby food and special pet food. He's not eating very much and I can feel all his bones now. Just a couple months ago we were at the Vet's and he was over 3 pounds and healthy. Things sure changed in a hurry. I probably will be taking him back to the vet this week if he doesn't start eating better.
I'm sure you've gone through this many times. If you've got any advice I sure could use some.
Thanks Brenda.
Steve

Shelter Mum's response:
Good morning Steve
Okay What meds did Doc send home with you? Ferrets do drop weight rabidly when they are ill, that is one reason we try to weigh all ours here at the shelter every month so we can see subtle changes before they are gravely ill!
What food did doc send home? I need answers to my questions first I think, then I can tell you how and what we do, you can make your decision and changes from there. thanks for letting me know. - Brenda
December 25, 2013:
Hi Brenda
Here's a couple pix of Bear and Wease cleaning up some ferret tone. Steve couldn't get the little buggers to sit still enough to get their sweet faces, but we'll keep trying.
Hope you are having a wonderful Christmas and a Happy New Year.
Chris & Steve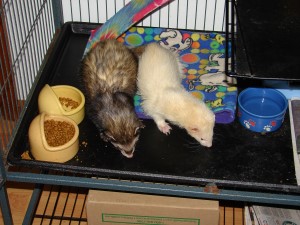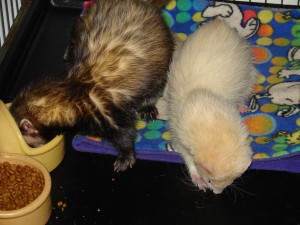 November 29, 2013:
Hi Brenda
The kids are doing great. Both of them have been healthy and look healthy besides. They will be going to see Dr. Edwards soon for their checkup.
I've been holding off replying to you- trying to get a good picture of them to send but figured I'd reply now and send pics when I get some good ones.
Chris almost came home with a baby girl from the pet store, but she was a little pricy. She was real cute and wouldn't leave Chris alone. Kept climbing up her arm out of the cage. Don't think Bear and Weasely would have been happy with a newcomer.
How's everything at the farm? How many kids have you got lately? Hope you're doing well and the kids are in good health. Will send pics soon.
Steve
August 10, 2013:
Brenda
The kids- Weasly and Bear are doing good. Weasly is starting to slow down a little with a limp, but Doc Edwards couldn't find anything wrong with him. Said it might be arthritis. Both had good checkups.
I've taken them both outside a few times and they love playing in the grass. Its something new for them so they were enjoying everything they could take in. That's about it. Hope you and all the "kids" are doing well.
Steve
April 03, 2013:
Hi Brenda
Bear & Weezley are doing great!! We love their personalities as Bear is such the cuddle bug when he first wakes up, but loves trying to get in all the cupboards. Steve has them all tied up so he can't get in and it looks like we have a 2 year old in the house LOL! Weez is such Mr. Nosey and always anxious to see whos coming & going in the house. He also cracks us up cause he likes laying in his sleeping bag and eating at the same time - lazy bones. Every day with them both is an adventure. We have a rubber frog that Bear likes to keep in a certain spot and it's a riot to watch Weez steal it and move it under the couch usually and Bear finding it and putting it back where he thinks it belongs.
Weez has been doing good since he had his implant. Still skinny, but full of energy, but all his hair is still in place. Bear hasn't had any problems yet, but we keep a good eye on them both. They are both loved so very much & we just wish they had longer longevity and we could keep them forever.
Take care!
Chris
September 27, 2012:
Hi Brenda,
Sorry it's been so long to write. It's been a busy year. I had surgery on my spine in March and surgery on my shoulder a couple weks ago.
The kids are doing great. Had a little scare in the spring, but Dr. Edwards took care of them. Took both to see the Doc. and was worried about Bear and the way he was acting, but Doc said he was fine. Weez had a urinary problem and Doc gave him an implant and he's been fine ever since.
Those two kids are a blast every night when I get them out for their play time.
Bye for now,
Steve
February 13, 2012:
Hi Brenda, Thank you very much for the Valentines gift for the kids. They love the sleeping bag and I'm saving the blanket until the next time we wash the other blankets. I always get a kick out of seeing your web sights. I'm glad there are allot of people interested in rescuing the little fuzzy critters. If I could, I would take dozens of them, but work gets in the way of fun! The kids, Weazley and Bear are doing great and send their love. In the near future there will be a gift coming from them, for their shelter mom.
Have a great day.
Steve and Chris
September 3, 2011:
Hi Brenda, Thought I'd update you on how the boys are doing. At our family picnic last weekend they were a bit hit, especially for the 2 year old daughter of our niece. Steve got them out one at a time so she could pet them and she was thrilled. She was so gentle petting them, it was an 'awwwwwww' moment.
Bear stood up to Weez the other night when they were out playing and chased him up and down the hallway. When he stopped chasing Weeze, he went to Steve and looked up as if to say "how'd I do dad", it was so funny.
Weez loves getting on the couch and trying to dig to China to get the cushion moved so he can get to the bottom. Of course, he isn't allowed to do that, but it humorous watching him try. He and Steve were playing a game the other night on the love seat. Weeze got behind a small pillow kept on the couch till it was laying on top of him. He would then lay on his back with all 4 feet up and kick the pillow off him. What a riot!! Steve would put the pillow back on him and he'd do it all again.....it went on several times till Weez was on to something else.
Bear is still the cuddle bug and little lover. None of our others were ever real cuddly, so this is a nice treat. Weez is the more adventurous one and loves my croc slip-ons, always trying to drag one away with my foot still in it. He hasn't figured out yet that it won't go anywhere. I have to put them up when I don't have them on, cause he will drag them away.
I have your paperwork all filled out, but keep forgetting to take it to work with me so it can be mailed, sorry!! I definitely will get it out Tuesday cause I've put it in my car now so I don't forget LOL!!
Well got another family picnic in a couple hours with my side of the family today. I'll get to meet my niece's 4 month old daughter today and I'm looking forward to it. At least today is at my brother's house so it's not as hectic as last weekend here at my house.
Take care!
Chris
August 26, 2011:
Hi Brenda! Sorry to be MIA, with work and planning a big family picnic for tomorrow for Steve's uncle from Florida, there just doesn't seem to be enough hours this week LOL!! I took today off work to clean my house and start making food for the shindig and I'm pooped already.
The boys are wonderful, such a riot watching Steve keep an eye on both of them at once, it's like a circus!!
Weezley loves his treats (hair ball paste, vitamin paste and 2 bandits) & Bear hates all three. they both love their rides on a big towel Steve drags around the house. They jump around on it and when one jumps off, they like to chase it and hop on again. Weezley hops back in his cage while his out and Steve got a small cardboard box he can use and a step stool now, so it's not such a big jump. Bear jumps around like our little Bandit did when you are playing with him, hopping and jumping when you tickle his belly. When you stop, he looks at you and attacks your hand so you'll do it again.........too funny!! Bear loves to cuddle for about a minute, but Weezley just wants to get going, no quiet cuddles for him.
Weezley attacked Bear last night and started to drag him by his ear. He got a stern 'no' and we separated them for a couple minutes and then he was fine. I think Weez though Bear was getting too much attention, or just got too excited. We love to watch them sleep together as Weez is always sleeping on top of Bear.
If you have someone that wants Penny, go ahead and adopt her out cause Steve has his hands full with these two monkeys.
We printed off the forms you want us to fill out and I will do them Sunday after this family thing is finished and get them back to you. I'll try to scan them and email out, but if that doesn't work, I'll mail them Monday.
Please don't fret about the boys, we are loving them to pieces and they aren't any problems. They have settled in great and are happy, eating & drinking good. We got rid of the water bottle cause they both drink out of the bowl. Oh another funny about Weezley.......Steve was washing out and refilling their water bowl when they were loose last night and Weez was at his feet, so he put the bowl on the floor. Weez went to the dish, dunked his whole face under water then took a drink. He was dripping water when he came up, of course we were laughing and he kind of looked at us like "hey doesn't everyone drink like this".
Chris
August 22, 2011:
Brenda, The boys are doing good. I had them out for about an hour last night and they were so exited to have run of the whole house that I finally had to get them both in the same room. I couldn't keep up with both of them because they didn't want to explore together, so we'll take it on room at a time. They slept through treat time!
Had them out today after I got home from work and I'll have them out again after we eat supper. My son spent some time with them today too. He's the one that got us interested in ferrets back in the early 90's. But then he lost interest and they became my kids.
Did you notice that Bear does allot of scratching? I wonder if it's just dry skin or if he has fleas.
I'll be sure to give them both hugs and kisses for you tonight.
Thanks for the poem/prayer. We both love it.
Bye for now
Steve
August 21, 2011:
Bear and Weezley went to a new home!
Early August 2011:
My husband Steve and I have had 4 ferrets over the years and our last little guy, Moose, 9 yrs old, was put to sleep yesterday.
He was a rescue from one of the techs Pat – Obadiah's shelter at the Brockport Vet Allan Edwards –- we've always taken our kids to.
We have been reading your web site for awhile now and really would love to visit and adopt a couple more fuzzies.
I thought I had seen that you were open to the public on Sundays, but I just now looked at just about every page and can't find it. Could you let me know when you are open to the public and the hours, please.
We are in Warsaw, NY, so not too awfully far from you.
Thanks so much for your help.
Chris
December 13, 2009:
Dear Miss Jackie, Mum took pictures of me checking out my box of presents! Thanks for sending me awesome Christmas presents! Weezley