Welcome to Lakeroad Ferret Farm Rescue/Shelter, Inc.
Bella & Spencer

• Surrendered to the Shelter on April 21, 2013.
• Bella was a female. She left for the Rainbow Bridge April 20, 2014.
• Spencer was a male. He left for the Rainbow Bridge May 15, 2015.

• Bella and Spencer had a far away family in Barnegat, NJ.

• Read about how these two arrived at the Shelter by clicking here, or read their latest updates below.
May 15, 2015:
Spencer is gone, he left us this morning.
April 28, 2015:
Spencer is waning, he does not finish his soup any more although he did tonight.
November 22, 2014:
More presents for the shelter kids from the Sims family… it looks like Christmas at our house!
Santa Debbie and Butch, I love my presents. Mum let me open them this morning. Thank you for making my Christmas special!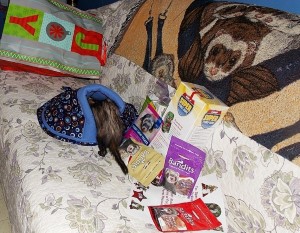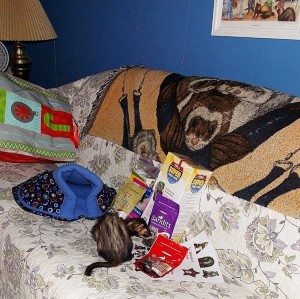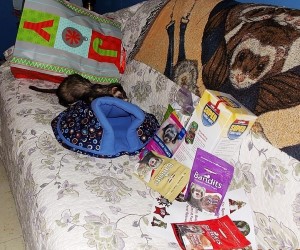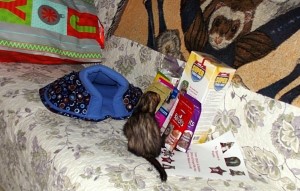 April 20, 2014:
When I got Spencer and Bella up - I found Bella gone. She left for Rainbow Bridge this morning.
March 18, 2014:
Dear far away mom and dad,
We are having a bit of a discussion with Mum, she says we sent you a thank you note the last time you sent us our lectric money, we say we didn't - Can you please tell us who is right in this fight? PLEEEEEAASE?
We are attaching pictures of us that were taken, Mum took us to college to help teach the students that we ferrets are awesome pets! Mum was teaching one of the students how to clip my nails.
Thanks
we love you
Bella and Spencer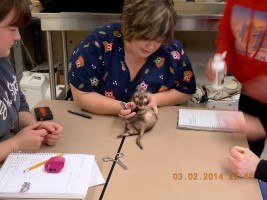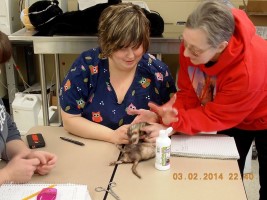 Dear Bella and Spencer
I got the thank you note and we both loved it!! We love seeing photos of you! The ones included in the email are awesome. We both wanna graduate and come meet you two.
Thank you so so much!!!!
Love,
Steph & Bill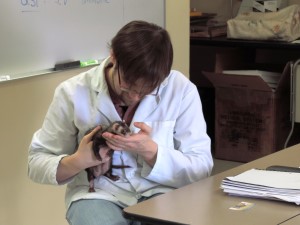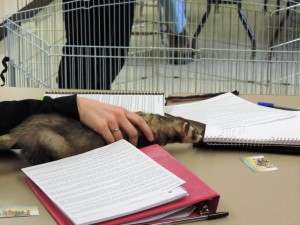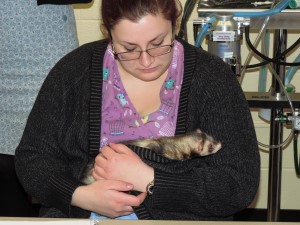 January 06, 2014:
Just wanted to check in and see how Bella's foot was doing today. We were really upset to read about it today. Hope it's feeling much better and I hope you and the whole staff are having a good start to the year.
Thank you,
Steph & Bill

Shelter Mum's response: Oh how nice of you to check on Bella. Her incision is healing nicely we will be removing the stitches this coming weekend. Where the stitches are I need a second set of hands to hold her while I snip and pull stitches. You would not even know she had surgery over Christmas week.

Far away family's response: I'm glad to hear that. I really wish Steph and I lived a little closer and could come me everyone. Thank you again for all that you do.
September 15, 2013:
Just wanted to thank you again for all that you guys are doing. Your love for these little guys is very evident. Thrilled to be a super small part of the huge difference you're making.
-Steph & Bill

Shelter Mum's Response: What you and Steph are doing is HUGE! It makes a world of difference to these kids so thank you for helping us keep our doors open. Brenda
April 29, 2013:
Bella and Spencer are settling in nicely. Bella now eats her soup out of the bowl in my arm. I was concerned for her health she was acting a bit lethargic. We have her back on track. Spencer is a busy little man.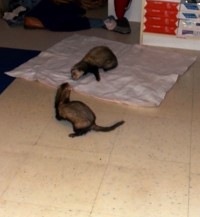 April 24, 2013:
Bella and Spencer had their nose in the soup bowl this morning; they were doing some more investigating than they had been. I took the cover off the front of their cage today. I cover the cages when they first come in so they do not get spooked every time someone walks in the room. When I added a paper to their poo box tonight they did not even stir when I opened the cage. I believe they are starting to feel comfortable here.
---
Arrival Story:
Initial contact, April 15, 2013:
My son has two ferrets that he needs to surrender. His new job doesn't allow enough time to properly care for them and give them the attention they deserve. He re-homed them to a couple several months ago, but they had a baby and can no longer care for them either, so they returned them to him. They both have current shots ad have had a recent check up. He will provide all of their toys, cage, blankets etc. and enough food and water for a month. I will make a donation as well to help facilitate this.
My wife raises dogs so we cannot take them either, but we are animal lovers and do not wish them any harm or neglect. My son works 2nd shift and is gone 14-15 hrs each day and then sleeps.
Please contact me if you can help or refer us to someone who can.
Thank you, Wayne
Shelter Response, April 16, 2013:
Ferrets coming to the shelter need to be up to date on vaccines with documentation that is imperative. We have room for them at this time, you 2 ½ hr from us when would you like to surrender them?
Owner Response, April 16, 2013:
Thank you for your prompt reply Brenda. I will talk to my son and let you know when we can get things together. It will have to be on the weekend but we will accommodate your schedule as best as we possibly can. I will scan and email the Vet documents for their shots to you in the next day or so and schedule things after that.
Thanks again,
Wayne
Shelter Response, April 17, 2013:
Thanks I look forward to your response, weekends work best for us.
Owner Response, April 19, 2013:
Brenda,
Attached are the certificates for the ferrets, Spencer and Bella. I will give you the originals when we meet. Please advise if this is sufficient documentation and a time to surrender them.
Thank you,
Wayne
Owner Response, April 19, 2013:
I just spoke to my son and we could be at your place Sunday afternoon around 3-3:30. Let me know if that works pleases.