Welcome to Lakeroad Ferret Farm Rescue/Shelter, Inc.
Bombay, Chardonnay & Josie

• Surrendered to the Shelter on .
• Bombay is a male.
• Chardonnay is a female.
• Josie is a female.

• Would you like to Sponsor her?
• Read about how they arrived at the Shelter by clicking here, or read their latest updates below.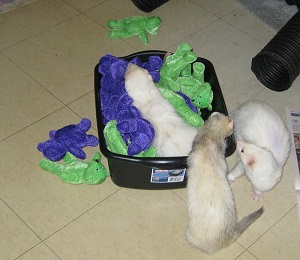 February 17, 2018:
Bombay has been acting off, he was just laying in Noah's lap very lethargic, I took his BG it was 57 - we have him on meds and soup as of tonight.
November 20, 2017:
I found Bombay in a funk yesterday I kept palpating him because he would not curl up to sleep he stayed stretched out. This morning when I got him up I found him curled up with Josie and brighter. I gave him a bowl of soup he seems to be feeling better. Maybe just an off day.
July 17: Bombay is getting his fur back. see before and after pictures
June 18, 2017:
Bombay the newest kid - follows me around like a puppy dog. He is such a hoot. Josie was MIA for a few hours this morning.
June 17, 2017:
I made the appointment for Josie and Buster to have their surgery on June 29th Josie has the subcutaneous adenoma on her back, and Buster has a mass on his intestine. OFD found both these issues when he checked them out last Saturday.
---
Initial Contact, Owner: