Welcome to Lakeroad Ferret Farm Rescue/Shelter, Inc.
Bonnie & Clyde

• Surrendered to the Shelter June 3, 2015.
• Bonnie is a dark silver female.
• Clyde was a dark sable male. He left for the Rainbow Bridge October 31, 2017.

• Read about how they arrived at the Shelter by clicking here, or read their latest updates below.
October 31, 2017:
I found Clyde gone this morning.
February 24, 2017:
Ellen and her granddaughters got here about noon, the girls are growing up. I had Bonnie and Clyde in the library ready for them when they got here. They spent time playing with the ferrets, Bonnie was a pistol she bounced all over having a grand time playing with the girls. Clyde made an effort to play for a while. The girls spent a lot of time talking about how their dad would sit on the living room floor to let Bonnie and Clyde crawl up his pant leg. It was a good visit, I was pleased Bonnie and Clyde were so willing to play, they are older so they don't play so much any more. I've attached pictures of the girls with Bonnie and Clyde.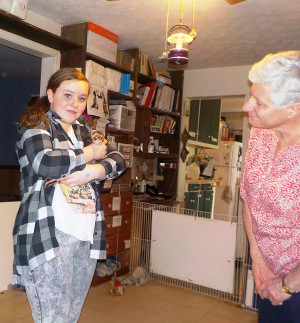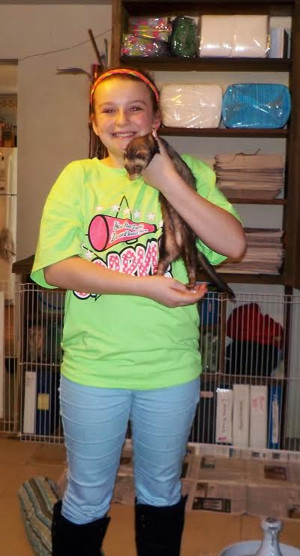 February 23, 2017:
Ellen is bringing her granddaughters to see Bonnie and Clyde today. The kids live in the city, grandma lives in Canandaigua. Ellen contacted us yesterday to see if she could bring the girls to see the ferrets. The ferrets belonged to their father, he was killed in a car accident, Mom did not want to keep them. Kids lose their dad and their ferrets… Ellen found us and has continued to help us care for Bonnie and Clyde, up to and including bringing the girls when she has them.
February 14, 2017:
I am dropper feeding Clyde, Wilson and Dazzle because they were not finishing their medicated soup. Dazzle and Clyde were looking really bad for a couple of days but they seem to be doing better this morning. Both are on life's edge.
January 13, 2017:
George and Clyde - are both stable again, eating their soup with meds all 3 times a day now without much of a fuss.
January 9, 2017:
Clyde was drooling and gagging so I tested him as well. His numbers were 33 - he is already on Pred 2 times a day. I will start adding a third dose tomorrow.
February 11, 2016:
While I was cleaning cages, doing meds and general shelter duties this morning I heard a fur kid eating. When I looked to see who was up I found Clyde too lazy to get out of his hammock for breakfast. I was able to get a picture of him with his face in his dish and his butt in his hammock.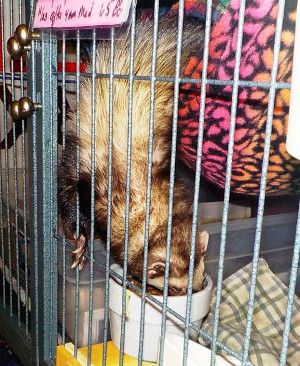 December 30, 2015:
We are so blessed to have so many helpen Mum take care of us. Thanks so much for helpen Mum make our Christmas at the shelter special...We hope you had a wonderful Christmas too. - Bonne and Clyde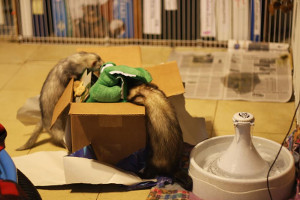 December 16, 2015:
We are doing the happy dance, thanking you for all our Christmas presents you sent for us. Thank you for helpen out Mum take care of us.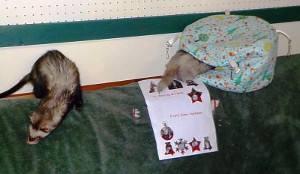 December 3, 2015:
I forgot to give Clyde his mid-afternoon meds yesterday I was afraid I would find him crashed when I got in from work, but he was okay.
November 24, 2015:
I started Clyde on 1/4 tab of Pred 2 times a day Saturday, he had his morning dose at 4, when I got in at 8 I found him drooling, staring into space so I gave him some soup left him for about an hour then went back to check him. He was still drooling so I took another BG - it was only 65 so he is now on 1/4 tab am and pm - middle of the day 0.05 liquid Pred.
He was alert and ready for his soup when I got in from work tonight...time will tell if I need to up the mid afternoon Pred any.
November 24, 2015:
I moved Bonnie and Clyde into Sho's cage so I could manage Clyde's medications more easily, having shelter kids in the playroom on meds tend to get forgotten, so now he is in a bank of fur kids on meds. When I am ready to shut down I stand there and point at each cage and say done, done etc. to be sure I got them all.
---
May 19, 2015, Initial contact, Ellen:
Our daughter and grand daughters have two ferrets about 4 years old. Bonnie and Clyde are brother and sister and belonged to their father, who passed away almost 3 years ago. Our daughter is going to advertise them free to a good home on Craigslist. We have asked her not to do this. We are volunteers with a boxer rescue group so we asked if she would wait while we try to find a ferret rescue group who could assist with rehoming them. That is why I am contacting you.
Is it possible you could help? The ferrets are not current with vaccinations but we would see that is done immediately if you could help. They do have toys and a cage which would be surrendered as you require. We would see that food would be provided as you require as well. Bonnie and Clyde are fed regularly and their cage is cleaned from time to time. However, it is just so sad that they just lay in the cage with no play or time out of the cage.
Please advise. We would love to see them go to a loving home where someone would spend time with them.