Welcome to Lakeroad Ferret Farm Rescue/Shelter, Inc.
DMK Business

• Surrendered to the Shelter January 6, 2008.
• Big Foot was a male. He left for the Rainbow Bridge on September 8, 2013.
• Little Challenge was a female. She found a Forever Home on June 22, 2008.
• Little Foot was a male. He left for the Rainbow Bridge on April 12, 2010.
• Ping was a female. She found a Forever Home on February 16, 2008.
• Puck was a female. She left for the Rainbow Bridge on June 11, 2012.
• Scardy Cat was a female. She left for the Rainbow Bridge on June 10, 2012.

• Read about how they arrived by clicking here, or read their latest updates below.

• Big Foot had a not so far away, far away mom in Endicott, NY.
• Scardy Cat had a far away mom in Greenacres, FL.
• Puck had a far away mom in St. Peters, MO.

• Big Foot and Puck were on the 2011 Ferret Giving Tree.
September 8, 2013:
Our last DMK kid - Big foot left for Rainbow Bridge early this morning 9/8/13, I found him gone when I went to get him up. He has been on meds for several different ailments; he has been slowing down in the past few weeks but his eyes were bright right up till I found them empty this morning.
Fly high little man you will be missed.

Oh gosh I am so sorry. That dear little man. I hope you know how much better and happier he lived with you than the hellhole he came from. Thank you for taking care of him all these years. One more DMK light glittering in the sky.
Far away mom Susann

Brenda: I am saddened to hear the news of Big Foot getting his wings. My heart goes out to you because I know what a special part of your life he was. Though the news may be sad, it is wonderful to know what a great life he and all the other DMK kids have had with you. He was a very blessed guy, and the shelter will seem a little bit empty knowing that the "big guy" won't be there when I next visit.
Pete
March 3, 2013:
Ooooh I got the cutest little card in the mail today. Please tell Big Foot his far-away mommy loves him and all of his pals who came from Ohio so long ago. Give him a big big hug and kisses for me, because he's a very special ferret, and he deserves every bit of the love and good care he gets from his amazing shelter mom!
All is well here, I will be stepping down as coordinator of the county ART next month because school is ramping up and I'm doing wilderness SAR training now too, and Geo and I are determined to get crackin' on the home maintenance and stuff we've both been too swamped to tackle over the last couple of years. We are both active with other volunteer groups as well. I will still be a CART member but just can't continue devoting the time to running and organizing everything for the team, and keep my sanity too.
Reposted from the FML, November 24, 2012:
Kris Mewton (and Mary) have finished their DMK 5 year rescue presentation/video. If you recall, many months ago I came here asking for photos of any DMK rescue babies (here and gone) and any rescue photos taken. You came through in spades. Kris had the daunting task of trudging through a mountain of emails, photos, and information to include in as concise and accurate manner a presentation as possible to honor all, ferrets and ferret lovers involved in this rescue (whether that be a supportive phone call to someone, donation, expertise, rolling their sleeves up physically, or adoption). He worked on the last details and published it while we were all eating turkey!!
How wonderful to see this on Thanksgiving Day of all days. And how appropriate for this to come full circle with this beloved couple of MFAN creating this wonderful video, as they were the ones that brought the conditions of a breeding facility to the public eye back in 2007 with another video.

My own personal note and opinion (not reflecting or in relation to anyone else):
So many, a great many, people pulled this off together. Too many to list. When officials and animal groups let us down, ferret lovers pulled off one of the, if not the, largest scale animal rescues in American History. For certain it's the most successful animal rescues in that hundreds of ferrets were rescued, triaged, vetted, treated, neutered, ADV tested, transported, and adopted with in weeks!! I think if there were any euthanizations at all, it must have only been a couple. But dont hold me to that. It's something very well mentioning given the fact that some animal groups would have done in great numbers no doubt.
- Wolfy
June 11,2012:
I got down stairs on time, putting kids away, getting kids up. Settle the ones that do not need meds into play areas, and then I start warming the soup to do meds.
I start on the left side of the room working my way around the room to each cage that has kids that need meds. I got to the DMK kids cage knowing full well I only had two for soup this morning, Puck was stretched out from her sleep box, on her belly like they do when they are too warm or waiting for mum to get there with their soup.
Only this time she was not waiting, she was gone. Sometime during the night she must have passed on, I see no indication of distress, no black poo like I found with Scardy Cat just a peaceful look on the little face that had left for Rainbow Bridge, my best guess is she did not want to be left behind when Scardy Cat left her.
Puck was on meds for insulinoma but had not been showing any signs of struggling. Big Foot knew Puck was gone because I found him up on the top shelf looking down at me while I was taking Puck out of the cage.
June 10,2012:
Scardy Cat came to our shelter on January 6, 2008 – leaving the shelter on June 10, 2012
Sadly our little Scardy Cat slipped away for Rainbow Bridge this afternoon, leaving her sissy Puck and brother Big Foot behind.
Fly high little one you will be missed.
January 25, 2012:
Trish I am sorry this took so long to get to you – here are the pictures I promised you with Puck and the presents you bought her – Brenda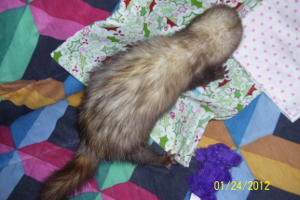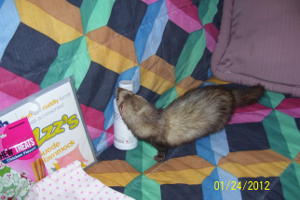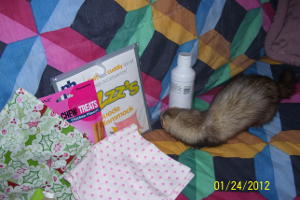 December 19, 2011:
Thanks far away mom for my presents! - Scardy Cat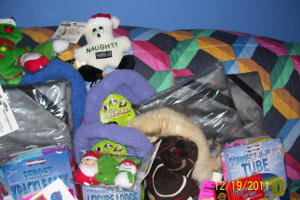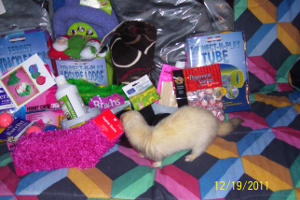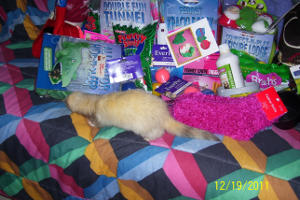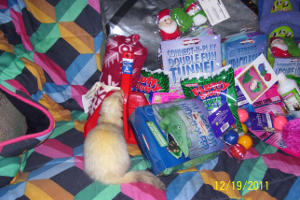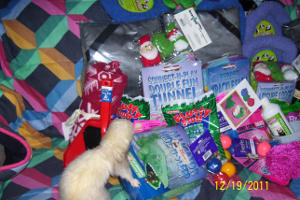 Thanks Miss Priscilla for including me in your Christmas! - Puck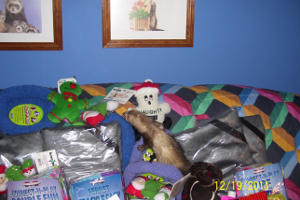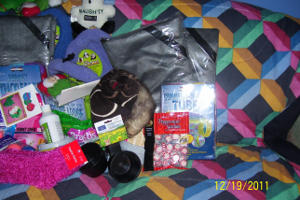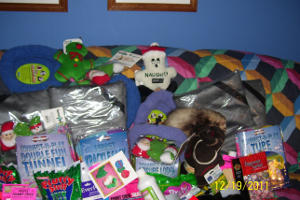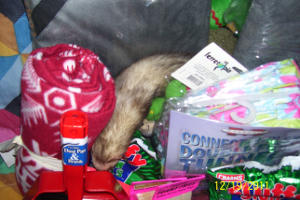 Thanks Miss Priscilla for including me in your Christmas! - Big Foot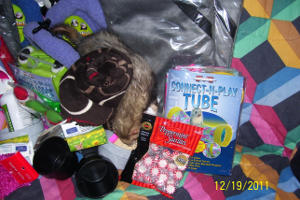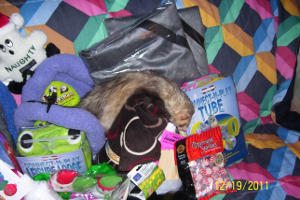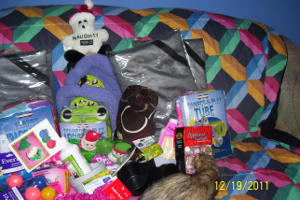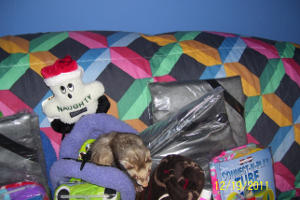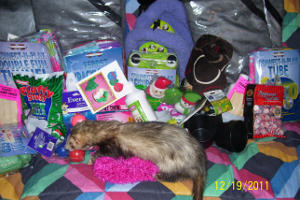 August 1, 2011:
Big Foot is still not feeling great but I think it is more insulinoma that is going on – his blood glucose numbers are still lower than I would like – he is on pediapred – I am slowly increasing his dose so I do not cause any ulcer issues - he is responding – however slowly.
July 28, 2011:
I found Big Foot crashed – so I did a blood test on him - it was 43 – so he got a Dex shot and then tonight he got some pred in soup – he did not want to eat soup so my guess it his tummy is not feeling good either – which would make sense because if his tummy is off he is not going to eat – if he does not eat his BG is going to drop.
April 12, 2010:
I went down to do meds before work. I went in to get Little Foot out to give him his, he was gone. It seems he left for Rainbow Bridge sometime during the night.
Little Foot is dancing on Rainbow Bridge this morning.

Little Foot (Doug McKay rescue kid)
Surrendered to this shelter on January 06 2008
Little Foot started showing signs of lethargy March 29th 2010. At the same time he had dropped a considerable amount of weight, I did not weigh him but I would say a good ½ to ¾ of a pound. He developed a water blister on the top of his head about the size of a dime for no apparent reason. That blister was between his ears closest to the right one. I see the blister has gone down there is evidence that it was there but smaller. I sent Mary a picture of it last weekend.
The day I discovered this was when I got him up for play time, I fed him soup immediately and watched to see if there was any improvement in his demeanor, their was little to none so when I did soup and meds that evening I gave him ¼ tab of pred with his soup. The following morning he was in better spirits but still a bit lethargic so I kept him on soup twice a day with pred once a day in the morning. With the soup supplements and pred once a day he has put on some weight but he is not what he was (I suppose this may be due to his spring weight loss) When he came in he weighed in at 2# 13.5 oz.
I called Mary last Saturday 4/3/2010 to see if she could take him in on Sunday when I had shelter help here going back up that way when they went home; however the shelter help had made other plans so my plan to have him up there to you on Sunday fell though.
I have continued the soup twice a day with ¼ tab pred in his am soup. He still climbs up into his hammock and up to the second level to eat but he is not the bouncy boy he used to be.
He has been stable since I started this treatment; he even has a bit of sparkle back in his eyes.
Christmas Gifts Picture - 2010:
Hey far away mom – we got our presents today – take a look mum took pictures of us opening them – Scardy Cat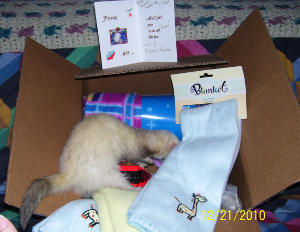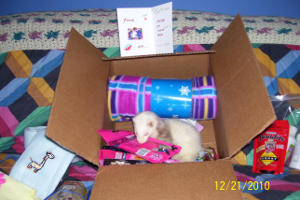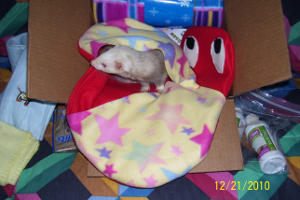 Christmas Gifts Picture - 2009:
Scardy Cat's Christmas from Priscilla G in Florida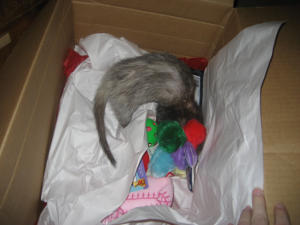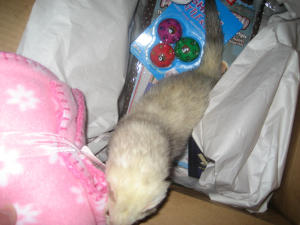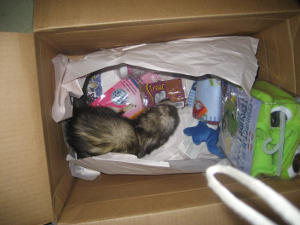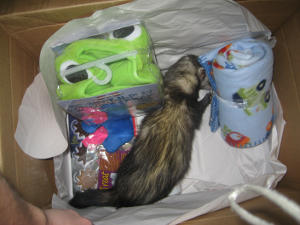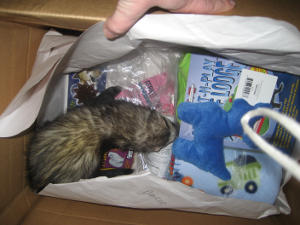 September 24, 2008:
Scardy Cat's birthday presents from her far away mom!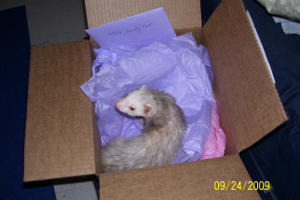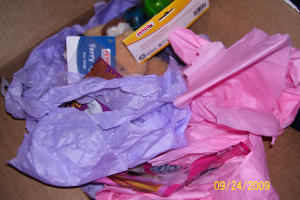 February 16, 2008:
The category 5 crew; they are now category 4; one of the little ones was not exactly happy with the rest of the group, at our the last club meeting we had here, one of the members brought her single D.M.K. kid because he was not fitting into the business she had at home. We discussed maybe Ping and her boy (I do not remember his name) would like each other. So Mary brought her kid to the meeting we allowed Ping and Mary's boy in the kitchen so we could supervise the introduction. They hit it off, chasing each other in turn and having a blast running in and out of tubes, boxes and under cabinets. They spent their playtime pushing balls and toys under the cabinets with them, Ping went home with Mary and her boy. The report I got from Mary this week is they are doing great and happy together.
---
The DMK Rescue:
More than 500 ferrets were rescued from a breeder. A DMK ferret refers to a ferret from that rescue. Certain shelters in the region had been trying to get this guy shut down for more than 15 years. So it is very good that it finally happened. Shelters and others came from all over the country to Ohio to transport ferrets to places where they could receive the care they needed (since NO one person can take care of 500+ ferrets!). You can view a slideshow of the conditions here.

Ooooooo Weee! Boy did we have a storm blow in here this week end. Name you say? Hurricane Renee'. See mum got this call on Sunday morning about 4:30 the person says to mum did I wake you up? Coarse mum says NO. It was Miss Renee telling mum she was almost to the Buffalo exit, she was going to take a couple hours nap then call Miss Cathy R to have her come meet up with Renee to pick up the DMK kids that are coming to live here. Mum says Okey Dokey.
At 7:50 am another call comes in from Miss Renee telling mum that Miss Cathy R was on her way to meet up with her, was mum aware that mum was getting another challenge? (Biter). Mum says yes sir'ee. So, Mum goes about her business taking care of old lady Kay, when mum gets home she finds Miss Stephanie here to drop off her kids for camp, then Miss Kristie pulls in, she says did you get your messages? Nope; mum says just got home. Miss Kristie informs mum that Miss Renee is on her way to Naples she will be here about 10:30.
It was 10:25 AM right then. Soooooooo Mum says what is going on she was in Buffalo meeting Miss Cathy R. Well seems Miss Cathy R. was not aware she needed carriers to bring the kids so there was no way she could take them for mum, Miss Renee made an about face and came to Naples to drop the kids off. When mum got into the house she found lots of messages from Miss Cathy R. and Miss Renee. Mum gets some of us kids put away, gets Miss Stephanie kids out in the play rooms and in blows the storm. (We love you Miss Renee)
Miss Renee says the first thing she needed to do is see the "little room" any biters in there? Then mum and Miss Renee went out to the car to get kids, mum brings the little challenge in first. We think her name is Bloom but we are not sure yet, mum says she needs to wait for her personality to come through. Anyway Bloom is settled in the store, mum goes back out to the car to see what next.
Miss Renee takes a cage out with 5 kids all snuggled in the hammock looking at us with little questioning eyes. Miss Renee says to mum pick your 4. Mum says I can't pick, so they; Mum and Miss Renee decided to take the first four that popped their little heads out of the cage.
Only trouble with that theory is only 3 popped their heads out. The other 2 held back so Miss Renee scooped them out and held them up said to mum what one? Mum stood there looking at them thinking how does she choose? They are all in the same cage snuggled up in the same hammock, and mum is going to tell one of them that they are being left behind?
Mum says to Miss Renee, what one is picked to go to someone? Miss Renee says neither. Mum plucked them both out of Miss Renee's hands tucked them into the carrier she was using to take them into the house. Miss Renee says hey that is 5; Mum says hey your right they will all fit in the one cage I have for them so they do not get separated. That is how mum went from FOUR to SIX DMK kids.
Then Mum and Miss Renee had paperwork to do. Mum got the paperwork done, Miss Renee had a cup of cocoa, then mum got Miss Renee's kids out into the play yard for some romp, while Miss Renee cleaned up some cages in the car, then Miss Renee brought a couple of DMK kids to romp out there too.
After Miss Renee left Mum was in stitches laughing at the new kids jumping and dancing. They are in the isolation room for now. Mum says they are beautiful kids, she can not wait to watch them bloom into wonderful happy fur kids that no longer have to fight for food, fight for a place to stay warm or to survive.
So that is the storm that blew in... Mum is so very pooped.