Welcome to Lakeroad Ferret Farm Rescue/Shelter, Inc.
Dinah, Lily, Otto & Trouble

• Surrendered to the Shelter on April 12, 2010.
• They found a forever home that same day! Read their updates below.

• Dinah is a champagne female.
• Lily is a dark sable female with mitts.
• Otto is a sable male.
• Trouble is a dark champagne male.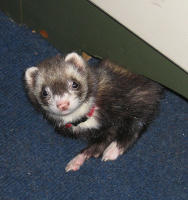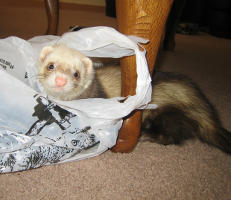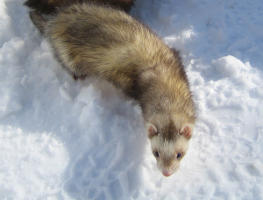 August 06, 2013:
The shelter fur kids who are still with us are April, Otto, Lily, and Dinah. April has insulinoma and adrenal disease. She received an implant some time ago and takes Pred twice a day. She is on a frequent ( 4-5 hour) souping schedule to keep her BG stable. Otto takes saw palmetto twice a day to relieve prostate swelling. He sees Doc on the 22nd and will probably get an implant. Lily and Dinah are active and outwardly well. Both are showing early signs of adrenal disease.
January 17, 2012:
Christmas from former Shelter Mum -
Not only were we thrilled with the toys and treats but the packaging was fun too! Thanks!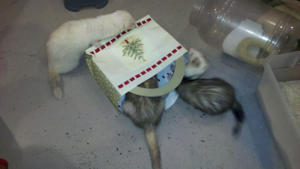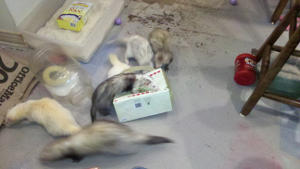 August 23, 2011:
Trouble has recovered from adrenal surgery.
Otto will be going in for a visit with Doc next week and that visit will probably lead to scheduling surgery for him. Lily and Dinah are doing well. April is well but her nasty 'tude has surfaced in regard to our 2 newest. She can be very selective when choosing her friends. Over all we're doing great!
February 21, 2011:
Junior and Otto have asked me to buy them a couple of new crocheted rattle toys.
Otto, Trouble, Lily & Dinah met Doc last night. The kids all had a great time exploring Doc's exam room. All got a clean bill of health. We are watching Trouble for possible adrenal problems because his coat seems a little thin between his shoulders.
November 4, 2010:
The newest 4 pack - Trouble, Otto, Lily & Dinah (who was China) will go for checkups after the holidays. They have fully integrated with the family and now share cages with the others.
July 24, 2010:
The 4 pack, Lily, Dinah, Otto & Trouble still live as a group, but they all share playtime with the others and the girls occasionally spend the night with April, Ricki, Sugar & Dixie. They are all very active, curious & super smart.
April 20, 2010:
The new kids are doing very well. They have met their new brothers & sisters. Everyone is playing nicely - no poofy tails and no squealing. Sunny who seems to be our resident bully is allowing himself to be herded (peacefully) by newbie Otto. Sunny's attitude is much more accommodating these days. Yeah!
My Sugar showed all the new kids how to climb in the drawer and mess with my Tupperware lids. Not to be outdone, Trouble found his way into the next drawer up and went to sleep in the cookie cutters.
Otto show all of us that you can jump from the cat tree to the stove top. Luckily I don't usually cook when the kids are out playing. April then demonstrated her jumping ability and taught Otto to get on the breakfast bar.
Trouble easily opens the cupboard doors for all to enjoy. Scott will have an afternoon's work securing new catches on all. Meanwhile, Sugar is sleeping in the spaghetti strainer.
Lily looks so much like Petey that I accidentally put her in the wrong cage this morning. She quickly called my attention to the mistake. She's a lovely sweet girl and an avid climber of cages. She's also the only one not overly impressed with Ferretone. Consequently, she has 10 short nails & 10 long nails. Maybe we'll try peanut butter.
Little China is now Dinah. We have a cat named China so that would be too confusing. She's very sweet. I have to look down on the top of her head to tell her apart from my Ricki. Dinah has a light-colored streak that resembles a Harry Potter scar.
Blessings, Donna
---
Contact on April 12, 2010, Michelle:
Hi Brenda, my name is Michelle I had emailed you a week or two ago asking about 4 ferrets that we had. We have taken the fuzzies to the vet and all 4 are up to date on their shots and everything. They are all healthy and in good spirits. We were wondering if tomorrow (Tuesday the 14th) we could drop them off, since like I said sadly we are no longer able to have them. We will bring there cage, all their belongings, and the months worth of food also we will be bringing some donation items as well. Also I was wondering what to expect, hope you don't mind crying because it will happen, they hold a very special place in my heart. If you could just get back to me and let me know I'd appreciate it.
Thank You

Update: I will bring all documentation from the time we had them to now. We will leave Oneida around 9:30am so we should arrive there at 12:00pm.

Update: Kids have a new forever home! Late afternoon Donna Z picked them up.