Welcome to Lakeroad Ferret Farm Rescue/Shelter, Inc.
Harley

• She found a Forever Home November 9, 2017!
• Harley is a sable female.

• Would you like to Sponsor these two?
• Read her latest updates below.
November 6, 2017:
Hello cyber friends and shelter supporters,
I thought you might like to see the pictures Mum took of Harley getting into one of the winning beds for the paper towel campaign. Miss Donna won one of them, she gave it to little Harley.
Miss Donna saved little Harley in October 2017, Harley was found out running around in Rochester New York. Mum got an email about this little one, asking Mum if we could help. Mum is always up to helping a little fur kid that is in trouble.
Miss Donna went to the place in Rochester that had gotten Harley off the streets, took her directly to Our Favorite Doc for check up, and vaccines. The little one had a nasty messed up ear. Once OFD got her checked out, back on the wellness track, Miss Donna went to Brockport to pick her up to bring her to Naples.
Miss Donna named her Harley. Harley is enjoying her new things Miss Donna won for her.
Gotta Bounce,
Lance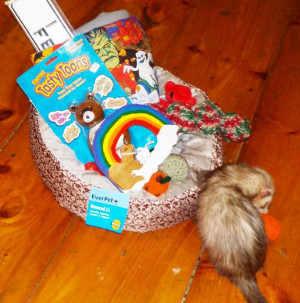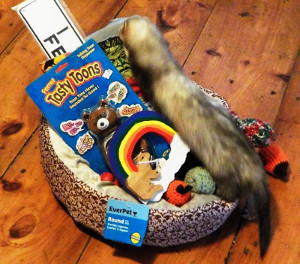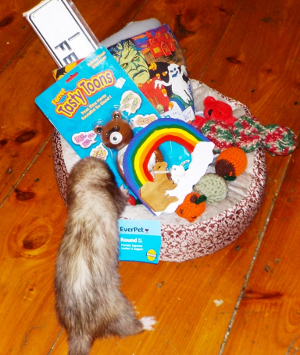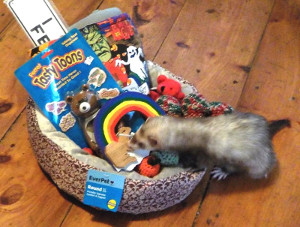 October 4, 2017:
OFD called about noon to let me know that Harley has been looked over. He says she is young, she has ear mites so they were treated. I will treat her with revolution when she gets home. The sore on the side of her ear Doc feels was from her digging at it. He vaccinated her, said she could come home. I believe I have a home for her - I will work on that tomorrow.
October 3, 2017:
Donna went to get the little one found in the city, she got her into OFD - Harley will have to spend the night OFD is not there today. I was told she has an infection coming out of her ear so she needs to be seen ASAP. I am thinking it could be a parasite like Mr. T had. I was told she was spotted out and about for about a week before she was caught.