Welcome to Lakeroad Ferret Farm Rescue/Shelter, Inc.
Honey Bunny & Sol

• Surrendered to the Shelter June 15, 2011.
• Honey Bunny was a light silver female. She left for the Rainbow Bridge on September 20, 2013.
• Sol was a male. He left for the Rainbow Bridge on June 30, 2011.
• Read about how Honey & Sol arrived by clicking here, or read their latest updates below.

• Honey Bunny has a not so far away, far away mom in Fulton, NY.
September 20, 2013:
Honey Bunny has left for the Rainbow Bridge.
December 24, 2012:
Thank You, thank you, thank you, thank you! Thank You, thank you, thank you, thank you! Thank You, thank you, thank you, thank you!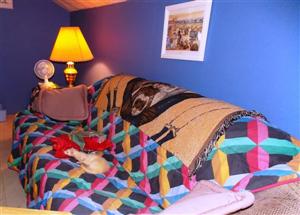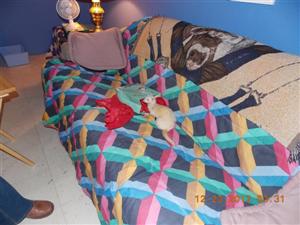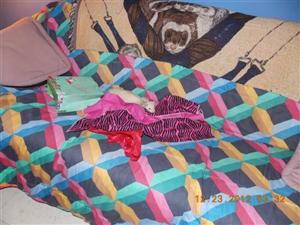 September 13, 2011
Hi Brenda, I just wanted to check in on how Honey was doing, especially after Sol's death. I hope you and the fuzzies were okay with the hurricane. Thanks again and I hope you and the littles are all well, Natasha

Honey Bunny is doing great – we have another Honey here that I call her Honey-Dew so I gave your little girl Honey Bunny instead of Honey II.
We had no problems from Irene – we are doing okay thanks. I have attached some pictures for you. - Brenda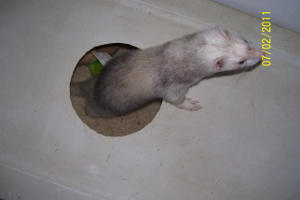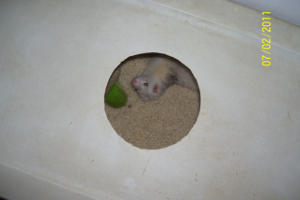 June 30, 2011:
Sol is gone – my heart is breaking – Doc said both adrenal glands were so far gone that the left had completely encompassed the left kidney. The right had invaded the blood vessels of the right kidney.
The little guy was only here 2 weeks and I feel like I have lost my very best friend. - Brenda

Oh my god. Thank you for telling me right away. I knew he didn't have that much longer to live, but it's still so sad. Thank you thank you thank you for giving him the best two weeks he's probably had in a very long time.
Thank you for everything Brenda. I'm very sad and I appreciate all your love and everything you did for him and all of the other furries.
I hope Honey will find a new home, how is she?
Natasha

I am so very sorry I did not do more for him – the ones that only get a short time with me are the hardest to lose.
They are my love, my life and my passion no doubt about that.
So far she is doing okay, she will get to say goodbye tomorrow when he comes home. - Brenda

Thank you Brenda your heart is so big. He was my handsome boy and you gave him a lot of happiness I know it.
Thank you, Natasha

I sure hope so, I whispered in his ear he would come home to me tomorrow.
Thank you for trusting me with that little man – he was a blessing to have had in my life. - Brenda
June 30, 2011:
Doc called – gave me a litany of things he found wrong with Sol. Things I knew: Cataracts - Chordoma on the end of his tail - Cysts on his penis - Probable adrenal issue.
What I did not know: An undefined mass in his abdomen - BG was 59 - Probable adrenal issue (Doc said his fur was not all that thin and did not necessarily think he had adrenal disease).
His call was to see what, if anything, I want done. After the list of issues – I said I want you to go in – do your magic and send him home.
June 28, 2011:
They are a pretty hilarious couple. Please let me know how the surgery goes! They just want to have fun, and they haven't been having that much fun lately so it's really good to hear. They are both excellent escape artists as most ferrets are...and I don't know if I told you but they are both climbers... really good ones! Talk soon, thank you for your time it's very sweet to my heart that you are taking care of my babies now.
Natasha I will. They are doing so well, I am so relieved I thought they may not be happy to be here, but they have adjusted well and are worked into our shelter schedule. Most ferrets are, so I have things around here set up so that cannot happen. The ferrets are my love, my life and my passion. I have not found a ferret I did not like. Brenda
June 22, 2011:
I bought myself some M&M's the other day at the dollar store, I opened them last night, dumped the contents into my candy dish bus. Sol discovered the empty candy bag in the trash can, got up in the trash dragged it out and headed across the living room with Honey hot on his tail to get the bag from him.
Sol having the candy bag in his mouth is running from one end of the living room and hidey hole to keep the candy bag from Honey – what a hoot these two are, they have settled in well – I hope well enough that when Sol goes for his surgery next week he and Honey will not stress too badly.
---
June 16, 2011, Brenda:
The 2 new kids are a delight, their mom is going to Aruba – she is a professional scuba diver – that is all the professional information I got.
Natasha brought every stitch they owned and then some. She handed me all their medical records from the time she had them and an envelope – she said this is for their care....
The little boy has a mass on his pee pee I will get Doc to take a look at it, she was told (records prove it) there was nothing that could be done. I know better, I have seen what Doc does with these kinds of things.
They were dancing and dooking last night, names are Honey she is an escape artist – Sol AKA Monster – so far he has not lived up to that name.