Welcome to Lakeroad Ferret Farm Rescue/Shelter, Inc.
Jax & Penelope

• Surrendered to the Shelter on January 29, 2017.
• Jax is a bibbed sable male.
• Penelope is a panda mitt female.

• Would you like to Sponsor these two?
• Read about how they arrived at the Shelter by clicking here, or read their latest updates below.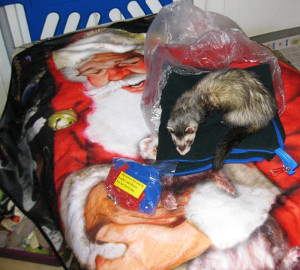 March 15, 2018:
I brought some snow in for the fur kids, Jax was the only one that wanted to play in it.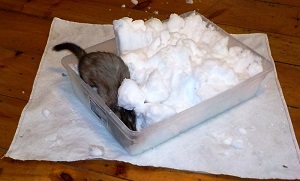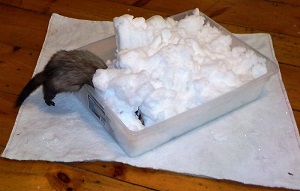 July 22, 2017:
Jax found himself in trouble yesterday. I had Raine behind the gate in the upstairs bathroom. I know Jax jumps the gate but I figured I had time enough to get the gate up at the top of the stairs. I set him down in the kitchen he ran up the stairs jumped the gate. He is usually the one that torments the other ferrets, this time he got his comeuppance.
He got over the gate, Raine jumped on him and had him down! He found out that there are ferrets that can take him out! By the time I got up here to get him out of the bathroom he had gotten away and was trying to hid from her. She may just have cured him from jumping gates, only time will tell.
June 4, 2017:
Jax and Penelope enjoying the newly painted Play Yard!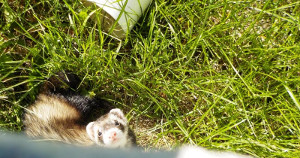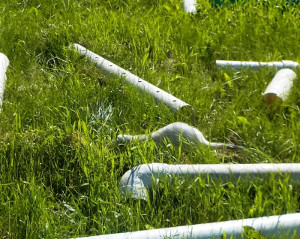 March 20, 2017:
I had put Junior in the kitchen so I set Odessa into the bathroom, saw who I thought was Farnsworth set him in there too. It turns out it was not Farnsworth, Odessa was getting beat up again. I thought maybe I had mixed him up with Jax so I went up to see if it was really Jax in the upstairs bathroom.. It was, I am now holding a ferret that I have no idea who it is, it is getting late I need to get my butt to work. I start looking at room tags, I realize Bain had gotten into the playroom with Odessa and Farnsworth. I put him back into the ferret room with his brother, start looking for Farnsworth he was up top in the sleep box. I got them all sorted out and headed off to work.
February 12, 2017:
Jax was doing some gagging and drooling so I tested him his numbers were 74 he is on soup, he is now eating it on a flat dish. Odessa and Penelope look so much alike I had to put a blue dot on Penelope's head to make sure I did not mix them up.
January 30, 2017"
The two newest fur kids Jax and Penelope - I gave them the kitchen this morning, what a mistake Jax found his way into the library. Fortunately he did it before I left for work. I moved them into the bathroom.
---
Initial Contact, Owner, September 2016:
Hello,
I was looking to get some info on surrendering my 2 ferrets. I was recently diagnosed with an autoimmune issue and has caused severe allergies to my pets. I was advised by my doctor to try and find new homes for them which has broken my heart. I wanted to get some info on how your program works. Thank you Rachael