Welcome to Lakeroad Ferret Farm Rescue/Shelter, Inc.
Little Bear, AKA Sasha & Queenie, AKA Zoe

• Surrendered to the Shelter on March 23, 2013. They found a Forever Home that day!
• Little Bear, AKA Sasha was a brown sable female. She left for the Rainbow Bridge on April 12, 2014.
• Queenie, AKA Zoe is a silver female.
• Read their story by clicking here, or read their latest updates below.
April 21, 2014:
Zoe seems to be doing ok, She doesn't seem phased all that much. Although I do think she is lonely, maybe I am just projecting onto her I am not sure.
April 12, 2014:
Sasha died last night. We are heartbroken but I think she knew we loved her. Now we just have Zoe and need to figure out what to do next.
Apr 4, 2014:
Email from Shelter Mum: How is Sasha doing?
Email from Art and Julie: Still here, not better though. Drinking, eating ferretone, but not really eating. She eats a few prices here and there but like 2 times a day. Very lethargic and just sitting and cuddling mostly.
April 3, 2014:
Some bad news, Sasha is not doing well. Her adrenal disease is pretty advanced and it seems like this is close to the end. She is not eating well and not drinking well. Our hearts are breaking. At this point we have to feed her with a syringe and she hates it, we are really starting to wonder how much is too much to do, it seems like torture sometimes. We have taken her to the vet and he gave us steroids but she just vomits them back up when she takes them or if she manages not to vomit she seems like she is really being tortured by it all.
Just wanted to give you a heads up, we are sad around here...
Art and Julie

Email from Shelter Mum: When they no longer want to eat it is time to let them go.

Email from Art and Julie: Yeah that is what we were thinking... breaking our hearts...
February 17, 2014:
Girls are doing great btw, Sasha is losing some hair, we have to take her to the vet in a couple of weeks to check for adrenal disease, but she is still a little stinker! Always getting into trouble!
November 27, 2013:
Hi Brenda,
The girls are doing well. Took them to the vet a few weeks ago because Sasha is starting a little bald spot near her tail. The vet thinks that its adrenal disease but will need to do an ultrasound to confirm. We should be scheduling that shortly, trying to get through school and the holiday first. Other than that they were both deemed very healthy. They are still a lot of fun and we have found that people really need to be educated about ferrets. These two girls have frequently been the first ferrets that visitors to our household have ever met, so we take the opportunity to talk about the misconceptions that people have. We are trying to come up with new ideas for play/toys for them - they get bored with stuff pretty quickly. Any ideas? I hope all is well with you and that you have a wonderful holiday!
Julie
August 04, 2013:
The girls are doing great, still growing I think and getting along fantastically. We just got them 66 beanie babies on craigslist and they are having a blast carrying them all over the place. They love to dig them out of the box and then run to the corner behind the couch and hide them. It is very cute to watch them carry them all around. We love them, they are awesome and I think they are even starting to know their names, they do come from time to time when called :)

Art and Julie
June 26, 2013:
Hey Brenda, wanted to give you an update on the girls.
Zoe is HUGE! Wow is she becoming a little fatty, it is awesome. We are so happy that she has bounced back from her very skinny time in her life and has gotten very healthy. She is so calm and cool all the time it is very nice, she even gives kisses which is so sweet.
Then there is Sasha... oh boy what can I say about her...lol Well she is getting bigger as well which is nice, you could see her ribs when we first got her and luckily that is long behind us. She is such a little stinker though. She is adept at escaping her area she is allowed to be in which has lead to many changes in their habitat.
However she is just a great little girl. She has a thing for biting bare feet and playing with socks, I think she has a foot fetish!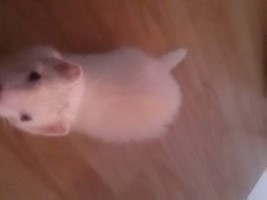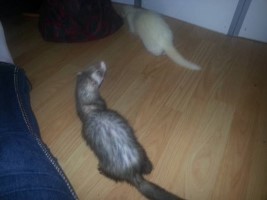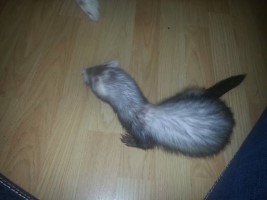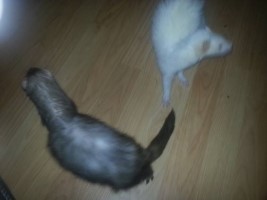 May 13, 2013:
Hey Brenda! The girls are doing great. Gaining weight still and strength. We had to raise the height of our barrier because Sasha was finally able to grab the top and climb over. We are finding that we're going to have to rotate toys a bit since they are starting to get bored with the ones we've had for a few months. They have gotten a lot of visitors and everyone thinks they are just adorable. Zoe is getting a bit more snuggly, actually fell asleep on my arm! We are having so much fun watching them change and get stronger. Sasha is still the daredevil and will always try to get to places she shouldn't be, always gotta watch her! Mostly when she is bored though, so keeping on top of making sure they have something "fun" to do is important.
Hope all is well with you!
Julie
April 17, 2013:
Just wanted to give you an update, the girls are doing great. Getting in lots of trouble and really flourishing I think here in our home. We clipped their nails today (fed them a treat and while they were eating we clipped their nails while they weren't paying attention) and that went fine. No bleeding or anything! yay us!
So just wanted to let you know they are doing great and really enjoying life :)
April 07, 2013:
Hi Brenda, The girls are doing great. They are still settling in but definitely getting more comfortable. They are putting on weight at a pretty good pace and getting stronger and more agile (and of course into everything). They haven't yet figured out how to get over the barrier we put up, though they seem more interested when there is someone on the other side. Our silver girl falls asleep in the bean bag when she gets tired of playing and the sable just climbs back up into the cage and goes to sleep. Any bathing tips? The information I've read is kind of all over the place on how often and different methods. I had a friend take a picture last night which I will attach to this message but it came out really dark, blurry and not good at all...I'll get a replacement to you soon but for now at least you will have something! Hope you are enjoying the nicer weather!
Julie


Shelter response:
No Baths, they can have all the water they want but no shampoo or soap on their skin, it strips the oils off them and makes them really stinky! If they get soiled I use a bit of soap between my fingers on the soiled fur then rinse.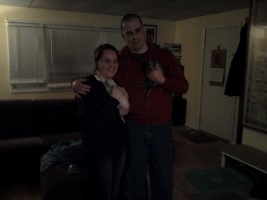 March 29, 2013:
Contact went out today, the girls are doing awesome really lots of fun. We have had them out everyday and they really seem to like the space.
We have not had the home visit yet we have not heard back from the person about when we could do it. If we don't hear back today we will email her again.
March 24, 2013:
The girls have done very well here. Set up their room and gave them all sorts of places to sleep but they prefer their carrier. Didn't have the heart to close the door. Had a clear tube and they loved playing in that. Finally heard from Arthur via email at 9:40 last night. He said that he could meet me around 11-12 ish today at the thruway exit I picked. I had asked him to call me yesterday but he did not and did not mention why he didn't. Have asked him to call when he leaves and asked if he has a cell phone to call me when he arrives at Exit but so far no answer. How will the person doing the home inspection set that up without a phone number. Beginning to see some red flags if I don't get a phone #.
---
Little Bear & Queenie's Story:
Initial contact, March 14, 2013:
Hey Brenda Its Ginger . I know... long time no speak. Have had a lot of crap go on. Joe and I are getting a divorce and he has had the ferrets up until now. HE wants me to take them or he is going to take them to lollipop. I am living in a big old house with lots of hole in the floors to the basement and it is not safe for them and I now have two cats that would eat them. I can't take them and I dont want them to end up at lollipop. We only have two left and I didn't know if you knew of anyone who would be interested or if you would be able to take them. We would be giving the food, the cage and everything. I feel horrible and I don't know what to do. He wants them out ASAP. Let me know what you think. Thanks Ginger
Shelter Response, March 15, 2013:
We will take them get them to us ASAP yes December 2009 is the last report we got from you!
They need to come here, when was the last time they saw a vet? If they are our Shelter kids remind Joe the contract you both signed to take the kids states clearly they come back to us, if they are not there is not much I can do about them going to LP unless you get them and bring them to us. Brenda
Owner response:
No these are not your kids they are their cagemates. They have not seen a vet since Doc saw them at your place a couple years ago. I can get them and bring them to you next Sat if that is acceptable. I have to work this weekend. I know you want the cage and the food but do you want all of the toys and misc stuff too? I have no idea what condition they are in or what condition the cage is in. I know Joe does not let them out anymore. Let me know if that is OK. I have to get a vehicle to transport them. Thanks for your help. They are good kids and lovable. It breaks my heart to see them go. Ginger
Shelter Response:
Where did these kids come from? I know Found is gone how about Dexter? Will Joe get them to us sooner? Is there a way we can get in touch with him?
Everything that belongs to them needs to come with them please.
Owner response:
One came from lollipop and one came from country max. Dexter passed away last summer. Joe will not bring them he left it up to me. I asked him for help he refused. He said get them out of the house or he was taking them to lollipop. He works all of the time and will not take time out of his schedule to bring them there. Next Saturday will be the soonest. They are not in danger. I have to coordinate with him to go the house and get them out. I will see you on Sat. Thanks.
Shelter Response:
Thanks for letting me know.
Surrender Day, March 23, 2013:
Shelter Disclaimer: Julie and Arthur had been activity working with us to adopt the Rochester business of 4. The boys fell in love with Arthur and Julie and they with the boys. When a family wishes to adopt but live in an apartment we require written permission from the landlord/complex management.
Their landlord clearly stated in his letter he knew they were looking to adopt from us and he was fine with them taking 2. We do not go against the wishes of the landlord. We were contacted by a previous adoptive family going though a divorce their ferrets needed a place to go. We contacted Arthur and Julie to see if they would be willing to take the girls since the 4 boys were not going to be able to move in with them. We asked them to take these 2 girls because we would have had to make room for them, going to the new family directly makes it easier on the fur kids to adjust and the family had completed all the preliminary requirements for adoption.


Julie and Arthur – I just got word that the 2 kids Ginger has are going to land here this morning, would you consider taking them instead of the 4 – NOT my wish to push you into something you do not want to do, but with Dan specifically saying 2 ferrets in his consent this would keep your landlord happy and our shelter from splitting at the seams.
I am gong to have to make room for these kids, literally, so if you take them you can come get them ASAP before the home visit if you can work that into your schedule, again all the adoption stuff we have discussed applies – I will send home with them everything I would have sent home with the 4 boys. If you chose to do this it will give the kids a loving new home, free me from having to find a place to put them and put kids into your home sooner.
We have a shelter friend that lives in Skaneateles that is coming today to help; if I sent them home with her would you be able to meet up with her today or tomorrow some where to take them from her?
Oh BTW I did hear back from Dr Ferrell, he gave me all the answers I needed to hear they are good to go for your ferrets medical needs.
What do you think?
Arthur's Response:
I think our only concern is what if their personalities are not what we are looking for. So how about this, we can take them and try them out and see how things go, if their personalities really don't fit us well we can always work out with you making a "trade" for other ferrets that we might like better?
I am sure Dan is going to be ok with the 4 ferrets he has just had a lot going on lately so he is slow to respond.
So if you are ok with that why don't we try that? Then maybe we can discuss where we can meet your friend tomorrow morning to pick up the two ferrets.
Shelter Response:
Marcia just called to say yes she would bring the kids home with her this afternoon and keep them until you and she can decide on a time and place to meet up for the exchange.
The girls are here; they are coming in a carrier you can keep. They have bedding and blankets that came with them I am getting them cleaned up as I key this message. They will be folded and ready for use when you get them. I have food and ferretone in the box with a sleep box that came with them the used stuff came in with them the new stuff and food is what I am sending from the shelter.
They are tiny little girls but they will chunk up, the family that had them went to just Marshall Food so their coats and weight are crappy, they spent 7 months in a cage with little to no out of the cage time.
I have attached a picture of Queeny they are not sitting still enough to get a good pictures of them they are happy little clams to be out and about. All the pictures I took of little Bear are just a blur. She is a little brown sable. Queeny is a little silver girl with a black nose.
I expect with some one on one and lots of love these girls will become well rounded, with good coats. Although the soft fluffy I expect will be gone until next fall, when the coats do fill in they will have the summer coat.
So if this is a go please get back to me, so I know I can pack them up and ship them out with Marcia when she leaves.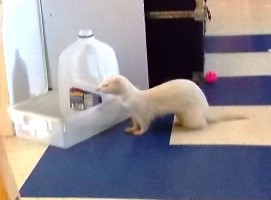 Arthur's Response:
Pack em up and ship em out! We are a go.
I need to hear from Marcia on where we can meet tomorrow for the exchange :)
Shelter Response:
We are packing them up and getting ready to put them in her car right now. She is excited she is going to get to have them for the night… hubby says NO more ferrets!
She will be home about 5 this afternoon.
Marcia's Response:
Hi. I have the girls and just got them settled. They slept the whole ride! And are so sweet!
My cell # *****. I was thinking we could meet tomorrow (Sunday) at Thruway Exit 39, that is if you are taking the NYS Thruway. Give me a call to finalize meeting. Thanks, Marcia
Arthur's Response:
Hey there Marcia, I am going to be headed out that way tomorrow early as I can from here, I expect I will be out there like 11a-12p (ish) and exit 39 works fine for me, that ok with you? Arthur
Marcia's Response:
Mission Accomplished! Hope they love them tons! They are two precious little girls! Marcia