Welcome to Lakeroad Ferret Farm Rescue/Shelter, Inc.
Luna & Monster

• Surrendered to the Shelter on October 10, 2012. They found a Forever Home on June 8, 2013!
• Luna is a silver female, born on May 20, 2009. She left for the Rainbow Bridge on March 16, 2015.
• Monster was a sable male, born on April 20, 2008. He left for the Rainbow Bridge on April 5, 2014.


• Read about how these two arrived at the Shelter by clicking here, or read their latest updates below.
April 5, 2014:
MM is gone, he got his last hours up here with me. I whispered in his ear that he could go, we loved him and would see him again someday. Charlie and Reilly I am sorry I could not do more for this boy for you.

Brenda, thank you for all that you have helped us with. At least MonsterMan did not have to linger on too long. I will call sometime.
Charlie
April 3, 2014:
Monster Man - Doc says he does not see any real positive outcome but he was not willing to euthanize him until we get the pathology report from WA. He said there may be something they find in the spleen that will give us other options to help him improve.
March 31, 2014:
I offered MM soup at 9 am he ate every drop lying in my arms wrapped in a blanket. While we sat together I warmed his sack again so it was ready for him when we put him back to bed.
At 12:30 I got MM up to have some more soup and another dose of pain meds. I was getting concerned that we were not getting enough fluids in him or food he was not peeing or pooing.
At 3:30 I got him up for more soup, at 4:30 I found a good size poo between his legs easy to clean up well formed. When I got him set to give him his meds I was able to get a considerable amount of urine out of him. He ate most of his soup, since I had fed him at 3:30 I was not concerned he was not willing to eat all of the soup I offered him. Got the meds in him and settled him in for the night.

Brenda,
My email went down as of last Friday. Someone got my password, then my server figured out problem as Yahoo shut them down. Late this morning I finally was able to talk to my email server and have it back up. So, I have not seen any emails until this evening.
I meant to call you this morning, but my day was a blur.
It is with much sadness I have read how Monsterman is doing, which seems to be poorly. Yes, it is ok to have him see Doc on Thursday. I am responsible for the vet bill. I would say if he continues to struggle, Doc does not find anything causing the problems, or anything that is "fixable", then it would be best to have him euthanized.
I am supposed to be off to fish tomorrow (Tuesday), but I am not up to it. So I will try to speak with you on Tuesday. I have some prayers for you as it appears you have had a very tough several days.
Charlie
March 30, 2014:
I just gave MM 20cc of fluids, when I went in to check on him he was lying under the blanket shivering. I hope the warmed fluids will help him get his temp up and regulated as well as give him the much needed fluids his body does not have.
I will check on him in 30 min if the fluids did not help I will put a warm corn sack in his bed.
March 25, 2014:
Monster Man was looking and acting better this morning. He is in the play pen in the play room, he will have had his noon time soup and express when you get here to pick him up. Be safe in your travels.
March 24, 2014:
Morning Report: I found MM sleeping in the round bed, once again chest up bottom down, some of that may be he knows he can keep himself clean easier that way. Awesome looking poo. He was a bit wet from pee leaking but I got him expressed and his belly cleaned and dried. I gave him soup while I did his meds, he acted like he would eat more so I gave him another bowl of soup. He ate most all of that. I tucked him back in to his pen.
He looks a bit dehydrated if he looks that way when I express him again I will get some fluids into him. His eyes were bright and he was responsive when I woke him.

Evening Report: Monster Man is hanging in, tonight he was a bit off, shaking while he had his soup. I got his meds into him let him finish his soup in the pen where he would be warmer. Charlie called this afternoon to say he was picking him up to take him back to Doc tomorrow, doc is going to do surgery to remove the spleen. We all hope that will make a difference for him.
March 23, 2014:
Morning Report: When I got MM up for his meds last night I thought he was gone, he was not but it was evident he does not feel well. He ate his soup I gave him his meds then I settled him into the playpen. He sleeps more stretched out than curled; the cage would make that difficult so playpen it was. I switched out the blankets in the pen for thinner and less heavy so he could get in and out from under them without difficulty. In truth I expected to find him gone this morning.
He was here and responsive, I got a good amount of urine out of him, his penis does not look so red this morning, that spleen is what was making it hard for me to find his bladder last night, this morning I tried a different tact and got it. This boy is not comfortable so I believe the discussion we had last night before you left is the way to go, that needs to come out! It either makes him feel better or we allow him the dignity of letting him go.. He ate all his soup this morning, I found a good looking poo in the pen when I got him up.
I went in to check on MM about 9:00 he was sleeping propped up torso part of his body on the elevated part of the bed, hind end on the floor. My take is the spleen drops towards the floor in that position so he can breathe easier. I then checked on him again at 10 I found him with his face in the food dish. I took soup into him at 10:30 I found he had gone up the tube and was sleeping in the toy box, he ate all the soup. He looks better now than he did this morning.

Afternoon Report: I got MM up and emptied his bladder, nice poo he had, as I was expressing him he stretched and his back legs moved out and forward. NO question they moved. I cleaned him up, he got another dish of soup when I put him back in the pen.
March 22, 2014:
Monster Man was left with us, but after Charlie and I talked before his leaving we decided the spleen needs to come out to make the little guy comfortable. Charlie said he was going to call Doc on Monday to make that happen this week. I was not sure MM was going to make it through the night, he did. MM ate his soup and took his meds willingly this morning.

Good morning Brenda,
Reilly and I had our conversation last evening regarding Monsterman. I gave him what I thought were the reasonable options, and of course he was quite sad. He specifically said if you were willing to take him, that he would prefer that. At this time I think that is probably the best option, and mainly because it gives Reilly a better feeling.
We will be headed out to Brockport this morning. We can pick up Teddy if he is ready to go. I will give you an update when we are on the road. Not sure what time we will be in Naples, but again, I will let you know. Looking forward to seeing you and the fuzzies.
Charlie

Shelter Mums response: You can tell Reilly that I would be honored to take Monster Man and keep him happy with quality of life. I will call Brockport at 9 to find out what is going on with Teddy. They do rounds from 8 to 9 so I have a better chance of knowing what is going on if I wait till 9. The office closes at noon so keep that in mind for your trip. Looking forward to seeing you, I hope Reilly comes with you. Brenda

Thanks, Reilly is definitely coming. We will be on the road in about 15 minutes, and we have about 1:45 time of travel.
Charlie
March 21, 2014:
I just got off the phone with Charlie I misunderstood Wed I thought he had taken MM home for the 72 hrs he did not, he is still up at Doc's.. He has not improved the pain is gone but he is still paralyzed on his bottom end. I told Charlie he could come here and I would care for him, I am already expressing Gambit so what is one more? He said he would think about that and let me know, if he does not bring him here they will let him go. He is going up to get MM one way or the other so if Teddy can come home then Charlie said he will bring Teddy home to us.
March 18, 2014:
I got word from Charlie that Monster Man may be in more trouble than we thought, when Charlie got home to actually see MM he discovered he is paralyzed on his bottom half. I have not heard what if anything has been done since doc is off on Tuesdays.
March 17, 2014:
Brenda,
Well the picture I had before getting home was different than the actual picture of Monsterman. He cannot move his back legs much if any. He has an odd reflex, that gives me the impression he has either a spinal lesion or a brain lesion (when I would touch/stroke his tail, both his back legs would extend/stretch out). He has a distended abdomen, and I get the impression he has something growing in the right upper quadrant, although it was tough to find the edges.
His appetite is great. He did have a fresh skat when I got home at about 8 pm. It looked normal. He has a red area at the far end of his suture line that is knee. The area by his penis is also slightly red (I started amox, as it is the only abx I have that he can take). The belly does not seem tender.
When I went down to feed him again this evening, no stool. He ate great, but not having any stool yet after all he ate earlier is a little scary.
Hopefully will see some changes overnight, but I think there is something else driving these symptoms. If his abdomen is larger in the AM, and no stool output, he will need to be seen pretty quick.
I let you know.
Charlie

Charlie called to say Monster Man is not doing well what did I think was going on, it sounds to me like his BG is way low so we talked about what to do about that, then he tells me he got in touch with Doc E and he told him the same thing. He has an appointment for Monster Man with Doc on Wed.
January 29, 2014:
Hello Brenda,
I hope things are going well for you and the fur kids. Had Friskie, Luna and Monsterman in to the vet a week ago. I had suspected adrenal disease. Luna's blood work was definitely hyperadrenal.
Friskie had ultrasound ultra sound yesterday has he had probable enlarged right adrenal, and as suspected, he has a enlarged right sided adrenal gland. Does not appear to have invaded the vena cava/big vein.
Monsterman ultrasound showed big left adrenal, felt they likely saw one of the insulin tumors. Luckily, the rest was normal, as when he had the exam over a week ago, he had "lumpy intestines". Surgery appears the best way to go although there is risk with any surgery and the cost is pretty high. But, quality of life, and staying power probably improved over meds.
My question pertains to the estimate that the Vet gave for each of the guys for the surgery, and I was a little surprised at the cost. The estimate was ~ $800-1200 for each.
Can you give me an estimate on what Dr. Edwards adrenal surgeries usually are? I realize he gives the shelter a discount and I am not asking for that. I am just trying to find out if Dr Leshkivich is in the ballpark or not.
On a better note, the Ferrets here are doing well. Monsterman over the last 3 or so weeks has been more active, trying to escape whenever we open the cage, always ready to get his Soup, pretty squirmy and running around when loose.
Luna can be a handful. She hears me when I come down for soup and is always the 1st one up. When the cage is open, she makes a bolt for the door! Now, she usually will do that by crawling on your arm. But the two of them are getting as bad as Fred and Max are when the cage gets open (Max is goofy, he has fallen out on more than one occasion as he just heads for the door and if someone is there to catch him ok, if not, down he still heads out (and down!). Stay warm.
Charlie


Thanks Brenda. Forgot about post-op issues. I think the best thing is to proceed to surgery. I am a little dismayed in my current Vet and the variance in her estimates. In the medical world, a surgery has a charge/invoice, not a range of x-z.
I do have confidence in her skills, as she does take care of a lot of Ferrets, reports doing this surgery frequently and understands potential problems and the fragility of Ferrets. Our conversations have always been interactive at a medical level, and she does not give me any hint of lack of expertise.
Thanks again. Will be contacting Dr. Edwards. I will let you know about Post op.
Charlie
January 14, 2014:
Hello Brenda,
The ferrets made it thru surgery ok today. Monsterman had left sided enlarged adrenal resected, along with taking out part of the pancreas and 2 accessory small spleens (misplaced near the bowels).
Friskie and a big right sided adrenal gland, needed extra work to get out. Doc is a little worried as it was more involved than usual, but feels Friskie will be ok. I will have to watch the sugars, as he was kind of low end of normal after surgery, and without the adrenal gland putting out all the hormones, a small insulinoma may be present and will drop the sugars.
Luna was pretty straight forward with left sided enlarged adrenal gland.
My plan for tomorrow is to get to Brockport around 4-4:30. Likely will leave there by 5 or so? Not sure how long will take to get to Naples, but it looks like it will be about 1.5 hrs.
I will be bringing frozen soup, their kibble, the prednisalone for Monsterman and Max. If there is something else you think I should be bringing, let me know. I hope you are well and I am looking forward to seeing you tomorrow (today/Friday)
Charlie
January 14, 2014:
The business of ferrets that Reilly and I currently have!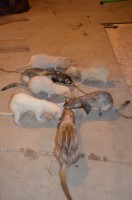 November 29, 2013:
Brenda,
Appears Max also has insulinoma. His weight is down from prior, has been a slow loss. Checked a sugar, and he was 69. Cannot "officially" make the diagnosis with that number, but it is close enough and he is now on prednisalone along with two times a day protein soup. Monster and You-i are both doing well. No obvious signs of low sugars.
Fred has recovered fully. The little devil escaped from the pen, not sure how he did it. He also is back to his rambunctious self, as he never stops when we have him loose.
Charlie
October 03, 2013:
Hello Brenda,
Everyone (well, Ferrets and kitten and cats) loved the soup. It is hybrid of yours and the Duck Soup from "North Coast Duck Soup". It has fresh (caught yesterday) Salmon, organic chicken, mix of Kibble, vitamins/supplements, Ferretone, papaya. Not sure what the true protein % is, but it is pretty high as I added 7 oz of salmon, 6.5 oz of chicken to 8 oz of kibble.
When I woke Monsterman, he sniffed it right away and was looking for the source. The only one that did not go to it quickly was Fred, and that is only because Fred is a nut about trying to escape. When cage gets open, he bolts for freedom!
I have to get some eggs, and the Lecithin. I am not sure on the Vit E, as in humans there is good science that shows taking 400 iu or more of Vit E each day puts one at risk for cardiovascular complications.
I am excited to try to get one to two servings of this each day for all of our Ferrets, and one serving per day for the cats. If I can "mass produce", I will give them more, as these critters really just need protein and fat to be as healthy as they should.
September 30, 2013:
So far so good. He has seemed a little perkier over the weekend. I have been working on "higher protein" diet, but the trick is to get him to eat it. Will keep working, plan on getting some steroids into him tomorrow. I am intrigued on what I have been reading regarding Ferrets "natural diet" and what we have for choices in kibble. I have always wondered why the foods are not mainly protein. I understand the economics and the need to keep food affordable. I will keep you up to date.
September 26, 2013:
Reilly has been worried some about Monster-man. He seems to like to sleep a lot. He is pink, eating good, weight stable. He generally settles into a sleeping place much sooner than the others. Do you remember if he was like this with you? Thanks, hope you are well.
Charlie
August 18, 2013:
Luna and Monsterman are doing pretty well. They have broken the little habit that had in using the open areas(the world is my toilet) in the activity pen, and are now using the little boxes regular with no accidents. Luna is either really excited to get with the other group to play, or is looking to seek and destroy as she really gets excited (no fuzzing) and duks and runs around the pen when the other are out loose and playing. That see-through expandable tubing that came with the little ball pit is a huge success, as everyone loves to get in there and chase.
Reilly already has plans for the "covered Wagon"/box pulling game that is upcoming for Christmas in October. He is thinking that Monsterman or Yu-i will be great at that.
I hope you are feeling well and having a good summer.
Charlie
June 8, 2013:
Luna and Monster found a Forever Home!
January 6, 2013:
Dear Miss Olivia,
We love the presents you sent us, Mum is sending pictures!
Thank You, thank you, thank you, thank you! Thank You, thank you, thank you, thank you! Thank You, thank you, thank you, thank you!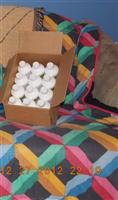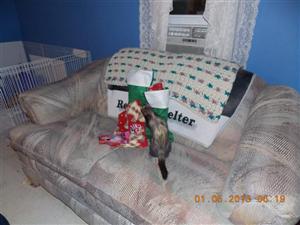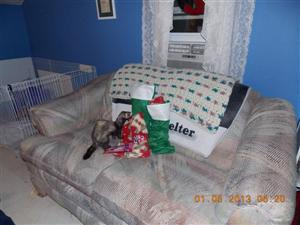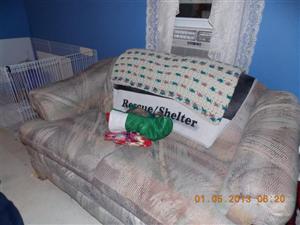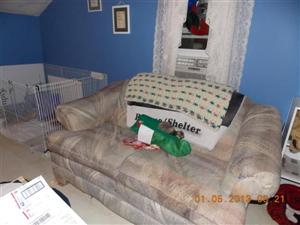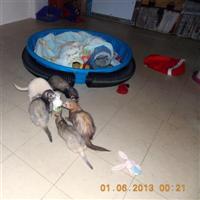 November 11, 2012:
Today was moving day for some kids; Luna and Monster-Man into the cage the Rochester business was in (but only the lower level), it is up off the floor and warmer than the cage I had them in.
October 11, 2012:
Hello again. Hope I'm not bothering you, but I was just wondering how everything was going with Monster and Luna. I know it has only been a day, but I do miss them terribly and I still care very much for them. I hope they are adjusting well and are not giving you too much trouble. Even though I am heart broken over this decision, I know this is what is best for them and I want to thank you again for taking them in. I really appreciate it very much. Please get back to me when you get a moment, there is no rush though.
- Janelle
---
Initial Contact, September 23, 2012, Janelle:
Hello, my name is Janelle and I am the proud owner of two delightful fur kids. I have owned ferrets for about 5 years now, my oldest having to be euthanized over the summer. Unfortunately, after acquiring two jobs and going to school full time, I have found less time to give them the proper care they need and deserve. As much as it pains me to let them go, I would rather send them to a place where I know they will be taken good care of. I will be able to give them up to date vaccinations with no problem and anything else that was listed that they need in order to surrender. I have a ferret nation model 142 cage that I am also giving up, along with their other goodies. I would also be VERY happy to sponsor them for the duration of their stay at your shelter. I truly care about them and want to continue any involvement I can while they wait for adoption if I am able to surrender them. I am just finding it very difficult to care for them at this point in my life and would really appreciate someone caring for them that can give them all the proper attention they need and deserve. I would be very thankful if you could take them in, but I understand if you are at capacity or there is another issue. Let me know what you think as soon as possible. Thank you!
More information on my fur kids... I have one sable male named Monster who was born on 4/20/08 and one silver female named Luna who was born on 5/20/09. Both ferrets are very playful and loveable with no history of aggression towards people or other ferrets at all. Occasionally, Luna can be skittish towards people, but she has never bitten anybody. She only had a nipping problem when she was a baby, but I trained her out of it. She just has to warm up to people first. Monster, on the other hand, is a BIG baby and loves to be loved. He loves attention in any way he can get it and would never hurt a fly. I also know that Monster is very good with younger children, but Luna would have to be watched closely because she does not like to be handled as much. I would also say that they MUST be adopted together because they have been together since they were kits and it would be heart breaking to them to be separated.
Initial Response, September 23, 2012, Brenda:
Hi Janelle, I am sorry to hear you need to give up your fur kids, as long as you are willing to follow our protocol with documented vaccines and bring them and all their belonging with them we would be happy to take them in for you. When would you want to have this happen and where are you located?
September 24, 2012, Janelle:
Thank you so much! They need their shots up to date so I am going to try to get an appointment this week, but it may have to wait until the weekend because I work during the week and go to school.
I will let you know when that is setup for in the next day or two. As far as getting them to you, I would be able to get out there easier on a weekend if that works. I would also like to do this within the next couple weeks, if that's convenient for you. I believe I have the next couple Saturdays and possibly Sundays off so just let me know what works best for you.
Also, I am located in Gorham, NY, which is around a 30 or 40 minute drive to your shelter. I would have no problem getting everything to you myself though.

I called my vet about getting their shots up to date and the closest date they could get them in was actually on the 8th of October at 5 pm. I know you mentioned having that day off so I was wondering if I could maybe drop them off after the appointment. I probably wouldn't be there until between 7 and 8, depending on how long the appointment takes. If that does not work, just let me know any dates after the 8th that are more convenient and I will work something out.
September 24, 2012, Brenda:
Okay that is good you were able to get them in on the 8th. Ugh - no that late will not work for me, I am up at 3:30 am on work days and I will be going back to work on Tuesday – Intakes take at least an hour so that is far too late for us. What does Tuesday the 9th look like for you? Between 8 am and 1 pm – let me know Brenda
September 25, 2012, Janelle:
I have class until 12:20 on Tuesdays and Thursdays, plus I usually always work Tuesdays. I can take a day off work, but I already had to take a day off of each of my jobs that week. I may get lucky and have a day off one of the days that week though. Unfortunately, I probably won't know this until the end of the week. I am sticking with this plan no matter what. We just have to work out a day that's convenient for both of us. I will let you know what openings I have the week of the 8th as soon as I know and we'll go from there.
September 25, 2012, Brenda:
No Janelle do not take days off – we will work this out – neither of us can afford to take time off. Will Wed work between 8 – 1? Okay, then we have time to figure this out.
Yes I am sure we can figure out what is going on – if you work until 12:20 what time would you get here after that?
We will get this worked out, thanks for your understanding.
September 26, 2012, Janelle:
I actually called the vet and had the appointment changed to the 10th of October at 11:30 AM so I would probably be able to make it there by 1 if that's alright. Just let me know if that works for you.
September 26, 2012, Brenda:
Perfect that new time works much better for me – make sure when you get here you have all that belongs to them and the documentation from the vet – keep me in the loop – what are you feeding them?
September 26, 2012, Janelle:
Alright, sounds good I will be there on the 10th right after the vet visit. I am feeding them ZuPreem right now.
September 26, 2012, Brenda:
Perfect Zupree is in our mix – see you the 10th – please get here as soon as you can I need to leave for work at 1 pm.
September 26, 2012, Janelle:
Just in case I cut too close in time, could I bring them over sometime later in the day?
September 27, 2012, Brenda:
Jenelle, I do not get home from work until 5 – as soon as I get home I must start serving up meds and soup to the sick ferrets I have in my care, so there is little time after work to do surrender. I would suggest you have everything packed in your car before you go to the vet so when they are done you can head right to Naples with them and their stuff. I am not trying to be difficult, but we need to fill out forms and such when you get here so doing it after 5 is not going to work for me.
September 29, 2012, Janelle:
I understand. I was just asking.