Welcome to Lakeroad Ferret Farm Rescue/Shelter, Inc.
Marshmallow & Snowy-Bowie

• Marshmallow was surrendered to the Shelter June 28, 2009.
• Snowy-Bowie was surrendered to the Shelter July 6, 2009.

• Marshmallow was light silver female. DOB June 10, 2007. She left for the Rainbow Bridge October 21, 2013.
• Snowy-Bowie was a light silver male. He left for the Rainbow Bridge March 23, 2014.
• Snowy-Bowie was on the 2011 Ferret Giving Tree!
• Read about how they arrived and became best buds by clicking here, or read their latest updates below.

• Marshmallow had a far away family in Watervliet, NY.
• Snowy-Bowie had a far away mom in Albert Lea, MN.
March 28, 2014:
I got Snowy's card today. The photo is a wonderful remembrance. As I was reading it, it dawned on me that while Snowy has moved on to the ultimate forever home he's still and will always be my furkid and I'll always be his now really faraway mom. There will never be another ferret like Snowy. He was a once-in-a-lifetime ferret, but then they're all special. I miss him.
Okay, enough sad/serious stuff. I'm looking forward to getting to know Bandit & Gambit and spoiling them. It's a pity the company that makes Foamy Fries & Cheweasels folded. A shower of treats would be a great way to introduce myself to the boys.
Lauri
March 24, 2014:
Snowy left for Rainbow Bridge last night.

Dear far away mom, I got permission from the Rainbow gate keeper to send you a message to let you know I made it safely. I no longer need to take meds and I am now full of life and healthy again. Thank you for loving me for so long, I am going to miss you. I left last night, with a kiss on my head and a whisper from Mum that she would see me again one day.
Snowy Bowie
January 28, 2014:
Snowy, there is something I want you to know. Humans can be really selfish and will go to great lengths to keep a loved one from crossing Rainbow Bridge. I know Mum isn't like that. She will let you go when you're ready. She'll even help you cross over.
I love you, and it's all right with me for you to go when the time comes. My heart will go with you, and my furkids will be there to welcome you. Word of warning, Mischief and Cricket believe they're in charge of everything. Let them go on believing that and you'll do fine.
P.S. Your paper that works like money will continue in your honor & memory.
Your far-away mom,
Lauri
October 21, 2013:
Marshmallow earned her wings this morning; she left for Rainbow Bridge.
September 11, 2013:
Dear far away mom,
Mum got my cage all set up with the new clips you bought us for the bungalow you got us for Christmas last year, and then she did the mega bungalow under my cage and then Honey Bunny's cage. Far way mom you are awesome thanks for helpen Mum take care of us.
I love you
Snowy Bowie
August 19, 2013:
Far away mom I got my paper that works like money today, thank you!
I scared Mum on Sunday morning I was crashed and nonresponsive when she got me up. I had to get a hurt stick instead of my soup because I was too gone to eat soup, but the hurt stick worked I came back and was able to eat my noon time soup all by myself and then again at 5 for my late afternoon meds.
Mum was doing the happy dance when I was awake and ready to have my noon time soup.
Thanks for helpen mum take care of me, I love you!
Snowy
July 4, 2013:
I found Snowy so crashed that he could not eat his soup so I gave him a Dex shot got him coherent enough that he took some soup off the dropper. I hope I can keep him going until his far away mom gets here on the 16th.
April 12, 2013:
Hello to my beautiful boy, Snowy Bowie. Has Spring arrived in Naples yet? It dawned here in Southern Minnesota, kind of, briefly. Temperatures rose to the high 50's last week. Quite comfortable. The last bits of cold white stuffs vanished...that is until yesterday. I woke up to find that Jack Frost had paid us a surprise visit sometime in the night. He's a talented artist, having coated the ground with a smooth layer of white. I wish I could send you a picture of the tree branches dressed in fairy floss. It's mornings like that that make me glad I'm a Minnesota girl and that I can enjoy the view from the warmth of my apartment.
Be good, be happy
Lauri
March 29, 2013:
Dear Far Away Mom,
Thank You, thank you, thank you, thank you! Thank You, thank you, thank you, thank you! Thank You, thank you, thank you, thank you! I love my Easter present!
Marshmallow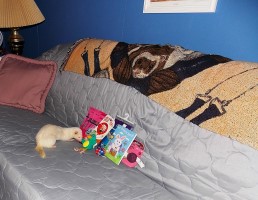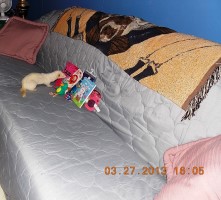 You are very welcome little one. It's nice to see you looking so good in your picture. I hope you have a lovely Easter. -love far away Michele
March 25, 2013:
Look at me dance and play! See no reason to worry I am a happy little fellow! I love you though for worrying about me!
Snowy Bowie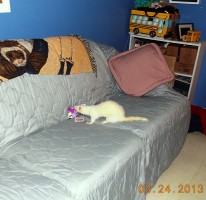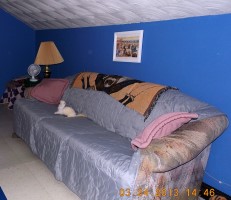 You are a character, Snowy Bowie. A handsome, sweet, smart one, but a character no less. Tell Mum thanks for the pictures.
March 23, 2013:
Brenda, thanks for letting me know about Snowy Bowie. Forgive me for being blunt. In your estimation, how much time does he have. I'm a believer in quality over quantity of life. I know mixing the pred into soup is easier on his tummy, but doesn't guarantee medication-related ulcers won't form. I'm crying here. I've dealt with insulinoma. I've seen what it can do. Please keep me in the loop.
Lauri


Dear far away mom, Mum told me I could answer this email. Mum says I am in the very early stages of insulinoma and she is only giving me 0.02 mls of prednisone that is 6 tiny drops and I feel much better now that I am on that. I get it 2 times a day. I am a happy camper again. Mum is too, she will absolutely not make me go on if there is no quality, she will let me tell her when I have had enough but right now I am dancing with my sissy Marshmallow and living the good life.
that is true far away mom but the dose I am getting is so so small that ulcer is unlikely at this time. Mum says she will be very careful to watch that I do not get sick from the medicine she is giving me.
Oh far away mom please don't cry I am not as sick as you are thinking but Mum says she will keep you in my loop so you do not have to worry about me. She said she will even get some pictures of me happy dancing.
Yes Mum says it is a nasty illness and it does make us really really sick but right now I am not that sick and she is keeping me feeling happy and sassy. I love you far away mom thanks for loving me too. Please don't cry.
We will keep in touch, Snowy Bowie and Mum
February 16, 2013:
Hi far away mom, Mum got pictures of me but I was very uncooperative this time here you go – once she got me then we let Snowy Bowie play too – I love you thanks for my presents! Marshmallow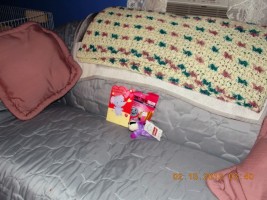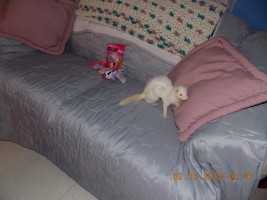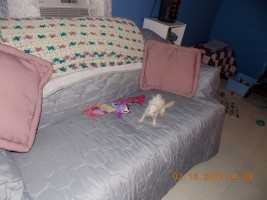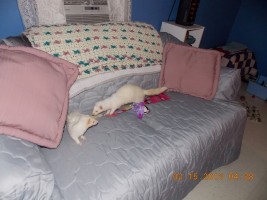 Dear Marshmallow,
I am glad to know the package (small as it is) made it safe. You look wonderful :) I'll be sending you another package next month for Easter ( it's coming early this year!)
Take care little one
-Michele
February 12, 2013:
Hi Marshmallow
I just wanted to give you the heads up that a small package should be arriving for you for Valentines' Day. Its nothing big, just a small gift to let you know you are loved and thought of. Also included is your monthly check. Just make sure your mum doesn't cash it until Friday 2/15 so that the funds are in there!
Take Care little one and Happy Valentine's Day!!
Love Michele, Axle, Spike and Chloe
January 6, 2013:
Hi far away mom! thank you so much for my presents – I love everything! I shared with Snowy, I hope that is okay.
I love you far away mom! - Marshmallow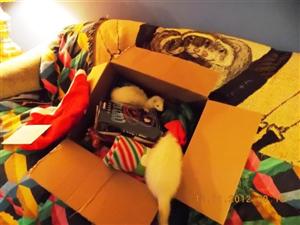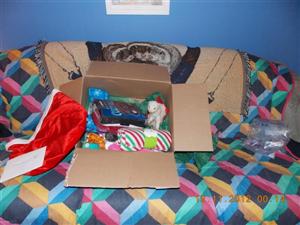 December 29, 2012:
Dear far away mom,
Mum got my hut in my cage today. Take a look I can not wait to use it!Thank you for helping Mum take care of me!
Snowy Bowie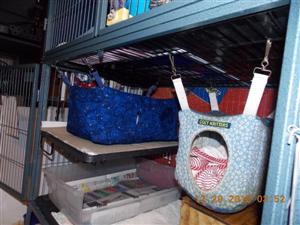 I'm glad you like the hut. Something soft and warm for you to snuggle in. The color goes great with your coat, and there's room for two!
Your far-away mom, Lauri
December 21, 2012:
Thanks far away mom I love my Christmas! You rock as a far away mom!
I love you, Snowy Bowie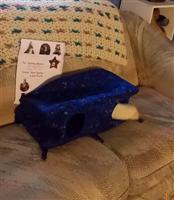 August 10, 2012:
Dear Snowy-Bowie,
Your wonderful card arrived in the mail today. Sweetie, I'm so glad you're enjoying the treats. Of course you can share them with Marshmallow. I wouldn't expect anything less. You're a wonderful brother and I'm proud of you. Just so you know, I know a few things about brothers. I've got five of them. I have a photo of four of my brothers and me that was taken a couple of Thanksgivings ago. I think I'll scan it and send it to Mum.
Your far-away mom, Lauri

P.S. I like the multi-colored quilt you and Marshmallow are playing on.

August 5, 2012:
Oh far away mom – the treats got here – treats falling from the sky! I hope you do not mind I want to share with Marshmallow – Mum took a picture of us with the treats- we were so excited! - Snowy Bowie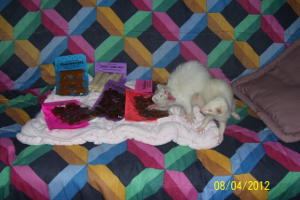 Thank You, thank you, thank you, thank you! Thank You, thank you, thank you, thank you! Thank You, thank you, thank you, thank you!

July 17, 2012:
Hey far away mom – I got my birthday presents, mum let me open them – here are the pictures she took for you.
Thank you for loving me far away mom, I love you!
Marshmallow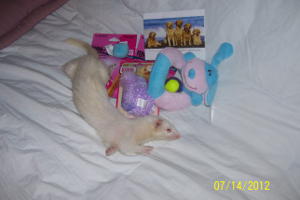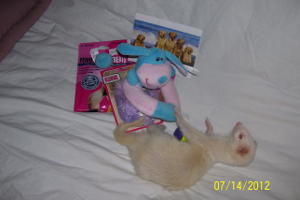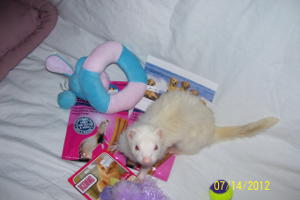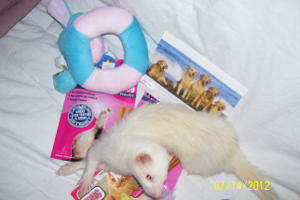 Oh Marshmallow I am so glad you like your presents. You look so beautiful in your photos, your mum should enter you in a ferret fashion show!! Hope you enjoy your toys and treats. I will try to send more soon. xoxo
June 4, 2012:
Here are peanuts from our far away mom! You'll have to look closely to see us!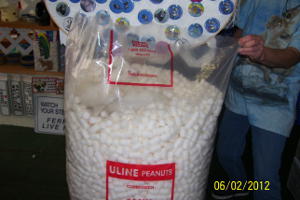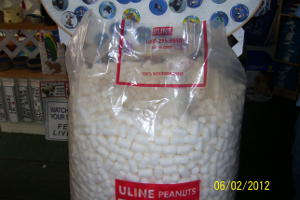 April 9, 2012:
Hey far away mom, I got to open my presents and mum took pictures of me checking them out. thank you for my special Easter presents – I love them.
I love you,
Marshmallow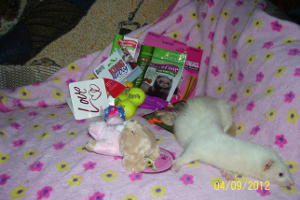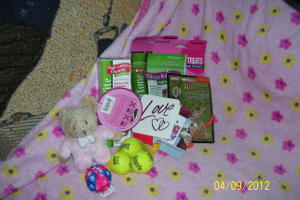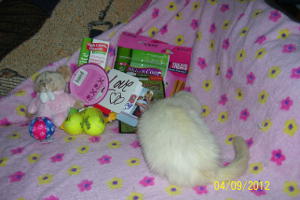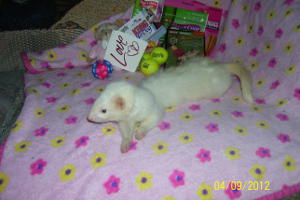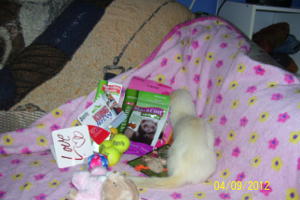 December 12, 2011:
Here are the pictures mum took of me opening my presents
Thank You, thank you, thank you, thank you! Thank You, thank you, thank you, thank you! Thank You, thank you, thank you, thank you!
Snowy Bowie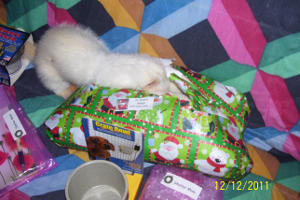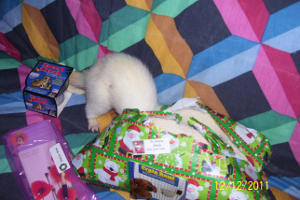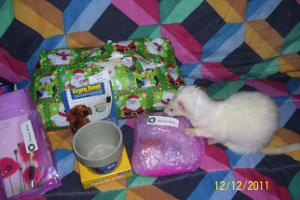 June 14, 2011:
You're welcome little one. I hope you enjoy them! You're looking very beautiful in your pictures. Your mum must be taking very good care of you. Lucky little fuzzbutt :)
June 9, 2011:
Dear Marshmallow, I wanted to let you know that I mailed out a small package for you today. It's filled with treats for your Birthday! I'm sorry that it won't make it there for you to dive into on Friday, but I hope you enjoy them when you do get them. (Its been soo busy its been hard to get to the post office). Your fur cousin Chip was diagnosed with Insulinoma about a month ago. No worries, he is doing very well on his Pred and his 6 hour snack schedule. He did give me a scare on Monday though when after playing for 10 minutes his face (around his mouth, nose and eyes) started to turn bright red...he became itchy, and then just flopped...none responsive for the most part. After being rushed to the ER (and me breaking all kinds of speed limits) it turns out he had an allergic reaction to ... something. We think he may have gotten bitten by a spider or house centipede. They took good care of him with fluids, additional steroids, benedryl etc and he is back to his normal, playful self. My poor baby....not only does he have to deal with IBS and Adrenal Disease, but he also has Insulinoma and gets an allergic reaction! Meanwhile his siblings (thank goodness) are all perfectly fine. Anyways....the above list of mini crisis are all reasons why your package will be arriving a little late. Please share a treat with Mau and let you mum know that your check will be coming as normal at the end of the month.

Take care little one and HAPPY BIRTHDAY!!!! I hope its a great one!
love far away mom Michele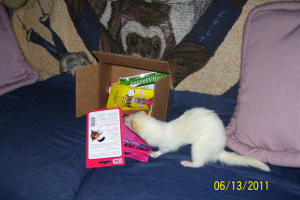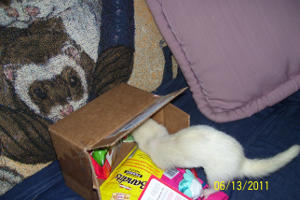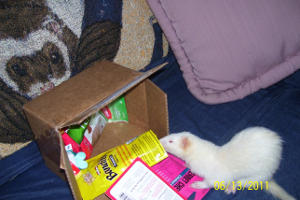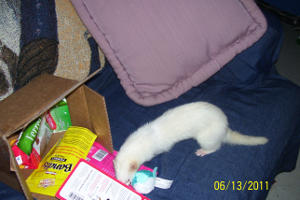 April 24, 2011, Easter:
Hey far away mom, look at us! Thanks for our Easter Presents! We love you! - Mau and Marshmallow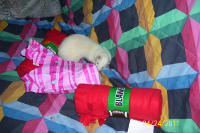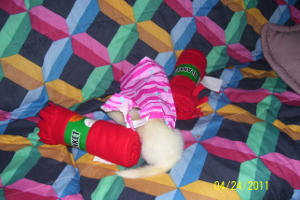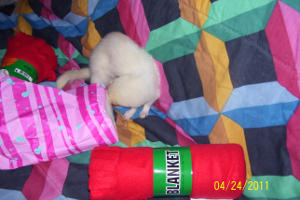 March 21, 2011:
Hey far away mom – our foamy fries finally came in – take a look – mum gave me two so she could get me to stay still long enough to get a picture of me with them – HA! I took off with them in the first picture so she only got 2 pictures of me – thanks – mum says she will get pictures of Mau and Teddy for you too – Marshmallow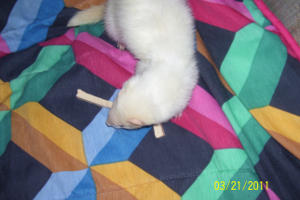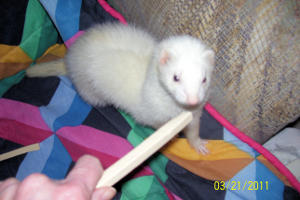 Oh Marshmallow I am so glad that your treats came in! I do hope that you enjoy them! I am also glad to hear that your mum received the check. I'm working with the Easter bunny to put together a package for you and Mau for next month. I'll let you mum know when its on the way. Take care little one!
-Michele
December 29, 2010:
Hi Mau and Marshmallow,
I was so happy to see the pictures of you guys opening your presents on your mum's website. I hope you enjoy them. I'm really glad that Teddy was able to open a present. No ferret should go without presents on Christmas! I wanted to wish the two of you and your mum a Happy New Years! Take care little ones.
-Michele
p.s. Axle, Chip, Chloe and Romeo say "Dook dook and hi!"

Hey far away mom – Merry Christmas – we love our presents – wow you sent us lots and lots!
Yup! Yup! Yup! Miss Mindy is working hard to get everybody that got presents up on the site – mum finally got them all taken – mum says we are all so spoiled we stink. We love them – you pick the best presents!
Yeah mum likes to make sure any new kids that come in get something. Hummm that is what mum says too.
Thanks we want that for you too tell our cousins we said hi and we hope they had the same kind of awesome Christmas we did – Mau and Marshmallow
January 3, 2010:
We had been wanting to help out some shelter ferrets but until coming to your site hadn't really known how to go about it. It is the least we can do to help out with these little cuties. We hope that Mau, Marshmallow and Bear II are all enjoying their gifts. Our fuzzies had a wonderful Christmas and have added even more to their toy chest (actual children's toy chest) full of toys. They're worth it though! Again, it was a pleasure meeting you and we are thankful for your hospitality. Please tell Mau and Marshmallow that we said hello.
-Michele
December 26, 2009:
Mau and Marshmallow's far away family came to play!

Hi Brenda,
Thank you so much for your hospitality. We enjoyed meeting each of the ferrets. James especially had fun playing with Delilah. I forgot to explain one of the gift bags. In one of the bags was a ferret shirt, hanging tunnel, and itty bitty cuddle cup...these are all gently used (washed) items that I figured you could add to your used inventory on the website. Also, there is a large fish tunnel that is for all the ferrets to share! Thank you again for having us, we enjoyed our visit immensely. Please tell Mau and Marshmallow that they are even more adorable and sweet in person.
-Michele and James

They brought presents for Bear II and Snowy-Bowey too. As well as a bag for all the kids here.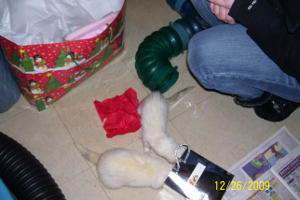 Marshmallow Opening Presents From Her Far Away Family!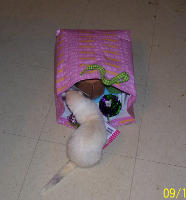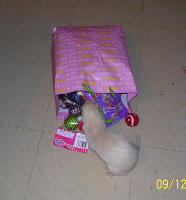 Christmas Gifts, 2010:
Hey far away mom – we got our presents you sent - The present for the shelter kids mum let Teddy open – he is new here and did not have anyone to buy him presents so she let him open that package – when he got in it – it made noise – he jumped off the couch and ran to hide – once he found out it was not going to chase him he thought it was a cool present – Mau – Marshmallow - Teddy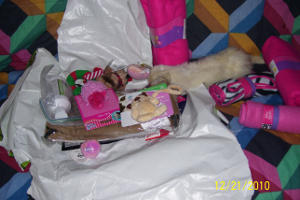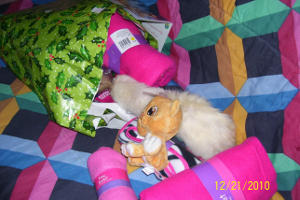 ---
Marshmallow's arrival story:
A family in Naples called me about one month ago asking me questions about getting a ferret. They were adopting a little one from a private family. I invited the family to the shelter, and gathered some things up to send home with them and their new little girl. They brought her to the shelter for me to check out. They were told that Marshmallow was an albino boy. She is actually a light silver little girl.
They had with them a human infant; I explained to them that taking the little ferret home was going to add to the children in their household. My instinct was telling me that these people did not understand ferrets and were going to be overwhelmed very quickly with Marshmallow's care. I asked them to call me if they found they could not continue to care for this little girl. I got that call on Sunday evening 6-28-09. The reason she gave little Marshmallow up: "IT STINKS."
When I sent them home with things for this little girl I also sent them home with a good quality ferret food mix. They chose to feed her crap grocery store food!
How do I know what they were feeding? I dumped the food that was in her dish into the pan I keep in the garage for the barn cats. There was red yellow and brown kibble in the bottom of the food dish. The water bottle was set up so that the spout was sitting on the edge of the dish. There was NO water in the dish and the spout was sitting in such a way I doubt she could get water out of the spout.
Marshmallow is adjusting very well to shelter life.
Snow climber, aka Snowy, aka Snowy-Bowie's arrival story:
Snowy was found running around in Montour Falls, New York by the ACO of Schuyler. Snowy was turned in to the local wildlife facility which, in turn, contacted me.
Shelly got him medical attention because of a prolapsed eye; it needed to be removed.
Andrea and Shelly are friends. Andrea another wild life rehabilitator and friend of this shelter told Shelly about us so Shelly contacted me to see if I had room for this little guy. Snowy is a wild child, happy and full of life. He is to still adjusting to having only one eye because he will at times run into things he is trying to get under or around.
Snowy got to meet Miss Angie and Mr Paul while they were here visiting their far away fur kids Opie and Dominic. Miss Angie said she thought Snowy looked just like her little guy Bowie so we added Bowie to his name hence Snowy-Bowie.
Now the best of buds!
One day I had Marshmallow out in one of the play rooms, I had been interrupted many times that day so I had forgotten I had Marshmallow in the library, I let Snowy-Bowie out to have his turn at play time. It was not long before Marshmallow and Snowy-Bowie found each other, and it was as if they had been long lost friends. Snowy-Bowie and Marshmallow jumped, they dooked, they rolled and ran in and out of tubes. I did not have the heart to separate the two of them. I allowed them to play in each of the play rooms during their rotation times. I then put them back into their own cages. From that time on, I allowed them their play time together every day. One day, I found them sleeping in the same bed together all curled up and intertwined.
It was at that time I decided they could be cage mates. They now live together in the same cage as if they were best buds from birth.
I do not usually put ferrets together if they come in as singles to be a business because it is easier to adopt a single than a group. However I do sometimes mess up and find that the mess up is good for the kids. These two fur kids are so happy to have each other I am glad I forgot Marshmallow was in the room when I put Snowy-Bowie out to play.