Welcome to Lakeroad Ferret Farm Rescue/Shelter, Inc.
Pogo, AKA Missy

• Missy found a Forever Home on August 10, 2008!
• Surrendered to the Shelter on August 1, 2008.
• Missy is a dark silver female with mitts.
July 12, 2009:
I owe all of you a huge apologizes for not sending or contacting all of you earlier. Sometimes life just gets in the way of everything. But never away of my angels. They are the most important little ones in my life. Please except these picture's for a huge sorry from the heart. Love, Suzan,Jenni,Missy.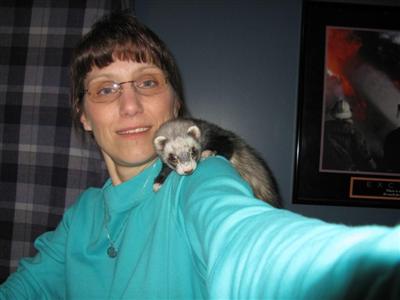 Missy- She is the loveliest little girl in the house. She loves to follow mom everywhere and also loves to ride on my shoulder. She will climb up anything to get to me. She is always giving kisses. Loves her sissy so much they are NEVER apart. She cant stay off the table so the chairs are never near it. It is soooo amazing-she and Jenni can scale a brick wall that we have just to get into the trash. The dog doesn't but my girls do. Unfortunately the boys and girls can't be together the boys have been alone to long. She also loves loves loves mash. She will climb in the fridge when in it open. Loves to steal my brush if she gets a chance. She is just so loving and will go to anyone. The neighbor kids love her because she never bites, never has. I am just so grateful to have gotten her; she brings so much joy to us and mostly her sis. She is so gorgeous I know she'd win in a show.
August 13, 2008:
They are getting along soooo good. I put her in Jenni's cage together and they were sleeping, however I kept a good eye on them "just in case". I didn't let (oh yea Spencer and I changed her name to sissy. She didn't look like an ali) her sleep in the cage over night because I work the night shift. I also won't let her be in there unsupervised because it's still to early I think.
She is going this week with Jenni to get her distemper shot I don't think there will be any trouble she is sooo nice to have in my arms she's a lover not a "blood sucker" (ha, ha). I am so glad that she has become an addition to our family she just fit right in. We thank you for everything and helping us help a little girl in need of a home. Spencer can't wait to meet her, he also hasn't met Jenni because he is still over sea's but he comes home the middle of September. I will always keep you updated on how things are going.
She is so beautiful I know she will win the trophy. I know all mothers think that way however I am positive she will win. Take care and talk with you soon.
Sincerely,
Suzan & Spencer :)