Welcome to Lakeroad Ferret Farm Rescue/Shelter, Inc.



Porkchop & Skooter



• Surrendered to the Shelter June 23, 2010.
• Porkchop was a sable male. He left for the Rainbow Bridge on August 1, 2011.
• Skooter is an albino male. He left for the Rainbow Bridge April 25, 2013.
• Read about how they arrived by clicking here, or read the latest updates below.
• Skooter was on the 2011 Giving Tree!

• Skooter has a not so far away, far away mom in Moravia, NY.
April 25, 2013:
Skooter earned his wings today.
March 29, 2013:
Dear Skooter,
Please make sure Mum Brenda knows that she should let me know if you have any doctor's appointments. I want to help take care of those separate from this, because I know that vets who specialize in ferrets can be expensive, but we want you to be healthy.

Hi far away mom!
Awe far away mom that is so nice of you, Mum will be having me see our favorite doc in June for our hurt sticks and check ups.
You are the bestest far away mom ever
I love you Skooter
March 10, 2013:
Thank you for this nice note, but I think you must have a fairy godmother Skooter - I did not send this box of goodies. It was very nice, but I wanted to be sure to let you know, so that if you think of someone else who might have sent these items, you will be able to thank them.
Best,
Leslie


Response: Mum says I am a lucky ferret to have a far away mom AND a fairy godmother, Shannon! Oops!
Thank You, thank you, thank you, thank you! Thank You, thank you, thank you, thank you! Thank You, thank you, thank you, thank you!
- Skooter
March 9, 2013:
Dear far away mom, I got the box of goodies you sended me. Mum says she will get pictures of me and the stuff for you.
Thank You, thank you, thank you, thank you! Thank You, thank you, thank you, thank you! Thank You, thank you, thank you, thank you!
- Skooter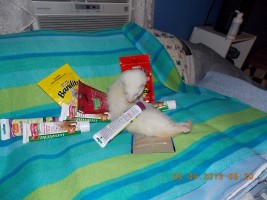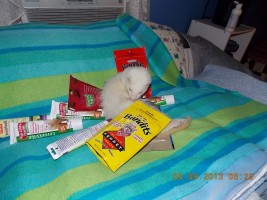 March 1, 2013:
Hey far away mom, we got the presents you sended us
Thank You, thank you, thank you, thank you! Thank You, thank you, thank you, thank you! Thank You, thank you, thank you, thank you!
Look at the pictures Mum took of me. - Skooter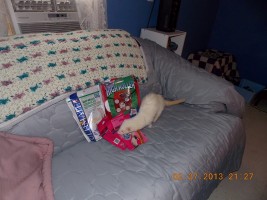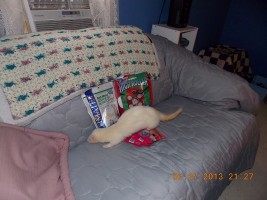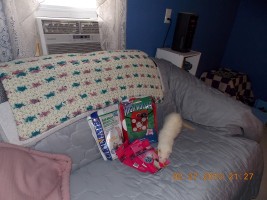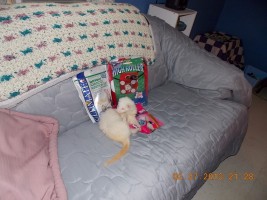 February 18, 2013:
Hi Brenda,
I would like to sponsor Skooter. They all seem sweet, but he was the one I felt the connection to. Strange, because my last little guy was a big sable (Peanut, 6 lbs - as his vet used to say, 'That's a whole lotta ferret!').
I found out about you because I've been missing ferrets in my life for a while now, but my husband and our cat took a vote and really don't want to introduce a new member to our family of any type right now. I ended up looking up ferret rescue organizations on the web and you came up. I was just going to look and get my 'ferret fix' through photos, but I saw that you do sponsoring and that seemed like something I could do, even if I can't adopt right now.
Take Care,
Leslie
December 18, 2012:
Dear Miss Nikki, Thank you for sending us presents! Mum let me check them out first. - Skooter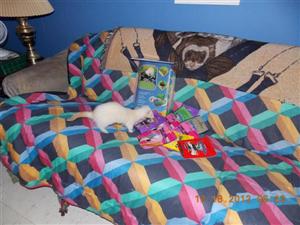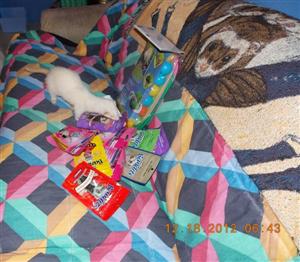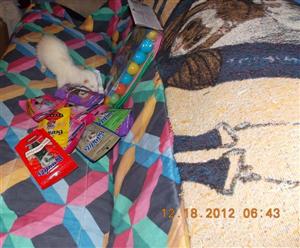 January 8, 2012:
Mum is finally better to let me open my other box you sent me – Thank you for sending me awesome presents – Skooter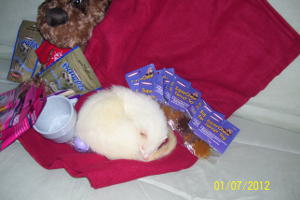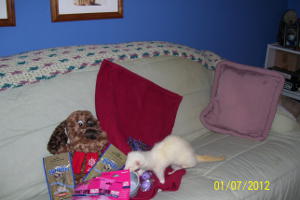 December 7, 2011:
I got the package with the blankies and toys you and Miss Lori sent to me for Christmas!
Thank You, thank you, thank you, thank you! Thank You, thank you, thank you, thank you! Thank You, thank you, thank you, thank you!
- Skooter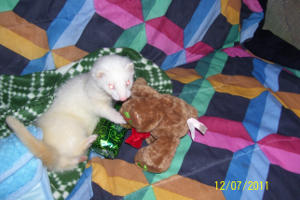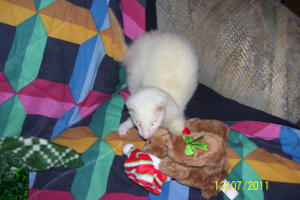 August 1, 2011, PM:
Pork Chop gave up the fight – he left for Rainbow Bridge – I was getting ready to give him some warm fluids and he was already gone.
August 1, 2011, AM:
Pork Chop – I think I am loosing him – this morning he did not want to eat – I gave him a Dex shot – when I got home from work he was on the cool side and not looking so good – I brought him up here with me to see if I could warm him some – but he does not look like he is going to respond – I will however continue to try to make him feel better until he tells me he has had enough – we will then reassess what to do next - this too seems to be something other than what we had going on – he has adrenal disease – and it looks like it may have progressed enough to cause other issues.
July 28, 2011:
When I got Pork Chop up he was lying in a lot of black poo – I had to bath him and then strip the cage completely because it was all over everything – he has a cage mate Skooter so far he seems to be okay – I have Pork Chop on carafate – if I can get the bleeding to stop I will start him on Albon.
August 9, 2010:
Hi, boys! I just wanted to let you know that there is a package on its way. I will send some stuff for you boys soon, but this one is for mum. There is a bit of moolah for you, but it is not to eat, okay? Take care and have fun. Odie says to see if there is a way out of the play yard for him.
July 12, 2010:
Aw, Pork Chop and Scooter, I am SO glad to be your faraway mom. You are now officially "brudders" of Odie (O D 1 Kanodi) who was rescued by mum for me. He is now almost 8 years old and spry as a kit! In fact, he just ran through the room and made me get up. He jumped on Miss Isadora (Missy Issy) and she has now sprayed all once more. I will go to Eagle River and Run with the Bears today and then come home to bathe them. We are having company come Friday.
I am glad your mom can use the quinoa. Which color does she like best? And, if she will send me a recipe for tabouli, I will try it, too. Is there a place to buy it there? If so, perhaps you can use some of your money to surprise her once in a while. I just sent a sample. I do hope you have fun in your new playyard. Odie says to take a flying leap for him! :)
June 23, 2010:
The kids got here about 3:30 yesterday afternoon. They are both older 5 and 6 so far they are doing okay, but until we get past the first 4 days I am not going to relax.
---
June 19, 2010, Initial contact, Danielle:
Hello! I am trying to find a home for some furry friends of mine. My ex-boyfriend moved in with me many years ago and brought his 2 ferrets along with him at the time. He is now moving out and cannot bring them with him. Although I appreciate the little guys, I cannot provide them with the play-time, and attention they deserve, nor can I afford the cost of their care. There are 2 male ferrets; one is about 5 years old (he is a lighter brown with a subtle mask) and the other is closer to 3 or 4 and he is albino (white with pink/red eyes). As far as I can tell, they both appear to be in excellent health.
June 19, 2010, Brenda:
This is what I require if they are to come here to this shelter:
1. They must be current on Rabies and Distemper vaccines with documentation.
2. Everything that belongs to them must come with them, toys, blankets, including their cage.
3. Enough food and water to get them through a minimum of 4 weeks so it gives them time to acclimate to what I use here.
4. Do they all sleep in the same cage together?
5. What food are you feeding them now?
6. When would you want to surrender them?

Where are you located?
June 19, 2010, Danielle:
There is no problem with them coming with everything that belongs to them. They do sleep in the cage together and they eat Marshall's ferret food. If I need to, I can buy what you will require in terms of food. I use that in my mix so just bring what they have. I could surrender them immediately but unfortunately I do not have the Rabies and Distemper vaccination documentation. What can I do about this?
Brenda's response:
You will have to get them vaccinated so you have documentation. If you tell me where you live maybe I can point you in the direction of a vet.
Danielle's response:
As I've said, I was not their primary care giver, but I am trying to help here. What should be my next move?
Brenda's repsonse:
Get them vaccinated or get your boy friend to, they can not come here without being current on vaccines. Once that is done I will take them. - Brenda
June 22, 2010, Danielle:
Hi Brenda, Thanks for getting back to me so quickly and for the information. I just brought the two ferrets down to a vaccine clinic yesterday afternoon to get rabies and distemper shots and documentation. When would be a good time for me to bring them to you?
June 22, 2010, Brenda:
They gave you documentation I hope.
Tell me again where you are coming from and when you want to bring the kids. I drive school bus so I am in and out all day with the last days of school it is pretty hectic. I can not tell you when until I know what you are thinking for when.
June 22, 2010, Danielle:
Hi Brenda, Yes, I was given documentation when they got the shots. I asked specifically about this and they said that the paperwork they provided would be everything I need. If you would like me to scan a copy of what I was given, I would be more than happy to send that your way via e-mail. Just let me know what resolution and file type to make it. They are very sweet, gentle creatures as I am sure you know. I am so grateful that you are helping us and them out so much here. So please let me know if there is anything you need.
As far as bringing them up to you, I am getting ready to start my summer job next week. So this week is best for me but I am flexible. I have an appointment tomorrow morning but should be able to leave Binghamton by 11:30 or so, and training for my new job on Saturday morning. Besides that, I am relatively free. If tomorrow (Wednesday) or Thursday is at all a possibility, that would be best because I would have access to a vehicle that would easily fit the cage (my car cannot), and a person that is available to travel with me. Would sometime on Wednesday or Thursday work? To speed things up, do you have a phone number that I could call you to reach you? If you prefer not to give one, I have no problem continuing with e-mail. -Danielle
June 22, 2010, Brenda:
I am sure they are the best ferrets in the world, I know I have 48 of them here already and there is not a thing I do not like about them so these 2 are going to be perfect also. I appreciate you doing what was needed to allow them to come here.
Okay tomorrow works for me, it is the last day of school and we pick the kids up at 11 to take them home so I will be here by noon for the remainder of the day, it will take you about 2 hours to get here so I will expect you about 1:30 or 2:00. Please bring everything that belongs to them including their cage, their food and a gallon of water so they can slowly acclimate to my water.
June 22, 2010, Danielle:
So lets plan for Tomorrow –Wednesday – I have a commitment on Thursday
June 22, 2010, Brenda:
Wed afternoon works great for me. - Brenda