Welcome to Lakeroad Ferret Farm Rescue/Shelter, Inc.
Stinky, AKA Scully

• Surrendered to the Shelter on September 16, 2016.
• Scully is a male.

• Would you like to Sponsor Scully?
• Read about how he arrived at the Shelter by clicking here, or read his latest updates below.
December 4, 2016:
Mum let me get into the presents you sent us for Christmas.. wow oh wow you sent lots. You guys spoil us rotten! I think I like the blue bed for my home.. Mum will continue to take pictures of all of us for you to see how we like our presents. Thanks for helpen Mum take care of us.
Scully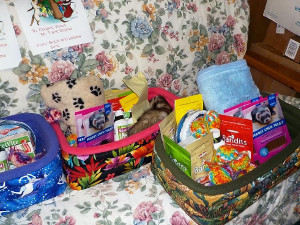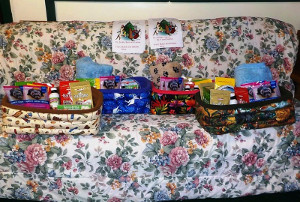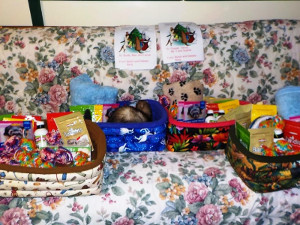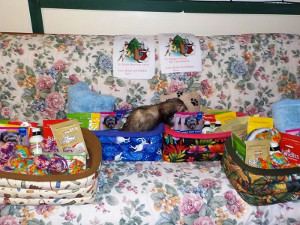 December 4, 2016:
Dear Miss Anna, we love the Christmas box you sent us! Mum took lots of pictures of us checking it out.
We love you!
Scully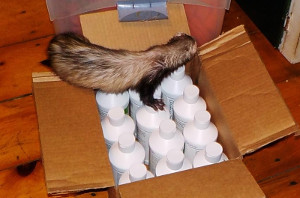 October 17, 2016:
I moved Scully into the cage Sophia was in.
---
Initial Contact, Owner, September 1, 2016:
Hello,
My name is Kristina. I have a 2.5 year old ferret named Stinky. I've had him since he was 2 months old and I feel terrible that I have to surrender him but I wanted him to go to the best place possible and I hope this it. He's very spunky and he loves to run around, but unfortunately I do not have the time to give him the required attention. He's in his cage way too much and I dont want to keep him from getting out and playing. I recently moved into an apartment and he's also too smelly to keep here. Im worried im going to get complaints from neighbors or even maintenance when they stop in. I adore him deeply, but he needs more attention. It'll be sad to let him go. I hope there is room for him at the ferret farm.
Thank you