Welcome to Lakeroad Ferret Farm Rescue/Shelter, Inc.



Teddy



• Surrendered to the shelter on November 21, 2010.
• Teddy was a sable male. He left for the Rainbow Bridge April 4, 2014.
• Read about how Teddy arrived at the Shelter by clicking here, or read his latest updates below.

• Teddy was on the 2011 Giving Tree!
• Teddy had a not so far away, far away mom in Canton, NY.
April 4, 2014:
Teddy has left for Rainbow Bridge.
March 30, 2014:
Teddy finally settled down, he is terribly restless. He did eat most of his soup tonight, he wanted nothing to do with it this morning. Mid morning MM looked like the devil, I gave him fluids, he was still shivering so I put a heat sack in his bed with him he crawled up to it and laid his chin on it. He wanted nothing to do with eating. I did finally get him to eat a bowl of warm soup in my arms at 3. When I got to him to do evening meds at 4:30 he looked better. He was still sleeping up against the heat sack. I gave him more fluids and his meds. He actually ate 2 full bowls of soup this time. I hope that means he is starting to feel better.
March 28, 2014:
Another shoe has dropped. When I got in from work tonight I was getting kids moved into the rooms they were going to be in for the night when I saw Teddy coming across the library floor floundering like a fish out of water. I took him into the ferret room with me set him on the floor to see what if anything he did there. He was trying to get a drink of water but he kept gagging as he tried to drink. A clear sign his BG is low.
I set him up in one of the clean pans with some ferretone so I could get the BG meter set up, and get him ready to clip a nail to make it bleed. ( I hate doing this and avoid at all cost when I can) but I needed to know what was going on. I got enough blood to test his BG; it was 24 no wonder the kid could not walk. I gave him his soup with Moxy and Dex tonight, along with his Baytril injection. He gets finished and I set him on a blanket on the floor for him to wipe his face. I turn to check on him once I get the next kids soup and meds settled and there is blood all over the blanket and the floor.
I run up stairs to get my super glue - that is what I use on me when I have a cut - I put him back in the pan and put pressure on the nail and coat it with super glue. He was not a happy camper . I put him in the play pen for the night so he could not do a lot of running around to keep that nail bleeding. I checked him before I came up and it looks like the blood was finally coagulating.
March 24, 2014:
Hey Miss Donna Z. thanks for taking time out of your day to get me to the hospital to see Our Favorite Doc! I am feeling a tad better.. OFD told Mum I had a severe case of pneumonia so OFD started me on hurt sticks on Friday morning and told Mum he was not sure I was going to survive.
As we all know OFD does awesome work and when he called Mum on Saturday morning he told her I was eating, drinking and looking about, I could come home. Doc. Charlie was up there to pick up his boy Monster Man so he brought me home to Mum. Mum is to continue my treatments until April 4.
I am up and about but I still do not feel well enough to climb stairs or get up into my Hammock.
Thanks Donna Z. Doc. Charlie and Our Favorite Doc for helping me feel better!
Teddy
March 21, 2014:
Good Morning, not sure what is up with Teddy but he is on Moxy now too. I have a nagging feeling he has eaten too much blanket this time, he is not eating all his N-bone. I gave him his second dose this morning, I will evaluate and decide if he needs doc if I have to I will cancel Baily and head to Brockport. I am going to get the shelter set up so I can put kids away at 10 on the dot, we must be back to work at 10:30, when I get done with my run I will be going to get Baily or heading to Brockport with Teddy.

An hour later: I was getting ready to call into work, Teddy is in trouble! I decided to call Donna Z to see if she could help. She is already out delivering papers… She is going to meet me at TW in Avon at 8:45 am so I do not need to call in...and I can continue with my plans for the day with Baily. Teddy is in REAL trouble.

10:04AM: Just got back from dropping Teddy off...Brakes failed on me this morning, dropped in to see if they can fix van… they want me to drop it off at noon when I am done with bus run… I called Jason to see if he would bring Baily… Stacy has Hannah at the dentist so time will tell off to do kids so I can be to work at 10:30.

12:30PM: No word from Doc but I expect he will look Teddy over during his lunch hour. Seems I have spent an enormous amount of time on the road today.

2:00PM: I just got off the phone with Doc. Teddy has a Severe case of Pneumonia, no blockage. Temp was 104 - I had him started on Moxy, Doc started him on Baytril injections, he said he will call before going home tonight but he is not so sure he is going to be able to save him. Doc did say he was shocked to see how full his lungs were because when he got him in the exam room he was not coughing or breathing hard. That makes me feel a bit better for missing it, Doc called it sudden onset.
So we shall see what happens next, his temp has come down since he got there.. poor boy I had no idea he was that sick, I am so glad we got him up to doc.

6:30PM: No word from Doc so I assume there is little change in Teddy. If he does not call after I am in bed I will call in the morning to check on Teddy. To Marcia's question; I asked the same question about the others getting sick, Doc said probably not. Because this was a sudden onset, not a cold or flu that developed into Pneumonia the other kids should be fine.
March 20, 2014:
Teddy scared me this morning. I was putting him away and his left front leg looked odd, broken to be honest.. I pulled him back out of his cage and started checking him over, must be he was just stretching his legs because he was fine when I set him down he stood on both front feet with no indication he was having a hard time standing.
December 14, 2011:
Dear Far away mom, I got my Easter Box!
Thank You, thank you, thank you, thank you! Thank You, thank you, thank you, thank you! Thank You, thank you, thank you, thank you!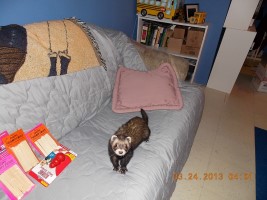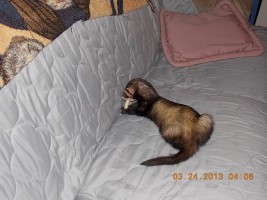 December 14, 2011:
Dear far away mom – I love my presents – thank you!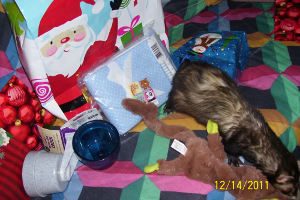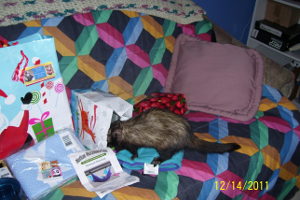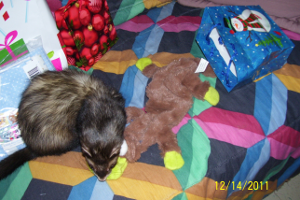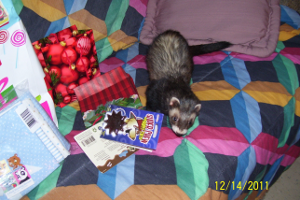 April 2011, Easter:
Hey Miss Michele – Mum let me open my presents today – thank you for thinking of me – I love every bit you sent – see me checking them out! - Teddy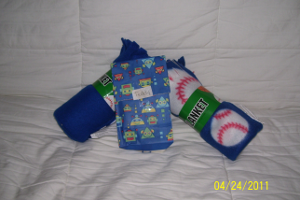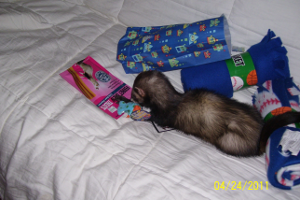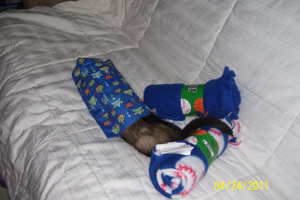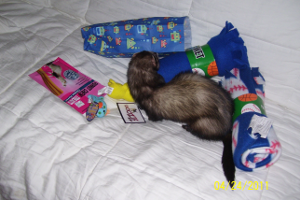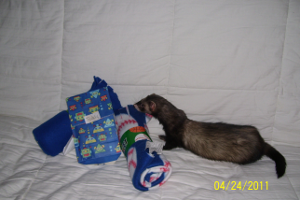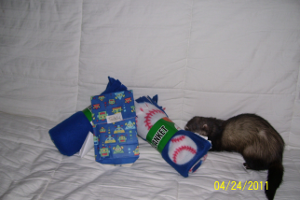 Christmas Gifts, 2010:
Hey far away mom – we got our presents you sent - The present for the shelter kids Mum let Teddy open – he is new here and did not have anyone to buy him presents so she let him open that package – when he got in it – it made noise – he jumped off the couch and ran to hide – once he found out it was not going to chase him he thought it was a cool present!
Mau, Marshmallow, Teddy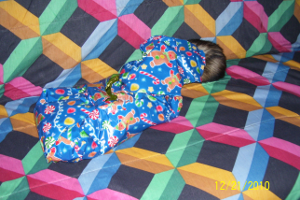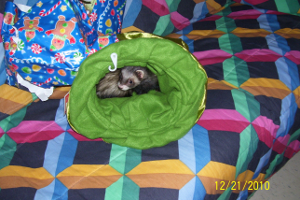 Oh Miss Troy Lynn – Mum let me open the present you sent – I am new here I got in to the shelter end of last month – so Mum said I could open this present! - Teddy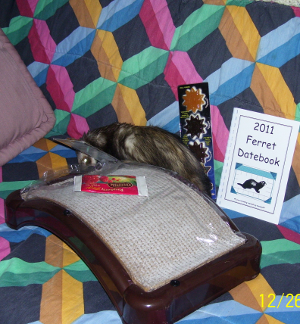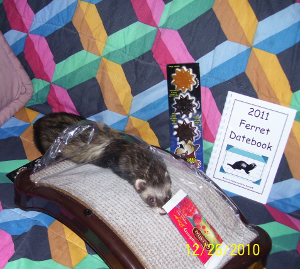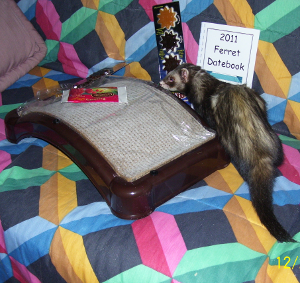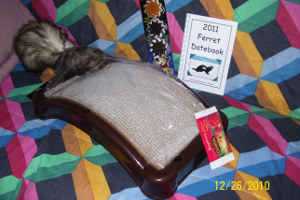 ---
November 11, 2010, Initial contact, Salvatore:
Hi Brenda, My name is Salvatore V. Jr. You spoke with my friend Dana who is a vet student right now in Tennessee. She told me to get in contact with you and that you might possibly take our ferret. Dana told me that you were also full right now but that if we were up to following your rules that there is a possibility that you would take him. His name is Teddy by the way.
My wife and I had 2 ferrets but recently had to put down our little girl "Nilla". Unfortunately she wasn't eating and we took her to the vet and found out that she had a massive tumor inside her surrounding all of her major organs. She was my first personal pet of any kind and that was the hardest thing i had to do. We have a 7 month old baby right now "Brooklyn" and unfortunately don't have what I feel is the right amount of time to spend with Teddy. I also feel bad because when we got Teddy, Nilla was here so he always had a playmate. Now he doesn't. We have been trying to find what we feel are suitable people for Teddy because we need the room that he is for our baby stuff. Dana was our last hope. Unfortunately she determined that she wouldn't have the proper time to get him acclimated to a new setting. I don't have anyone else to turn to. I will not take him to lollypop farm. The only other solution we have is to put him on Craigslist. We really don't want to do this. First of all its hard enough knowing that we have to give him up, but I don't really trust many people and would always wonder if he was being treated right.
We are willing to give you EVERYTHING we have. We have an awesome cage that is about 5 feet tall, 3 feet wide and 2 feet deep. We also have many toys. A lot of toys. We have ferret shampoos, sprays and other items.
Dana mentioned that he would need rabies shots also. We have not had them done because he stays inside and is our only animal. I would have them done immediately if you take him. I truly hope you can take him but if not I would understand. Right now you are our best hope.
Thank you for taking the time to read this and hopefully I will hear from you soon
Thanks, Salvatore V. Jr.
Brenda's Response:
Yes I did get a call – I did speak with Dana - Understandable and certainly good for Teddy that you will not take him to Lolly Pop Farm.
Putting these fur kids on Craigslist will get him a human that will take him to feed to their snake – you can find such stuff on YouTube if you are not sure that really happens – bringing me what Teddy owns is required – everything he owns including his cage.
Yes Dana is correct - I do require the fur kids coming from families to have rabies and distemper with a complete check up – with documentation – before they will be accepted into this facility. If you get here without the current documentation he will not be allowed to stay.
November 17, 2010, Salvatore:
Hi Brenda - Teddy had his rabies shot and check up on Tuesday. Unfortunately the vet did not have a distemper shot. We have another vet appointment Friday morning for the distemper shot - We are busy Saturday until about 4 or 5pm. We have no plans at all for Sunday. If one of these times is good for you we would bring Teddy out. Not sure if you do Sundays or not please let me know what is best for you.
Thank you,
Sal
Brenda's Response:
Sunday works between noon and 4 – please let me know for sure what your plans are – Brenda
Salvatore's Response:
Just got Teddy's last shot - Was trying to MapQuest your location from the address on your website - 7835 Woodville Rd - is that the correct address because I can't get directions - If you could give me an address so I can MapQuest directions, I am assuming it takes maybe an hour and a half to get there. We plan on leaving our house around 11:30. Does this work for you?
Thanks.
Brenda's Response:
Plug in State Route 21 – you will do better with Google – Map Quest will take you miles out of your way.
Take 390 south – get off at the Avon exit make a left onto 5 & 20 – go to the middle of town turn right at the light onto 15A turn left on 20 A go to the middle of town turn right at the light – onto County road 36 go all the way to the end – comes to a T in Naples make a left – go though Naples until you come to a split in the road – one goes up - one veers to the right - stay to the right on the low road – when you see the Army tank near the road on your right I am ¼ mile further on the right – come down the driveway between the house and the barn – up the wood steps into the store
See you when you get here – Brenda