Welcome to Lakeroad Ferret Farm Rescue/Shelter, Inc.
Batman

• Surrendered to the Shelter on June 10, 2017. He went to a Forever Home on June 11, 2017!
• Batman is a sable male.

• Read about how he arrived at the Shelter by clicking here, or read his latest updates below.
October 1, 2017:
Hi Brenda: I just got through registering with the Board. Attached are some photos of BB. As you can tell his hair is growing back on his butt. We started noticing growth about two weeks ago. We are incredibly happy. I do hope that the kids that I transported have settled in.
Thanks,
Pete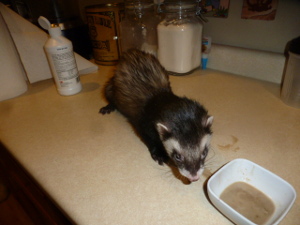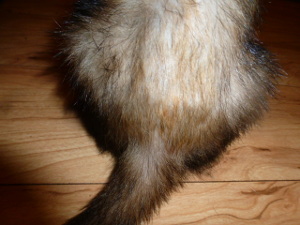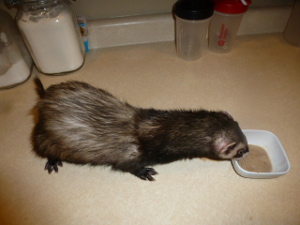 October 1, 2017:
The school year is going well. I have a rowdy, eager bunch of kids!! I have not said anything to them yet. It's not really a surprise we have just been very busy!! Batman is going great he loves all the attention!! Attached is picture of him,with the Senior class and a few from over the summer!!
Kristin
Finger Lakes Technical and Career Center Animal Science Teacher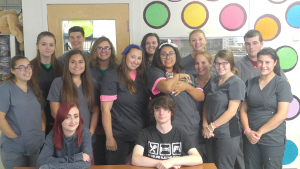 ---
Initial Contact, June 1, 2017:
My name is Nancy St Andrew. I have a male ferret that is about 1 ½ years old that I am unable to care for. My grandson and I have found that we are both allergic to him. I have tried caring for him the best I can but due to the difficulty with my breathing around Batman he is not getting the amount of attention he needs. He is a very good and fun little boy. If you are able to help me or can refer me to someone who can I would greatly appreciate it. Thank you, Nancy
Shelter Response, June 2, 2017:
We do not have an opening at this time, where are you located? We will place you on our waiting list if you would like, and/or we can post your need on our Facebook page to help you place your ferret (s). This link will explain all that is required to surrender your ferrets to us. The ferrets must be current on vaccines with documentation. If you wish we post your need on our Facebook page we will need your contact information so anyone interested in adopting your ferret (s) can make arrangements with you directly. If you choose to be placed on our waiting list then getting your ferret (s) vetted now is wise, so when an opening becomes available we can take them in immediately.
New York State requires ferrets to be vaccinated with the rabies vaccine yearly, a more important vaccine is distemper. The distemper shots that are given to the ferrets before leaving the breeder are null and void as the FDA label states this vaccine does not work on kits under 8 weeks of age. The kits being moved from the breeder to the stores are 6 weeks when shipped.
Our web link includes ferret knowledgeable veterinarians available to get this done if you do not have a veterinarian of your own.
Current means 8 months or longer before the ferrets need to be vaccinated again. As the web site states everything that belongs to the ferrets comes with them up to and including the cage.
I look forward to hearing from you and how you wish to proceed.
Brenda Johnson
Owner Response, June 2, 2017:
I am located in East Syracuse. I have an appointment next week to update Batman's vaccinations. Any help you have to offer is appreciated. Your waiting list would be great. What is your opinion about using Facebook? I worry that I will make the incorrect decision in regards to picking a home for him...
Shelter Response, June 3, 2017:
Good Morning Nancy, I am sorry I did not get back to you yesterday - we were out teaching at the Animal Science Class yesterday, I had a lot to catch up on when I got home.
How about we post your kid on our Shelter Facebook page - I know most of who follow us and we can be sure that your little one will go to a good home, if we can't get him into the shelter quickly. I also have one possible option here in Naples - get his vetted we will get him a new place to live.
Shelter Response, June 6, 2017:
Nancy - I have a home for Batman - do you still need a place for him to go? The family is local I know them personally - let me know.

Owner Response: Thank you yes. He has his vet appointment at 1 tomorrow.

Shelter Response: Perfect - thanks for letting me know.

Owner Response: Yes everything is coming with him. I wasn't sure how he would get to his new home. Can I bring him this weekend?

Shelter Response: Saturday is our big event here at the shelter - Sunday works better for me, if it works for you. Let me know.

Owner Response: Did you want me to send a copy of the vet info to you? Will you set up the meeting /transfer of Batman?

Shelter Response: Just bring the vaccine documents with him. I thought you were bringing him to us with all his things, up to and including his cage. He is coming here first - all this is going through the shelter so we have documentation. If the family can't keep him our contract says he must come back to us. None of this passing him around from family to family. He is going to a good family but I am making sure he has a safety net.
Owner Response, June 2, 2017:
Sunday is good. Just let me know a time. It will take a couple hours to get there.

Shelter Response: Does noon work for you?