Welcome to Lakeroad Ferret Farm Rescue/Shelter, Inc.
| | |
| --- | --- |
| | Bear & Milo |
May 8, 2017:
Hi Brenda: I wanted to pass on to you that on Friday, Lisa and I helped Bear cross the bridge. Bear came to us 4 years ago with his cagemate Milo (RIP) through a woman from Long Island that had contacted you. About six weeks ago we gave him a des implant and had started him on pred.(low BG) but it had no real effect on his weight loss and hair loss. Last week he just became too sick and it was just not fair to let him continue. Bear was the largest ferret we have ever had weighing in at 4 lbs of sinewy muscle. I often referred to him as the "Lord of Ferrets". He was a true alpha ferret, but never much of a bully. Our best guess was that he was a least 2 years old when he came into our house so he was by no means a youngster. It has been a tough year for me and Lisa having lost five kids (Sookie, Boscoe, Squiggles, Dudley and now Bear). We are now down to just Panda, Rocky, and BB which is the fewest we have had in many years. As heartbreaking as it all is, I am sure that we will be looking to adopt in the future, though I'm sure were going to need a little time to absorb the sadness that we are feeling.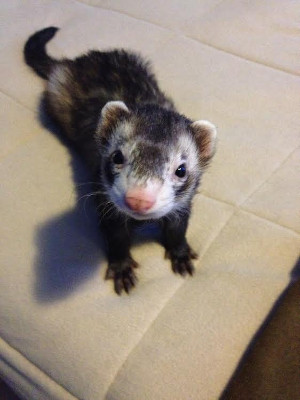 March 20, 2017:
On Monday we had Bear in for scheduled des. implant. Bear is one of the boys that came up from Long Island about three years ago. He is also a senior ferret, and about four weeks ago started showing signs of being adrenal. On Monday we also checked his BG which proved to be borderline, so we have also place him on pred.
March 19, 2017:
Hi Brenda: I wanted to get a note off to you to give you an update on the kids. On Friday, Dudley crossed over the bridge. Dudley was the little guy that you were contacted on about 2 1/2 years ago. He was found dumped on a trail down in the Binghamton area. You contacted me about transporting him to you, but alas he never made it past Ithaca (ha,ha). At the time Dr. Chris figured that he was at least 4 years old, so when he left us on Friday he was a senior ferret that had had 2 1/2 years of love and happiness though for about the last 9 months had his share of health issues (cataracts, insulinoma). On Sunday he became very weak with dark green tarry poop. We had him in to see Dr. Chris on Monday for fluids and amox , Tuesday he was still very weak but did not seem to be suffering. On Wednesday and Thursday he seemed to improve, but on Friday morning he left us. Needless to say Lisa and I are heartbroken.
Also on Monday we had Bear in for scheduled des. implant. Bear is one of the boys that came up from Long Island about three years ago. He is also a senior ferret, and about four weeks ago started showing signs of being adrenal. On Monday we also checked his BG which proved to be borderline, so we have also place him on pred.
BB, Panda, and Rocky are happy, healthy and doing well. All three are "dook monsters" and have a way of keeping Lisa and me on our toes. Daisy our golden retriever ignores them, and Owain our corgi loves to play (under our watchful eye) with Rocky.
I hope all is well in your neck of the woods. Hopefully I can get over to see you guys before too long.
December 20, 2016:
Hi Brenda;: Merry Christmas, and a Happy (belated) Birthday. We received your box yesterday with all the bedding and stuff. One of the dogs ran off with the stuffed football (the kids were unimpressed), but they will gladly put to use all the fleece and flannel. The four boys and Panda are all doing well. BB is a great fit, and is best friends and his cagemate with Bear. Lisa and I are doing well and we are looking forward to (our usual) a low key Holiday. We are wishing you, and all the kids much warmth, good health, and happiness.
Pete, Lisa, Panda, Dudley, Rocky, BB, Bear, and the dogs.
October 22, 2015:
Hi Brenda: Panda, Squiggles, Dudley, Rocky (new kid from Johnson City), Bear, Boscoe and Sookie are all doing well. Rocky was in to see Dr. Chris and he is in good shape and weighs in at just shy of 3 lbs. We figure that he is about 1 1/2 years old. Dudley (last year's Binghamton rescue) was also in, and he now weighs 3 lbs, up from the 1 lbs. 11 oz. he weighed when we brought him in a year ago. Panda, Squiggles, Dudley, and Rocky are all cage mates. This morning all 4 of them were asleep together in one of the soft hanging cubes. Panda and Rocky make quite a team when they are out and about. They are both very active, and love to chase each other around the house. Dudley and Squiggles (see picture) are a little more subdued, but will still join in on the fun. Bear, Boscoe, and Sookie are doing well, though Sookie will be turning 6 yrs. next week and never regained her fur following her des. implant, (except for a little growth recently). I hope all is going well over in your neck of the woods. It is great to see the postings Facebook. I still hope to get over to pay you guys a visit. Thanks for all you do for the kids.
June 8, 2015:
Hi Brenda: I wanted to let you know how much I missed coming to clinic day this year. I don't think that I have missed it for the last 7 years and I sure feel as though there is a big hole in my summer. I was hoping to get out, and really left not coming to the last minute, unfortunately there is just too many things going on and (put off) too be able to bring some of the kids over last weekend.
All the kids are doing okay. Unfortunately we did not get good results as we had hoped for from Sookie's Des implant. She is doing about as well as expected for an almost six year old kid that has insulonoma and is adrenal. She does not seem at all uncomfortable and even does some "bopping around" the house, so we are doing tour best to give her a good life. Her cage mates Boscoe and Bear are doing well,
Panda, Dudley, and Squiggles are all doing very well. They are now quite the trio and have been so since about 5 weeks after we brought Panda home last January. It took them a while to get comfortable with each other, so now that they are generally found in one big pile sleeping together it really makes the heart smile. Lisa and I are really happy that we have been able to take kids that were living alone and be able to give them siblings.
I hope all is going well, and I hope to come over for a visit before the summer is over.
All the best,
Pete, Lisa, and, all the kids.
March 3, 2014:
Hi Brenda: Lisa and I are doing okay. It still hurts to think of him, but as with these things, day by day it's not as heart-wrenching. Losing one of these guys is never easy, but with all the others we have lost we were given the warning of age and illness, and the chance to spend time with them before saying goodbye. With Milo it was probably not 20 minutes from the time that he slipped, to the time he passed. I can't help to think that I failed him, and that most of all, he was taken from us too soon. I know that he had a very good life while he was with us, and that we brought him out of a situation down on Long Island where he would have been suffering, but knowing that it still is very painful. I really hope that, in the future, this does not cause you to hesitate when you are in need of help.
Pete

p.s. Attached is a photo with Milo in the foreground on top of Bear (other Long Island Kid), and Sookie (one of the kids that came from the guys leaving the country) poking her head out of the box.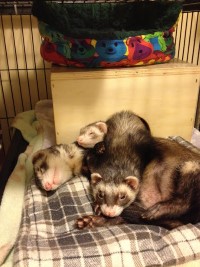 February 27, 2014:
Brenda: This has been the hardest. I can't even really write a proper note to you, because it just hurts too much, and I really don't know what to say. I am copying and pasting what I wrote on facebook.
Pete

RIP Milo. Such a beautiful, beautiful boy. I am so sorry. Late Sunday night while I was putting you and your brothers to bed, you slipped from my arms and landed on the dog's water bowl. I thought you were fine, but within a few short minutes we knew something was terribly wrong. There were no outward signs of trauma, we could see or feel nothing obviously wrong with you, just that your breathing was very shallow, and you were getting very weak. You crossed the Rainbow Bridge as I held you in my arms, with Lisa sitting next to me gently stroking your soft fur. I am without words to describe the guilt and sadness that I feel. Losing you is just devastating. Fly high my mellow dude. You are so greatly missed.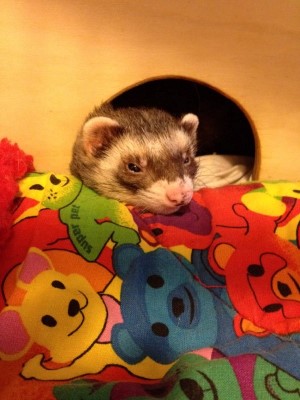 December 24, 2013:
Hi Brenda: I apologize for being out of touch for so long. I wanted to get a quick note off to you to let you know that we are all doing well. The kids are all fat and happy and getting into all kinds of Christmas mischief. I hope all is well with you and all the furrbabies. I think of you all, especially this time of year.
Best Wishes,
Lisa, Buddy, Boscoe, Ella, Sookie, Bear, Milo, Daisy (the dog) and Pete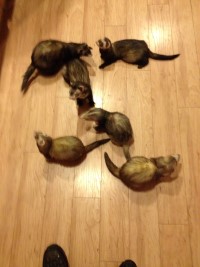 November 26, 2013:
Hi Brenda: Sorry it has taken me so long to get a note off to you. I've been meaning to let you know that all is well, and how much I really felt I missed out on not making it to the open house. All six of the kids are doing very well. We had Ella (girl we found last year in one of the apartments I manage) and Sookie and Boscoe (kids that came from the guys down in the Hudson Valley last year) in to see Dr. Chris for their annual about two weeks ago and they are all in very good health. Bear and Milo (that we adopted from Long Island last summer) are also doing well. Bear is the alpha of the six though he is very much a sweetheart. Buddy who we have now had almost six years is the senior of the bunch and though he is getting up there he is doing well and the des implant we put in last February is keeping him in good shape. Lisa got a little bit of a promotion from Wegman's and is now working down in Elmira. She has to drive a little farther everyday (35 minutes as opposed to 10), but she is much, much happier. As for myself, I am doing well, with not a whole lot of change in my life.
Thanks for checking in, I hope to be over for a visit at some point, though I am never very sure when that might be.

Bear and Milo are the two that the women down on Long Island called you about last summer. I think the story was that one of them (Bear, I think) kept escaping from her neighbors. So she took the two in but found that she could not care for them properly so she contacted you. I think you may not have had room at the time so you asked me if I had room for them. I ended up meeting her down in Middleton, NY to pick them up, one of her sons (he was about 8) was with her to make sure the they were finding a good home. She still checks in occasionally to make sure that they are doing well.
July 24, 2013:
Pete, I got your message about the fur kids and vet appointment. Bless you for taking them and getting them vetted. Thank you for sending the receipt as well. How are they doing? It has been a very busy summer. Once again you saved our bacon and helped two wayward fur kids. Please give Lisa my best. - Brenda
July 02, 2013:
Brenda: Attached are some photos of Milo (full mask) and Bear. They are both pretty good size boys with Bear being the bigger of the two.
We think that they are no more than 2 years old, and they seem in very good health. We have scheduled a visit to Dr. Chris next week (she's on vacation) to have their shots updated. They are eating and drinking just fine (love their tone), but are not yet interested in soup. They are very gentle and have made themselves right at home.