Welcome to Lakeroad Ferret Farm Rescue/Shelter, Inc.
Benji

• Benji was a champagne male. He left for the Rainbow Bridge July 3, 2011.
July 3, 2011:
Benji has gone to Rainbow Bridge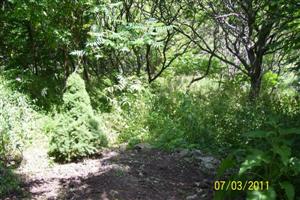 Hi Brenda, Malcolm and I returned home around 9:20 PM. We've unpacked and sorted the apartment to our best abilities but its been a difficult first hour in the apartment without Benji. I've just been crying off and on. I've already found one of the treats he hid under his cage and it broke my tear ducts. We miss him so much.
Thank you for being so accommodating to Malcolm and I. Everything was last minute, however, and as always, Aunt Brenda was there. You loved him rotten =) and I am so glad that he is at rest near you, his second home. A thousand thanks for bringing you into our lives, for loving Benji with all your heart, and for supporting us in this trying time.
Have a wonderful evening and happy 4th of July.
Best and always,
Sheilla
July 2, 2011:
Last night at the hospital I requested he be sedated and calmed from any more seizures. He is still in the hospital, alive and sedated. I plan on letting him sleep, go to Rainbow Bridge, this afternoon.
I know it sounds odd to wait now but I at least wanted him to not pass away from seizures or discomfort.
You know his history Brenda and what he's been through. I wanted to help him a little bit more by letting him pass away in near sleep without any troubles or pain.
A flood of memories hit me last night at that waiting room. His dooking, his dances, his moist nose. How he would wait by the kitchen doorway for me every morning for his soup. But most importantly how much he loved me. I'm getting cheesy from being hysterical.
You're the third person I'm sharing this: I used to sing him a lullaby while he was very ill and it started on my November visit to see him at the Shelter. When we shared the bedroom you put together for us, I had him on the bed and he had trouble sleeping. So I held him in my arms and sang "Can I hold you for a moment. Can I love you for a while." and I'm so glad he did. I'm so glad he let me. Benji was the first to know of this song, then Malcolm, now you. I never got new words for this song but I continued to sing it when I brought him back to the apartment anyway.
I have a favor to ask of you. may I bury Benji at the back yard of your home?
I am sure his memories of the place are filled with crazy times and fun. Also, I know how much he liked his friends. let me know or I can make plans elsewhere.
Thanks for listening Brenda. And your kind words and good heart meant so much to Benji and me.
I don't think either of us could thank you enough. Sheilla

Brenda's Response:
I agree with your decision – it is time that he has some peace from his illness – you are giving him the last act of love anyone can give another living being.
How special you are to and for him – he is so blessed to have you as his mom, thank you for sharing your little boy with me.
I would be honored to include him in our memorial garden - You can plan on placing him in our memorial garden.
You and Benji have made indelible mark on my life. You graced my door with a precious life – you allowed me to continue to be in his life – you shared with me a love that can not be replaced – thank you – bless you – hugs to you my friend - Brenda
July 1, 2011:
Hi Brenda, I'm sorry to be the bearer of bad news this morning. Benji had a seizure around 11:30 Thursday evening. I'm at the hospital with Malcolm now. We got here around 12:30 after trying to stabilize him with honey and Pred. They've been re-stabilizing Benji and they gave him valium. It worked and he's now sleepy.
I'm certain he needs to rest. His little body can only take so much and I couldn't let another ailment get to him. Thank you for everything you've done for him. We'll be in touch.
June 29, 2011:
Hi Brenda, Benji is home now. The vet says we'll obtain results of his tests tomorrow. I'll forward to you what I receive.
The vet fears Benji had a stroke. There is no ear infection. We have to wait for the blood test results to confirm what happened. I'm at a loss. I'll keep you posted.
June 28, 2011:
Hi Brenda, I'd like your help regarding Benji. This is going to be quite startling but the past four days have been trouble for Benji. He was taken off of Clavamox over a week ago to see if it had helped remove his infection. The vet was quite reluctant to continue him on Clavamox and would only give a refill if I would set up an appointment. So I obliged.
Now however Benji has symptoms that I am new to. He seems to be dizzy or disoriented and has become lethargic. This decline caused me to pursue the Clavamox refill before the appointment. Benji has been receiving Clavamox with two doses a day. He's been on it for the past two days. His dizzy symptoms continue and he has become very warm. I've informed the vet and she suggested I drop him off tomorrow morning, Wednesday, so he can be watched throughout the day.
Do you have an idea with regard to his symptoms? Have you come across this before? Any thoughts would be welcome. He's still fuzzy and cuddly but I can see that he is trying so very hard. I look forward to your response.
Best,
Sheilla
May 29, 2011:
Check out a video of Benji at home!
April 13, 2011:
Look who greets me every morning in the kitchen...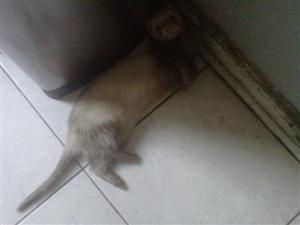 March 29, 2011:
Hey Brenda, Benji's results from his recent visit to the vet is attached.
There is inflammation showing however the doctor is not sure where it may be coming from. Benji is on new antibiotics, Clavamox, and he really doesn't like the taste of it. I've had to hide it in his soup.
We'll be visiting his vet near the end of April/beginning of May to see what results the antibiotics may have on Benji's system.
He's doing very well. He's climbing the bed and ottoman.
He sprints in the living room in the morning and he plays "soccer" with Malcolm at least twice a day.
Bigger poops and lots of pee.
March 13, 2011:
Hey Brenda, Just wanted to drop a note to you. Thanks for much for the soup. It arrived just in time as Benji's soup supply ran out =) Also, he's been fussy with the soup lately. I think its because I placed his medicine in the soup and he can taste it. We're back to giving him the soup by dropper. He takes as much of it as he can but I think the taste must make the soup taste funny.
Anywhoo, I'll be able to give you a doctor update by the end of March as that is when Benji is scheduled for his visit. Hope all is well at the Farm. Spring weather is brightening the days and we're now without the heater. Benji has his many blankets and hidey spots, as well as eggs which he loves loves Loves!! I can't even toy with the eggs too long because he gets upset. It's quite funny when he hisses at me for his eggs. Very territorial....
Regards,
Sheilla & Benji
February 18, 2011:
Hi Aunt Brenda, I'm driving mom crazy with all the new toys you gave me. She's been stepping on them in the dark =) have fun at your party! Say hi to my friends for me. Tell them I can now and play.
Love, Benji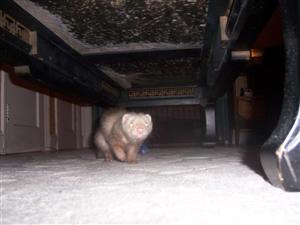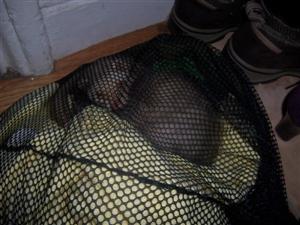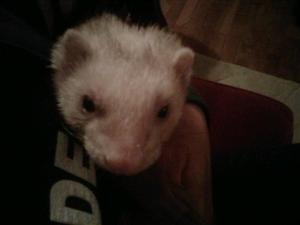 February 8, 2011:
He is so funny! As I was leaving for work yesterday he crawled out of the blanket and stood by the door as if to give me a proper goodbye. He's been very active lately. He's found a hiding spot under the bed and he carried his egg rattle to hide it there.
Appetite has gone up. I can tell by the food bowl lowering each day and he's been drinking plenty of water too (judging by all the times Malcolm and I have wiped the floor). How are you and the kids?
Sheilla
January 23, 2011:
He's well Brenda. He's been able to balance himself on his two rear legs when he uses the bathroom. I think he looks pretty eager and happy that he no longer has to lie on his side.
He's also been drinking water from his water tube in the past two days. This I'm very happy to know aside from when I give him warm water by dropper. I think he does prefer the warm water but its good to know that he's taking to get water for himself too.
I'll try to put together a video tonight of him when he's up and playful. As for now, he's asleep. Nap time. -Sheilla
January 21, 2011:
Hey Brenda, Benji has achieved some of his strength on his front legs. I know this because he has been pushing me away each time I give him his new meds from the vet. She prescribed Amoxycillin and Azithromycin to help with his infections.
However, his plight is terminal. After an x-ray, ultrasound, and several blood tests, the results are in and they are not in favor to Benji. He has lymphosarcoma (the bulge found near his lungs), both his adrenal glands are affected no longer just the left, he has an enlarged spleen, and he shows liver dysfunction/disease. To poop or pee, he now lies on his side and releases. Then he drags himself away.
I am having a very hard time in parting with him but I see it everyday that it is for the best. I am cowardly to not just give him and let him sleep so he won't suffer anymore. It amazes me how eager he is to get to his food bowl or drink his duck soup. It gives me hope but reality is really where I should be looking.
Regards, Sheilla
January 16, 2011:
AM: Hey Brenda, I am heartbroken. After our visit to the vet, I've been missing in action. I've been spending more time with him. He has so many problems that the vet is surprised he is even moving. I won't go into full detail til I'm ready but our visit did bring me to consider euthanizing him. I'm going to miss him a lot. But he is suffering and I can see that he's tired. And I can't dismiss that. Hope all is well with you and the kids.

PM: Hey Brenda, I have good and short news: Benji has been slowly using his rear legs to move around. He's "shuffled" to me three times since Sunday. Once to play, and twice when he smelled soup =)
Stay clear of the bad weather and keep warm.
Regards, Sheilla and Benji
January 6, 2011:
Hey Brenda, Benji's been acting so spoiled. He had a fit the other day and was thrashing the wee-wee pads. Used wee-wee pads. I haven't a clue what got into him. Lately, he's been shuffling around the apartment and leaving poop at very unexpected places. No worries though, he has gotten more active, eats more throughout the night and has been taking to the water bottle on his own. This I am very happy to see. Although I think its absolutely hilarious each time Benji decides to poop somewhere new and Malcolm is a witness. For a strong man who loves animals, Malcolm just can't get past the poop. It is so funny!!
November 20, 2010:
Benji did not have surgery yesterday – he was still wheezing so Doc took an X-Ray – Benji has either a mass or fluid on his right lung – so until Doc can figure out what it is he is keeping Benji – he has him on a stronger antibiotic for starters - with the hopes he has phenomena instead of a mass – then will do another X-Ray – depending on the results of that X-Ray will depend on if he comes home today or tomorrow – so we are in Limbo with Benji.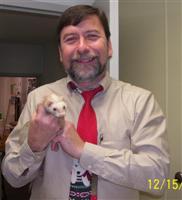 November 16, 2010:
We have created a monster – I no longer have to wake Benji to get him to eat his soup – I set the soup in the pen – before I walk away his little nose is slithering out of the blankets towards the soup – I am going to miss that boy when he goes home.
Brenda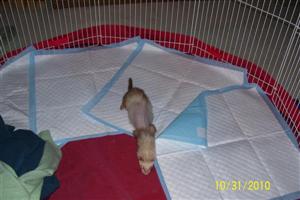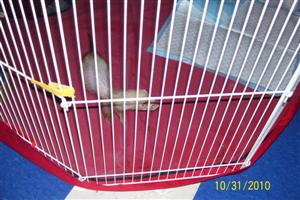 November 1, 2010:
Good Morning Sheilla – Benji had a so – so night – he would not eat – he was gagging and having trouble walking – more so then when you were here – about 7 pm I gave him some carafate for his upset tummy – 7:20 pm gave him more soup – 8:45 pm gave him some pred – I know I told you we should not do that before he sees doc but it was obvious his glucose number were far too low – I will get a BG for you today – I was up and down with him throughout the night – he slept on my chest under my blanket for about 20 minutes.
Anyway I was really concerned that he was not going to make it though the night – the meds did the trick he was up actually eating about 3 am – he ate a fair amount – we have a good poop this morning – I am much more encouraged – after I get his glucose numbers I will call Doc to find out how much med to keep him on – it is obvious he is dealing with insulinoma and he needs them
I am so impressed with a mom that will drive the distance you drove to get this little boy medical attention – you are one awesome mom
It will be later today that I connect with you again - I do not get in until 8 am – I will need to get the shelter settled before I can do his BG – it is a touchy procedure so I do not want to have anything pressing to make me rush – like I said he seems to be doing much better this morning so I am feeling better.
Have a good day
Brenda