Welcome to Lakeroad Ferret Farm Rescue/Shelter, Inc.
Ellie

• Ellie was an albino female. She left for the Rainbow Bridge November 22, 2015.
• Read her latest updates below.
Ellie was found at the side of the road for trash pick up in Canandaigua. Danielle and her family were coming to look over kids for adoption, I had no room for Ellie so she went home with these folks just hours after she was dropped off here.
---
November 24, 2015:
Hi Brenda,
I just wanted to let you know that Ellie left for the Rainbow Bridge on Sunday. She didn't suffer at all, and passed peacefully in her sleep. It was the best end we could have hoped for. We spent the last days sitting with her and letting her know it was ok to leave. She seemed to understand.
Thank you for trusting us with her care and giving us the opportunity to share her life the last few years.
Danielle
December 25, 2014:
Merry Christmas from Ellie and her family! I'm pleased to say that all is well and she is healthy and active, as are all of us humans!
Danielle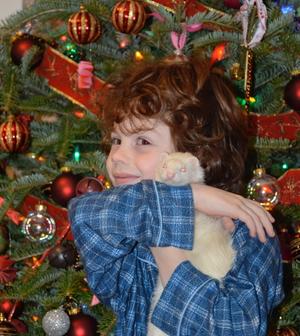 January 12, 2014:
Things are good. Ellie is in perfect health. Sashi is starting to show some really signs of getting old, but is happy.
November 26, 2013:
Hi Brenda,
Ellie is doing well. She and her sister Sashi are both older ladies now, but luckily no signs of illness and still normal active for their ages. I think they need two younger brothers. What do you think?
October 24, 2012:
Thanks Brenda,
I'm actually going to make a donation at your page right now. I'd love to adopt some more fur-kids in the near future. (Ellie & Sashi are doing great by the way). But I have to wait until my daughter is a bit older so that I have the time to spend with any newbies. Please keep me in mind if you have a pair that need to go together sometime down the road. But for now, look for my donation. I'd love to help in any way I can.
Again, thanks for all you do!
Danielle B
February 27, 2012:
Ellie is doing great... still happy, healthy, and active! Danielle
August 23, 2011:
Ellie is doing great! She is happy and healthy, and is a loved member of our family. She is the resident thief of the bunch, especially loving to drag away rolls of toilet paper if we happen to leave the closet open by accident. She and Sashi are best play friends. Donnie is getting very old, but Ellie looks after him when he's up and about. We had a new adoptee for several months... Wanda... but unfortunately she went to the Rainbow Bridge the night after her adrenal surgery. The fur kids are expecting a new human sister in about a month, and right now they enjoy playing with their human brother, Oscar who is now 3 1/2. He is wonderful with them and helps take great care of them already.
I hope all is well with you, Brenda, and with the kids at the shelter. Thank you for all you do!
Danielle
July 19, 2010:
As far as we're concerned, no news is good news! Ellie (as well as Donnie and Sashi) is healthy and happy. She loves to try to steal my son's food, which is good b/c he actually eats it and says "I have to eat it before Ellie gets it." Ellie likes to steal small toys and line one of the desk drawers with them. That's her day nest. She also sleeps with Donnie and Sashi in the bottom drawer of my dresser during the day. They all share a cage at night. Donnie is over 6 so he doesn't play as often as the girls. But Ellie and Sashi play together all the time. Sashi is dominant, but Ellie doesn't seem to mind. Everyone saw Doc. Edwards in March and received a clean bill of health!
Danielle
March 20, 2010:
Ellie is doing wonderfully. Dr. Edwards estimates she's over 2. She's built up more muscle tone the past month and her tail hair has regrown. I'll keep in touch, Danielle
February 2, 2010:
Ellie is doing wonderfully and has made herself right at home here. I think she has integrated faster and easier than any other ferret we've ever had. There have been no conflicts between her and either Donnie or Sashi. They both just accepted Ellie as if she has always been here. It seems that she is also a sort of peace-maker between Donnie and Sashi, who never really cared about one another. But now, all three sleep and play together. Donnie seems much happier and less stressed out. I can't 100% attribute that to Ellie being here, but I'm sure it makes a difference. Ellie knows our routine, her way around the house, where the litter boxes are, and of course where the treats are kept:) The three ferrets share one big cage at night, and they all get up with us in the morning. During the day, they all sleep together in the bottom drawer of my dresser, and may come and go as they please. Ellie is a very sweet and lovable ferret, who likes to raid my son's room for stuffed animals. Although it's only been several weeks, I'm hoping that Ellie's coat improves and that the hair grows back on her tail. Sashi (the one in the video with Ellie) looked worse when she came to us, but now you can see that she has a beautiful thick coat.
I wanted to make an exciting video of the ferrets playing, but it was too hard to get clear shots with the simple video recorder on my ipod, so I just settled for the following YouTube link.
I hope all is well at the ferret farm!
Danielle, Martijn, Oscar, Donnie, Sashi, & Ellie
January 20, 2010:
It looks great! Ellie has made herself right at home here and all three of them enjoy each other's company! Ellie is a true thief, and unlike some of the other ferrets who have preferences, Ellie will take just about anything! This morning she tried to make off with a bag of tortillas :) But I think her favorite things to take are whole rolls of toilet paper. I'll try to take a video of her soon and post it on you tube!
Danielle
January 14, 2010:
Hi Brenda,
Ellie is doing great here. She has a good appetite and loves to play with us and with my female, Sashi. She is fitting in nicely and quickly. Both Donnie and Sashi seem to like having her around. Ellie is doing great with the litter boxes. Sashi has been showing her around the house. Ellie still has her own cage while we humans aren't home and at night. Although she seems to be acclimating very quickly, I still would like to give her and the other more time to get to know one another and so that I can watch her habits and personalities and see if I have to adapt the house in any way. Right now she weighs 1 lb. 12 oz.
I plan on seeing Dr. Edwards towards the end of Feb./ beginning of March... so if I don't get the carrier back to you before then, I'll bring it to Brockport when I go.
Is there anything I'm forgetting? please let me know if there's anything specific you would like to know about Ellie. In general she is extremely sweet and easy going. She seems very happy, hopping and dooking all day long!
Danielle