Welcome to Lakeroad Ferret Farm Rescue/Shelter, Inc.
Joaquin

• Joaquin found a new Forever home on February 19, 2013.
• Joaquin was a cinnamon male. He left for the Rainbow Bridge October 22, 2013.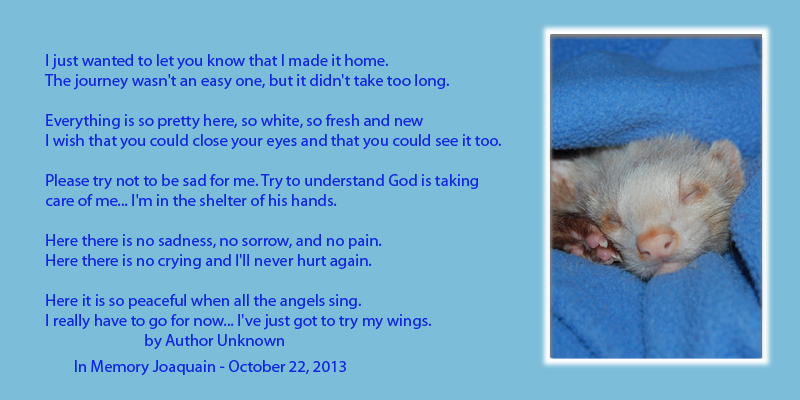 April 25, 2013:
Joaquin did have some ear mite eggs inside his ears. She gave me a bottle of Tresaderm to treat all kids at home. His weight was 2.75. This weight is down .79 lbs from Nathan's vet. That paper work is showing 3.54 lbs on September 4, 2012. He is much active now that he's on the pred. Hopefully he will pickup some more weight.
March 23, 2013:
Good Morning Ms Brenda.
Thank you for finding me a forever home. I was scared and depressed when I came in. I have since decided that my new home has so much loved.
I have some new friends (Radar O'Reilly and Ms Patty) that I get to hang out with. Mom moved me into the FN cage with them this week.... I have someone to curl up with at night now and I am not sleeping alone. It's much warmer too.
You know what? Mom makes the best soup! Every morning and evening I get some soup. I don't let mom forget as soon as I come out of my cage...I run to the litter box to do my duties and then head to the kitchen. I know when I hear that microwave on that soup will be served shortly. I just stand up on my hind legs.....just to smell that soup...it's sooooo good!
Yesterday, mom left a bowl of raw soup in the cage. That was yummie, I found a chunk of chicken in the soup. I stole that chicken from bowl and ran to the corner of the cage to eat.....it was all mine. I hope she gives me more.
Yes, I am eating my Zupreem.
Mom, said that my personality is coming out....what ever that means. She also said that I am starting to gain some weight. What do you want...that soup is sooo good. I want more!
Well, I just want to let you know I am doing well. It's time to get out of our cage. Have to run....it's soup time for us!
Love Joaquin
March 8, 2013:
He's doing ok. I still have him in his own cage. During the week, when I have work. He is first one out of the cage. He has 45 minutes out of his cage before I let the others out. If he not out in 15 minutes. Mom, pulls him out of the cage. His routine at this time, hit the litter box and then makes his rounds around the house.
When I get home from work. He first one out and again, if he not out of the hammock. Mom pulls him out. This week he showed some interest to the tunnels and going under the throw rugs. He usually makes his rounds around the house. Then I will find him curled up in the sleep bag in the closet. I still have him separated from the other kids when he out roaming around.
I am little bit worry about him not eating. But, I do see some crumbs on the bottom of his cage. He must be eating something. Wednesday night, I decide to try the soup on him. He loves ferretone. I had some ferretvite in the house. Which i hate to use. I gave him some of ferretvite and he loved it. So, I decided to put that in the soup. We sat down Wednesday, and I spoon fed him some soup. He ate the soup without any stress. Thursday, when I came home from work. I warm up some soup for him and we sat down again. He ate some soup off the spoon for me again....with out the ferretvite. YEAH!
This Am, I had to get him out of his hammock. He went to litter box and then returned back to his cage. crunch...crunch, I hear. As I walk into the ferret room....his face was in the kibble bowl. He was eating! This makes me happy.
That is our progress this week.

Came home from work. No more sleepy time Mr. J.
He came out used the litter box and return back to his cage to eat! YEAH......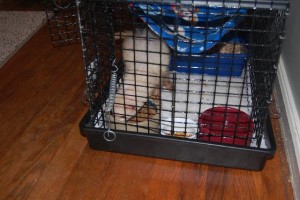 February 25, 2013:
Just let you know we are back on track. His poops are normal. He's eating and pooping. Then when I came home from the stable, I saw brown poop in the litter box of Joaquin. YES!!!!!!! Thank god!

Shelter Mum's Response:
I am so pleased he is turning around this is wonderful news. I expect you and I have seen enough in our ferret careers to be able to pick up subtleties like this, I have no doubt you are correct. Your thoughts on the FN cage are probably correct ours are easier to manage too now that they are used daily, I expect you are correct in your thinking Joaquin was not living in this cage.
Awesome then I will plan on putting it in the play room to make another horizontal cage.
February 24, 2013:
I put him back into the martin cage, this AM. He much more alert and perky, he was watching me clean out the FN cage in his hammock.
I put the kids away and brought his cage down to ground level (it's on top FN cage). Closed off the room and opened his cage door. He came out and explorer the ferret room for 1/2 hour. He then went back into a sleep area to sleep. I put him back into his cage. He started to dink and eat. We will continue down this path....will not move forward!
Here is something I been picking up on. I brought that FN cage in to clean. I could be wrong, but, I think that FN cage has been stored for awhile. I don't believe he was housed in it.
I noticed when cleaning that cage. Rust dust been falling out of the inside of the frame. I also noticed on the cage door...the knobs. The tension is very tight. Daily use of these knob will loosen up. At least on my cage. I purchased my FN cage when it first came out. Is this due to little use or being in storage?
This cage is in good shape. Should not have a problem using it.
Remember, when I told you he really stink (had a odor).. I know he gave him a bath. I can smell 8-1 shampoo. There was odor to him that was much stronger. Not a ferret smell. I have smell this odor before, and seen the living condition that these ferrets lived in. Its from their environment...not being taken care of or Not cleaning the cage. I think he was kept in a smaller cage and housing was not very clean. His bedding reeked of this smell. I have not noticed this odor so much this weekend. Due to him being in clean cage, bedding and he's using the litter box.
Will keep you post...I hope he on his way feeling better.
February 23, 2013:
When I put Joaquin in the FN cage with the kids. I also mix some of my food in with his Zupreem. This AM, I notice the stool was form but green. I know it was from him....he poops on the side of the litter box. Where other two piles it up in the corner. I thinking my kibbles might be causing some problems with his system.
Since he's is older ferret. I am thinking just leave bowl of his food in the FN cage. His poops were normal when I had him in the smaller cage. Why upset his tummie at this age. If he wants the other kibbles, it's available to him. Do you think this is a good idea?

Shelter Mum's Response:
Wendy IMO it is way too soon to put this boy in the cage with your established business. the green poo is the stress oh him with the new kids, new home, new mom, new schedule new everything in his life and now he MUST live with other ferrets he does not know… this is my opinion and experience it is way too soon to put him in a cage he has no way of getting out of Wendy, in a play area is one thing a cage not – I do not add a kid to a cage until I see them sleeping with the kid in a play area once they are sleeping together then the cage is a safe zone.
I think it is the fact you put him in the cage with the others is the problem, he was in the smaller cage by himself correct? I think it is not the food but here is how I do food introduction yes this is a good idea for him.
When we add our food to the new kids with own food I use 2 dishes one with just the food they came in with, the second dish is our mix. I then put a handful of their food on top of our mix. Just on top I do not mix – I keep their food dish full for about 3 days then I stop filling the dish of just their food so they start eating off the top of our mix, if I see a divot out of the mix I add a small amount of their food, if I do not see a divot I put another handful of their food on top of the mix. Keeping in mind that a lot of the food that comes in with our kids is not the good kind like Joaquin came in with, so if he does not acclimate to your mix then your right he is too old to make him learn to eat new food. Zupreem is a decent food so yes I agree let him eat what he wishes.
February 20, 2013:
Brenda,
thank you, I don't need the yesterday news litter. I use wood pellets. I will bring that down to the shelter. Thank you, for the gift certificate. I will use it for Joaquin food. He's on Zupreem.
Here are some pictures of Joaquin. He is showing signs of adrenal. I want to wait to make sure he doesn't show any signs of insulinoma. Other wise, he will get the implant.
February 19, 2013:
We are home....just in time. Weather was getting nasty outside.
Some people were not lucky....their cars were in the ditch.
Joaquin has been in the ferret room exploring for 2 hours. I just put him into his own cage, so that I can let my other kids out.
His bedding, I trashed. It was shirt and dog coat, it stink. He must of gave Joaquin a bath. I can smell the shampoo... he starting to stink.
He did say he had some diarrhea. He think it was from the ferretone. While he was in the ferret room, he did use the litter box. His poop was just fine. He did eat and drink. so far, so good.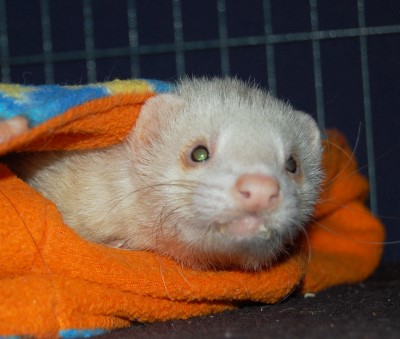 ---
Initial contact:
February 17, 2013, Ethan:
Good Afternoon Brenda,
My name is Ethan Wheeler, we had some correspondence in mid to late 2012 regarding my ferret Joaquin. I may have emailed you from my other email.
I am contacting you again after having updating my boy's distemper/rabies etc. The Vet said he looked to be in good health as well and he's still the largest guy she has seen. He's so cute.
Unfortunately my schedule and abilities in training him are lacking. I feel he is incredibly lonely, in need of a great deal more social interaction than a busy working bachelor, even with playtime included is simply not enough. He is resolute to potty himself anywhere but his litter box, no matter the configuration of his cage and he is stubborn to the end.
I am left to feel that his best case scenario would be placement in a caring home with other Ferrets where he will be able to fall into a hierarchy and re-learn good Ferret manners! His manners and happiness level were much greater before we lost his buddy in late 2011. Unfortunately again, I know I will not have the time required to provide the proper care for more Ferrets.
I am interested to know if you feel surrendering may be a good solution, for both of us. As I'm sure you hear often, I am less than comfortable letting him go to "just anyone" so I am writing in hopes of finding a great solution for him that will allow him to have friends and be a part of a positive household.
I don't have a great deal to provide with him in terms of a large cage/bottles/beds etc., but I am happy to supply it along with him and a Month's supply of food as you request on your site.
I can be reached by phone. I live in Syracuse and could surrender him as early as today or as your schedule and vacancies allow.
Many thanks for your time and consideration,
Ethan W
February 17, 2013, Shelter Response:
HI Ethan, I am including Wendy in this email. Our facility is full so there is no room in the Inn. However Wendy lives up your way and is willing to help us out when we have a kid up your way looking for a home. Wendy is a shelter friend as well as a off site shelter volunteer, she lives in Utica lets see if she can take Joaquin for us – Brenda
February 17, 2013, Wendy:
Yes, I will be more than happy to give the little one home.
February 17, 2013, Ethan:
Hi Wendy,
Many thanks for your quick reply and for offering to take on Joaquin for us. I'm sure you read my original note to Brenda below, but if you have any other questions about him, please don't hesitate to ask.
I am curious about your preferred method for surrender, your policies if an animal isn't fitting in (in other words, would I have any right to first refusal if his placement with you for any reason became problematic? - et cetera). I'm sure these are questions you get frequently, and please understand I mean no disrespect, I'm just concerned as I said that we're sure he goes to a positive household with other Ferrets where he won't be a negative impact. He's a bit of a "brat" but in a very loving fuzzy manner! ;-)
He's going through something of a coat right change now so he looks a little raggedy but when he grows in his coat is beautiful and he gains weight like its a job. I'm always wishing he had some cage-mates to make him far more active than he is now. I think it's really all he needs.
If you would like photos, or again, have any questions, please don't hesitate to ask.
Many thanks again,
Ethan W
February 17, 2013, Wendy:
Hi Ethan;
I been owned by ferret since year 2000. At this time, I have four ferrets at home. I have a 7 year old at home that is a rescue out of Ohio (breeder). (Radar O'Reilly - Chocolate Sable) 4 year old Marshall girl that I rescue off from craig list last St. Patty's Day. Then I have two brothers out of same litter from a private breeder that will be turning two this month. Zeke is a black mitt and Fenway is sable.
My kids are caged in a ferret nation cage when I am not at home. They have free roam of the house when I am home. They have at least 4 - 5 hours out of their cage during the week.
Weekend are longer. I have no problem in re-training your little one to use the litter box. I think once he knows that everyone uses the litter box in the cage, he will not have any problem.
Besides who wants to poop on this nice, soft bedding....specially when the other kids are sleeping on it. :-) I only have one self in my FN cage....that's cover with round beds that goes up to top level. There are no shelves to poop on. Tons of hammocks for him to climb into.
I have a ferret room that can be gated off from the rest of the house. His potty training will start in this room. Once he gets the hang of it. He will have more rooms to explorer.
>I am curious about your preferred method for surrender, your policies if an animal isn't fitting in
First of all, he will always have a forever home here. I have had some hard introductions in the past years. One time, it took me 6 months to get the little one into my business of ferrets.
Being patience and consistent with training has worked in my household. I know my ferret's personality and behavior, I don't see a problem of getting little one into my business of ferrets. I don't believe in putting a new ferret immediately into my group of ferrets. I start off by putting new comer into a separated cage. He/she is let out in the ferret room to explorer on their own term. I let them go at their own pace to explorer their new environment. This gives me time to figure them out. Bond with mom and work on any behavior problems/training they may need.
How old is your little boy? Pictures would be great.
Supply of his food will also be appreciate, as I will mix this in with my mixture. This way, we don't upset his tummie and I can work on getting him onto my mixture. Piece of his bedding that is not wash....will also help. That would be familiar smell to him, help him adjust to his new home.
If you do decided to place him with me. Would you be interested in meeting me half way for transport?
Any questions, please feel free to ask. I would be more than happy to send pictures of my kids and setup I have here for my furkids.
Wendy
February 17, 2013, Ethan:
Wendy,
Thank you so much for your reply, and please forgive my questions! I hope you can understand this is something of a difficult decision and therefore I want to be sure it's a right one. I feel this will be so much better for Joaquin or "J" as we end up saying! I'll get some photos together for you as quickly as possible.
Joaquin is Cinnamon, bred by Scarlett's Happy Dookers, also an Ohio breeder (thinking back to your reference.) Born 9/25/06. At last weight he was 3.54 lbs. He's not, "demure" - but he is sweet when he decides its in his best interests. ;) And I have no doubt his appetite will even out when he has guidance from new friends. Vaccinations for rabies/distemper were updated in September.
I finally realized the lack of ferret socialization is probably enough to kill these little guys since they depend on it so much. I am delighted at the idea he will be able to have that structure and interaction. Your involvement and experience in Ferrets makes for exactly the kind of home I had hoped we could be lucky enough to find for him and I so appreciate your opening your home to him.
On caging, would you also be interested/have space for his cage? I know Brenda asks that the cages also go with Ferrets, but I imagine sometimes that can be overrun. If so I'm happy to bring it as well, along with his other accessories and obviously the food supplies.
On transport, I have family strewn between our locations and know all of the areas pretty well. If your preference is drop off, I have no problem saving you the drive and delivering him to you, or, if you prefer a middle meeting location instead, that's just fine as well, entirely up to you.
He is due for a bath this weekend and so I was planning on taking care of that actually this afternoon. As soon as he's fluffy and finished attacking the towels, I'm sure I can manage some photos to send along.
Please let me know if you have any questions along the way, and thank you again for your interest in helping us.
Many thanks, Ethan
February 17, 2013, Ethan:
Hi Wendy,
Thank you again for your note. This all sounds great and I'm more than happy to bring cage, toys etc.
Any day should work fine and later afternoons work perfectly well for me too, so I'll leave that up to you to set the date and time. In the mean time, I will be glad to email Scarlett and update her on Joaquin and his need for more friends. His buddy, Dominic was a retired breeder of Scarlett's as well, who we had to put down in late '11, so this change will be a great relief to me and hopefully a bright fun new look to life for Joaquin!
Knowing your connection to Scarlett is absolutely reassuring, so although I am saddened at the prospect of this move, I am excited as well.
I will look forward to hearing from you on a day and time for meeting and will keep you apprised of any updates in the meantime.
Thanks again,
Ethan
February 17, 2013, Ethan:
Hi Wendy,
On Joaquin: I should also mention that he is neutered, he is NOT de-scented. Barbara Roach at Village Veterinary Hospital in Wampsville agreed with me that doing so past the age of his initial neutering procedure could be dangerous, so we opted against it.
If I think of any other points I'll be sure to note them for you.
I look forward to our furthered correspondence.
Thank you again!
Ethan
February 17, 2013, Wendy:
No problem. I work M-F...I get out of work at 5:00. If it's in your schedule to do a transport during the week. I can shoot up to vernon exit after work. I would probably be their around 5:30. If not, weekend is better. I am open for the weekend. Morning would be better for me, as I work my horses in the afternoon. I have to head the opposite direction for the stable.
There is one more thing I like you to do. Please email Scarlett, letting her know that your boy will be placed in my home. She shouldn't have a problem with this. This is just letting her know where her ferret is and keeping track of the health issue.
Thank you! Wendy
February 19, 2013, Wendy:
We will be connect Tuesday evening, at the vernon exit. If the weather is not bad out.
February 19, 2013, Shelter Response:
Great thanks