Welcome to Lakeroad Ferret Farm Rescue/Shelter, Inc.
Leo & Lilly

• They found a Forever Home February 10, 2018!
• Ermine, AKA Mina is a female.
• Marshall is a male.

• Read their latest updates below.
HI Brenda,
Here's one of my bad photos! I took it at night & since I have an old house, the lighting is terrible! Anyway, this is the pic I got (using the flash), of my two when they got their soup.
Kathy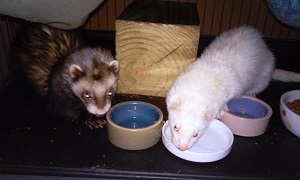 January 4, 2018:
Hi Brenda,
More than glad to update everyone!
Leo & Lilly are doing very well. They have monstrous appetites and have both gained weight & have nice coats. They quickly took to your soup once they were started on it.
We did have a minor escape over the holidays, as I was away visiting my family for Christmas. Mark was changing the papers in the corner of their pen, and didn't realize that it had become unhinged during the process. I don't know how long the escape lasted, but he was able to corral both of them.
I haven't been able to use the covers for the floors of the cage, as they both would just soil them, so instead I have papers in the cage in the areas that they prefer to use as toilets. Seems like you have to accommodate where they want to toilet, instead of the areas that you would have preferred!
Both have been very good, sweet and active.

Take care, Kathy

PS – if I can get a nice photo, I'll email it to you. However, either they're moving around or if they're sleeping it's in a spot where it's hard to take a photo from and/or they wait up and start moving!
HI Brenda, Here's one of my bad photos! I took it at night & since I have an old house, the lighting is terrible! Anyway, this is the pic I got (using the flash), of my two when they got their soup. Kathy