Welcome to Lakeroad Ferret Farm Rescue/Shelter, Inc.



Snatch, aka Contest



• Snatch arrived at the Shelter on November 4, 2010 and was reuinited with his family on November 7, 2010.
• Snatch was a silver male. He left for the Rainbow Bridge on December 26, 2012.

• Read Snatch's story here, or read his latest updates below.
• Read the article about Snatch that was published in Ferrets Magazine.
December 30, 2012:
It is so nice to hear everyone's kind words. Thank you. And thank you for adding his name to your webpage of ferret's who crossed the rainbow bridge. I think today is the day I am ready to clean up all of his things. The vet said I can pick up his cremains tomorrow.
December 26, 2012:
Hello Brenda.
I have to deliver the sad news that Snatch crossed the rainbow bridge this morning. He had an adrenal tumor pressing on his spine. I am wondering if you would benefit from anything I had for him? I would be happy to clean up his cage and send it over. It is old but still in relatively good shape.
I hope the holidays are treating you well.
~Rose
December 6, 2010:
Snatch is doing wonderful. The Duck soup is just what he needed to get back on track! I still have an ice tray left so I will be ordering more after the holidays. It is so great to see him healthy again. He even helped us decorate the tree yesterday... and by help... I mean tunnel through the decorations, spreading them out more efficiently for us to view!
November 9, 2010:
Good Evening Shelter Mom, I just wanted to thank you again (I don't think I could enough) for caring so greatly for my ferret, Snatch. It still amazes me that he survived such a trek!
I think he is equally as thankful. Generally, Snatch sleeps in his cage at night. On occasion, I would feel we would need more cuddle time and I would bring him into bed with us. Every time, he only seemed to like it for 15 mins, choosing to escape to the floor where we keep a blanket. However, last night was completely different. Rather than leaving after a quick cuddle, he stayed all night. Even when he would get up to use the potty, he would come crawling back up in between us! Melts my heart. I am so happy to have him back! I attached a picture of him peacefully resting on the couch after his long car ride home yesterday.
He still seems weak, and under-weight. How long do you think it will take for him to beef back up? I was searching your website. Can I order some Duck Soup... or is there a recipe for it?
Thankyouthankyouthankyouthankyou!
~Rose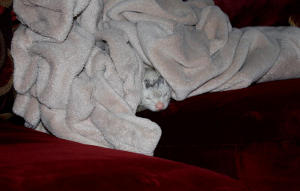 November 7, 2010:
Saturday evening I got a call from his mom – she said he had escaped from their home though the doors to the deck – fell 2 stories to the ground – crossed the gully and found his way 2 miles from home – to be caught and brought here for safe keeping.
He is home with his mom – for paperwork sake I will keep his name as contest for my records - but his name is actually Snatch – as you can see by the pictures he - his mom and aunt are all very happy to be reunited.
Thanks for helping us come up with names – Shelter Mum Brenda
Updated: November 4, 2010
A new kid come in yesterday when I got home from work – he was spotted out side running around in Watkins Glen NY Tuesday – came back to the place he was spotted this Wednesday – he wanted in the house – bless the family they let him in - contained him – fed and watered him – then called me.
This little guy had a warm place to sleep – food in his tummy and got told many times how much he was loved before I tucked him into bed for the night – the pictures were taken this morning – he is going in to see Doc this morning for a check up.
He is a silver boy – looks to be older with cataracts – a mass cell on his belly – I expect he was just tossed out the door because the family that owned him no longer wanted him.
He needs a name – so once again we have a contest going to name this little boy – Shelter Mum Brenda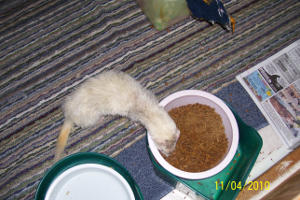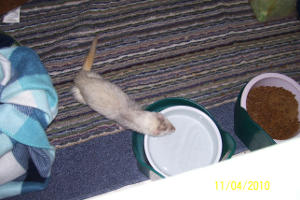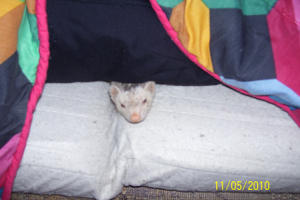 ---
Snatch's story, told by his owner Rose:
Snatch, my silver ferret, is an old man. He is 6 years, 3 months old. In his many years, he has only been outside for small stints at a time with complete supervision. He is cuddly and fun-loving and is an integral member of our small family. For the past two years, he has lived with my boyfriend, Jason, and I in our home on Seneca Lake.

As fall approached this year, Snatch had a moderate change in personality. In addition to Cataracts and a balding tail (along with other ailments that plague elderly ferrets), Snatch began to be intolerant of his cage. For the majority of his life, Snatch was in his cage while we were at work and at night. If we were home, he was out playing around the house. In the past month, however, he would create earthquakes if placed in there longer than it took to eat. It was relentless and I feared it was causing his paws and teeth harm (not to mention, clearly stressing him out). We therefore decided to let him run the house when we were out.

As Autumn progressed, our house settled (happens with every change of the seasons—one of the perks of living next to the moist lake). Each year we fight with sticking doors and cracked windows. What we didn't realize is that our door to the front deck had warped so severely that it no longer met up with the latch in the wall. Hence, when we would we leave from the door on the opposite side of our house; the suction of slamming that sticky door shut inevitably vacuumed the deck door wide open. Snatch didn't even have a challenge to get out!

My boyfriend and I left at around 7 in the morning on Friday October 29th for work. When I returned home at six, the open door was the first thing I noticed. My heart flipped, my stomach churned, and I spun into a whirlwind searching all of Snatch's favorite spots to hide… and then all the spots I would never think to check. When my efforts turned up nothing, I called my boyfriend in frantic tears. His winery (Hector Wine Co.) was set to open its doors the next morning so he was incredibly busy with finishing touches. He dropped everything and rushed down.

My next place to check—the place I most feared—was the base of the deck. Our house is built into the side of a hill. Therefore, when you walk in the door, you are on the first floor. As you move forward in the house, it becomes the second story. The only way to get to our deck is through the back door. The deck is two stories off the lawn, suspended by sturdy wooden posts. I shook as I looked over the edge, expecting to see a motionless white body. To my semi-relief, Snatch was not there. Though there are homes around us, they were built at the mouth of the lake and surrounded by a forest that hugs vineyards. It is a fantasy play-land for any wild creature.

Once my boyfriend arrived, we grabbed our flashlights (at this point, the sun was nearly setting and dusk was eerily beckoning). He took the low road, I took the high road. If the mess I made tearing the house apart wasn't enough, I rummaged recklessly through the woods—tossing logs, digging in holes, fluffing leaves. I knew it was fruitless—there are hundreds of acres of wooded land, and he could have been missing for almost 12 hours at this point—but I couldn't stop. I would stop and pray every few moments, hoping that He would send Snatch out in my eyesight, or guide me in the right direction.

At some point we just Knew—knew that our efforts were hopeless. That night, I put Snatch's cage outside. Although I learned that ferrets are do not have an innate radar for "home", I hoped that if he was nearby he would smell his food or blankets and come in. I notified our one neighbor (the other homes are only inhabited in the summer months) and spread the word to vineyard crews. I was at a loss of what else to do.

The week dragged on. We found ourselves reacting to the sound of squirrels, spinning around when leaves were rustled, hoping that that time, it was Snatch. We found ourselves hovering at windows, hoping to get a glimpse of silver. By Thursday, we brought his cage inside. The weather was changing and threatening to soil his blankets and litter and food.

I began to spin stories in my mind. "Everything happens for a reason," I told myself. "Perhaps, since he is so old, it was his time… he wanted to experience time in the wild in his last days". "Perhaps I am not supposed to be with him when he passes. The image of his lifeless body would be too much for me to cope with so He took him away so I would not have to witness it." I would pray that the fall off the deck resulted in serious injuries and a coyote or hawk swooped him up—a swift and painless death. The mere though of him shivering and hungry under a tree was too horrible to imagine.

By Friday, these thoughts did little to soothe my worries, and I had given up hope. Jason continued to tell me not to worry. He had a feeling that Snatch would come home. Though I thought he was crazy, I would reflect on a dream I had two days before Snatch escaped. I dreamt that we were on a cruise and the boat had an emergency in which all passengers were forced to evacuate. Once the emergency subsided, we were allowed back on the boat to "retrieve our pet ferrets" (apparently, this was a ferret cruise). One at a time, everyone found their beloved pets. They would crawl out of holes and from under furniture, running to their loved ones. Each time my heart would flutter a bit, hoping it was my silver Snatch. It never was. Days went by and all ferrets were found—but not mine. Just as I was giving up hope on our final day, Snatch emerged from under a door and came running into my arms. I woke up, confused and relieved.

I began praying my dream was a premonition with the same ending.

On Saturday, we were working at the winery. Jason's grandfather came in and pulled me aside. "You know," he started, "I was speaking with the Wellivers. They told me this crazy story about finding a ferret. Could it have been yours?" I leaped, yelped, cried out! In a dizzying minute, we got the number for the Wellivers who provided me with the information to the Lakeroad Ferret Shelter who I called immediately.

I was set to pick up my boy the next afternoon!

That evening we reflected on Snatch's journey. It still astonishes me that he survived! He first propelled down our two-story deck. He trekked north. Between our house and the Wellivers is at least a mile of forest and vineyards (and predators!). Our homes are also divided by two gorges—man made mega-ditches that wash excess water from the vineyards into the lake. Going blind, I cannot fathom how he could achieve such a feat!

By the time he arrived at the Wellivers, he had been outside (with below freezing temps overnight) for nearly five days. Their kindness to take him in and find him help will be forever appreciated. Because of them and the complete loving generosity of Shelter Mom, and God and the angles that watched over him, Snatch would certainly have not survived.

He has lost a significant amount of weight and continues to be quite lethargic. But I am hopefully that he will make a full recovery and we will have a blissful (and adventure-free) couple more years together. He is clearly ridiculously relieved to be home, sleeping in our bed all night his first night home—something that has NEVER happened before. I am sure our days together from here on out will not only be filled with love, but also the development of Obsessive-Compulsive-Disorder, checking doors 2,813 times a day!