Welcome to Lakeroad Ferret Farm Rescue/Shelter, Inc.
| | |
| --- | --- |
| | Vinnie |
September 2, 2011:
Vinnie is gone, Brenda. Doc felt a mass in his stomach and took an x ray. He had a mass in his lung also. He said it was metastic. (cancer). We decided it was his time. The diarrhea was caused from the mass in Vinnie's stomach and that's why he was grunting I think. I was with him the whole time. I just got home. I'm heart broken but feel it was the right thing to do.
April 4, 2011:
Hi Brenda, just wanted you to know that Vinnie was absolutely great today. I think he is better than before camp even. He is playful and energetic, eating very well too. Hope your play was enjoyable and the day pleasant. Marcia
April 2, 2011:
I'm happy to report he had a very good day! Back to his old self. Last night I made a list of all the things that he was or wasn't doing that bothered me and today he was doing the opposite. He ate kibble, left the room to sleep in other places, etc. His footing isn't the best but not too bad and I just feel that he is more engaged. :-)
April 1, 2011:
AM: I guess I thought he might have better use of his hind legs and be a bit more engaging after starting the prednisone. He's barely up long enough for me to observe him. I think he's having a little more trouble walking than before he went to camp but he is walking. He hasn't eaten any dry food since he's been home but eating soup well and pooping well. He usually would eat a little dry food about once a day. I am slightly concerned that he isn't feeling well and just trying to figure out what I can do for him. Last night I felt like he seemed better before he started prednisone than he does now.I know I can't just stop it. I guess I don't fully understand this disease or what to expect.

PM: After last email from you, have calmed down. Left message for Doc Edwards. Told him I have prednisone and that you told me dosage. I did not mention my concerns because I'm not sure that I'm not over-reacting. Think I need to give meds more time to do there thing. Message back from him is, he wants Vinnie to have a couple weeks at this dose (as you told me ) and then have another BG test. He wants it up to 80. So that's the plan. Sorry, I'm just feeling sad or nervous about where this is headed. Hope you understand my craziness, just trying to pick your brain. Okay now. Thanks.
March 28, 2011:
Hi Vinnie, I'm so glad Aunt Brenda was able to talk to our favorite Doc and find out what your meds should be so we can help you feel better. Have you had your first dosage yet? It's raining cats and dogs here. First rain we've seen the whole time. Anyway, I plan on being at Aunt Brenda's tomorrow between 10:30 and 11:00 to bring you home, If that is ok with her. I can't wait! You be good and I love you.


Hey mom! I did and she was right I did not even know they were in there – that is grand don't you think? Oh I bet that hurts when they fall on you – VBG! That is a good thing – it is very very cold here in NY today. Aunt Brenda says that is okay she will have me, soup and meds ready for you. Aunt Brenda says I am always good – here are some pictures Aunt Brenda took of me this morning when she was getting dressed for work – I love you mom – see you tomorrow – Vinnie
March 28, 2011:
Hi mom – Aunt Brenda just got off the phone with Dr. Edwards – she called him with my numbers this morning.
Dr Edwards wants me on ¼ tablet of pred 2 times a day – Aunt Brenda is going to start me on the pred today – Dr Edwards said when you get home you can call him with the pharmacy near us and he will call in the prescription for me. He wants to talk to you after I have been home for a couple of weeks on pred. Aunt Brenda is going to go get me the meds now so I can start feeling better.
Aunt Brenda says it is a good thing I really like soup – because she can put the meds in it and I will not even know I am getting meds – we shall see about that – VBG
I love you mom
Vinnie
March 27, 2011:
Hi Brenda, I wrote tiring not trying. You sounded tired and I can see why. Hope today is a little better because you don't have to travel. Wanted to mention that when I took Vinnie for his distemper shot I asked the vet there if they could draw blood for Vinnie, to check his blood glucose and then talk to Doc Edwards about meds. He seemed to think they could. I don't think you are going to have time so I could look into that when I get back. Don't want you to feel pressure to get it done. Thanks for all you do!
Hi Vinnie, Only a few more days of camp left, so enjoy yourself. I miss you very much. Hope you will be ready to come home. You have been very good about writing your camp letters. I appreciate you taking the time. You really like Aunt Brenda's couch don't you? And you are not only a predictable ferret but also a funny one, too! Tell Aunt Brenda we would like 2 soups when I come but we have enough food still at home. It will be great to save on shipping. You be a good boy. I love you. Mom

Yes you did – LOL sorry I guess I was not reading properly. Yes it is thanks. We know why he is staggering it was 42 – so the soup 3 times a day has been keeping him alive – I will call doc and tell him see what he wants to do – normal is 95 – 120 I took it just before I gave him his afternoon soup.

Yup yup yup Aunt Brenda started telling me this morning that I was going home in a few days. Yes I need a mom fix. Aunt Brenda says it is important that campers let their moms and dads know what is going on at camp and that we are alright. Yes I do – she has a warm pad on it. Isn't that what we ferrets are supposed to be? Our mission in life is to keep our human entertained. She says done she will have it ready fur us to take home – okay on the food. I love you too mom – see you on Tuesday – Vinnie
March 27, 2011:
Hi mom – Aunt Brenda was so busy yesterday I was not able to use the computer – she told me I had to get my camp letter done this morning because she has more new people coming again today. Aunt Brenda took that picture of me – now she knows exactly where to find me when she lets me in her space – on the couch under the covers.
This morning Aunt Brenda was cleaning my pen and the bathroom poopy papers so I went over to see what she was doing – I popped on the floor for her – Aunt Brenda says I am such a silly predicable ferret – she says her fur kids do exactly the same thing – she picks up papers – they poop in the spot as soon as they are gone – I like knowing I am a predictable ferret.
I love you
Vinnie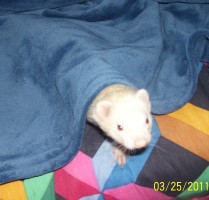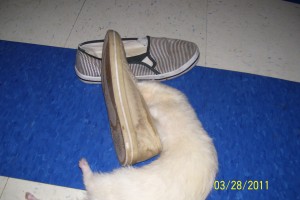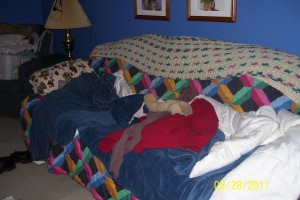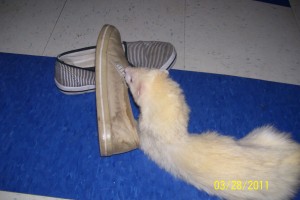 March 25, 2011:
Hi mom – Aunt Brenda was really busy yesterday mopping floors so I was not able to get on the computer – but I have to tell you what happened yesterday – Aunt Brenda opened my pen and closed the gate on the bathroom for me in the morning before she went to work.
Aunt Brenda did the same thing for me in the afternoon only I was begging and begging to get out of the room so she gave in to me – she put the gate up at the top of the stairs – opened the bathroom gate and allowed me to have the entire upstairs – including her living room – WOW! It was grand to stretch and investigate while Aunt Brenda is at work.
When Aunt Brenda got home she came up to look for me – to put me in my pen – I was not in my pen – or the dresser – or the box under the hall table – the sleep box in the living room – the toy box – the big bed in the corner – so Aunt Brenda decided to go put other kids away down stairs and look for me in a bit – when she was done down stairs she came back up to find me – she looked and looked. Aunt Brenda was starting to get scared – then she checked one more place – on the couch – I had crawled under the couch cover and gone to sleep – I don't know why she was scared she told me her whole upstairs is ferret proofed – but she said I scared her because she thought maybe it was not Vinnie proof – anyway Aunt Brenda grabbed the camera so you could see where she found me – it was so toasty warm under there – it was a great place to sleep mom.
I like camp – are you having a good vacation – I sure am – I love you mom
Vinnie
March 23, 2011:
Hi Vinnie, I'm glad you like camp. You are getting up early. I'm sure you don't mind. I'm glad Aunt Brenda gave you a nice fluffy bed under your blankets. Sounds very comfy. You be good. I love you. Mom

So mom – Aunt Brenda opens my pen in the morning – I get to stay up till it is time for second shift then she opens it again before she leaves for work in the afternoon – so I get to roam the entire room all afternoon until she gets home from work – she found me in the bed in my pen even though my pen was open – I like camp mom – I hope you are having fun – Vinnie
March 22, 2011:
Hey Vinnie, looks like you are enjoying yourself! I bet you loved exploring a new room and sleeping in a drawer. Wow! Hope you won't put up too much of a fuss when it's time to come home! I miss you. Love, mom.

Hi mom – Aunt Brenda opens my pen at 4 am to give me the entire room – I can sleep in my pen or in the dresser – I get my soup at 5 AM - when Aunt Brenda found me this morning I was in the bottom drawer sleeping – she gave me a big fluffy bed under my blankies today when she put me away – she closes up my pen at 10/11 AM depending on when she gets up here after first shift – I am considered first shift – I like it here at camp – I love you mom – Vinnie
March 20, 2011:
Hi Brenda, Can you tell yet how he's settling in?

Hey mom – wow this is so cool Aunt Brenda gave me this really cool pen to sleep in with your jammies and a soft blankie – then just about 10 minutes ago she gave me more soup – 2 bowls of soup – take a look at the pictures Aunt Brenda took of me here at camp – Vinnie