Welcome to Lakeroad Ferret Farm Rescue/Shelter, Inc.
| | |
| --- | --- |
| | Lakeroad Ferret Farm's Raffles! |
Helloooo cyber friends and shelter supporters! Tiny Tim here. Lance said I could do this announcement because I got my picture taken with all the laundry soap you got for us to help keep our bedding clean and stinky free.
Mum says we are so blessed to have so many help her take care of us, thank you for all the laundry soap! All winners have been notified!

Tiny Tim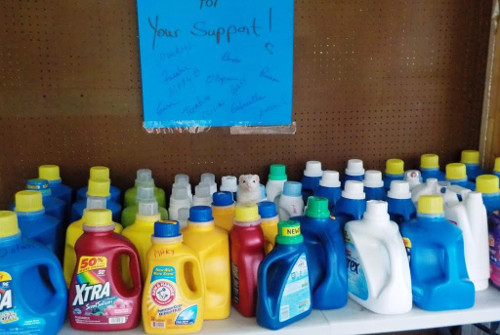 Previous Campaigns
Laundry Soap Campaign: April 30 - June 10, 2017
| | |
| --- | --- |
| Item 1 - Snoopy Snuggler bungalows - donated by Charlie Keenen | |
| Item 2 - Snoopy Snuggler bungalow - donated by Charlie Keenen | |
| Item 3 - Ginger Jamison necklace - donated by Mary Ellen Byrne | |
| Item 4 - Cup and saucer - donated by Mary Ellen Byrne | |
| Item 5 - bars of picture soap - donated by Sandy G. | |
| Item 7 - My toy box in gold letters, Rubbermaid storage dish with assorted treats, small dish, ferret chew sticks, small hammock - donated by Patty Saville | |
Baby Food Raffle Campaign
Congratulations to Priscilla for winning the ferret umbrella!!
Mum says we fuzz butts are in need of baby food, the food we received in our last campaign is almost gone so she is going to give up one of her prized possessions to raffle off for baby food for us...Oh the things our Mum does to keep us happy and full!
This prize possession of hers, is a large umbrella, Mum has carried this in the van for years. It is a discontinued item, no longer available on the market. The umbrella has a plastic protective sleeve for safe storage. She has used it once since she got it, probably 15 yrs ago.
We hope you will help restock our baby food shelf! Good luck! - Daisy
We will draw the winning ticket on Clinic Day (June 4, 2016). The winner does not need to be in attendance.
How to enter:
We use both Gerber and Beechnut brands and we like both chicken and turkey!

One jar of food = one ticket
Five jars of food = six tickets