Welcome to Lakeroad Ferret Farm Rescue/Shelter, Inc.



Bear II



• Surrendered to the Shelter October 3, 2009.
• Bear II was a sable male. He left for the Rainbow Bridge April 27, 2011.

• Bear II was sponsored by a far away friend in Utica, NY.
Bear is a 5 yr old sable male that was living in an abandoned house in Buffalo, NY. The extended family found out about Bear living alone in the house so they got him out of there to me. He has adrenal disease so he will be taken to our favorite Doc in the very near future.
---
April 27, 2011:
Bear II left for Rainbow Bridge this morning.
December 26, 2009:
Mau and Marshmallow's far away family came to play!

Hi Brenda, Thank you so much for your hospitality. We enjoyed meeting each of the ferrets. James especially had fun playing with Delilah. I forgot to explain one of the gift bags. In one of the bags was a ferret shirt, hanging tunnel, and itty bitty cuddle cup...these are all gently used (washed) items that I figured you could add to your used inventory on the website. Also, there is a large fish tunnel that is for all the ferrets to share! Thank you again for having us, we enjoyed our visit immensely. Please tell Mau and Marshmallow that they are even more adorable and sweet in person.
-Michele and James

They brought presents for Bear II and Snowy-Bowey too. As well as a bag for all the kids here.
November 29, 2009:
Bear II has not so far away mom in Utica, NY.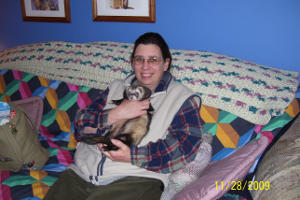 October 31, 2009:
Bear has decided living here at the shelter is okay, he finally did the weasel dance for me this morning. He chased a ball and did a dance. He is going to be fine here. Brenda
October 14, 2009:
How wonderful to see little Bear playing out in your living room with the orange tiger kitten! Thank you so much, Brenda, for sending these photos and letting us know that Bear is finally in a good home. I didn't know what Duck Soup was so I Googled it and see that there are lots of recipes out there. Do you make your own or buy it? It sounds like it's high quality, high protein food and I'm sure Bear will thrive and become healthier on this kind of formula. Again thanks so much for giving Bear a new life! Taimi
October 10, 2009:
Bear II has finally started happy dancing today. I think he has finally decided he is going to be happy here.