Welcome to Lakeroad Ferret Farm Rescue/Shelter, Inc.
Big Bandit, AKA BB

• He arrived at the Shelter April 15, 2015, and found a Forever Home on June 11, 2016!
• Big Bandit is a sable male.

• Big Bandit has a far away family in Levittown, NY!
• Read about how he arrived at the Shelter by clicking here, or read his latest updates below.
March 20, 2017:
BB, Panda, and Rocky are happy, healthy and doing well. All three are "dook monsters" and have a way of keeping Lisa and me on our toes. Daisy our golden retriever ignores them, and Owain our corgi loves to play (under our watchful eye) with Rocky. I hope all is well in your neck of the woods. Hopefully I can get over to see you guys before too long.
Pete and Lisa
March 19, 2017:
Hi Brenda: I wanted to get a note off to you to give you an update on the kids. On Friday, Dudley crossed over the bridge. Dudley was the little guy that you were contacted on about 2 1/2 years ago. He was found dumped on a trail down in the Binghamton area. You contacted me about transporting him to you, but alas he never made it past Ithaca (ha,ha). At the time Dr. Chris figured that he was at least 4 years old, so when he left us on Friday he was a senior ferret that had had 2 1/2 years of love and happiness though for about the last 9 months had his share of health issues (cataracts, insulinoma). On Sunday he became very weak with dark green tarry poop. We had him in to see Dr. Chris on Monday for fluids and amox , Tuesday he was still very weak but did not seem to be suffering. On Wednesday and Thursday he seemed to improve, but on Friday morning he left us. Needless to say Lisa and I are heartbroken.
Also on Monday we had Bear in for scheduled des. implant. Bear is one of the boys that came up from Long Island about three years ago. He is also a senior ferret, and about four weeks ago started showing signs of being adrenal. On Monday we also checked his BG which proved to be borderline, so we have also place him on pred.
BB, Panda, and Rocky are happy, healthy and doing well. All three are "dook monsters" and have a way of keeping Lisa and me on our toes. Daisy our golden retriever ignores them, and Owain our corgi loves to play (under our watchful eye) with Rocky.
I hope all is well in your neck of the woods. Hopefully I can get over to see you guys before too long.
December 20, 2016:
Hi Brenda;: Merry Christmas, and a Happy (belated) Birthday. We received your box yesterday with all the bedding and stuff. One of the dogs ran off with the stuffed football (the kids were unimpressed), but they will gladly put to use all the fleece and flannel. The four boys and Panda are all doing well. BB is a great fit, and is best friends and his cagemate with Bear. Lisa and I are doing well and we are looking forward to (our usual) a low key Holiday. We are wishing you, and all the kids much warmth, good health, and happiness.
Pete, Lisa, Panda, Dudley, Rocky, BB, Bear, and the dogs.
August 31, 2016:
Brenda: I keep meaning to get a note off to you, but it seems that "life" keeps putting things in my way to keep me on my toes. BB is doing wonderful. He is cage mates at night with Bear, and enjoys playing, dooking, and wrestling with Rocky and Panda during the daytime. We are for the most part still running two groups. Bear and BB can be together 24 hours a day and they can be joined by Panda and Rocky. Squiggles and Dudley generally do not like interacting much with BB and Bear. I think that Squiggles, because of her age, and Dudley, because of lack of vision due to cataracts, find the two a little rough and overwhelming. I hope all is going well with you and the gang. I am hoping to get a small check off to you to help with paying off the van.
Pete
July 8, 2016:
Hi Brenda: I wanted to let you know that BB is doing well. He is eating soup with the rest of our kids and has been integrated with Rocky, Panda, Dudley, and Squiggles.
On a sad note, Boscoe, who was the remaining kid from the guys that relocated England, crossed the bridge last Friday. As you may recall, we helped his cagemate Sookie cross two weeks earlier. Boscoe, seemed to be doing well with his remaining cagemate, Bear, but on last Thursday night his appetite was "off". Friday morning he only wanted a little soup, and when Lisa and I returned home in the early evening we found him unresponsive, he passed in Lisa's arms a short time later. It was very heartbreaking, because even though he was a 6 1/2 year old ferret, and had some health issues over the last six months or so, he seemed to be in pretty good shape. We think that possible underlying undetected health problems coupled with age and the loss of Sookie were too much for him to continue.
At this time we are working at introducing Bear into the gang of 5. We are taking it very slow, but we do not want to him to be alone long because he has never been a solo ferret. He seems to really miss companionship, so in the mean time he is getting a lot of extra cuddles.
Pete
June 11, 2016:
BB in his new home!


March 25, 2016:
BB hanging out in Mum's space, sleeping in the toy box.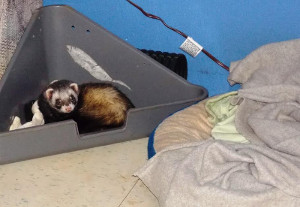 December 16, 2015:
I am doing the happy dance, thanking you for all our Christmas presents you sent for us. Thank you for helpen out Mum take care of me.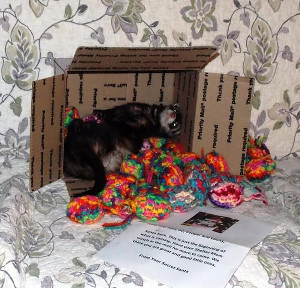 December 14, 2015:
Last week kept Mum really busy with packages coming in daily for us. We want to share with you, us opening our presents that have come in. The Sims Family Santa's sent us all these presents! Thanks for helpen our Mum take care of us!
BB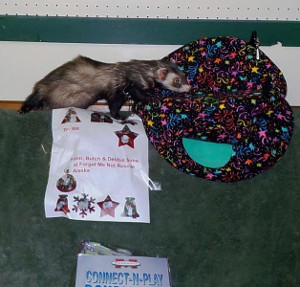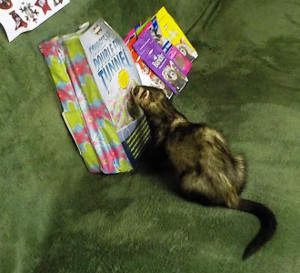 July 25, 2015:
All cages tagged get Moxy even if their poo looks better, they need Moxy for 10 days. Once they are done, I mix the bowls of soup for the kids that need Pred and Moxy but are well enough now that they are eating their full bowl of soup. Then I move on to the ferrets that are on Pred. Once I have meds done I start fluids.
July 23, 2015:
BB was dancing, Bandit was eating but they both still have icky, sticky poo.
July 22, 2015:
BB seems to be feeling better although his poo does not look better. The bigger kids are bouncing back faster. I am not waiting until I see lots of icky poo, a drop will put them on the list for meds, with the hope I don't have to do fluids too.
June 19, 2015:
BB got himself into the cupboard then the door stop fell down so he was locked in the cupboard. I heard this racket out in the kitchen I went to check what was going on, he got himself locked in. Silly boy he is.
May 11, 2015:
I found Thelma this morning, well BB did actually. She was under the cage in the playroom sleeping next to the wall in a pile of toys.
May 9, 2015:
BB is doing much better this morning.. was bouncing and chasing so he is feeling better. Too hot to use the porch it was 70 at 3:30 this morning so we will not be using the porch today.
May 7, 2015:
BB got up this morning not feeling well. He was subdued, had no interest in playing or chasing me like he has been. He had some icky looking green poops in his box. I hope it is just coat change. He is eating and drinking so I expect that is the cause.
May 5, 2015:
Preston came in again this morning so I had to pull the barrier between the bathroom and Kitchen. I had BB in the kitchen so I thought for the 30 min Preston is going to be here I can put him in the stairwell behind a temporary gate. I used one pen panel horizontal in the doorway to the stairs. BB does not climb, jump or go up tubes so I figured he would be the one I could trust in that area for a half hour. I set him behind the gate turned around to continue washing dishes and there he stood behind me. I looked at him and asked him how he managed to get out.. Preston was not here yet. I set him back behind the gate and watched. He hopped up grabbed the edge of the gate and over he went.. so much for a fur kid that does not jump or climb.
April 27, 2015:
It stayed in the low 40's today, too cold for me to go play outside. BB is an official shelter kid, he came to the cage door when I walk in the room. This morning was the first. Up till this morning I would need to open the cage put my hand in the sleep box to wake him, and indication that he was not accustomed to getting out of the cage on a regular basis. Cali and Oryx are now doing the same.
April 25, 2015:
BB - his coat is looking so much better, he is eating the right side food.. I will continue to put some of the old food on top just so I know he will eat but his poops are now brown not orange a true sign he is eating the good food over the crap food. He dances and dooks, he has started coming over to my leg and standing up to be picked up. He is settled and happy, so is his Mum!
April 22, 2015:
We are up - I had to kick BB out of the living room he wants to mess with my feet when I am at my desk. He will soon learn that if he does he gets kicked out of the living room. Daisy got kicked out last night, she was going to have Mum's space for the night but she reverted back to her old habit of nipping my foot. That got her kicked out of the living room and put into another area for the night. Spencer got the kitchen instead.
April 21, 2015:
BB and I were playing hand/paw boxing this morning. He is settled. I have been putting a handful of his food on top of the food dishes in the play areas. Yesterday I adjusted his food dishes in his cage, I left his yucky food and our PO food mix in the left dish then I added our right side food to his dish and topped it off with his mix. He is eating well and adjusted to us so it is time to get him off that crap food.
April 20, 2015:
BB was dancing and dooking with me this morning, he plays a bit rough but he will learn, he backed right off when I told him he was too rough.
April 19, 2015:
We are up and moving. I had BB in the ferret room with me this morning while I was doing meds. I set him in the corn starch peanut box he went nuts! He was rolling around, digging, jumping having a ball. All of a sudden he jump up grabbed my left hand and tried to drag me in with him. Silly little man. He did not break the skin just a bit of a pinch.
April 18, 2015:
BB was dooking and dancing with me this morning. He got a bit rough so I just got the puppet out and played with him with that. He chased a ball around for a bit but decided he's rather play with me. I still don't trust him around my ankles but he is doing really well with my hands. I am still careful not to startle him.
April 17, 2015:
BB has the kitchen first. He was down in the kitchen when I headed upstairs, he watched me for about 6 steps and then headed up the stairs behind me. He is engaging and bright this morning. His poo box had some decent poops in it this morning, yesterdays was green seedy slime. Until he is eating better food he is not going to have real good poops.
I hear him going through the tube dooking. I think he has decided it is okay to be here.
April 15, 2015:
Big Bandit has yet to bite me. He allows me to carry him from room to room. I have not used gloves since the night I brought him home. Last night I needed to go back down stairs, I did not yet have my legs covered. I started over the barrier and there stood BB - I decided I was not going to take that chance. I have scars on my legs from Master Largo. I had the short bank of kids up so I decided I would fill the 2 extra holes with more kids. I gave BB the library for the night. I went around the other way. So far he has shown no desire to bite me, he is very skittish and hides if I startle him but so far so good. The second picture of him I sent he was frightened when I opened the top of the tote.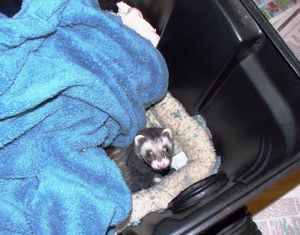 ---
Arrival Story:
Mary McCarthy called - she has a ferret that bites, she got him out of Lolly Pop Farm before they could euthanize him.
His owner died unexpectedly, the family took the little guy to Lolly Pop Farm - When Mary found out he was there she worked for days to get him out of there. I asked her how he survived for days at Lolly Pop Farm, she said she figures he bit a worker so they have to quarantine for 10 days before they could put them down.
We are going to call this new guy Big Bandit, he looks to be about 3+ pounds. He has been eating grocery store Purina Kitten Chow (yellow bag) so his coat is awful. Until I get him on better food I will not know if we are dealing with adrenal disease or just poor diet. His owner used OFD so we have his medical records, Mary stopped to get them for us. I guess she has had him for about 4 months, which is the part of the conversation we had yesterday I missed. He seemed to do okay last night in the cage, I put our Purina One kitten food in both his dishes then topped them off with his. I got less than a cup full in the bag she brought with him so I will need to see if I can get some from the local store this morning.
I let him walk from the carrier to the cage last night, I did not try to handle him. This morning I put a glove on my left hand and offered him ferretone bottle with my right, he took some ferretone and allowed me to pick him up. I put him in the playpen to start he did not show any signs that he wanted to bite. Max did his thing and got into the playpen so he was introducing himself to Big Bandit. I try to give Max and Princess some time with me in the morning when I am doing meds and settling the shelter because the only rooms they are safe/can't jump out of are the smaller ones I do not get into much during my normal routine. I pulled Max out and put him and Princess in the bathroom. Big Bandit looked uncomfortable in the playpen so I took him over to the window side of the dining room. He looked a bit more comfortable and happier there when I was ready to come upstairs. Again he did not even try to bit me, I am guessing if I were to startle him he would so I am coming towards him slow and quiet.