Welcome to Lakeroad Ferret Farm Rescue/Shelter, Inc.
Bing

• Surrendered to the Shelter on June 11, 2014. She found a Forever Home on June 28, 2014!
• Bing is a female.
December 25, 2017:
Happy Holidays from Bing and Wendy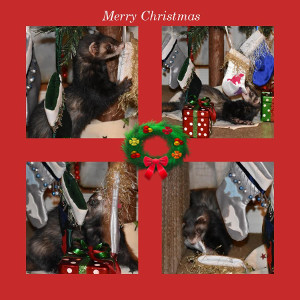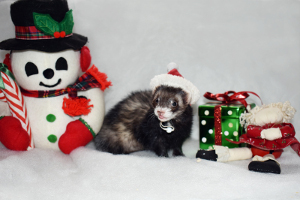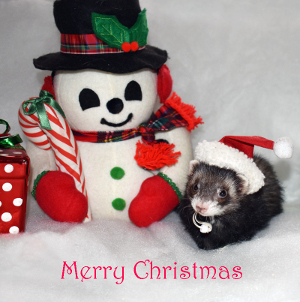 July 18, 2017:
Sat down last night to watch TV in the living room. Bing was out and about playing in the house. Suddenly, I hear a BIG crash in the ferret room. I get up from the couch and walked into the room. What do I see....Bing in her cage. She climbed up to top level of the ferret cage where she sleeps and push the high back litter box out of the cage down to the floor. Wood pellet all over the floor......she looking down at it. Mom, look what I did.:-) Thank god, I cleaned the litter box....no more open cage doors for her.
Little stinker!
Bing with capital T on the end......
May 1, 2017:
Bing is doing great. She is keeping mom and dad on their toes. She is a busy body. Last Sunday, I was getting ready to go out the door to get some gas in my car.
The phone rang. I sat my purse down on the chair in the living room. Walk into the computer room to answer the phone. I get off phone, pick up purse in the living room and out the door I go. I get in my car, place my purse in the passenger seat up front. I started up the car, I look over to my purse....here Bing crawling out of my purse. Hi mom! She is a little sneak...
December 11, 2016:
Merry Christmas and Happy New Year.
Love Bing!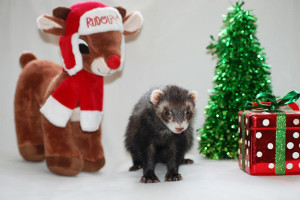 November 23, 2016:
Dear Auntie Brenda,
We want to wish you and furkids a Happy Thanksgiving. Mom, been really busy these past two months. She went down to Florida to see her mom and friend for 16 days. We stay home with dad while she was playing in the sun. We lost Miss Patty a week after mom came home from florida. Mom had let her out that evening to play and she put Miss Patty back in the cage with Magii and I. Mom, found her next day all curled up in her bed sound to sleep. Mom said she was a old lady. That night she chose to go over the rainbow bridge, feeling safe that Magii and I were by her side. Going to miss that old lady as I always chase her around the house.
Don't know if we will get holiday pictures, mom camera is not working right. She needs to get camera into the shop. Mom said, I getting really good at climbing the FN cage. I go up one side and down the other! I am also a good girl, sometimes I just put myself back to bed in the cage. That drives mom crazy, because she always hollar for me thru out the house. She never thinks to check the cage....I think she is now catching on. Magii, Fenway and Zeke are all doing well. This weekend mom going to decorated out ferret room for Christmas.
Well that's about it. Have a Happy Thanksgiving and keep warm.

Love
Bing
September 5, 2016:
Bing was little bit wild outside. Running around and dooking...... She loves the outdoors!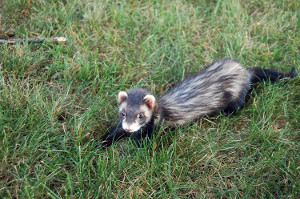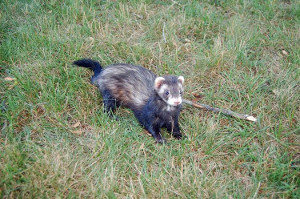 April 18, 2016:
Howdy!
It's been a long winter, finely the sunshine is here. Mom, told me tonight she will be taken us furkids outside soon. Tonight, she set up a mini swimming pool in the kitchen for us kids to play in. Boy...or boy did I have fun! I just jump right into that water and fetch all the balls out of the water.
Mom, in the kitchen mopping up our mess. I don't have much time on the computer. This is a no no...being on mom's computer desk.
I been really busy here...I learn how to climb up mom's clothes in the closet. I go up to the top shelf of the closet and scoop stuff out.......mom not too cool about that! She thinks I am going to fall.
Here are some pictures mom took of me playing in the water.
Time to run....I have mom coming.
Love
Bing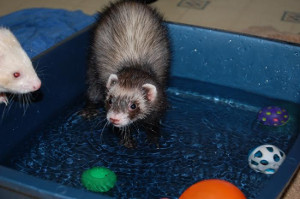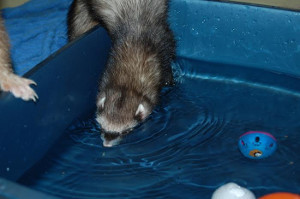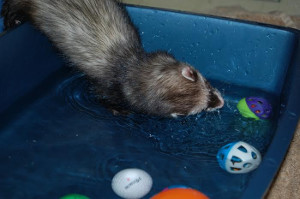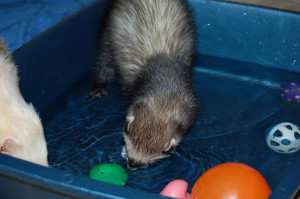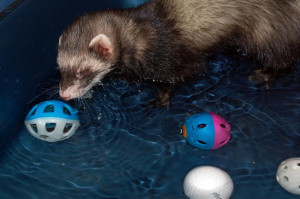 January 26, 2016:
She is trouble.... with cap "T". This little stinker look where she is? She climb up using my clothes that are hanging up!


January 24, 2016:
Here is Bing and Magii playing....
December 20, 2015:
Merry Christmas! Wishing you a joyous holiday season!
Love Bing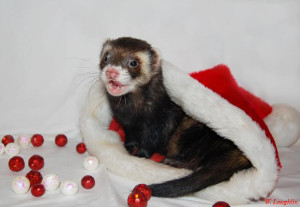 February 7, 2015:
I went downstairs and here is Bing on the table. She's inside the basket of flowers trying to figure out what's hanging up and how to get inside it. I just washed this ferret tunnel earlier this week. It's lined with plastic bags, so it needs to hang dry. As you can see, she made her way up the tunnel to the top and back down! Nothing like giving Mom gray hairs.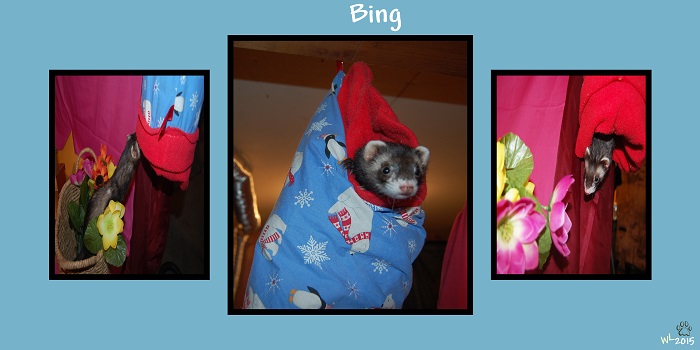 January 25, 2015:
Mom, took me outdoor today. Boy, this white stuff is cold on my tooties! I was afraid to move. It's not like me to stand still. This white stuff really confused me.
hope you like the picture - Love Bing

Oh Bing you are so beautiful! I know you are right about cold. Shelter Mum hates the cold. I love the picture, your Mom is so good about keeping us in your life. I think you have the best home in the world little girl. I love you! thank Mom for the beautiful picture of you.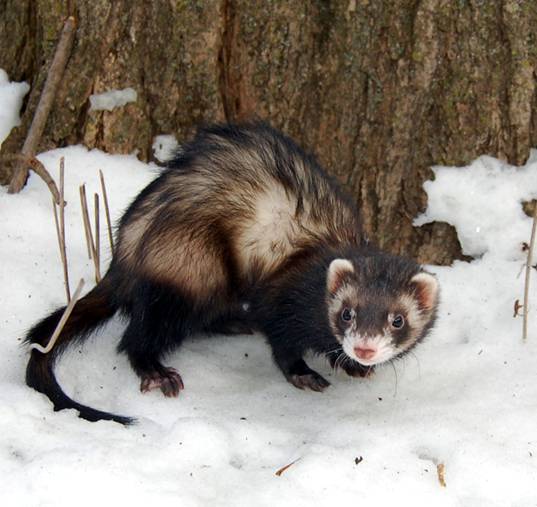 December 01, 2014:
Mom is getting ready for Christmas. Our home is all decorated and we have two trees up in the living room. One tree is all decorated in ferret ornaments. Does that mean Santa is going to leave us some gifts? We been really good around the tree and not take any ornaments off. Mom gave us our own ornaments to play with. We roll them around the house. This weekend we had our pictures taken. Here is our electronic Christmas cards for you.

Have a Merry Christmas!
Love - Parker and Bing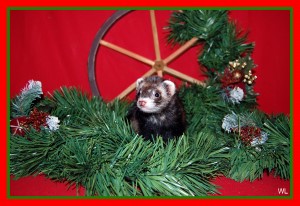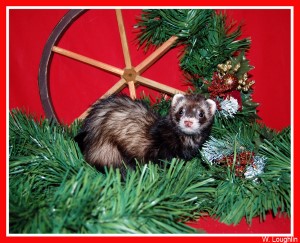 October 5, 2014:
This is what she does after she has her soup.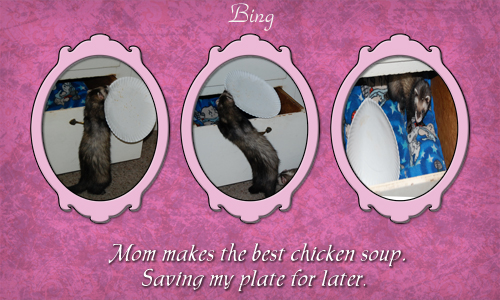 Halloween, 2014:
Happy Halloween!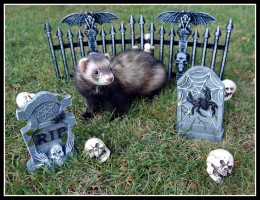 August 23, 2014:
Showing off my girly figure! I can still run laps around the house and I am faster than the boys!br>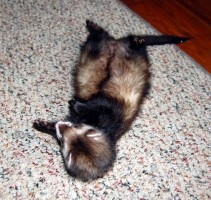 August 22, 2014:
Bing is dong very well. OMG, has she gain some weight. She is very smart...when she hears the microware beep go off....she knows it's soup time!
I have three drawers in the hallway. I leave the bottom drawer open for the ferrets to sleep in. Miss Bing, has figured out how to climb the drawers in the back and she found out that mom keeps clean sheets in the 2nd drawer. She had nicely made her self a bed in the clean sheets.
all is well here....Mr Parker is doing very well him self.
August 03, 2014:
Here is a video of Bing, Parker and a quick look at Magii shared with us by their Mom. Bing and Parker are LRFF shelter kids (Parker came by way of us he just never got here)


July 13, 2014:
Bing is doing very well. Hair on top of her head is all in. Redness around her face is also gone. Did you noticed that when she was down at the shelter? If you look at her picture...you can see some redness above her nose. I wonder if she had a reaction to vaccine. I was comparing pictures one I took Clinic day and then when I got home.
You can see a difference. See attached picture....see where it's red above the nose....then above the eyes. this is all gone now. (Check out picture from Clinic Day). I need to get some really nice pictures of her.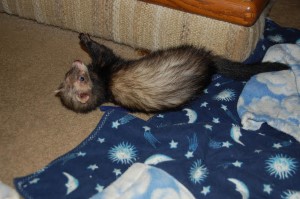 July 04, 2014:
She such a pretty ferret.....great personality. We are so glad to have her into our home. Thank you.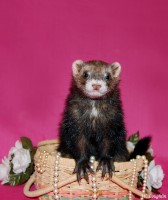 July 04, 2014:
Bing is doing very well in her new home. She is now in the FN cage with her group. Everyone is getting long and she loves being with them. She is on my kibbles/chicken soup this am she try raw soup this am. My husband just adores her.
Hair is coming back on top of her head. This weekend, i will try to get some really nice pictures of her...that if she holds still! She now feel comfortable in her new home and she is running all over the place.
Here are some pictures I took around the house this week.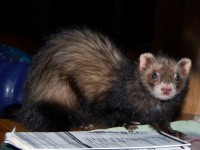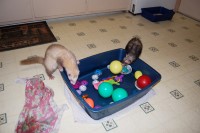 June 30, 2014:
Bing is doing very well. She eating kibbles. She had soup yesterday (am/pm). Last night, I did some introduction to my kids. Boy, was she happy to play with them. Later this week or this weekend, I will be moving her into the cage with the others. I think she will be much happier living with the others.
She has a BIG personality! She has no problem telling Magii off. Magii had her in a head lock, she did not like that. She flip right over and went right after him. He ran to the tunnels for cover. She went right at him...then they started playing in the tunnels and running around the house.
We will probably keep her name...it fits her to a T.
Will keep you post on her.
June 28, 2014:
Bing here.... I am home. Just woke up from my power nap. I am on the go...checking out my new home.
gotta run.....too many new stuff and new rooms to check out. I will check in with you later - love Bing.
June 14, 2014:
Bing went to her Forever Home with Miss Wendy!!
June 12, 2014:
Bing at Clinic Day!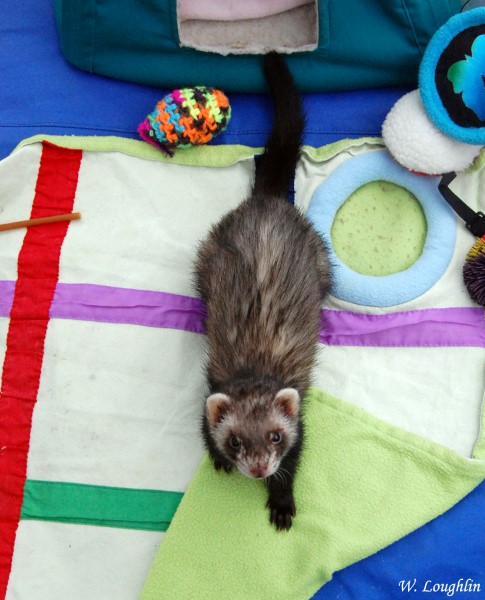 June 12, 2014:
Our "little guy" is actually a girl. She has a hard time opening her eyes, especially her left but they aren't crusty. She's also sneezing a bit. I gave her soup, a bath and cut most of her nails. She was so dirty, her fur felt like sand. I'll get the back ones tomorrow. She's very active, loves to have her back scratched and loves crochet eggs.
Her temp is normal. 101.3. She's not lethargic, poops are soft but color is fine. No runny nose, no wheezing just occasional sneezing. One eye was gooey this morning- maybe just dust in it from being so dirty. I've been calling her Bing. She is a sweetheart. She doesn't like soup but she likes my food mix of Zupreem and Evolve grain free cat food.
June 11, 2014:
We got a call from the Binghamton Police Department at 11 am, asking us if we could help with a ferret they have in their custody. I called Nicky T and she is going to help us out. She will go pick him/her up. I am waiting for her call we were both told this little one is in bad shape.
Nicky said if he is real bad I will need to get him tonight so I am waiting for her call to see if she can get him though the night or if I need to go pick him up. Nicky lives in Corning so I may be going to Corning tonight.
Nicky just called 5:15 pm; she said she has the little guy he is filthy, his eyes are all crusty but she said he is eating. She is going to take him home give him a bath and keep him for the night - He is eating for her so that is huge! Nicky says she can get him cleaned up and feeling better, she will bring him to the shelter on Saturday unless he takes a turn of the worse then I will go get him.