Welcome to Lakeroad Ferret Farm Rescue/Shelter, Inc.
Bron, Minnie & Petrie

• Originally arrived at the Shelter on April 9, 2012.
• They found a forever home on July 1, 2012, and have returned to the Shelter on September 5, 2015. Read their updates below.

• Bron was a silver male. He left for the Rainbow Bridge September 17, 2015.
• Minnie was a sable female. She left for the Rainbow Bridge July 1, 2016.
• Petrie was an albino male. He left for the Rainbow Bridge October 30, 2012.
• Read about how this business originally arrived at the Shelter by clicking here.
Minnie had Osteosarcoma.
Once magic fingers doc got his hands on her he showed me how her legs still work without pain. Then he had me place my fingers in the area of the hip bone...there is a tumor the size of a small lime, hard and big.
Doc said for now we treat with Pred. The cancer she has is a very aggressive. The cancer is not going to take her it is going to diminish her quality of life. We are keeping her in the smaller areas that have throw rugs so she can maneuver more easily to the food and water. She will remain with us for the rest of her life.
---
July 1, 2016:
AM Update: Minnie, she is struggling. I've been keeping her in the play pen when she is out of her cage, I got her up and put her in there last night. I am keeping her in pain meds, her time is short.
PM Update: I made sure Minnie was not in any discomfort. She is gone.
June 18, 2016:
Minnie - something is up with her, she has not finished her soup for 2 servings. I am thinking that tumor is starting to cause an issue with her elimination so she feels full. I am going to watch her pee pad close today to see if I can figure out what is going on. Minnie left me some pee and poo she is not eating as much as she has been but she had ate most of her soup tonight.
June 11, 2016:
OFD told me in March he did not believe she would be here in June for clinic day. She was and is, I took her out of the cage for OFD to examine. He said she had good muscle tone and a great fur coat, he was happy and surprised she was looking so good. The mass has gotten bigger, Doc said once the mass invades her birth canal she will no longer be able to poo and it will be time to let her go. Right now she is getting up in her hammock and is leaving poo, small but she is still eliminating so life is good.<
April 8, 2016:
When I went to get Minnie up this morning I had a hard time getting her to wake up. The only reason I did not panic was because she was warm but I was getting concerned that the cancer is spreading and causing other issues. She finally did come out of her sleep box but reluctantly. I put her in the playpen. I am keeping her in the smaller areas that have throw rugs so she can maneuver more easily to the food and water.
April 5, 2016:
Minnie came back to the shelter September 17th, 2015. Minnie was limping a bit so Mum kept an eye on her, She soiled herself, when Mum put her under the faucet to clean her off, Mum discovered what she thought was a dislocated hip.. Mum got Minnie to OFD what she found out is Minnie has Osteosarcoma. A very aggressive bone cancer. Mum was told that Minnie only has a short time left. Minnie is bright eyed and happy at this time, Mum will watch to be sure that when she becomes uncomfortable they go back to OFD for the last time.
Mum wants to document the Osteosarcoma to put on the shelter web site for others. In the 22 years Mum has been caring for us and this shelter this is the first time she has had to deal with Osteosarcoma. It is hard to see in the pictures the big tumor on Minnie's hip, Mum will keep taking more pictures as the tumor gets larger.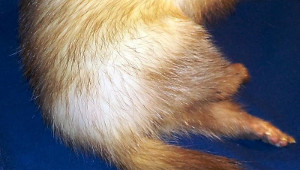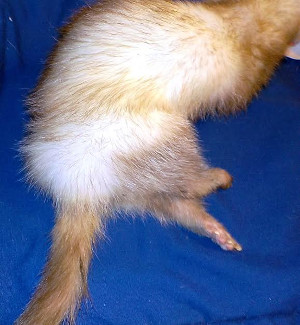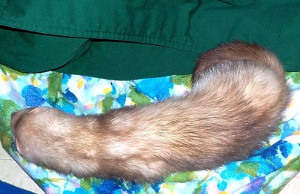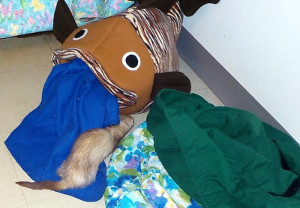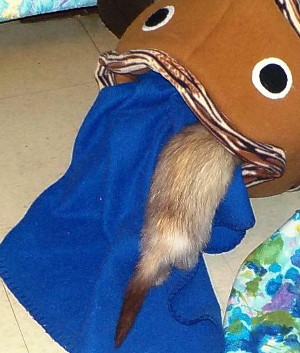 March 28, 2016:
I noticed Minnie is now having difficulty standing up, I let her have the ferret room last night, I saw her going into the playroom. She kept falling over. She was trying to eat in her cage and was sort of standing but mostly leaning on her dish. It is time to put her in the playpen so she had nothing to crawl up on, food and water will be easily accessible.
March 25, 2016:
Minnie does not have a dislocated hip she has Osteosarcoma.
Once magic fingers doc got his hands on her he showed me how her legs still work without pain. Then he had me place my fingers in the area of the hip bone.. there is a tumor the size of a small lime hard and big.
He said for now we treat with Pred. He said we would not vaccinate she is not going to be around that long. I figured he was talking 6 months, but Doc said he would be surprised if she was still with us when he comes for clinic day. The cancer she has is a very aggressive. The cancer is not going to take her it is going to diminish her quality of life.
I was a bit disheartened, I thought this was going to be a fixable issue.. I will continue to keep her happy and comfortable, she is not in pain at this time. Doc did say however that as the mass takes over the pelvis area she may break something because the bone is compromised because of the tumor.. we will watch close to be sure she stays comfortable
March 11, 2016:
I made an appointment with doc for the 25th for Minnie, when she was brought back she had a limp. last weekend Donna found her soiled so I ran her under water to clean her off. When she was wet I saw her hip, it looks like it is dislocated...
November 24, 2015:
Minnie got a Christmas present. Thank you for helpen out Mum take care of me!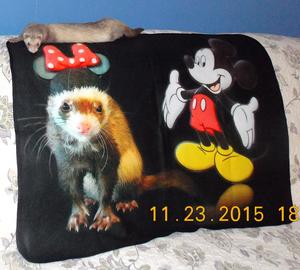 October 7, 2015:
Minnie is doing so much better, she is eating soup and pooping awesome.
October 4, 2015:
Minnie is much improved she is eating soup on her own now.
October 2, 2015:
Minnie is much improved we have real formed poo, she is now eating soup out of a bowl if I hold her and the bowl. I was concerned she would not turn around but she has.
September 28, 2015:
I am feeding Minnie soup by dropper, she is acting odd and her poops are small. I hope the soup will get her back on track.
September 22, 2015:
Rebekah: Thank you, Brenda. Yes, David needs me so much right now. I am in so much pain watching him come out of his therapy appointments in tears time and again. And he won't talk to me about it. I do everything I can and pray day after day that it is enough. Thank God that I have an excellent boss that let's me go to all of his appointments without docking my pay. I just wish I could have made more time for Bron and Minnie. I'll miss that little girl, my little slip of a ferret, and Bron, such terrible news. I know you did everything you could do, you are amazing. The cage did sell and it paid for almost 4 therapy appointment co pays, so that helped a lot. I thank you again for keeping watch over Minnie and taking care of Bron for the last couple of weeks of his life.

Brenda: I can't imagine the pain you feel when you see your child in such pain. I don't know many kids that will talk to a parent when they are this broken. Not anything to do with you, has everything to do with kids and independence. I continue to keep you in my prayers and God Box. This I believe is a learning time for all of us. I just do what I love doing. No amazing to it, my pleasure. I wish I could have convinced Bron to stick around. Take care, if you need me let me know I will do what I can. Here are some pictures of them. They were taken 2 days into his surrender on Sept 7th, the ones of Minnie I took this morning.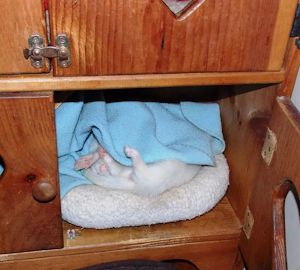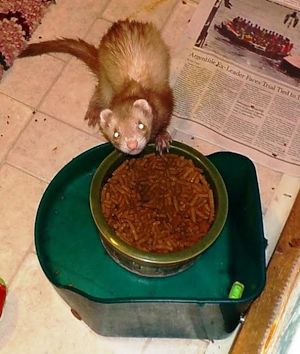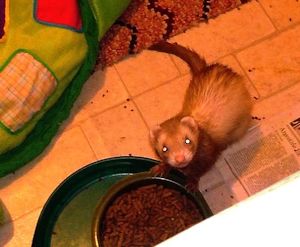 September 21, 2015:
Rebekah: I have just now had time to go on and look for updates about the kids and I see Bron is gone. I am crying so much. Shelter shock? I don't understand. He was fine. I can't believe I gave them up, I should have kept them, found a way. I am so sad. Is Minnie lost without him? I feel like a most terrible person. I don't know what to say. I am sorry. I did this. Poor Bron.

Brenda: Yes shelter shock, basically they want the family that they had and sometimes no matter how much I tell them I love them they do not want me they want the family they knew. He was but he wanted you and there was nothing I could say or do to make him understand you had to bring him back. YOU NEED TO STOP THAT THINKING. You did what you felt was best, There was no way either of us could have known he was going to grieve and give up. You need to take care of your furless family we did what we thought was best that is all we can do Rebekah.
Yes so am I! I really tried to make him understand but he wanted you and only you! Minnie is doing fine, she knew he was sick, she knew he left she has been doing really well, eating, pooping and playing.
Rebekah so am I, but there are times when what I can do is not enough and this was one of those times. It mattered not what I did or said he fought me every step of the way. I did this.
YOU DID WHAT YOU HAD TO DO, STOP SECOND GUESSING. YOU HAVE A SON THAT NEEDS 100 PERCENT OF YOU, YOU DID WHAT YOU THOUGHT WAS BEST. I am sorry you had to find out by way of the web site, I did not want you to feel guilty but I guess my thought process was way off.
September 17, 2015:
I checked on Bron before I left for work this afternoon, he looked at me with those eyes.. I patted him gently and told him I understood.. safe travels...he was gone when I got home. I've left him in the playpen with Minnie so she will know he is gone. I will take care of him when I get her up in the morning. I will move her into the cage when it is time to put her away. I've left them both in the Playpen since Bron got so sick.
September 16, 2015:
AM Update: I let Bron and Minnie have the playpen last night. Bron is not doing well. I will be doing fluids again this morning, he did not even want to get up when I went in to check on them.

PM Update: I think I am losing the battle with Bron. He flat our refuses to eat soup, he is giving me a hard time when I try to put meds in his mouth. I am doing fluids but I am not sure that is going to be enough.
September 15, 2015:
AM Update: Bron is having a hard time… shelter shock.. I put he and Minnie on Carafate this morning. He misses his mom. I am going to see if I can get some soup in him.

PM Update: Bron is not doing well, I had to give him fluids this morning and have been keeping him in Carafate, he has lost weight, I am sure he is not eating. I've tried soup but he is fighting me, for now I will keep offering and doing fluids. I hope he comes around, Minnie seems to be doing okay.
September 6, 2015:
Bron and Minnie seem to have done well their first night. When they got here they went right to the empty treat dish we keep in the kitchen.
July 01, 2014:
Brenda,
Sorry for the delay! The kids are doing great. Minnie is still to this day trying to get into the box that has all of our remotes in it. She is a persistent little girl. She hasn't managed to get into it yet but she won't give up on it. It's been two years, I think it's safe to say the remotes are secure! Bron is still trying to find a way over the baby gate that leads into the kitchen, it's too cute. We have had to move a chair and a small table away from the entrance to the kitchen but so far the gate has held up and they have not breached it yet. They are happy little fuzz butts! We enjoy them very much and they are very comfortable in our home. The cats get along fine with the ferrets, they mostly just watch them in curiosity from a perch that cannot be reached by the ferrets. We haven't had any illness or injury and are so grateful for that.
The photo is David holding both babies. They don't necessarily love being held, they want to run run run, but they tolerate it for a bit. And as you can see by the photo it is time for nails to be clipped again!
Hope all is well,
Rebekah :)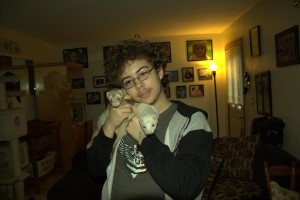 May 02, 2014: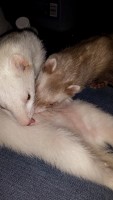 August 04, 2013:
Brenda,
I just typed you this big long email from my phone and the darn thing disappeared.....! UGH!
So, the kids are all doing great. They are settled into their routine. In the morning at 8:00 Jack gets to have free run time until 3:00pm and then the "big kids" come out until about 10:00 pm. They still aren't getting along with Jack so they are still in separate enclosures, Jack is living like a king having an entire ferret mansion to himself :) We call Bron and Minnie the "big kids" because they are older. Jack is bigger than them though so it confuses people :)
We had to omit the Purina Healthy Kitten from their mix because they were getting diarrhea. We replaced it with 4Health All Life Stages cat food and they are doing great on that.
I didn't mean to miss clinic days :( I don't even remember reading about what day it would be. I wanted to see you and get shots for the big kids. I am going to be taking them to the vet for their rabies now instead.
I am eagerly awaiting Bron's winter coat. It makes him look like a big snowball. I can't wait!!
The kids love chasing our kittens around. We adopted 4 from a rescue, they are all brothers, and they love playing with the ferrets. They have all been vetted, numerous times (much to the dismay of my wallet), and are scheduled for their neuter on 9/24/13 at the SPEAK Animal Hospital. They were supposed to go last week for neuter but have been dealing with an upper respiratory infection. Ugh. We were at such a loss when we had to put our cat, Charlie, down on Easter. He had feline leukemia and had develped a huge mass in his stomach and one in his chest. The doc said we could operate but with the leukemia they would just come right back. I chose to put him down because he was suffering and unable to breathe properly. The vet said it was the right thing to do, but it was still the hardest thing I have ever done. I cried for hours that day, and then at night for weeks. I miss him so much. These four kittens are filling our hearts back up with some feline love and the fur kids have four new friends to chase around.
I am going to attach some photos of the kids now. I hope all is well with you at the ferret farm. Thanks for the email, I have been meaning to get something out to you.
Hugs!
Rebekah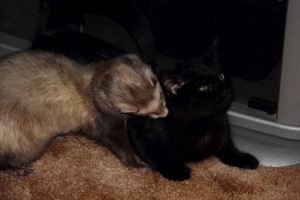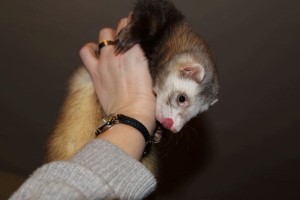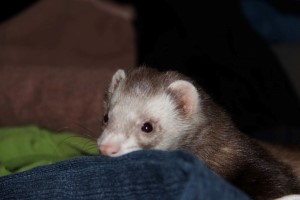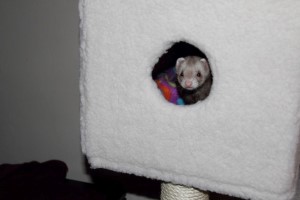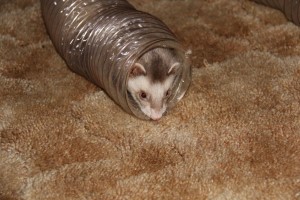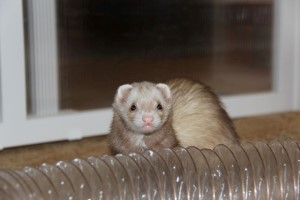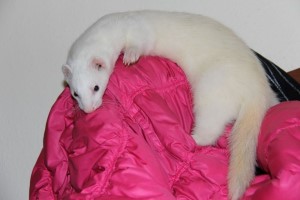 February 25, 2013:
Kids having some soup before bedtime :)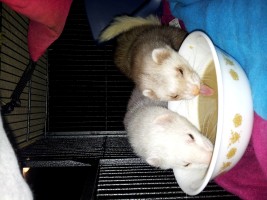 January 25, 2013:
Also, we are trying to hook up with Dr. Armao to get BGs on all these kids. I would need a Saturday and they only do alternating Saturdays so they are going to find a time I can come in. The receptionist had no idea about the ferret farm but she put me on hold and asked the doctor and she knew exactly who you were. Thank goodness, I was beginning to think I called the wrong place! Anyway, hopefully that will be done soon and I can have the information for when they are sick.
Rebekah
January 21, 2013:
Brenda,
Hope you are doing well! I am attaching some photos of the kids. One is of Bron and Minnie and the cat all snooping around an empty cat food bag. Bron ended up carrying it all around the kitchen, it was too cute!
Have a super day!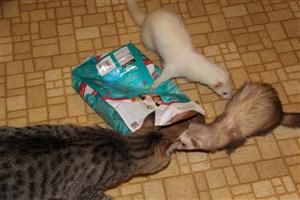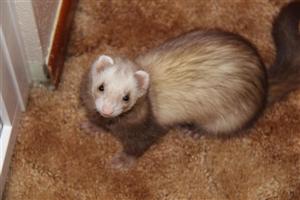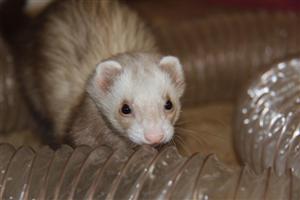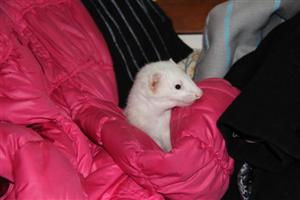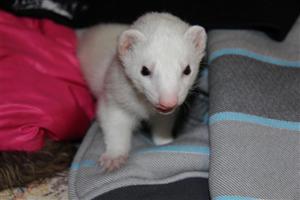 November 26, 2012:
Bron after a day at the shelter with his mom. Super sleepy after his day of playing!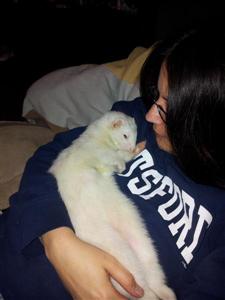 November 26, 2012:
My beautiful baby girl & Lord Bronathan the Third!!!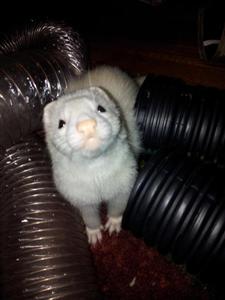 November 21, 2012:
Some photos for you!!
Some have the kitty in them...he has a cone because he snuck outside and got injured in a fight (we're assuming) and the vet had to shave his tail, clean the wound, and give him some meds. All this on a Sunday night... I can't have a good weekend to save my life.
Hope you enjoy the photos!
Rebekah & Family

p.s. Can I just say how happy I am that I take a zillion photos? Now I have so many memories of Petrie that I can look at whenever I want :)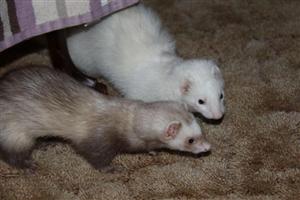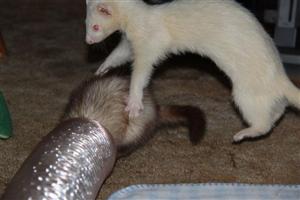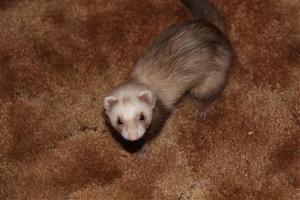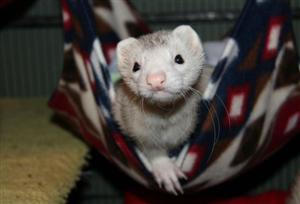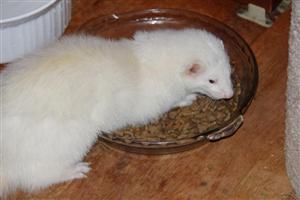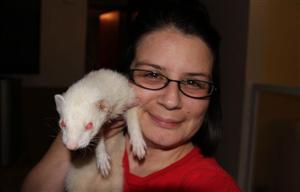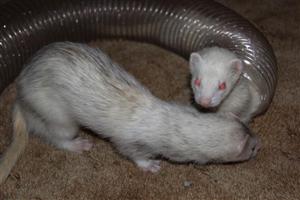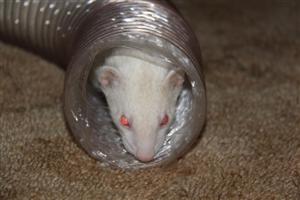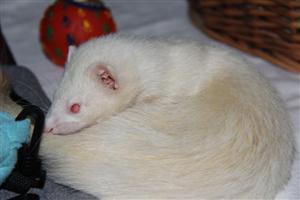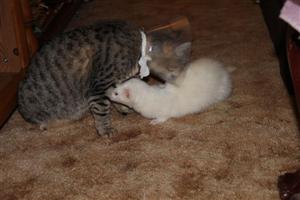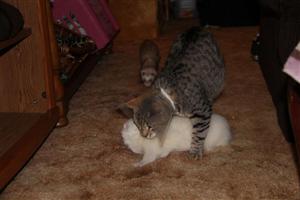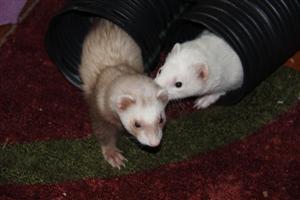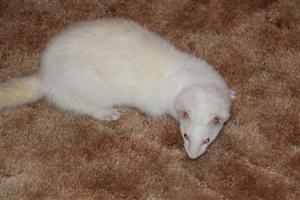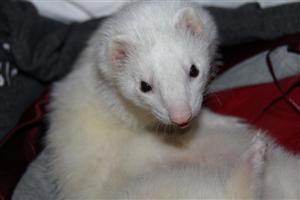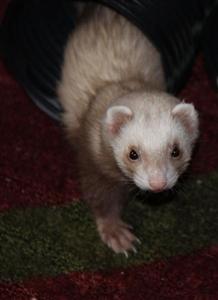 November 15, 2012:
Brenda,
Hi. Just wanted to let you know that all is well with us and the fur-kids. They don't seem to be acting depressed at all and are playing at full force. I still talk to them about Petrie though. I buried Petrie in the backyard and in the spring I will have to plant some grass over him because I totally messed up the yard doing this by myself. I wish we had him cremated so I could still have a piece of him with me. I still don't know how you do this all the time. My heart is broken in two over that baby, I miss him so much. The worst thing is looking at older photos of him and wondering why we didn't know what was going on then. I have a great picture of him pouncing on Minnie, I captured him in the air, it's my favorite.
I do intend to get base BGs on both the other kids asap, I am still recovering from the expense of Petrie's illness but I will get the other two fuzzubutts in to see that vet in Ithaca soon. They do like the soup though so this is a good thing to have in place, thank you for that advice.
I have some more photos to send you but they are at home and I'll have to send from there.
I hope you are doing well and I'll be in touch soon.
November 2, 2012:
Some videos of the kids last night....here and here.
October 30, 2012:
This was taken just a little bit before he left us.
Rebekah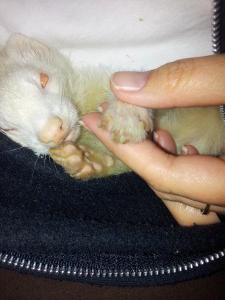 October 25, 2012:
I use this bag to carry blankies and newspaper and whatever else we need at the vet. He has claimed it as his :)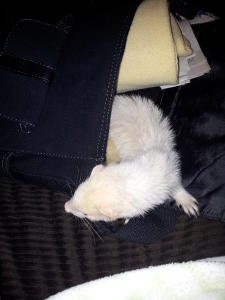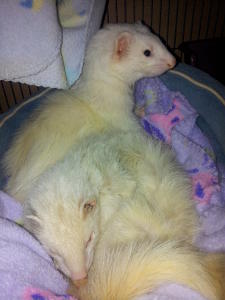 October 24, 2012:
Brenda,
Your God Box does some good work! Our water cleared up overnight to even better than what it was when we moved into our house a year ago. We're still having it tested but for the time being we have been able to avoid a major expense. I am so relieved to have that one thing off my plate for the moment.
I will have the vet concentrate on the BG. I am not going home Friday without some answers about that. He is doing good this morning, looking around, trying to crawl out of his basket and he is pretty alert. He is with my ferret friend, April, today until 3 when I get out of work. She will not have him with her ferrets, he is only hanging out with her, nowhere near other ferrets. She is home until noon so she can care for him and then she is taking him in his carrier to the library to work with her where she can break every couple of hours to feed him. She is taking his basket and his bag of supplies too so he can just hang with her there. I couldn't concentrate at work yesterday because I was so worried about him, this arrangement helps my soul very much.
I did let Petrie hang with Minnie and Bron yesterday evening while I was home, and they spend the night all together in the cage. Minnie was in and out of his basket more than a few times and at one point he got out and tried to drag himself down the hall but he got tired and pooped out before he got down there.
I will update you on what the doc says on Friday and probably send you an update tomorrow as well.
Rebekah
October 23, 2012:
Brenda,
I called the vet to give them an update as they asked me to and they want me to bring him in for bloodwork and xrays. It will cost about $300 which isn't really an issue, but since he is not feeling better (still weak, not wanting to eat, etc) they want to look for more serious issues in him like cancer and some other big long word that I don't remember. Ugh. I think we are doing that on Friday so that will give him two more days to perk up and start getting better. He did perk up on Sunday for a bit but since then has been the same as before, lethargic, weak, no appetite, etc. They said they had expected an improvement by now and that is why they want him to come in for tests. I am so frustrated right now. :( He is going in Friday for the glucose testing, two xrays, and some bloodwork. I just confirmed the date with the vet.
He hasn't wanted to drink any water so I have been giving him some with a medicine dropper, and he hates his meds but he hasn't missed a dose. I tried putting it in a small amount of soup and he refused to touch it. It's like he knew. He doesn't always finish his soup so I didn't want to put it in the full bowl and have him only get half his meds. I don't know what else I can do. He is comfy, when I am not home I let the other two have David's room and I keep him in the cage. I'm afraid he'll get hurt if the other two try wrestling with him or something so I keep them away from him when I am at work. I moved the bottom hammock out of the cage and put in a small round comfy bed with a blankie, and I moved a food and water dish to the bottom level so he could get to it if he wants but he doesn't really want it. I had him in the kitchen the other day and he dragged himself over to the cat's food dish and started eating his food though, I don't know whether to just let him eat it considering he's not eating much else, or to not let him because if might irritate his stomach. The cat is on Purina One cat food, not junk......but still it's not his kibble. Ugh. He is still eating his duck soup although he will refuse it sometimes and it's becoming more often that he refuses. He is also getting the SuppleCal that the vet gave us, and I am piping in water when he'll let me. I am so worried for this little boy.
I have been washing his bedding everyday and switching to new blankies while dirty ones are being washed. He can't complain about not being comfortable, lol, when I am home he is in the same room as me no matter where that is. He has a basket with a nice fleece blanket to hang out in. I'm sending over some photos too, the one photo has Petrie's "watch cat", Charlie, in the photos. Charlie is so good..he never tries to mess with our boy.
Please pray for us. I am so worried.
Rebekah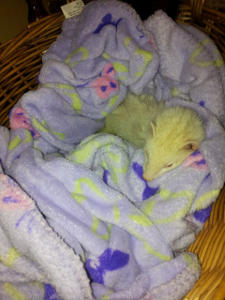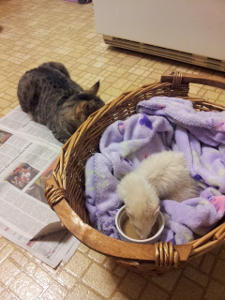 October 19, 2012:
First let me apologize for the crazy crying message I left you tonight. I was worried about my kid and when I worry I get all emotional.
When weighed at the vet he actually did show a small gain, not a loss of weight like I had thought. My scale was for humans so I weighed me then me and him. The vet made sure to use the same scale they used on Wednesday so I don't believe there would have been a discrepancy in the numbers they got tonight.
When the vet walked in she said she thought he looked brighter than on Wednesday which is good. She is continuing the regimen she gave me with the exception of the pepto being substituted with pepcid. Since I brought him in she gave him more sub-q fluids and they were able to give him more than last time. She gave him a B12 shot, an injection of pepcid and offered him some supple-cal which he happily gobbled up. She wants me to offer him that every four hours. She did check his bg again and it was a little higher at 64 but still low. She is going to check that again next week. She says we are on the right track and the poop he left for us on the table was much improved over Wednesday.
I didn't call you because we didn't get out until 9:30 pm as there were several emergencies while we were there. She waived the $125 emergency fee and only charged me for the treatment and a re-check.
I will let you know how he is doing tomorrow. Again sorry for the crazy voicemail...
Lots of love,
Rebekah
October 18, 2012:
AM Update: He is eating more of his duck soup and moving a little quicker. So glad its Friday so I can stay with him all weekend.
PM Update: Brenda,
After doing my own research I found that Pepto Bismol isn't even good for humans with bleeding ulcers. Ugh. I had to see another vet last night instead of my regular vet becuase she was out for some reason or another even though I made the appointment with my vet. Even so, she really did seem to know her stuff and had no reservations about her diagnosis, etc. They are closed right now for a meeting until 2pm so I will be calling them in just a couple minutes to get that other medication prescription. I am so frustrated because this is my BABY that I love very much and I just want him to feel better and be stronger and enjoy his life and they go and give me a medication that could make his bleeding worse. I know I let stuff bother me too quickly but there are two things you don't mess with and that's my two-legged kids and my four-legged fur/quill kids.
Rebekah
October 17, 2012:
AM Update: Brenda, I am taking Pete back to the vet today at 5:30. I am not comfortable with his lack of progress with his weight and I am not one to let things go and hope they take care of themselves. I will let you know what she says.
Rebekah

PM Update: Brenda....Turns out Petrie had some black poops too which I saw when I got home today. He was acting really weak and not himself. I gave him his duck soup which he would only eat like a 1/4 of. At the vet he weighed only 1 pound 4 ounces. I am so glad I took him, I weighed him just last night, but it was right after he ate. The doc strongly believes he has helicobacter mustalae (it's caused by a bacteria) due to all the symptoms he is having. His blood glucose was 62 which she said was a tiny bit low. They gave him some supplecal for the sugar right at the office. She said he was walking a little wobbly because he was weak. They also gave him sub-q fluids he was a bit dehydrated even though he is still drinking), an injection of b-12, and an injection of antacids to help him get some immediate relief. To take home we have amoxicillin and metronidazole liquid to be given twice a day for 2 weeks. He is also getting Pepto Bismol twice a day for 2 weeks.
If this doesn't help him we will be exploring another possible problem which was something I forgot to write down :( Since he got all those things at the vet I was thinking of starting him first thing in the morning but then I thought better of it and I am going to start him tonight. Bron accompanied us to the vet for moral support. He did good! So we are doing the med regimen the doc put him on and I am continuing the duck soup for him.
I will keep you updated regularly.
Rebekah

Update from Shelter Mum:
Rebekah –
1 - Is he eating/drinking?
2 - Is he playing with his buds?
3 - Sparkle in his eyes?
4 - How much did you tell me he weighed?

Response from Rebekah:
Yes, he is eating and drinking.
He is doing more sleeping than playing, but he has since day 1.
He still gets out to play, but not as much.
He still has his spark as far as I can tell.
He was just over two pounds at the vet a few weeks ago, he was a little over a pound and a half when I contacted you about the duck soup and he is getting weights with me twice a day and he is consistently at 1.8. He isn't having the mucous pops anymore but I did notice some loose stools last night.

Response from Shelter Mum:
Okay. They do sleep more from fall to spring - it is the shorter days we are having that is causing them to sleep more.
Then he is fine. As long as he is not loosing then he is okay – he may just be turned around on his winter spring weight thing –does he have a fluffy coat?
Sometimes we humans have loose stools, constipation and such. A day or 2 of this for them is not necessarily a concern.
October 14, 2012:
He loves the duck soup!!!! Thank you thank you thank you for the duck soup and toy. Minnie LOVES the toy :)
October 10, 2012:
I would still like to see him.gain a few more ounces, how can I help him with that? Seems like he lost some, weighed in at just over two pounds at the vet but isn't really putting any back on. Will he be terminally scrawny or can I feed him something to help get him back up in weight?
September 30, 2012:
Photos of Bron getting some love from my beautiful niece, Bethany.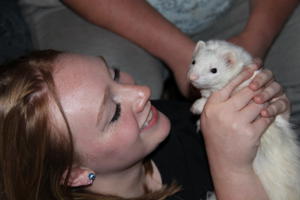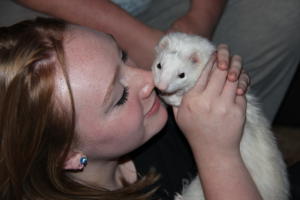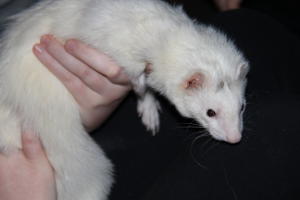 September 29, 2012:
Petrie is doing great, thank you for thinking of us. His bowel movements have normalized and he is doing well. He was pigging out on food so I am guessing his tummy is feeling much better :)
Minnie is starting to get her coat, she is such a beauty :)
September 27, 2012:
Brenda,
We took Petrie in and he was just over two pounds, so it looks like he lost a little more than I thought. I think I need a more reliable scale, mine is not digital and sometimes is a little quirky. The vet said that he is just under his ideal weight and not in any danger of being emaciated or dehydrated. She checked his skin all over his body to see if he was dehydrated and she also checked everything else on him, eyes, ears, nose, mouth, belly, boy parts, etc. She was very thorough with him and she answered all of my questions with ease and great knowledge. I felt very comfortable with her and felt she was very experienced with ferrets. She explained everything she was doing and even told me more than I could remember about ferret bodies and tummies, etc. She put him on Metronidazole liquid for 10 days for the diarrhea and also FortiFlora probiotics to help get some healthy bacteria in his system. She also sent in the poop that he so lovingly provided a few minutes after we got there to the lab to test for any underlying parasites or problems. He was acting very good at the vet, he even gave us a nice poop, not a gross mucousy one like he has been giving. She said he was a very nice ferret and a very lucky ferret :)
Brenda, I cried myself to sleep last night over a tummy issue... what ever will I do if he gets seriously ill, or becomes old and dies? I can't even begin to think of that heartache. Thank you for talking to me this morning and helping to ease my mind a bit. I am sorry if I was over talkative...my mind was going at mach speed this morning. Thanks for putting up with me :)
I took pictures, I know you are not surprised...lol, here they are.
Many hugs and I'll keep you up to date on my boy :)
Rebekah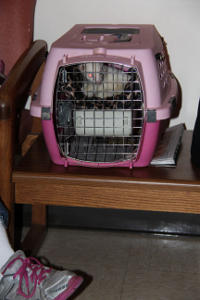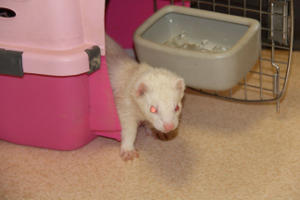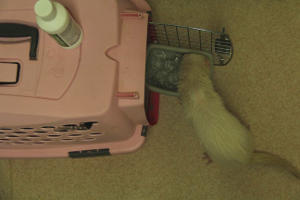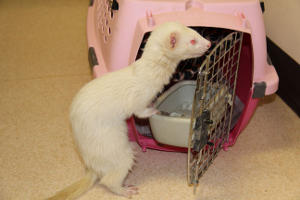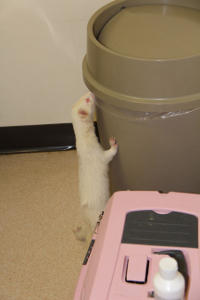 September 24, 2012:
Kids kids kids!!
In one of the photos you can see Bron taking an unauthorized chew on my phone...... sneaky butt!
All is well here, just wanted to get you some updated photos. Hope all is well with you!!
Rebekah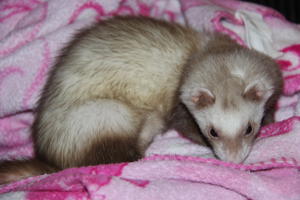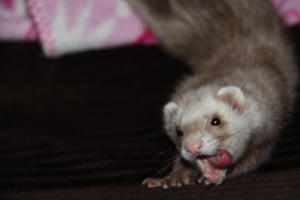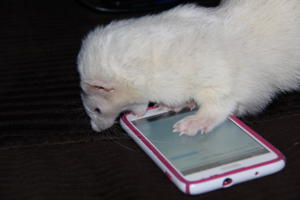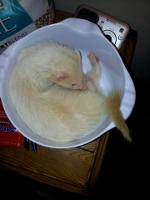 September 4, 2012:
Photos of my babies!!! Hope all is well!
Hugs!
Bekah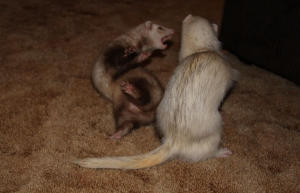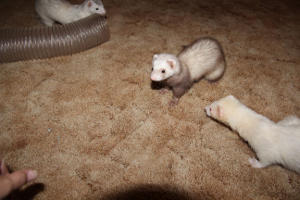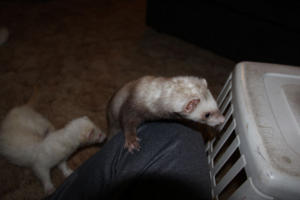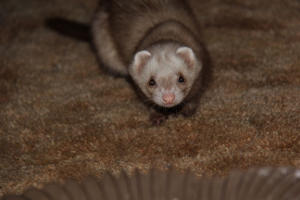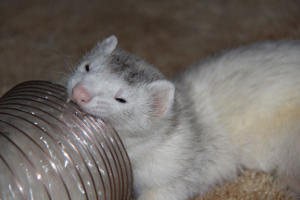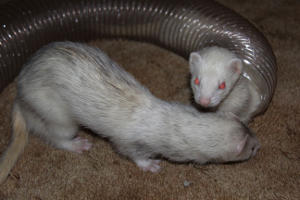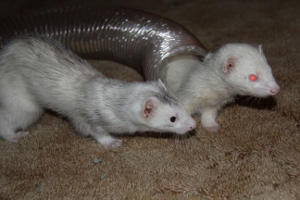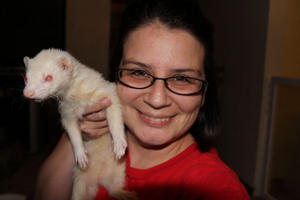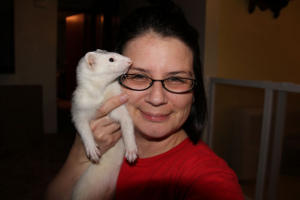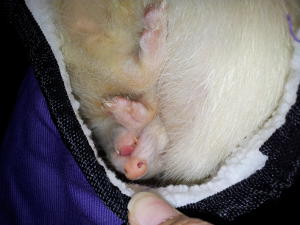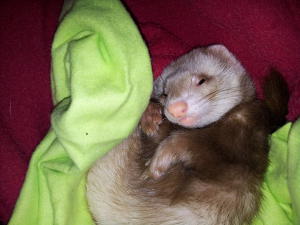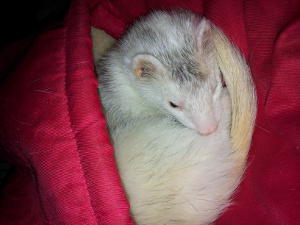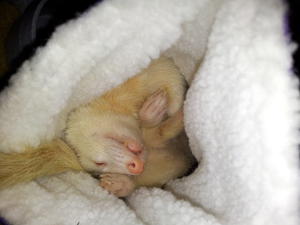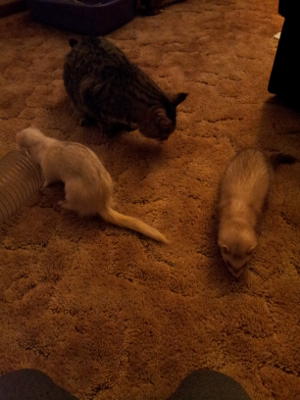 August 21, 2012:
Brenda,
I am sending you a picture of the kids. They are so darn cute when they snuggle up together!!! They are so darn cute all the time. I love my kids! They are all doing really well. They went from getting 5-6 hours out a day to getting free run of their room only while we are at work and then the run of that room, the hall and living room once we get home. They are so good, they only ever go potty on the papers in their litter boxes. :) And they love us so, I can tell.
Anyway, here's a pic or two. Talk to you soon!!
Rebekah
August 1, 2012:
Brenda,
I wanted to send you a quick note to tell you the kids are doing great! They are all settled in and very comfortable here. They all have their favorite toys to play with, favorite places to sleep, and favorite trouble to try to get into. Bron likes to try to get into the bathroom and Minnie likes to try the remote controls in the box..... It's so funny how one of them could want to get into something so badly yet the others don't care to even try that thing. Petrie is a saint and doesn't cause mischief at all. Bron let me hold him in my arms last night at bedtime and he fell asleep in my arms. It was the sweetest thing ever. I love my kids!
I am attaching a couple of photos, and I'm uploading a video to youtube right now. I"ll send you the link when it is done.
Hugs!
July 23, 2012:
There is some diarrhea occasionally, but not sure from which kid it's from. They have many pooping places (one I recently discovered and had to clean up, which I have since put in a new litter pan) but I can't tell who's poop is who's. His eyes are bright, he's a very lovable kid. He's the only one that LIKES to be held for more than a minute, lol. When I let them out later I will watch when he goes to see if his poop is good. I will also weigh him when I get home as I have a scale for the hedgies already. I will probably have to use my scale and weigh me and then weigh me with him as I don't think he'll sit still long enough to be weighed in the bowl.

I kinda knew but didn't really know the extent of how fun these kids would be. I love them so much, it's taken me by surprise how much I love them. I came home from working an extra shift last night and I missed them sooooo much I went right to them and cuddled them up. They were already out playing but they put up with my smooches for a few minutes. These kids get about 6-7 hours out a day. They are so funny, when they want to sleep, they won't sleep in the living room, they make their way to the bedroom and get in the dresser where I have a big fleece blanket for them in the 2nd drawer, or they will get in the sleep bed you gave me which is on the shelf under their cage. They each have such a different personality, Bron is my rearranger, always dragging HIS stuff back to the bedroom (everything is HIS stuff!), Minnie is my princess who will try for hours to get the remotes and loves to nip at my toes and feet....love, and Petrie is my sweet boy, loves his cuddles and is always the first to turn in for the night. I love them so much.

I'll weigh him when I get home and let you know what it is. He doesn't seem to be acting ill at all, he does sleep more than the others, but he has recently been awake more and more when the others are.

Is it ever possible to integrate another ferret into a business? Chad was looking to add one more little girl, which means we would need a single.....but would she ever bond with our three? I don't think we are ready just yet as we don't have an extra suitable cage for another ferret but would someday like to have another little girl.
I'll email you tonight.
Rebekah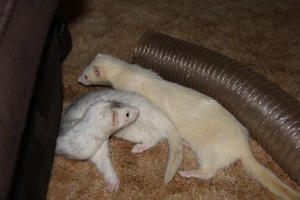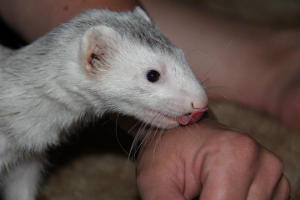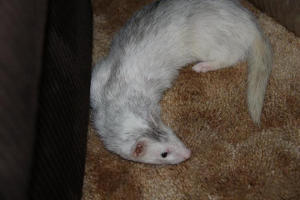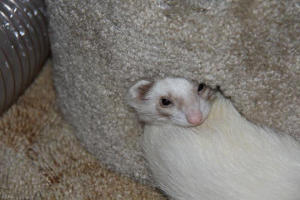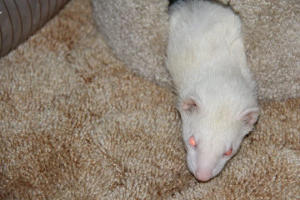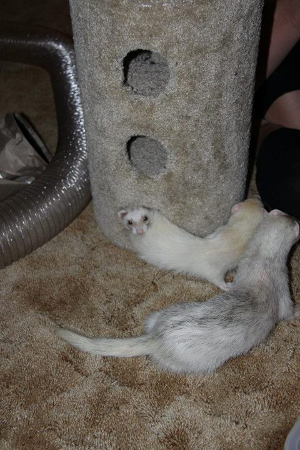 July 19, 2012:
A video of Minnie and Bron playing!
July 6, 2012:
You can view videos of these kids here, here and here!
July 5, 2012:
Can I tell you how awesome you are for all the things you sent home with us? You have set us up pretty well and I am so thankful.
The kids had an uneventful ride home and when we got here we put them in there cage for about a half an hour so they could explore it. When we let them have the run of the bedroom they explored every square inch of the room leaving no blanket unturned, no corner unsniffed. They were so playful and fun. Bron was the first (as you would have guessed) to scale the bed and make it up into the blankets. It was so funny to watch all the blankets bounce up and down! We put some of the things you sent home out for them, hung some hammocks from the bottom of the cage and placed the blankets in all their sleep spaces. When I went back in tonight to check on them Petrie was sleeping alone on the bottom floor of the cage on a blankie and Bron and Minnie were in one of the hanging sleep sacks. They looked so cozy and happy!
We really appreciate all you have done for us and especially hooking us up with the travel cage today. I am going to be getting an extra cage and will find a way to return that travel carrier to you so some other adopter can have use of it.
I'm attaching a few photos, I'll try not to bombard you with them, but I have about 15 of them I would like you to see so I may have to send a few emails.
Thank you again!! I'll keep in touch regularly.
Have a super night, hope your ear is feeling better!!
Rebekah
April 15, 2012:
The new kids, they did well their first night in a cage, they even used only the litter box so they are adjusting well. I thought Petrie was trying to be the loner in the group however I found him and Minnie in the sleep box together this morning and Bron up in the big bed I have on the upper shelf.

When I checked on them several times after putting them in the cage yesterday they were playing musical beds, Minnie with Bron on the shelf, Minnie in the hammock alone, Bron and Petrie in the sleep box, then Minnie, Bron and Petrie in the big bed.

I gave them the kitchen and mums space first this morning, they were up the stairs like they had been doing all their lives, so they are getting stronger and more agile very quickly.
April 14, 2012:
I have the Brooklyn pen pulled the bathroom stripped and the floor steam mopped. The Brooklyn kids got to check out the porch this morning; they just came in and are now checking out the kitchen area and mums space. This is the first day they had to climb the stairs; the boys have conquered getting up them with some difficulty Minnie however has not tried yet.

Petrie seems to be struggling, he appears to be depressed, I am wondering if when they split this big group his bonded buddy got sent in another direction. Minnie the one we thought was a loner is now hanging out with and sleeping with Bron.

Petrie is finding places to sleep alone. Then again it could be they are just now realizing things are the way they are going to be and they miss what they had. I am keeping a close eye on them all. I got the cage set up for them to all be in it together but I have it set up so if someone wants their own space there are 3 different places in the cage to get that.
April 13, 2012:
Brooklyn fur kids are free! The gate is open and they are roaming around mum's space! The 3 fur kids got home from the vet's about 7:30 last night. Mindy and the 3 fur kids got home from the vet's about 7:30 last night. The vet report was a positive one, they are healthy and gaining weight, they have ear mites we will be treating the entire shelter this weekend.
The vet said he felt the boys were in the 2 yr old range. They got their shots so they can now go down to the shelter and start hanging out in the play areas we have.
They are doing awesome – they will be moved to the shelter today – the 3 will get to hang out in the play areas, all 3 are lapping up the duck soup when I offer it to them. I am still offering soup 3 times a day – Minnie will now eat with the boys out of the same dish and is sleeping with them.
They are starting to plump up. We got the kids settled into their pen we chatted and talked about the vet visit. They are all in decent health, albeit they are still a bit on the thin side. The 2 boys are older than was reported but that is to be expected, all intakes unless they come with original paperwork - age is mostly a guessestimate - so I was not surprised that they are older. It is really hard to tell when they have come from a situation such that they came from.
They seem to be happy to explore larger horizons, they are climbing in and out of the trash can (I emptied it before letting them loose) checking out all corners and toy boxes. They are acting like ferrets so I guess they are settling in as happy shelter kids.
Brenda
April 10, 2012:
The fur kids had a restful night. Minnie defiantly has not bonded with the 2 boys so I will put her in her own cage once they have been vetted and can go into the shelter. There are no issues between them but she has her own bed and blanket that she sleeps in, the boys have their blanket they sleep in.
They are eating well, their poops are great. I am feeding them soup as well as kibble - boy do they chow that down! Minnie did not want to put her face in the same dish of soup as the boys so she is getting her own bowl of soup.
I am going to give them soup 3 times a day to fatten them up. I got them weighed in this morning:
Minnie is just 1lb 5oz.
Silver boy is 1lb 12.4oz.
Albino is the heaviest at 2lbs 7oz.

I need to get out side to put the trash to the road. Wishing you a good day
Brenda
April 9, 2012:
Pete got here with the new kids about 4:30 PM - they were all asleep when they got here. I have them in a pen up stairs away from the shelter until they see the vet on Thursday. Mindy will be taking them in for me.
I am adding the pictures that I took when we got them settled in the pen. Thanks Pete and Susann for getting the kids to Naples. Minnie is a tiny beautiful little girl that does seem to prefer being an only child.
Brenda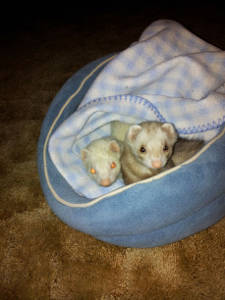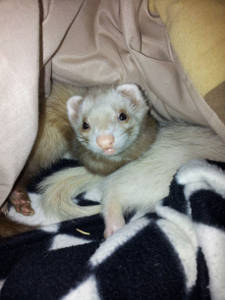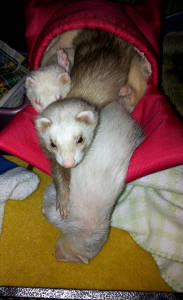 ---
Bron & Minnie return to the Shelter, August 31, 2015:
Rebekah: I wanted to talk to you about possibly surrendering Bron and Minnie. My marriage is falling apart and my son is very ill. I cannot tell you how broken I am right now. The possibility of losing my son has me paralyzed emotionally.
I have been holding out on emailing you with the hope that things at home would get better but they are not. My husband is not helping with the animals and it's too much for me to do alone. I have to try to find a place for my cats to go also which is going to break my spirit even more. Minnie and Bron deserve to be somewhere where they will get the proper amount of attention and free running time. I hate this. I feel like a failure, not only to the animals, but to my family as well. Please let me know what to do. I didn't want to give up, but for the sake of the ferrets I must.
I know you would want them to have a good life. They are both healthy, they do need shots though. I know I failed you. I don't even know if I have the money to drive all the way out to you. With all of the doctor copays piling up and me only working my second job once a week it will be hard for me to afford to get to you.
p.s. I wrote this email over a week ago thinking I might not have to do this but just last night had yet another fight with my husband about the animals and I realize that as much as I love them, we are no longer a good home. If you have room I need to surrender them to you. I am sorry. I can't talk about this without breaking down in tears so if we could communicate via email that would be best. The last thing I want to do is break down crying at work or at home and then have to deal with my husband after.

Brenda: I am so sorry. I will tuck you in my God Box along with the rest of your family. I have no doubt I would expect I would feel the same. Do you want me to post on Facebook to see if we can find a home for them with some of our shelter supporters?
They are also required to come back to us if they can't stay with you, so you are doing exactly what is needed. Sometimes life throws us a curveball that we could not have foreseen or expected, we do the best we can with what life throws at us.
We will take the ferrets in, we have the room As for being a failure you only fail if you do not meet the needs of your fur kids and children. You have taken care of the ferret issue, I will do what I can to help with the cat issue… Now you need to deal with your 2 legged furless kid that needs your undivided attention. We will take care of the shots. NO you are reaching out to get them into a place that can care for them at this time. Stop beating yourself up. Can we meet 1/2 way? Can you do that? Elmira is 1/2 way between us.
Okay then let's make plans to get them back to the shelter. I go back to work on the 8th so I would like to get this done before then if we can. Are you still working?
I accept your apology now stop...we will get you through this, get the fur kids safe and free up your time to take care of your son and see what you can do for your marriage.
I will tuck you in my God Box now let's work on how we can get Bron and Minnie back to the shelter.

Rebekah: Your God box is exactly where I need to be. I would appreciate that very much.
I can meet in Elmira but I will need to see if I can borrow someone's car so that I can bring their home with them. It is big. I will call around and see if I can secure transportation for this weekend. Or we can bring them and then arrange to bring the home later, it's one of those multi level heavy duty cages.
Thank you, Brenda. From the bottom of my heart, thank you. I will email you asap.
And my son is the very most important thing to me, this has been harder than I ever imagined parenting to be. My heart breaks at least once a week.
September 1, 2015:
Brenda: I have transportation for Saturday. When would be a good time for you? We have a shelter friend that is going to meet up with you so I have included her in this email. I will let her make that decision on the time if that is okay with you. She is more in tune with the normal clock than I.

Rebekah: Tori, Thank you so much for helping us out. I don't have to work my second job on Saturday so I can meet you at any time, anywhere between Elmira and Binghamton. Please let me know what works the best for you. I apologize in advance if I am a blubbering mess when we meet. I will have their big home with me, it requires a larger SUV, a van, or a pickup to move. I will have all of their bedding, what is left of their food, and other supplies. I will pack it all up neatly. Minnie and Bron don't really get along with other ferrets so you may not want to let them meet and play with any others right away. Also, Minnie likes to try to nip at ankles and toes, but never mine, for some reason she only does that to other people.
Thank you again for being available to help us, it is sincerely appreciated.

Tori: Hello Rebekah, What type of cage do they have? Is it a Ferret Nation? Do you have a carrier to keep them in during the transport, or should I bring mine?
I'll be driving straight from my home in WNY to our designated meeting spot, then going up North to Brenda's. Looking at the maps down there, the 86 and 17 go between Elmira and Binghamton... Are you familiar with the area down there, and know of any possible locations? I'm not sure how long it will take you to get to the pickup/drop off location, so honestly, 11-2 works fine for me. Let me know what time you think you'll be able to get there and I will make it work on my end.

Brenda: Ladies, if an SUV is required to transport the cage it sounds like you are not going to get that into your car Tori. Thoughts on this?

Tori: I can fit a fair amount in the back of the car, and have no issues securing it and keeping the hatch open. Knowing what cage type it is will help me work out the measurements, as well as if it can break down.

Rebekah: Yes, it is one of the big ferret nation cages. It has two levels, each level has a set of 2 doors. I do have a carrier for them to use for transport. The hotel you mentioned in Owego would be fine, but I can meet you even further west, in Elmira, that will cut down about a half hour from your drive to me. Let me figure out an actual spot in Elmira that is close to an exit and I will get back to you. I can take exact measurements of the cage tonight so you will know if it will fit. Would 1 p.m. be okay?
Thank you again, and many times over. I know how hard it is for Brenda to leave the shelter with all the good work she is doing. If for some reason it absolutely won't fit I can bring it to Brenda another time, would be about a month away tho. I will measure it tonight.

Tori: I will take measurements of mine tonight; I have the same model as yours. 1PM sounds fine. Name the location and I shall be there!

Rebekah: Each level is 2 feet high, 2 feet deep and 3 feet wide. I can't tell if it comes apart but it seems like it might....even if it does it will still be in big pieces. It also has a small stand with wheels that it sits on. I will try to take it apart and leave Bron and Minnie one level and see how far I can break down the 2nd level. Here are a couple photos, it's actually a Critter Nation brand cage.
September 2, 2015:
Brenda: Ladies it sounds like the cage is more trouble than it is worth at this time. Let's just get the kids here and we can worry about the cage later.. Rebekah has enough to worry about right now and Tori is going to be on the road most of the day so the cage can stay with Rebekah. If she can get it to us at another time great if not I am not going to worry about it. Thanks so much ladies.

Rebekah: Brenda, Only if you are 100% certain. If you ever have anyone out my way that may need it I will be happy to bring it to them, if not I will see about getting it out to you asap. I could also sell it and donate the 100 percent of the money to the rescue. Whatever you think is best. I will have no need for it past Saturday and it was given to me so I would want to pass it on.
And yes, I do have enough to worry about but you are doing what I consider to be a monumentally awesome thing that is helping to take some stress off of me and helps out Minnie and Bron so I want to do whatever I can manage to make it easier. I am going to miss these babies, and I hope the move doesn't stress them too much.

Brenda: I am 100% certain...if it were me coming with the shelter van we would take it but Tori drives a puddle jumper (said lovingly) why go through the hassle of dismantling when you don't have to...EITHER of you!
At this point we have all the cages we need, Bron and Minnie will have their own place to sleep in, so if you find a home for it, send it off, if you can sell it put that money towards your son's medicals - get him better.
I am doing what is best for the ferrets, you just happen to be the recipient of that relief. It is what we do here, It is my pleasure.
I am sure they will be fine, we will get them on soup, they will get lots of out of the cage time in 8 different play areas, 9 if we can use the porch...rest assured they will be fine. It is my honor to be able to help them once again and help you to see a bit of light at the end of the tunnel.

Tori: That sounds fine with me! I will bring my travel carrier with me. Pick the place and time, and I will be there.
September 3, 2015:
Rebekah: There is a Dandy Mini Mart right off the Church Street Exit in Elmira, I believe it is exit 56. Can we meet there around 1 p.m.? Thank you!

Tori: Ok awesome!! I'll be there at 1PM!
---
The Brooklyn Business' original journey to the Shelter: March 29, 2012, Ann:
Hi everyone!
Thank you so very much for your emails - and my apologies for not replying sooner or individually. Had a ferret emergency vet visit this morning which wasn't on the agenda. Sadly, had to let my foster boy go, and while I knew it was coming, it just came a bit sooner than expected.

As of right now, we have Brenda from Lakeroad Ferret Farm, Tamara from Concerned Ferret Owners, Donna from Educated Ferret and FACT ready to take some of the 12. Cathy has also suggested if need be we can reach out to Lollypop Farm and a small shelter in the Buffalo area.

We also have a private owner from Binghamton (Ferrets Dook?) who has also offered to help.

Cathy and Mindy have offered to help as needed with transport.

Right now Vanessa is waiting to hear from the Westchester shelter. They are supposed to be picking up the ferrets this weekend from the Brooklyn shelter. Both are ferret friendly so we have no issues there. It also appears that the Westchester shelter has a van and can also help with transport.

Not to bad for about 24 hours! What a group!!

As we learn more we'll use this email list to keep everyone in the loop.
And I'll add anyone else as they contact me.

Again, many thanks!
Ann
April 02, 2012, Ann:
Hi All -

Vanessa spoke late yesterday with the folks in Westchester that will be picking up the Brooklyn ferrets. Seems that will not happen until later this week - probably Thursday. And the 12 may actually be 13.

I've added two folks to the list - Sue from 4 Lil' Paws in NH who has offered to take ferrets and is also looking at transport options. And Carol from Ferrets Dook in upstate NY who has also offered to help.

Will keep all posted as I get information.
Thank you all!
Ann
April 5, 2012, Brenda:
My question is - why are you splitting up the 13 group when I said I had room to take them all - they do not need to be split up - my numbers are such that the 13 would bring me up to my normal average count of 40 – Mindy has a vehicle that can transport them all to Naples = Susann said she would help with transport –

Just wondering why we are splitting a business
Brenda
April 05, 2012, Ann:
Hi Brenda -

Guess I didn't realize you were offering to take all 12/13! Very generous of you! But I think we are all getting a bit ahead of ourselves.

We really don't know anything more than there are 12 or maybe 13. We have no idea how they were housed, ages, or condition from the perspective of an experienced ferret person. Wouldn't help any one shelter to take 13 seven year olds all with advanced teeth or adrenal issues that were all housed separately. OK - that (for what I hope) would be the worst case scenario. :)

Now looking at the best case. If there are only 12 and with luck all young, it is in their best interest to split them up. No one will adopt 12 ferrets as a group. The larger the group, the less chance they can be adopted. And every shelter's goal is to get these kids into forever homes with as much one on one attention as they can get. (It actually doesn't take very long to figure out who is really bonded to whom - and a lot of times those bonds seem to wax and wane. They are ferrets and as we all know completely unpredictable which is what we find so appealing!)

We've learned that we may get lucky and find someone ready to take on 3 - maybe even 4 ferrets at once (rare enough to be saints!) but that is about the limit. I'd be highly suspect of anyone trying to take more as these days we are all so much more attuned to potential hoarding situations. Not that it isn't possible - but the situation would be a highly exceptional one.

Our job as shelters is to move out as many as we can as fast as we responsibly can so we can be there for those who no one will take (the old and infirm) and for those who, unfortunately, will be scratching at our door tomorrow. It's one of the reasons when we have a situation like this one, Vanessa and I feel it is good for the ferrets and for the shelters to share responsibility. It reduces the financial burden on any one shelter and also leaves room locally for those who invariably will need immediate access to our shelters. We always live in a fluid environment and circumstances for any shelter can change in a heartbeat!

I think that sometimes we over-think the "not separating ferrets" creed. Vanessa and I used to believe in it very early on - as that is what other shelters told us..... but over time learned it was really a myth. About the only time we've seen truly bonded ferrets are those in which 2 or 3 ferrets were housed together for a very long time with almost no other companionship. Ferrets that have an opportunity to interact with others in groups are more gregarious and blend well in and out of almost any situation. So, FACT operates as a cage-less shelter. It does cause some whining and stress at first when singles come in . . . but they are carefully watched and when they do finally integrate, it makes their placement sooooo much easier and it has cut down on those hard to place "only" ferrets.

I also see first-hand how ferrets are a lot more adaptable than we give them credit for as I ferret-sit a lot of different ferrets - singles, and groups of all sizes - doubles to 12 (ACK!) at once and they all integrate without too much angst with the 3 I have - well had.

As a side note, in the past 5 weeks I lost 2 of those 3 ferrets (I have my own home about 15 miles from the FACT shelter). Swooshie and Serena were both DMK-Ohio farm "sisters" that have been with me since that big rescue that I know you participated in. Cubby was a late alter that came in a couple of years later from a group who's owners lost everything due to the economy. I expected Serena would have a lot of trouble coping after her two buddies passed and have been watching her carefully until I can bring in another old-timer from the shelter. But she is doing fine - probably because she has 6 cats to annoy at will :) But I know it will be better for her to have a sleep buddy.

Sorry for the overly long post, but am not sure how much you know about FACT. :) Now you probably know more than you wanted to! LOL

BTW - Once we get the word the ferrets are in Westchester, Vanessa plans to go down personally to assess them with one of our board members or a volunteer. Until she gets her eagle eyes on them, we just don't have much to go on.

Again, thank you all for being there for ferrets in need!
Ann
April 5, 2012, Ann:
Am doing the update to include the 3 groups as we now have some overlap as to where ferrets are going and it's easier to just keep everyone on the same page with one missive!

We have heard from the Westchester folks and the ferrets are being brought to Norwalk CT Saturday morning about 8 am. To make a long story as short as I can.....

The driver/helper from the Westchester shelter is a NYC bartender and is coming off a 5am job, picking up the ferrets and small animals in Brooklyn at 7am. The hammies and gp's are getting dropped off in Westchester at 8 am at a dear friend's hamster shelter. The gp's will get picked up from there by the gp folk.

The ferrets will travel on to Norwalk where the driver lives. He'll meet up with Vanessa at a vet's office (getting an address) around 8 - 8:30am so she and a volunteer (to be determined) can intake evaluate and do pics, assessments etc.

The 3 ferrets from the Northeastern part of CT (I kept thinking Northwest!) are going to be taken by 4 Lil' Paws of NH who is making arrangements for the transfer with their owner. Thank you Julie!!

Of the gang of 9 - Donna Spirito of Educated Ferret is taking 4; Fact is taking his biter; and we are having him work with Connecticut Humane to place the remaining 4. (Yes, they take and place ferrets here - we work with them when they cannot be placed - so they will be safe for those who may be concerned. :)

So for the 12 or 13 (still won't know until V see's them I guess).

The ideal is to send 3 to Tamara; 4 to Brenda, 3 to Cathy and 3 to FACT if that is feasible given ages, condition and what can be determined.

Not being sure where everyone is located --- the biggest questions are:
a) where can we put them temporarily until they can be picked up. Tamara is in NJ - west of Paterson if I recall. Knowing her as I do, there is no way she could get to Norwalk Sat. am. :)
b) Mindy, Susann and Cathy looking at a map, it appears you all are halfway to Toronto? Are you the closest Susann? How can we coordinate this? It almost looks like Danbury is closer for you all than either Westchester or Norwalk.

Vanessa is making some phone calls to members by the shoreline tonight to see if we can find a place to park them for a few hours to a few days. I suppose if worse came to worse, we could look at boarding them somewhere, but I hate to put any more strain on them at this point even if they are young.

Open to ideas and suggestions? I know Brenda won't be reading this until morning as she keeps very early hours....Vanessa and I are both online all day tomorrow and I am up late here tonight.

Wish we had more advance notice, but that's the way these things always seem to play out . . .
Ann

PS - I think it would be best to have contact phone numbers for Vanessa for Saturday to talk directly with you all once she sees these kids. I may try to accompany her as I can conference people on my phone if we need to collaborate and make adjustments on the spot.
April 6, 2012, Vanessa:
Hi ladies-
As of this afternoon we have not heard back from Brenda, so we at FACT are making plans to house animals locally with members until we are sure where they will ultimately end up. I can place 7 in two different homes at the moment, and either Ann or I will take the 3 that are headed to Tamara as we can drop them to her on our trip to Atlantic City in 10 days. The other 3 plus the one already at Bridgeport Animal Control will come here to our shelter.

Cathy- it doesn't make sense to me for you to travel all this way for the 3 you were going to take if others will not be dropped along the way, yes? And Susann, if it's just Tamara's 3 you could hold, then I think we hold them for 10 days and save you and her both a long drive.

That doesn't solve the ultimate problem of finding a place for those 7 ferrets, but it's a place to start. Realistically I don't see any way you all in upstate can get here by tomorrow morning, so I have been working on more members who can house temporarily. We WILL need to find alternative final sheltering, but can deal with final placement over the weekend. The person giving up 3 in northern CT has not returned any of my calls so I am guessing he will fade out, not wanting to have to go to any trouble or distance to find placement for the poor things, so 4 Lil Paws may become an option again for a few.

Does that work for all?
Vanessa
April 06, 2012, Ann:
Ok - have added everyone as I am the keeper of "the list" on this as it just becomes way too confusing to only have some people and not all people. :)

The holiday may be affecting communications things as I am only getting some emails delivered to me now that were sent earlier today (thank you ATT)....and Cathy, besides it being Good Friday it is also the start of Passover today. (see I am beginning to catch up - actually looked at a calendar and was surprised to learn it is also Spring already!).

I think the scenario V has sketched out is the best that can be managed on such short notice over a holiday weekend. And with some actual first hand information about these fur kids we'll all be in a better position to make better sense of stuff. Ideal and reality are generally never in sync.

V, I will be close to home all day tomorrow if you need to reach me.
Still wading through my taxes.... :(

And just a personal note - the Atlantic City trip is not all play - it is the annual Pet Trade Show. V and I try to attend every 2 or 3 years on behalf of FACT and ferrets. If a few coins slip into a slot machine while we are there . . . . . . I assure you, it is very few!

Brenda, please let us know if you still want to take 4.
Thanks all,
Ann
April 6, 2012, Susann:
Hi,
Sorry for not responding sooner, but with teaching & classes I can only get to the phone or email for short bursts during the day.

Your plan sounds like the best possible in a difficult situation, espec. without knowing any more than the number of ferrets or how many Brenda will take. I talked to her briefly this morning but don't know her plans.

All 12/13 could stop over here on the way to Brenda IF they were up on distemper (yah, like that's gonna be happening with a hoarder) since I only have space to keep 3-4 kids comfortable in quarantine. Can't set them up in our garage because it's supposed to be in the 20s overnight the next few days. Remember that April from the Southern Tier Animal Rescue Network has also offered to foster another 3-4 nearby in Binghamton. You can see her online by Googling the Lifelong Tails website.

So much depends on the vet's input. Did neither the Bklyn nor Westchester shelter provide any intake assessment info or care, e.g. basic health and temperament check, age estimates, rabies shots, flea/tick treatment, etc.?

If something does come through tomorrow, let me know so I can get down to Suffern or wherever. Hubby offered to fill in as DAT lead on Sunday so I could help then too. I have to work Mon-Thur next week.

Have a really nice Passover / Easter / wild Pagan celebration, y'all! ;p
Susann
Apr 6, 2012, Brenda:
Pete there is a rescue coming up - down your way - are you in a position to help pick up a few kids for us here at the shelter to get them to Naples from Susann?
Happy Easter
Brenda
April 6, 2012, Pete:
I can probably help out, do you have any details as far as date time and place? Pete
April 6, 2012, Susan:
In a perfect world . . . no, there has been no information provided. Nothing - which is why V is going down. Brooklyn provided nothing - and it appears Westchester is not involved other than in some way arranging the transport for the ferrets/hammies and gp's

We are lucky that the fellow bringing them up from Brooklyn isn't going to be handing them off in my hamster friend's driveway.....since he lives in Bridgeport V is meeting up with him there at 8 am.

And therein is the issue - to our knowledge nothing has been done...no distemper shots, rabies shots or whatever, which is what makes this all the more tricky in finding temp housing. And the Bridgeport ACO has a ferret to hand over as well. And we've got to keep that one segregated from the others . . . V has gone down prepared for the worst - but of course, will be thrilled if things are better and these groups did do right by these little ones. But I am not taking any bets that they have . . .

But we have secure quarantine spots for everyone.

Fortunately (or unfortunately as the case may be) the fellow with the 9 from whom V was supposed to get his biter from tonight and who was was supposed to arrange to bring 4 to Donna , has, for the 2nd time, disappeared. Betting he will resurface as will the one with 4 who was supposed to make arrangements with 4 Lil' Paws.....But perhaps this is a temporary gift from the easter bunny gods to give us a chance to focus on this group first. :)

So we will all know more after Vanessa and Connie our board member who is meeting her there are done. It appears the 3/4 destined for Tamara may be able to be picked up Monday. More as we know more.
April 7, 2012, Susann:
Hi ladies, First - Ann & Vanessa, and all other senders- please use this email addy instead of the @supportourshelters one because I can't get SOS emails on my cell phone and won't have my laptop on the road tomorrow.

Next, I heard from Brenda that she'll take four; you've got her down for three and I can hold them as long as necessary. Two people have offered to assist with transport, if it's needed, to continue the kids on their trip. Worst-case is I take them to Brenda myself next weekend.

Lastly, I'm going to Suffern tomorrow, which is up to 60-90 minutes each way from Fairfield. If Ann Salafia can arrange to meet me, I can bring those kids back on Sunday.

If this works for you, Vanessa & Ann, let's go for it. :)

I have a six-hour trip from Endicott to and from Suffern, so if Ann could meet me in Suffern it would be perfect. Probably the earliest I can get to Suffern would be noon, but it's not a problem if later is better for Ann. If she can't get to Suffern we can work something else out. With the ferrets in the car, I'll make a very quick stop to see my aunt on the way back to Endicott (luckily the hosp is just a half mile off the highway) and get back here tomorrow evening with the kids. Whatever has to be done to minimize the amount of time the ferrets spend in a car is obviously the best way to work it.

Seems like they could all stay together in one cage, but it's not a problem to split them up depending on Ann's take on how they interact with each other. If possible, please let me know by tomorrow so I know how many carriers, bowls, etc. to bring along.

I'm not sure what to do about the ones Cathy's supposed to get because I gather from your email that those have already gone back to Hartford with you, right?

We'll make it work. :)
Best,
Susann
April 07, 2012, Ann:
Hi All!

I just got back from the shelter. Tamara is coordinating with Annie and Rudy to get the 4 they are holding on Monday.

I gather that Susann you will be coordinating directly with Ann Salafia to hopefully get the 3 for Brenda tomorrow.

Cathy we will have to work out something separately - but for the time being the 7 Vanessa took here are getting cleaned up and hopefully fattened up.

I can say this after having added my eyes to hers and to alleviate any concerns anyone might have. Clearly these kids were kept in a large gregarious group. They are all sorts of ages. I suspect the 2 youngest may not have been part of the hoarder group - remember originally we were told 12. Then 13. Then another was added by the Bridgeport ACO... So my guess is that Brooklyn sent one of their ferrets along as did Bridgeport. We will never know and it really doesn't matter. I just wish we had better information. But having lived through the years when so many humane groups just "disposed" of ferrets without trying to get them to safe havens, I guess I should be glad things are where they are now.....

Clearly, there are no pairs - they move about and sleep about anywhere - ages are all over the place. About the only hint was two that Vanessa saw that had collar marks. All were different colors. Our guess, a "got to have one of every color" type of situation and have been collected over time as the ages seem to vary. :(

Some other observations. Other than the 2 youngsters (again, suspect they are not part of the hoarder gang of 12 as they were just too chubby and in fine form), all are thin - some more than others. We need to get one little girl checked more closely. Her teeth seem to indicate she's only 2 and a half or three, but she's suspiciously thin to my eye. Most will take food from one of the food bowls and go eat it elsewhere suggesting they may not have had adequate or consistent food source - my DMK kids were like that. They are all very social and enjoy being handled. They show no fear or people and settled in very quickly. All ate voraciously, but then they probably hadn't eaten from before 7 am until after 1 pm. They seem to take to Marshall's food quickly - not surprising as they are all MF's.

Donna, Sue, Carol, and Julie -- it appears we may not have to send any your way at all as it looks like 10 of the now 14 are going to be going to NJ and NY. But we didn't talk beyond dealing with the trips that had to happen immediately. I'll chat with her more tomorrow.

As these ferrets are all going to need shots, and some tlc before being ready to be adopted, it is just as well no one shelter is getting over burdened. Glad the weather and transport circumstances are such that they can head back toward NY. With summer drop-off season not all that far away, I suspect our numbers won't be low for long . . .

Again, many thanks to all!
Ann
April 8, 2012, Vanessa:
OK, had an evening to decompress! Thought I would pass along to all the concerned parties who/what these ferrets are and who is getting sent where. As my sister noted, nearly all are very thin. Some have collar marks around their necks. All were dirty; Annie Fine noted the ones she took smelled like some kind of drug factory she had once happened near...possible explanation for their confiscation? Who knows...I will try to get more data from the Brooklyn group if at all possible. I didn't notice any particular odor but I washed them all right away. :) I agree with my sister that the fat baby may have been "slipped in" with these from the Brooklyn shelter, unless he was a VERY recent acquisition by the owner, as he is very different from their weight/demeanor.

Please note my observations were done in a (chilly!) parking lot so may not be entirely accurate. All are Marshall ferrets. currently they are labelled A-M; we'll name the ones here but let you all pick your own names. No one appears to have adrenal issues but there are some with other relatively minor problems and several have hind end weakness, either from lack or food or lack of exercise. Luckily they all seem relatively young and we were able, the way they were already separated, to get at least one pretty young animal to both Tamara and to FACT, who are taking the bigger slices of the ferret pie.

A. Male, 2.5 years, sable with tiny white bib
B. Female, under 1 year, chocolate
C. Male, sable, 3 years, cataract
D. Male, Dark Eyed white, 2-3 years; hair loss in some spots

Note: A-D is the group currently with Annie Fine who will be going to Tamara.

E. Male, sable, 1.5 years, white bib & mitts @ FACT
F. Female, 1 year, champagne @ FACT

G. Male, 1.5 years, albino
H. Female, 1+ year, light chocolate
I. Male, 1 year, platinum silver

G-I are with Ann Salafia and will be transported via Susann Thiel to Brenda.

J. Male, 1.5 years, silver @FACT
K. Female, 1.5 years, very dark chocolate @ FACT
L. Male, under 1, fat sable @ FACT
M. Female, 1 year, chocolate @ FACT

Food preferences seem random...some eating Totally Ferret, some eating ProPlan Kitten. Like with many ferrets that have gone hungry, they are not fussy about their food.
Most are sleeping with others, some not necessarily with others of their group. We tried to keep "carriers-full" together as we marked them in Bridgeport, but as we have no idea who may have been housed with who and how they got mixed up between the owner, the Brooklyn shelter, and the transport carriers to us, it's impossible to tell who may have been cage mates so please, no one should assume groups are "matched groups." Best to simply observe who pairs up with who and adopt out on that basis.

Happy Easter to all, and I personally plan to hit the Apres-Easter chocolate sales very hard tomorrow. :)
Vanessa
April 8, 2012, Susann:
Just got home about half an hour ago and finished getting the kids settled in a pen with bedding, food, water, etc. They slept all the way home. I gave them some soup when we arrived (ground TF kibble and water, warmed up and topped with ferretone). They had been eating like little pigs, according to Connie (whom I met today in Suffern on behalf of Ann).

Little Minnie (so "named" because she is soooo tiny) is extremely friendly and outgoing, slept with the two boys (G and I) for a little while but also slept on her own most of the time during the long ride. She doesn't seem to have bonded with the boys, and could be a single. She seems to want a human to love!! She has been grabbing and begging for my attention every chance she gets. She has the strength to climb up on a hammie, whereas the two boys seem quite content to sleep on a blankie/sleep sack on the floor of both their cage and their pen.

So far poops do seem fine, remarkable because they are sooooo thin, you can feel almost every bone in their little bodies, and despite having eaten perhaps a bit too much after an extended period of having little food, there's no sign of diarrhea or seedy bits. Minnie has been grinding her teeth a few times, though, so that is a point of concern. Their eyes are bright and they are eager to explore and seem to have very sweet, friendly temperaments.

As I emailed Brenda earlier, the older boy has worse tooth tartar than the others. The little silver should see a vet quickly as he does not seem quite as energetic as the others. He also might be the thinnest in the group. We'll see how he does overnight. I'm not concerned about dehydration at this point.

Have a good night ya'll!
Susann
April 08, 2012, Vanessa:
Hi Susann -
So glad to hear you made it home safely with the little waifs. And yes, they are with only the 2 exceptions V and I noted, all very thin.

Which surprises us both. If they were pulled a week ago, then why they should be that thin is a mystery. Unless they could only be removed Friday or Saturday? Vanessa will try to follow up with Brooklyn but we may not get answers if there is any criminal investigation or arrest involved or even if a voluntary surrender. Most of the ones I saw at the Fact shelter are also featherweights . . . and Annie/Rudy have seen the same thing. I am wondering if the weight loss isn't all rather a very recent turn of events. If only the little ones could talk.....

None are fussy about food (which is good), and pretty much all seem outgoing. So once fattened up and shot up and vet checked it is our hope all can find forever homes. Annie is concerned one headed to Tamara may be showing early adrenal, but it's showing up in younger and younger ferrets and so isn't a reliable indicator of age. Even using the tooth test isn't very reliable. It's all just guess work without paperwork.

I heard you thought you were getting seven - guess an email must not have arrived?

All rescues are very compelling but those where we suspect abuse or neglect of any kind really grab us all in a very special way. :) I think we all feel like we'd love to sub-q some high quality protein onto each and every one of them!

Thank you again Brenda and Susann and am sure Brenda can't wait get them.