Welcome to Lakeroad Ferret Farm Rescue/Shelter, Inc.
Brooklyn & Philly

• Surrendered to the Shelter on September 23, 2009.
• Brooklyn was a sable female. She left for the Rainbow Bridge on July 22, 2011.
• Philly was a sable male. He left for the Rainbow Bridge on June 18, 2012.

• Philly was on the 2011 Ferret Giving Tree!
Brooklyn and Philly were found by a yard sale shopper in Clay, NY. The wire bottomed cage was stuck in the back of the garage with NO amenities and with a free sign on it. When the shopper asked about the ferrets she was told she could take them.
Fortunately for the fur kids the shopper had an aunt that had ferrets so she grabbed the fur kids' cage and all headed for home. Once at her aunt's, the fur kids were removed from the filthy cage, taken in to be bathed and groomed. The cage went immediately to the curb for disposal.
After being cleaned up, the family having many pets including 3 ferrets of their own, decided they needed to find them a place to go and found the Shelter.
---
June 18, 2012:
This morning I found Philly not feeling well, drooling, glassy eyed and unable to stand on his own 4 feet classic signs of an insulinoma crash. I gave him a Dex shot and headed back to work. When I got in from my runs I went in to see if he had improved, he had improved enough to get himself up into his hammock, his head was hanging over the edge like he usually sleeps, only today he had left for Rainbow Bridge. Philly is gone.
December 18, 2011:
Thanks for including me in your Christmas!
- Philly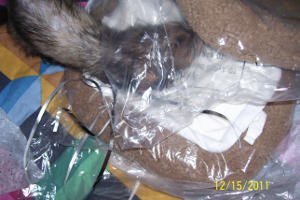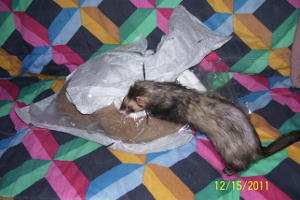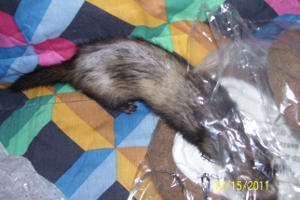 December 18, 2011:
Thanks Santa Priscilla for including me in Christmas!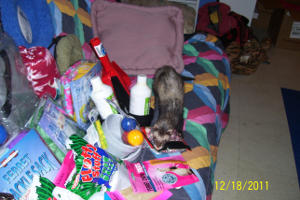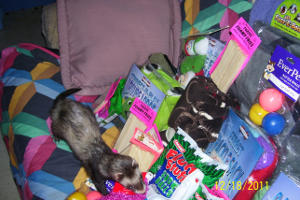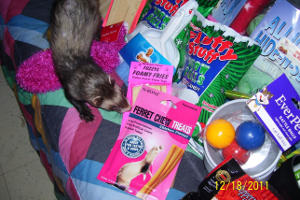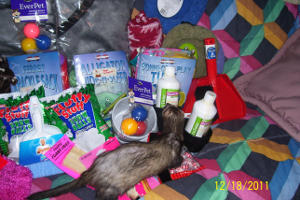 July 22, 2011:
Brooklyn is gone – she finally decided she had had enough – she was so pale my guess her ulcer was bleeding into her tummy.
July 21, 2011:
Brooklyn is eating if I insist – literally.
July 19, 2011 PM:
I hesitate to say Brooklyn seems to be coming around – we actually got some turkey baby food in her today – she has responded to us when we opened the cage – she still has the bleeding ulcer but maybe she is turning around.
July 18, 2011:
Brooklyn is still with us – Dexter is now suffering black poops – as is Tinker Stinker – we have 8 cages tagged with suspect tags – 2 of which we have marked confirmed.
July 17, 2011:
Dominic and Brooklyn are still the only too in real trouble – still not eating – doing fluids upwards of 4 times a day.
July 14, 2011:
This morning as I was getting second shift up and putting first shift away - I found lots of very sick kids – 3 were on deaths door when I got them up.
Brooklyn tiny little girl – did warm fluids – gave 13 units of Dex she lives with Philly - he is showing no signs of issues – treated him with Albon – Brooklyn is looking and acting better tonight – so I started her on Moxy she did not need fluids this evening.