Welcome to Lakeroad Ferret Farm Rescue/Shelter, Inc.
Chico & Honey Dew

• Surrendered to the Shelter on April 12, 2010.
• Chico was a sable male. He left for the Rainbow Bridge August 23, 2010.
• Honey Dew was a silver female. She left for the Rainbow Bridge July 22, 2012.

• Honey Dew was on the 2010 Giving Tree!
• Honey Dew had a not so far away mom in Fulton, NY.
January 10, 2012:
Hello Honey Dew & Mommy!!!! I Got your lovely card today :o) Thank you so so much I love it :) I have it proudly on my wall!!! It is an honor to know you...
Dooooks
Sandra xxxxxxxx
December 18, 2011:
Hi Santa Sandra, Mum let me open my presents this morning! Thank you for loving me, for helpen Mum take care of me, for making my Christmas special!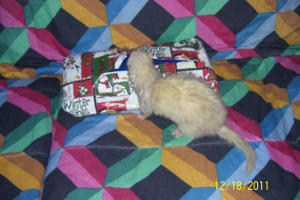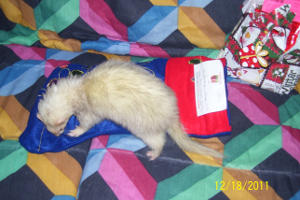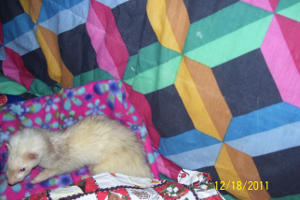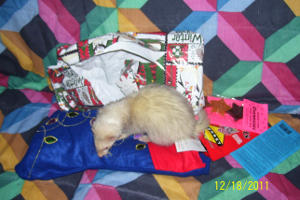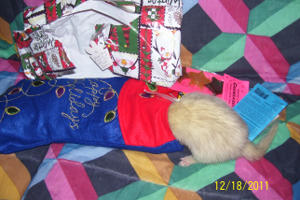 June 13, 2011:
Hello Honey- Dew I got your Beautiful card I Love it :)))) You are very welcome your a wonderful little Girl
I have it up on my wall xxxxx
Thank you to you and mommy so much xx
Lots of love Sandra' jibbers & Cami xxx
May 19, 2011:
Miss Sandra, my Easter package got here today. Mum says I must be pretty special to have a package come all the way from Ireland!
Thanks for thinking of me, Honey Dew


January 22, 2011:
Hello, I Got your Beautiful card .. I am so proud of it I have it up on my wall... i am glad to know you Honey-Due xxxxx I think the Easter bunny could visit you to ;o) Lots of Love xxxx and to your mommy Brenda :o) Sandra xxx
Christmas 2010:
Thank you Miss Karen!
August 23, 2010:
I found him in an insulinoma crash on Saturday morning – did a Dex shot – got him back – Sunday he was up and moving - responsive - he and his sissy Honey spent their out time in the play pen – He took his meds last night but I could see he was struggling – this morning his struggles were over – I tucked him and Honey in their cage – so Honey could say good bye – I found Honey in the blanket with Chico sleeping with him - so until she says her good byes I will leave him with her - Brenda
April 13, 2010:
These are the 2 kids that came in last night. Both about 4 yrs old the dish and bottle are what they were using when they got here. The bottle is in the trash and the dish is soaking in the sink, the food is stuck on there, that dish has not been cleaned in a very long time.
The cage is going to need to sit in the rain and sun for a bit before it comes in the house. Hosing it with a pressure washer is the only way that is going to come clean.