Welcome to Lakeroad Ferret Farm Rescue/Shelter, Inc.
Crumpets

• Surrendered to the Shelter on June 8, 2013. She found a Forever Home on the same day!
• Crumpets is a sable female.

• Read about how she arrived at the Shelter by clicking here, or read her latest updates below.
January 20, 2017: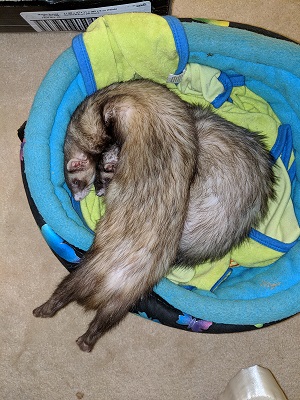 January 14, 2017:
Snuggle buddies they enjoy the fresh air in the Lanai and love the blankets I have on the floor for them.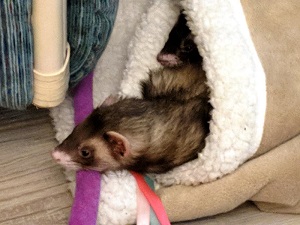 November 10, 2017:
They love the shag rug in the bathroom.
Ili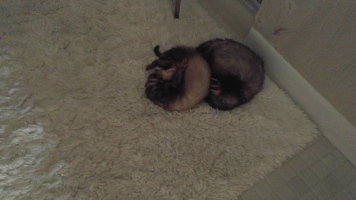 March 22, 2017:
She has good energy this am she had a play session with Bob and I fed her last night around 10 pm before heading to bed. So far today she has had good poops and has been eating on her own even after soup. Talked to Vet this am.. not a ferret expert

Shelter Response: That is awesome news, keep up the soup she should do just fine till you get her home to see OFD. I am not surprised.. I am here if you need me. Thanks for the update.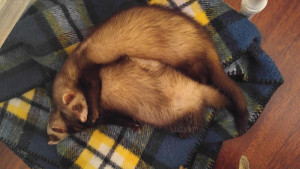 December 12, 2016:
Cali and Crumpet opening their presents from the shelter they came from.
Thank you Brenda!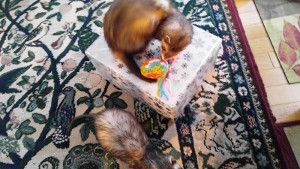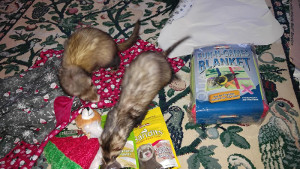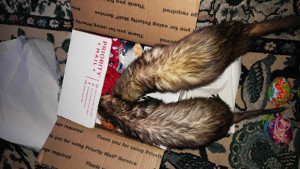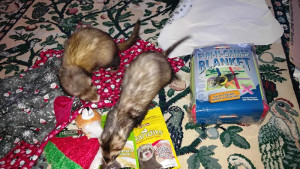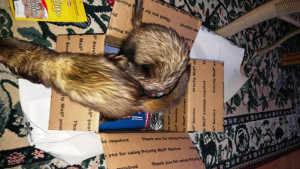 September 3, 2016:
Miss Ili sent this picture of her girls to Mum...This is how you know your fur kids like soup!
Do you know how important soup is? It will and has kept ferrets alive through very serious illness' It allows you to give your kids meds without a fuss because they don't know they are in the soup..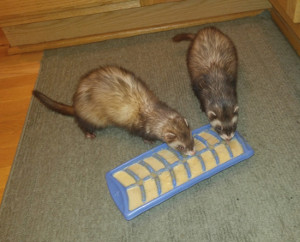 April 30, 2016:
Hi Mom and Dad, we are having a grand time at camp. We got to help Aunt Brenda in the ferret room this morning. She got pictures of us checking the place out. Take a look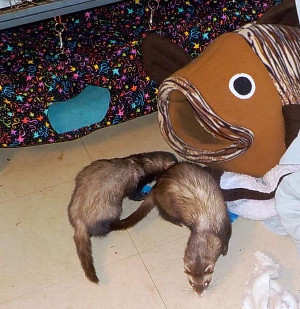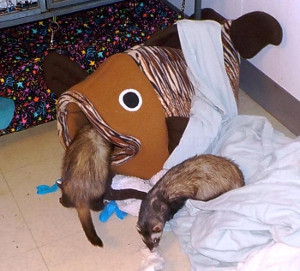 July 17, 2016:
Hi Mom and Dad,
You sure are busy walking, biking and looking at things. We are having a great time at camp. Aunt Brenda is giving us soup and treats every day. We get to go in all the rooms that she does not need to put the trouble makers into (her words not ours)
We hope you are having a good time, there is not much to report because we are good fur kids and don't get into trouble.
We love you
Cali and Crumpet
July 13, 2016:
Hi Brenda, we got to North Woodstock in NH with great weather all the way, leaving at 7 am and got here at 3 pm. Glad the girls got your space I was worried all night since they didn't have their cage for the night and may have been stressed out before getting used to the place again and their food, Hope they can get some play time as they are used to, too. Do your best I know you have your hands full.
Ttyl
Ili

Shelter Response: The girls had my space till 8 when I got home then they were rotated into other play areas till noon. They get what the others (A and O, Jack and Mike) can't have because they can't behave. They are eating drinking and pooping. They are doing fine.. enjoy your vacation and don't worry. If there is a problem I will let you know. Brenda
April 30, 2016:
Crumpet got the implant today.. Doc said at 5 years old this is the only option.
March 13, 2016:
Cali and Crumpet are hanging out in Florida with their Mom and Dad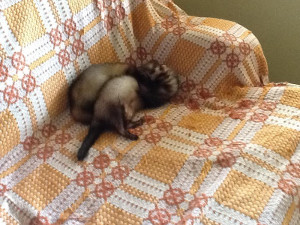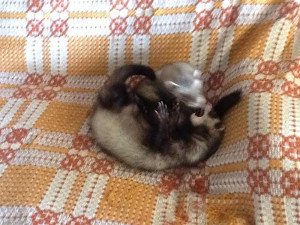 February 26, 2016:
They are doing great.. we are so happy to see them play together and Crumpet not beat up on Cali. They have been sleeping together in the hammock of the cage for the most part. Ate soup and kibbles and treats so far poop looks good and not stressed out.
ili
February 21, 2016:
While I was serving up meds this morning I hear a ruckus in the playroom, went in to see what was going on, I found Cali and Crumpet playing "pop corn popping" up in sleep box. I tried getting pictures but they were too busy bouncing. They were having a ball.
February 15, 2016:
I found both your girls sleeping in the fish at the bottom of the stairs this morning!

Mom's Response: Awesome! Love to hear it! You are a miracle worker! Thank you so much!
February 11, 2016:
We had a break through this morning, I have been letting the girls in the morning roam 3 of the rooms while I get things up and running to do meds. There have been no squeaks from Cali in days. I start them in different rooms, then they find each other in their travels.
This morning I had Crumpets in the playroom and Cali in the ferret room, I watch to make sure there are no scuffles, I followed Cali into the playroom she found Crumpets walked right up to her. Crumpets crawled into the huge bungalow Cali followed. There was no scuffle they both slithered out and went on their way. We may be on our way of bonding. They had their soup on the rug in the playroom next to each other.
February 6, 2016:
I had the girls out and about with me while I did soup and meds, they had the ferret room, playroom, and bath room. They spent a good 30 min before I had to pull Crumpets away from Cali. I gave her a 5 min time out then let her out of the playpen again.
Cali had gone up to the sleep box in the playroom, crumpets found her. When I got up top to get them apart Cali was in the tube looking at Crumpets - Cali's eyes did not show fear. I believe we are gaining ground with the girls.
January 7, 2016:
Brenda with Crumpet and Cali not getting along it will be like housing 2 separate boarders.
I have been using the front room and a play pen in a rectangle shape and both take turns in it and staying in the room over night.
Today Crumpet was downstairs sleeping around 10am having been up since 6 am when Bob takes her out of the room and takes Cali out of the playpen and can roam the room. By the way Cali loves the soup now and eats it non-stop ( thick with baby food in it).
I had a board blocking the downstairs but also had a blanket wrapped on the edges to not mark the wall. I was taking the ornaments down from the tree in the sun room and Bob was in the kitchen. Before we knew it Cali had climbed the edge and over she went we heard her squeal as Crumpet was beating her up.
I felt so bad for her , we left Crumpet in the front room until about 5pm today and had Cali the rest of the house and I had a hard time finding her once I got back from the shelter.
So I guess the only advice is to keep them separate as Crumpet wants to jump and play and Cali doesn't want any part of it. I think they still need to see each other and smell and be aware that they are suppose to be together.
So maybe putting two playpens side by side upstairs or putting one downstairs in one of the rooms would work. I leave it up to you.
I will bring the girls on Friday and stay and clean and help set up the playpen(s).
December 29, 2015:
Cali is doing great with us , not so much with Crumpet.
She has gotten used to our soup and cleans it up in the morning when Bob gives it to her, spends time playing with her in the front room.
While Crumpet is sleeping downstairs I block the stairs and give her the run of the house as she likes to explore.
She is eating well and even Crumpet likes her food ( what is the small pebble kibble?) A few times she has gotten a kibble triangle shape stuck in the roof of her mouth which I have removed.
Every morning I get them both together but lately Crumpet has become more aggressive and wants to play or bite can't tell and Cali starts screaming.
I have put ferrettone on their necks, exchanged their bedding, had them explore each others areas too. I have held them each in my arms and let them sniff and lick each other which they did today, but that's as far as it goes once I let them down, Crumpet wants to play and she is so much bigger than Cali I usually hold her back within reach in case Cali doesn't accept her.
I also would have Cali in her playpen and had Crumpet come in to the room and she circles the cage dooking to get her attention and peeking in. I think she means well but Cali does not like her.
Some get acquainted sessions are better than others, today's did not go well.
ili
December 18, 2015:
Crumpets with her Christmas from Shelter Mum
Thank you Brenda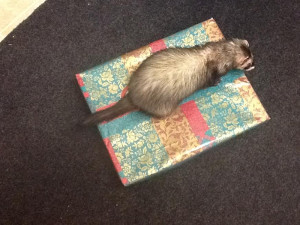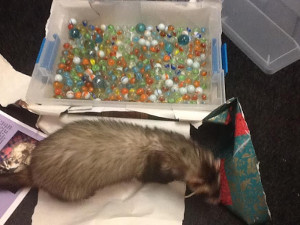 December 1, 2015:
He checked her out, I had brought 2 stool samples he said were negative.
After I told him we had visited the shelter on Wed and she got sick Friday his opinion is that she probably caught something last time she was at the shelter since she had been healthy until then.
Told us karafate nor Amoxy was needed and gave us Albon Suspension, given 1x a day, it is flavored but it's sticky. She put up a good fight not to take it.
I gave it an hour or so AFTER I fed her , I don't want to have her associate the med with soup and then not eat at all.
She is having soup, I mix a spoonful of baby food with it. (I will bring you some jars) to make sure the feeding is substantial.
She will not eat it on her own if you just put it in front of her I have tried several times. I spoon feed her.
As of this am she is still pooping soft liquidy poop.
She weighs a little over 2lbs now and has gained since last Spring.
We will be heading down around 4:30 after your meds at the shelter.
I think it would be a good idea to isolate her until she can eat on her own. Her staying upstairs with her own water and food and clean poopy paper will help.
November 30, 2015:
Crumpet threw up last night and has had diarrhea 2x. We are taking her to Doc , appt is at 3pm. She had some soup at 6 and again at 8
November 28, 2015:
Last night she had some soup and one small treat too. I was not able to get the Moxy in her.. she fought me tooth and nail even as I scruffed her,she yelped and got out of the hold. (Bob was in bed already)
This am Bob went down to wake her up and that is not the usual pattern where she gets up and comes to the side of the bed to wake him.
Bob was able to get a couple of spoonful of soup in her and a small treat around 6 am
I got up around 11 and gave her Carafate.. a struggle to say the least, she then came upstairs and found a treat that she munched on, once the 15 minutes passed I have her soup , she had 3 spoonful , then I had the syringe with the Moxy and soup in it.
Took 2 scruffing attempts to get her to take it and of course she shakes her head and gets out of my arms fast, she is strong.
She looks like she wants to eat but is now very cautious with the soup knowing there has been meds in it before.
Once I hold her and guide her to lap it up from the spoon she is ok with some resistance, sometimes her tongue is just kicking out the soup and not really lapping it up.
She has been pooping but not green, that I can tell.
November 28, 2015:
I have given her soup 3x now and each time she is eating more, her poopy isn't green any longer either.
I gave her amoxicillin in her soup and she could taste it.. and pulled away I took a syringe and got it in her, that was earlier today, I have yet to do the evening meds.
She has been sleeping mostly but has walked around some and even upstairs without any difficulty.
I think she is on the mend.. time will tell.
March 09, 2015:
Hi Brenda.. Emily is doing ok.. she has energy some days , gets up on her own to poo and pee.. sometimes into the living room from the bedroom area ( even though there is plenty of paper there) she is eating well, sometimes her kibble and all of her soup.
Crumpet is great.. she has bulked up since she gets soup as many times as Emi does. She follows Emi around and sleeps with her most of the time.
Bob gives her a play session everyday. Today both were chasing the broom while I swept.
February 26, 2015:
Hey cyber friends, Crumpets checking in from Florida.. My Mom/Dad took this picture to send to Aunt Brenda - she was my Shelter Mum - I went to live with Emily and my new family on June 8, 2013. I hear it is mighty cold up there in New York. How lucky we are to be living with a Mom and Dad that take us to Florida for winter.
I am going to go back to playing with Emily
Crumpets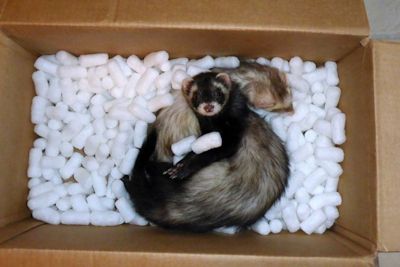 February 23, 2015:
Pictures of the girls from Florida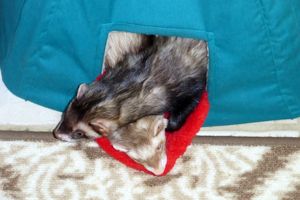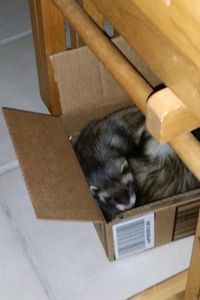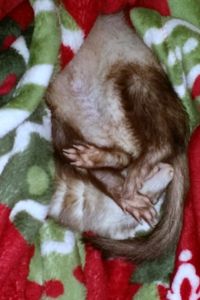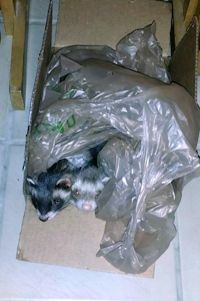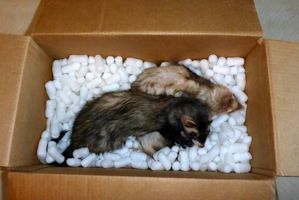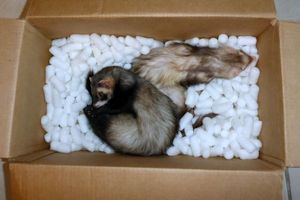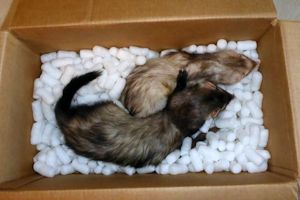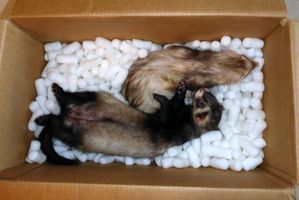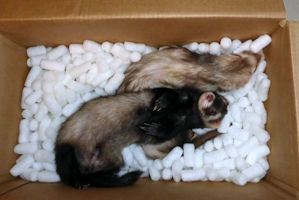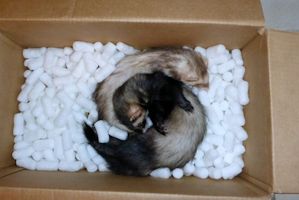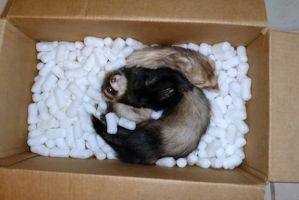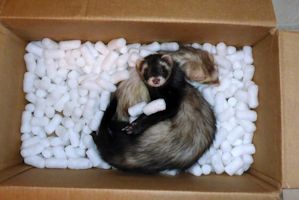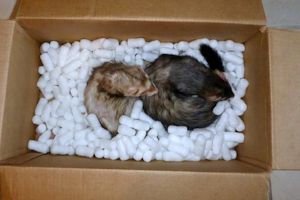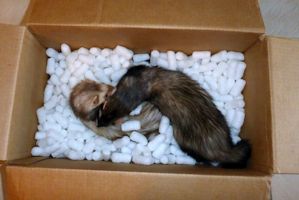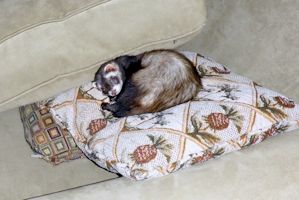 December 12, 2014: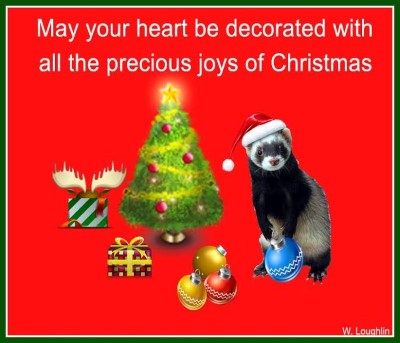 June 9, 2014:
Crumpet and Emi continue to be good house mates.. One year yesterday Crumpet came into our lives and she has been a loving ferret full of kisses for her owners.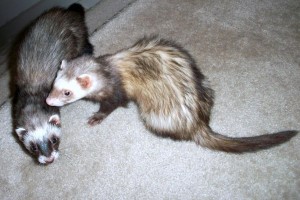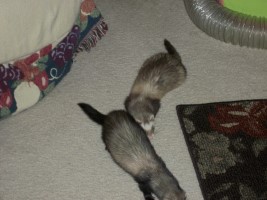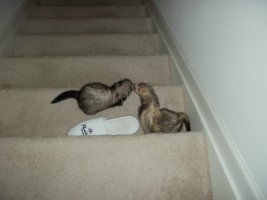 December 16, 2013:
The girls explored the new room and settled into the armoire where I put their blanket and tepee where they have been sleeping. Tonight we went out to eat and put Crumpet in the cage since she was still exploring ways to get through the gate blocking the front door. Emi was snoozing and is still as we have returned from dinner.
December 16, 2013:
Here are the girls opening up the presents you sent. Again thank you so much! I added a couple of more of the two of them.
MERRY CHRISTMAS!
Ili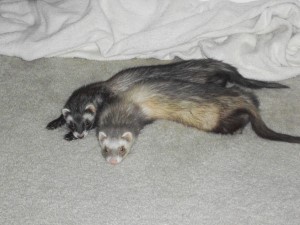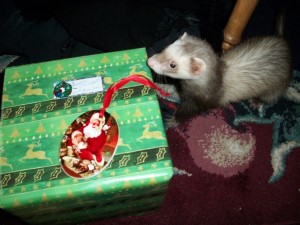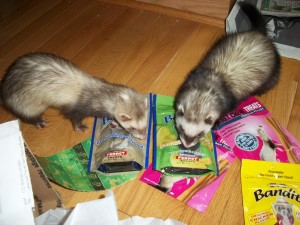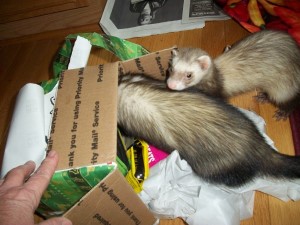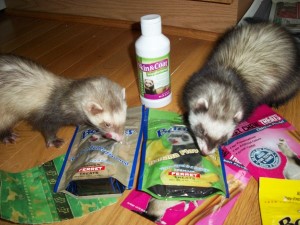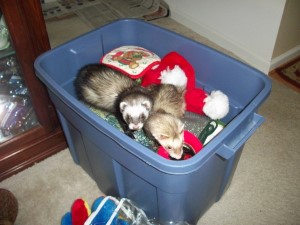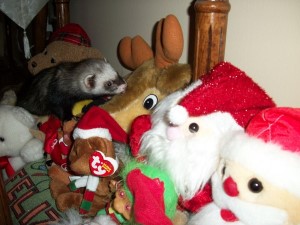 August 8, 2013:
Emi and Crumpet!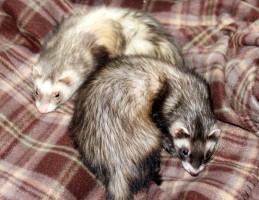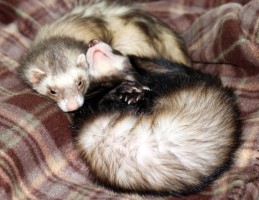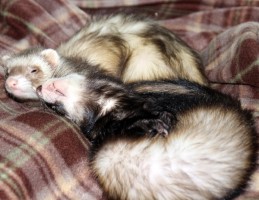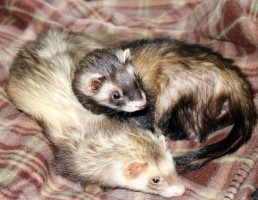 August 4, 2013:
Crumpet has been great, has adjusted well and is a good buddy to Emily. She is a kissy monster and licks us both whenever we hold her. She likes her treats, soup and kibble mix, goes potty on the paper and has enjoyed the tubes and toys which she has a stash of under the couch where she often sleeps. She wakes up very quickly once she hears the kitchen door open and comes out to greet one of us.
June 27, 2013:
Crumpet has adjusted well to her new surroundings and new playmate Emi. They have been playing together nicely and have been sleeping in each other's bedding but not together until the other day when I had to move them to the front room since we were working with an electric saw and vacuum cleaner in the kitchen and the girls were scared and ran to hide with all that noise . After a bit of supervised playing Emi first found a place in the closet and Crumpet then joined her, they slept side by side for at least an hour. Crumpet has started to hide toys under the sofa and during playtime her tail wagging and her dooking tells us she is happy to be here. Picture attached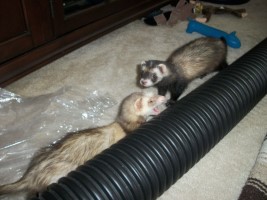 June 12, 2013:
My Emi today decided to play with Crumpets and had a good chase and gentle playing. Crumpets is too cute making her dooky sounds when she plays and visits Emi in her bed. So far so good.. Crumpets loves her freedom, I did let her sleep in her cage today and then Emi took it over.
She is going poopy in the corner tray as she has been trained well.
Tomorrow is supposed to be a sunny and nice day.
ili

Shelter Mum's response: This is awesome news, if they start sleeping together in the areas they play then it is safe to put them in a cage together
June 10, 2013:
Emi has been pretty aloof and although there have been several times she has been around for Crumpets to play she is just sniffing her and not interacting. Crumpets on the other hand is making her dooky noises and seems to be happy playing and trying to interact with Emi.
Emi took over her new cage I just put it downstairs last night and she jumped in the bungalow/bedding.. Meanwhile Crumpets is still in the play pen and has been sleeping there without much objection.
Both had soup today.
ili
June 8, 2013:
Crumpets came in on clinic day, Miss Ili and Miss Tori signed her in, Mum and Miss Ili had agreed that Crumpets was going to go home with Miss Ili that day. Miss Ili with Crumpets adoption day: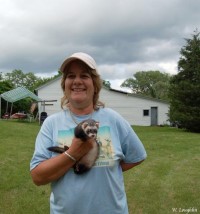 ---
Arrival Story:
Initial contact, May 27, 2013:
Good morning. I am writing in regards to a lovely little female ferret named Crumpets. She came into our home about a year ago. Unfortunately, not only am I allergic to her(she specifically triggers asthma attacks despite taking allergy medication, as well as regular cage cleaning and baths), but my husband and I have been having terrible luck lately with our jobs and living situation. After much contemplation, we have decided that we need help finding her a forever home where she can be happy, healthy, and receive plenty of attention. She is a very sweet girl. She loves to play, give kisses, and rarely nips. She has a 3 story cage with a tunnel inside. We feed her Evo ferret food. If there is anything you can do to help, please let us know. Sincerely, Susan & Daniel
Shelter Mum's response, May 27, 2013:
Where are you located? This is the link to our surrender requirements.
Family's response:
We are located in Niagara County, but are perfectly willing to travel. We don't have proof of vaccines, but can get her to a vet as soon as possible. We are also fine with sending her cage and a month's supply of her food.
Shelter Mum's response:
Okay once you have documentation of vaccines we can make plans for her to come to Naples.
Shelter Mum's email to Miss Ili, May 27, 2013:
Ili I have a family that wants to surrender a single 2 yr old female ferret. Will you take her for Emmy?
Ili's response:
Hi Brenda, we are not sure yet.. Frankly I am still grieving over losing Hershey and not ready to put on the stress on Emi yet either, like you said wait 30 days, it's been 3 weeks.
We do think we want another playmate but not sure yet. I would like to see this one first maybe see how she interacts with Emi when I bring her over for clinic if you can wait that long.
I assume the ferret is vetted?
Shelter Mum's response:
This little one lives up in Niagara county, they want to surrender her. I would like to place her before she settles into shetler life, being a single that is easier to do. If they do decide to surrender her she will be vetted.
I thought I would check with you before checking with Tori. I understand how you feel as well as your concerns. No pressure I just thought I would check to see if you would be interested. Like I said it is easier on the fur kids if they go from dumped home to new home without settling into shelter life. Brenda
Ili's response:
Ok thanks... do you have a photo? Not that it makes that much of a difference but I have a preference.
Shelter Mum's response:
No we are real early in the surrender stage; this was the email I got from them this morning at 5:30.
Ili's response:
Ok. This is such a coincidence our first pet a Yorkie was named Crumpet (without the s) See if you can get a picture. I know I am being picky.
Shelter Mum's question to Crumpets' family:
is there any chance I can get a picture of Crumpets?
Family's response:
Sounds good! Here she is. Thank you! P.S- She will be receiving her rabies vaccination on Wednesday. If you wish to contact me, I can be reached at ***. I have off from work today and Wednesday.
Shelter Mum's response to Crumpets' family:
Crumpets needs distemper as well.
Shelter Mum's email to Miss Ili
A picture of Crumpet attached.
R
Ili's response:
Ok.. But Bob and I are still not sure but we can give it a try, just wondered if it doesn't work out where she would go then?
Shelter Mum's response:
Any fur kid that goes out these doors to a new family and it does not work out with said family the fur kids come back to the shelter. So if it does not work out she comes back here to us. Okay?
She goes in for her shots on Wed.
Ili I am not pushing you to do this if you do not want to then just say no.
Ili's response:
OK we're good with it just want to do what is best for Emi. :-) let me know how we get her.
Shelter Mum's response:
Okay we have not gotten that far in the discussions, I will keep you informed. Agreed, Emi comes first!
Shelter Mum's email to Crumpets' family, May 31, 2013:
Good Morning Susan what is the status of Crumpet? I need to be kept up on your plans I have 14 families looking to surrender their ferrets, I have told you we had room so I need to know when you intend to bring her to Naples, so I keep your slot open. Thanks.
Family's response:
Hi there, Crumpets has received her vaccinations. I work for the next several days but have off on Wednesday. Would that be a reasonable time to bring her out? Saturday would definitely work better for my husband and I if that is alright. We would head out in the morning and arrive early afternoon.
Shelter Mum's response, June 1, 2013:
Good Morning Susan, good to hear from you. Wed works if it is between 8 am and 1 pm; I drive school bus for a living so I am in and out all day. I do not get in from my afternoon run until 5 pm – I would prefer not to do the surrender at that time because I have fur kids to get meds to and settle in for the night. If you can tell me what time you wish to drop her off I will have shelter duties settled enough so I can spend time with you and Crumpets to get her settled. Let me know. Thank you.
An additional email from Shelter Mum:
A thought, if Sunday works for you I can do Sunday, I will look like I have been run though a ringer, run over by a truck with a fried brain but I will be here all day to take her in if Sunday works better than Wednesday
Family's response:
I'm sorry, I misunderstood. I had thought you said Saturday was an option. I could do Sunday, but I would be arriving around 6 or 7pm. I get out of work at 4pm and would have to run home and pick her up/pack her belongings into my car.
Shelter Mum's response:
Okay, I gather that the 8 am to 1 pm on Wed does not work for you, if later in the day on Wed does then I have gotten a shelter volunteer to agree to be here for you if you want to come tomorrow. If that does not work then this volunteer has also agreed to sign Crumpet in on Saturday. I just need an ETA so I can be sure Iliana is here for Crumpet when you get here. Let me know what you think about these alternatives.
Family's response, June 5, 2013:
Wednesday unfortunately will no longer work, because I have to cover one of my co-worker's shifts on short notice. I am terribly sorry! I can definitely do Saturday or Sunday, though (as long as 6pm wouldn't be too late).
Shelter Mum's email to Miss Ili:
Crumpets is NOT coming today Wed.
Shelter Mum's response:
Okay what time are we looking at if you come Saturday? No Sunday will not work, I am up at 3 am 6 pm is my bed time and I need to be up on time to get shelter duties done before I leave for work. Would next weekend work better for you?
Family's response:
Saturday: late morning or early afternoon.
Shelter Mum's response:
It is going to be pretty congested and crazy here by that time so when you get here find the 2 ladies sitting at the raffle table and they will find Iliana for you. If I am not tied up with anything I will help get things settled but I can not promise that will happen.
Family's response, June 7:
Alright, so just to confirm everything....Saturday morning is alright and there will be a volunteer named Iliana to help us get Crumpets checked in? We will leave as early as possible to get there as early as possible. I don't remember if I gave you my number or not, but if you must contact me for any reason it is ****.
Shelter Mum's response, June 8:
Good morning
Correct Saturday is a go, Iliana will be the contact volunteer to check Crumpets in, and it looks like it is going to rain Saturday so you will find the raffle table in the garage. Depending on what time you pull in will depend on how many folks will be around to point you in the right direction. You will need to park your car up top in the barn yard.
Thank you for the number, I will be outside away from the phone and I do not have a cell so here it Iliana's cell number if you need to contact one of us. ****
Thanks see you Saturday morning some time
Brenda