Welcome to Lakeroad Ferret Farm Rescue/Shelter, Inc.
Dexter

• Surrendered to the Shelter on June 6, 2008.
• He found a forever home on September 20, 2009!

• Dexter is a dark sable male with white mitts and bib.

• Read his latest updates below.
April 8, 2011:
All the kids are doing great. Dexters tail scare was nothing. A week later he grew his hair all back so I have no idea what's going on. Anyways they are adjusting to the new trailer great and the baby just loves to watch them play. Queenie licks her fingers. Been very busy with kids dogs babies and school not to mention the boys but got it all under control. Ttyl Ginger
July 19, 2010:
Not much to write. The kids are doing great. They love their new surroundings and get way more attention because they are right in the same room with us. Not only do we have the dogs greet us when we get home but also we have the babies doing it too. They are all plastered on the side of the cage when we come home. They are not really happy with coming out with the play pen but we made it bigger so they almost have the whole kitchen now minus access to the stove and refrigerator. They love each other so much and play all of the time. You would never know that they came from three different places. Dexter and the girls are a joy as always and we are so glad to have them in our lives.
January 10, 2010:
Everyone is good. Dexter and the girls are having a blast. I got the rice box out yesterday and Dexter spent most of his time digging in it.
I was playing with the internet and was looking through your website which I haven't done in awhile. I looked at Found's little spot you have on there and it set me off crying again. It's been almost a month already since he passed and I'm still having a hard time with it. Sometimes I feel like I'm being really silly but I know that we had a bond.
Anywho- hope everything is going good over there. Have a good week!!!
Thanks for the toys the babies love them!!! I think they have more toys then most children but I love spoiling them.
Ginger
November 6, 2009:
Our babies are doing great too. Dexter is finally playing with me. Last night he was dancing and dooking and came up and bit my hand then ran away real quick. It was funny. Rascal has found a way to break out of the ferret room under the door. The other three are too fat to follow at the moment but tonight we are going to figure out something to stop that. Maybe another barrier. Dexter is the man and is always in the middle of the basket sleeping with the girls.
October 25, 2009:
Hey Possum,
Found and Dexter are doing great! I finally borrowed my friends digital camera so maybe I can take some new pictures of them. Dexter had finally decided us humans are a good thing. He likes a pettin now and then as long as the girls don't run by. If they are around he has to get down and chase after them. Found is doing great too. He loves his out time and loves to rearrange whatever the youngins did before he was out. He patiently waits for his turn out. This I think is cuz he knows he gets special mom pettin time and can go with her to the other parts of the house without them. All in all everyone is well, and happy.
October 7, 2009:
Dexter and the girls are still doing great!!! Dexter is slowly learning to play even though he gets tired out more quickly then the girls. We all know the girls can't be stopped. He loves them though and now there are three kids sleeping in one basket. I love looking in at them and see three heads pop out. Found just sits back and watches the action in his lazy man way until its his turn and then he makes sure the children haven't screwed up his world. It is so funny to watch. Dexter isn't as loving as the girls and Found. I wonder if he's just still making sure we are ok. He comes up to us and checks us out but still doesn't play with us. I'm sure that will come in time.
Hope everything is going good and if you need anything let us know.
Have a great week!!
Ginger
September 22, 2009:
You know the funny thing. I just got on the internet because I figured it was time to give you an update and there you are. Dexter is doing great. It is like him and the girls were meant to be together. They cuddle and run around chasing each other. He is eating good and drinking and pooping good. He doesn ' t play like the girls do. The girls jump and dance and dook and all that he seems to be very laid back. I ' m not sure if he is just trying to figure out his new surroundings or what but he seems happy. Sorry we had to leave Sun. The Sun was getting to me and so was my shoulder. It's amazing what makes it hurt. Anyways talk to ya soon!!!
September 20, 2009:
Dexter has a new 4-ever home. He now lives in Clifton Springs, New York.

This family looks a bit beat and dirty because they spent the entire day helping to fix the play yard, trim some trees, clean out gutters and move tires to the garden. Ginger fell in love with Dexter on June 6th 2009 the day he came in. Ginger would search him out when they would come to the shelter to visit. When Ginger asked me Sunday if she could see if Dexter would get along with her 2 girls I said yes. He and the girls had a blast; he loves Ginger so I sent him home with them.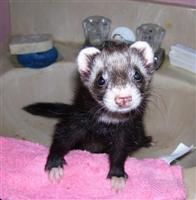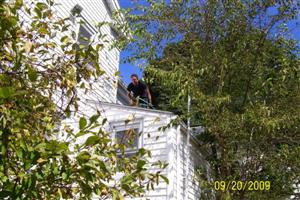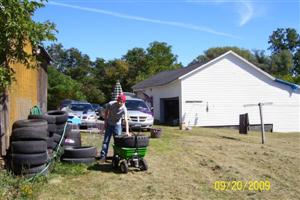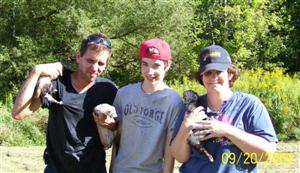 ---
Arrival Story:
The new kid is doing fine. He's a very sweet, dark sable with white mitts and bib. They were smokers so his fur is rough from that and all the baths they were giving him. His nails were very long too. Luckily I always bring a carrier with me because they didn't even have a carrier for him in the car, they put him in one of those giant ball things, which looked disgusting.
They couldn't get rid of him fast enough. She held him out and said he stinks, here you go. She got him from a relative who got him from a vet's office in Bath, he's been in 2 homes already. She said there were 2 ferrets but the other one got out and the dog got it. I think I'll bring him Saturday with the rest of my kids if that's ok. We had a yard sale today and I have to take my parents to the airport in Syracuse tomorrow.
They were feeding him 8 in 1 Wild Harvest Super Premium ferret blend. Its $6 for 3 lbs at Wal-Mart (the receipt was in the bag, he has a new bag of it. He already prefers the Zupreem/Evo/ Purina One mix my kids have. He started eating that as soon as he got to the playroom. I put his stuff out too but he only eats a piece or two. He also has a big plastic water bottle that has black mildew on the inside, a kitten food/water dish, some cat treats, a rainbow Super Pet mesh style harness and stretchy leash, and a cage that's like a tall cube.
I was washing it during my sale today and people thought it was a bird cage. It has a square base that sits on wheels, only 2 shelves, and the cage is supposed to fold flat but they bent it up so much and folded it the wrong way there are huge gaps in the corners where a ferret could easily get hurt or get out.