Welcome to Lakeroad Ferret Farm Rescue/Shelter, Inc.
Fred & Fluffy Ginger

• Surrendered to the Shelter July 26, 2008.
• Fred was a silver male. He left for the Rainbow Bridge on May 21, 2011.
• Fluffy Ginger is a dark eyed white female. She left for the Rainbow Bridge on December 8, 2014.
• Read her latest updates below.

• Fluffy Ginger had a far away mom in Gainesville, FL.
I found Fred and Ginger on my back step to my house early Saturday morning. There was no note, no indication of where they came from, who brought them and what their names where. A shelter friend had been sponsoring a couple of fur kids that found new 4-ever homes so I asked her if she wanted to sponsor these two kids. When she said yes I told her to name them. So their far away mom named them Fred and Ginger.
---
March 5, 2016:
Today will be moving day for some kids, I am moving Fred and George over to where Jenkins was living (pink meds card) then moving Leo and Venus into the ferret room where Fred and George were living.
December 8, 2014:
I found Fluffy Ginger did not eat her soup last night, was not interested in it this morning. She got a bath she was covered in poo and urine burn. I brought her up here after her bath gave her some pain meds. I expect she is winding down.
Fluffy was gone when I got home from work. She slipped away in no pain, I kept her in pain meds to keep her comfortable.
December 7, 2014:
Fluffy Ginger; I thought I would get her up out of the play pen and let her have the bathroom. She does not walk well on anything but carpet so I figured she could negotiate what little floor there was to get herself around in there with the carpet in that room. My thinking was incorrect. She fell over and stumbled her first few steps so I put her back in the play pen. She is eating and drinking.
November 11, 2014:
Fluffy Ginger is struggling. Fluffy Ginger had the ferret room I spread towels all over the floor so she could get from where she was sleeping to the food and water dishes because she is having a hard time walking.
November 8, 2014:
Fluffy Ginger got up to have her soup and ate it all so she is doing better this morning.
November 7, 2014:
Fluffy Ginger is hanging in. she has the play pen for the night.
October 22, 2014:
I started Fluffy Ginger on Moxy she is dealing with an ulcer. We may be dealing with this for a while, as this runs it's coarse they will have antibodies to keep them from having this strain again.
August 18, 2014:
Fluffy Ginger was dancing for me this morning. I have not seen her do that in a very long time.
June 14, 2014:
Doc took Jeffery and Fluffy Ginger with him, they are to have surgery on Monday morning. FG has a small mass on the bottom of her foot that he will remove.
June 09, 2014:
Message to Our Favorite Doc: The 2 kids that I asked you to look at when you come clinic day are Fluffy Ginger, she has mass on the bottom of her back foot it has gotten bigger, she is causing it to bleed when she walks...I would like to send them up your way with Brie on clinic day, she will hold them and then get them into you for surgery.
We are at the end of the year scheduling, so I cannot get time off to get the kids up there. Will you see if this works for your schedule the week after clinic? If not I will come up with some other way to get them up there when it does work. Thanks
December 18, 2011:
Thanks Mr. Tim for including me in your Christmas! - Ginger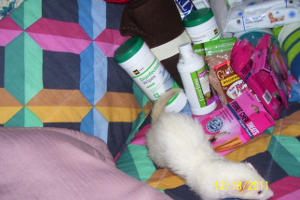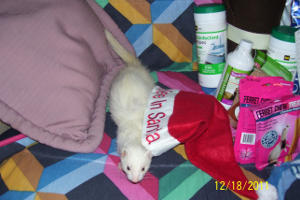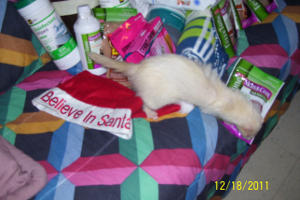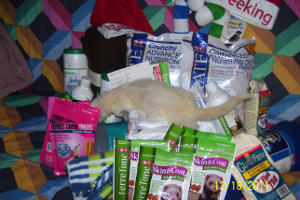 May 21, 2011:
Fred is gone. He was gone when I went in at 5 to check on him, I took him and Ginger out put them in the ferret room, Ginger kept going to Fred and sniffing at him, like hey wake up it is time to play.
Holiday Gifts, 2010:
Hey far away dad – I opened my presents today - I love what you sent us – oh Milo Stevie and Sugar came to our shelter just a couple of weeks ago – so Tinker – Sarah and I decided we would share our presents with them – we hope you do not mind – pictures on the way – I love you, Ginger
Miss Heather I love my presents! Thank you! - Fred