Welcome to Lakeroad Ferret Farm Rescue/Shelter, Inc.
Hammy J Weasel & Mr. Pickles, aka The Picklemonster

• Surrendered to the Shelter June 17, 2012.
• Mr. Pickles was a dark eyed white (DEW) male. He left for the Rainbow Bridge on January 16, 2018.
• Hammy J Weasel was a medium silver male. He left for the Rainbow Bridge on January 19, 2014.
• Read about how they arrived by clicking here, or read their latest updates below.

• Hammy & Pickles have a not so far away, far away mom in Canton, NY.
Due to the age of Mr. Pickles and the medical issues that will be right around the corner, he will remain with us for the rest of his life.
---
January 10, 2018:
Pickles - he is on the edge, he gets only the playpen when I get him up because he can't walk very well any more. He did get up to have his soup tonight.
January 6, 2018:
I thought I was going to find Pickles gone this morning, he is still with us. When I got him up to feed him his soup/meds last night he was oozing black sticky poo. Pickles was unresponsive and unable to eat his soup. I gave him a Dex shot, tucked him into the playpen expecting he would not survive the night. He was responsive this morning when I checked on him and ate his soup with meds on his own.
November 26, 2017:
Pickles was responsive this morning when I went to get him up, he ate 2 bowls of soup.
November 5, 2017:
Pickles was in a crash yesterday, I had to give him a Dex, he was up and eating by the time it was meds time.
October 11, 2017:
I found Pickles crashed yesterday morning - He was fine last night when I was serving soup, he was ready to get up this morning when I served soup.
September 22, 2017:
AM: Pickles however was in a crash this morning so I had to do a Dex shot for him.
PM: Pickles is back I got him to eat soup about 11 this morning then tonight he was ready for his soup when I was doing meds.
September 2, 2017:
AM:Pickles was alert and responsive this morning - ate his soup without coaxing.
PM: I found Pickles flat out in a crash when I was serving up soup, I gave him a Dex shot and set him in the playpen so he would not fall out of his hammock or flop around in his poo pad.
August 26, 2017:
I found Pickles in a crash falling out of his hammock - I took the soup out of his cage, gave him a Dex shot then put him in the playpen so he does not get hurt. He was flopping around like a fish out of water.
March 19, 2017:
Pickles got moved into Georg's cage. You would not think moving would be so bad but they sure don't like being moved even if I put the bedding they had in the new cage, setting it up exactly the way it was set up in the one they had been using.
February 14, 2017:
I have 2 more kids on Pred as of this week, Lance and Pickles.
March 19, 2015:
I did not find food messes in any of the cages I put food sacks in.. much easier to clean up the cages now and no more wasted food.
March 15, 2016:
Mum gets asked a lot how she knows which one of us fur kids is which.. she uses a lot of different ways to keep track of us, she uses cage tags, ID tags and sometimes some of us look so much alike she color codes us. Mum put a red stripe on Pickles only every time she saw him her heart skipped a beat thinking that Pickles was bleeding. So Mum changed his color to purple.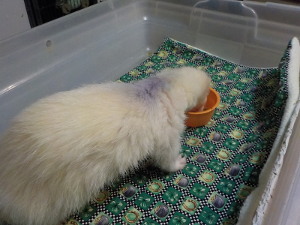 March 18, 2015:
I installed 2 food sacks in 2 cages this morning, one in Pickles cage one in Razzle and Dazzle's cage I am tired of all the food all over the bottom of the cage, most of the time I must toss it because it is fur, lint and crud in it when I sweep it up.
November 21, 2014:
More presents for the shelter kids from the Sims family...it looks like Christmas at our house! Santa Debbie and Butch I got to open the presents you sent for me. Thank you, thank you for making my Christmas special.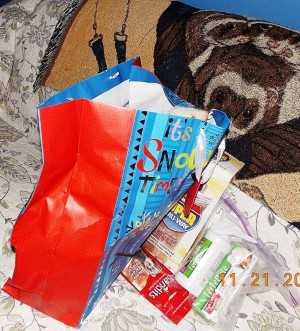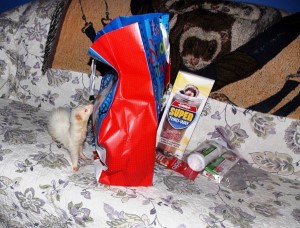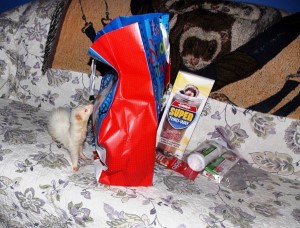 July 27, 2014:
Sandy (Snoopy's Snuggler) donated a custom hammock to the kids, she sent the 2 - I asked her to make, the one I sent for her to copy and an extra. I have attached a picture of Pickles breaking in the hammock.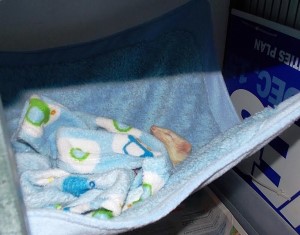 June 14, 2014:
Pickles at Clinic Day!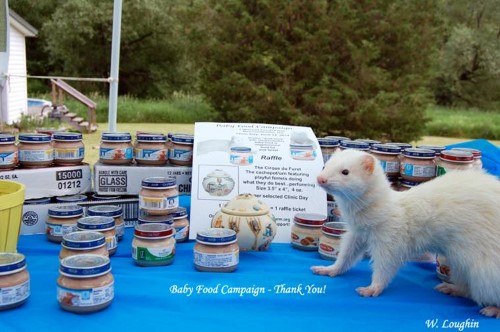 January 20, 2014:
Hammy left for Rainbow Bridge during the night.
January 19, 2014:
Dear Hammy,
You are much loved by a lot of people, and you have made lots of children very happy, and we all are praying that you get better soon. I can't come down to give you loving because of the meds I have to take right now. Don't forget that your cousin Panda sent you some special food at Christmas to help make you better.
Please tell your Mum that I am in so much pain that I'm taking oxycodone regularly. There is no more blood in my urine. Ask her to tell Doc Charlie if she talks with him to look at his email from me.
Is your Mum doing better? She was very sick the other day, which worried me.
You and your Mum give each other some loving from cousin Panda and me - hopefully this will make you both feel better....PnP
January 6, 2014:
Dear far away mom, I am feeling so much better now that I saw OFD. He put a bug (chip) under my skin that has medicine in it and that medicine is making me feeling better. Mum also upped my Pred and that too is helping me feel better, I am actually bouncing around with Pickles again.
Mum says I may even get my fur back in the spring when it is coat change time. I love you far away mom I hope you are feeling better too.
Hammy
December 5, 2013:
Today is Hammy's last day for Moxy he is doing much better.
March 24, 2013:
Dear Far Away Mom,
Thank You, thank you, thank you, thank you! Thank You, thank you, thank you, thank you! Thank You, thank you, thank you, thank you!
We love our presents!
Hammy, Pickles, & Frankie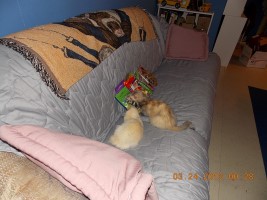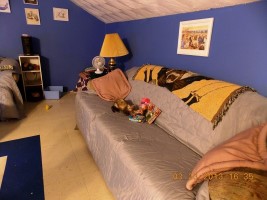 January 25, 2013:
Hammy with Hannah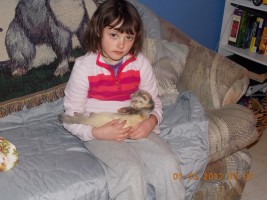 January 2, 2013:
Dear Grandma we got to get into the box you sended us – Shelter Mum is sending pictures, Mum says thank you for the DD gift card she LOVES coffee! Thank you!
Thank You, thank you, thank you, thank you! Thank You, thank you, thank you, thank you! Thank You, thank you, thank you, thank you!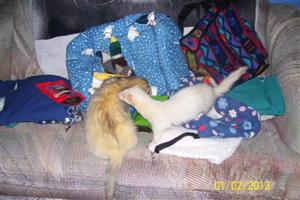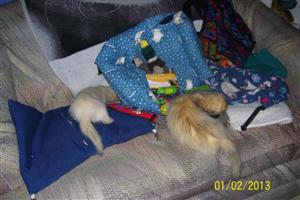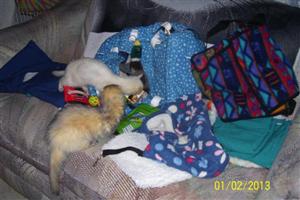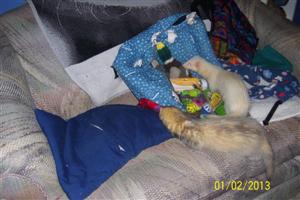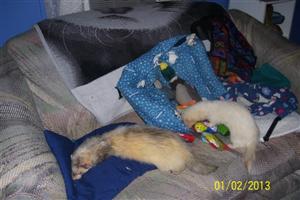 December 22, 2012:
Dear Miss Troy Lynn, Mum let me open the presents you sended us. Thank you very much for sending us Christmas! – Pickles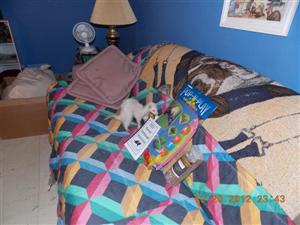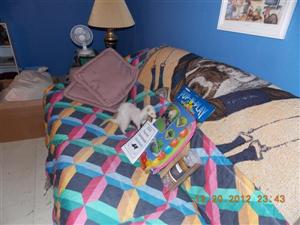 October 16, 2012:
Wow what a day! These girls come to help and they work me to the bone!
We got the gang of 8 into their new digs, moved Titch up and over, Mombo down, Hammy & Pickles and Teddy over to the play room. I captured Marcia setting up the cage for Hammy and Pickles.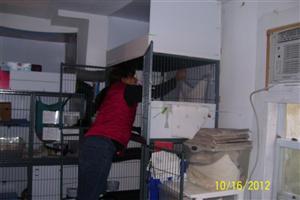 June 17, 2012:
The 2 new kids got here about 10:30 this morning meet Pickles and Hammy.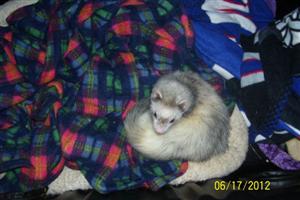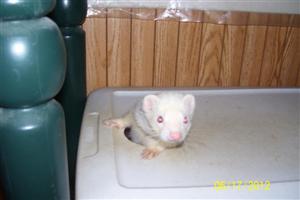 ---
Initial contact, June 05, 2012:
To whom it may concern,
My name is Matthew and I have 2 young boys named Hammy Weasel and Mr. Pickles(AKA The Picklemonster) and they are in need of a home. I recently moved to a new home just before my first child was born because we needed more space and housing companies in the Fort Drum area are very ferret unfriendly. The only option we had that would allow me to keep them was where we were moving out of and staying there was not an option. Since then they have been living with my brother, however do to family issues he cannot house them for me any longer. It breaks my heart, but it seems that my only option is to surrender them to a shelter and I know from other people that yours is the boys' best chance at a happy home, whether it is with you permanently or if they get adopted. I have considered looking to see if anyone in the area would want to adopt them but giving them to a stranger I know nothing about unsettles me because I have no way to know that they are properly cared for.
Their cage is a two story on wheels from Marshall Farms and I have several sets of hammocks and sleeping sacks, which they prefer. They have all of their shots and as of their last visit to the vet are in good health with no signs of any diseases or cancers.
Hammy is a 2 and a half year old sable and is a little snuggle bug. He tends to be kind of lazy but occasionally likes to duke. He enjoys being held and pet and is absolutely beautiful.
Mr. Pickles is a 1 and a half year old white and gray/yellow. His fur changes color, he always has his white but during part of the year his fur had gray going down his back and tail which then turned to a creamy yellow color. We call him our Picklemonster because he always wants to play and duke and used to chase my wife around the house during their play time. He loves playing tag with people.
They both grew up with a dog and cat and they both like to play with both animals. In the year and a half they have been together I have only seen them sleep apart once or twice. They really are like 2 brothers.
I truly hope you are able and willing to take my boys for me so that I know they have a happy home and life even though I won't get to be a part of it. They are a part of our family, like children, and I couldn't bare the thought of what could happen to them if they went anywhere else.
Please let me know if you are able to help and what I must do and when if you are. I am available at most times of every day and phone is the best way to reach me but e-mail will suffice if necessary. My phone number just in case is ---. I can send pictures of them as well I will just need to get some onto my computer.
Thank you for your time and I hope to hear from you soon.
Matthew
Second contact, June 05, 2012:
In the event that you do take them I was wondering if not only could I sponsor the 2 of them but if it was an "open adoption" for the duration that they are with you until they get adopted. At least for the duration of their stay with you in the event they do get adopted by a family it would mean the world to me to be able to visit them on occasion. It is a bit of a drive from the Fort Drum area but it's worth the effort.
I also noticed that you requested to know what food they eat. My vet, as well as some ferret articles I read, said that dry cat food is as good for them as dry ferret food so my boys have always eaten Iams. They were on the Iams Kitten until they were 2 as I was instructed, except Pickles since he is only a year and a half, but they said it was fine to move him to Iams Adult a few months early so I didn't have to try to separate them to eat. I'm sure you know full well how hard that would be since they eat when it pleases them resulting in the need for a constantly full dish. I thought it might also be important to note after reading some of the things on your site that Pickles is a bit of a climber and that both of them drink out of a dish and not a bottle. Neither one of them likes the bottle so we have a dish that attaches to the cage to keep them from spilling it, which they will do almost immediately every time there is something in it if it isn't attached.
Apologies for having to send a 2nd e-mail before you got to read the 1st and thank you again in advance for any help you can give to my boys.

June 06, 2012, Brenda:
Good Morning Matthew, this is what is required to surrender the fur kids. You are several hours from Naples how and when could you get them here? We have our annual clinic day this Saturday with lots of folks here that would be willing to adopt them if they were already here. Can you get them to me by then? All the folks that are coming are and have been shelter friends for years and have adopted from us so I know these folks well. Brenda

June 06, 2012, Matthew:
Their cage will fit into the bed of my pickup quite nicely as I have transported it that way more than once before. I also have a ferret carrier so they can sit in the back seat for the ride. It could be possible to get there Friday, though it would be in the evening/night as we wouldn't be able to leave until around 1500. It wouldn't be too much trouble for me to find a place to stay and bring them buy Saturday morning, but again let me talk to my wife when she gets home. I really appreciate your willingness to help us find them a permanent, safe and happy home. As much as I hate to admit it as a guy, my wife and I both cried yesterday when we realized that our only viable option was to put them up for adoption and risk never seeing them again. I will let you know this evening when she gets home how soon we can get down there.
On a side note my mother is actually the one who suggested you. She found out about your shelter when my sister went to RIT in the late 90s early 2000s and even stopped to see the shelter at one point. She said it was absolutely wonderful what you were doing and a real treat to see 8-10 ferrets running loose playing.
Again, thank you very much and I will let you know as soon as possible.

June 06, 2012, Matthew's second response:
I have spoken to my wife and we will be able to get down there on Saturday. We will be at my mother's down by Binghamton on Friday so we can just leave from there Saturday morning and it will only take us 2 and a half hours. I just need the address for my GPS and to know what time we should arrive. Thanks again.
June 06, 2012, Brenda:
Yes that is correct - you must have current documentation for vaccines or they will not be able to stay!
Address is 7835 State Route 21 - Naples --- however I will not likely be near the phone, I will be outside getting things set up. People start pulling in about 9 am - it gets crazy by 11. Brenda
June 06, 2012, Matthew:
Okay I will have all of that in hand I just have to make sure it's all still in one place so I don't leave anything out. Other than that I can only say thank you so very much again and we will see you on Saturday.

June 08, 2012, Matthew's second response:
I've just had a bit of a problem. I must have misplaced the newest health records for the boys when I moved in February because I can't find them. I called the vet this morning to see if they could print me off a copy and they said yes. Within minutes they called me back and told me that Pickles is a month overdue for his rabies and distemper vaccines. Usually they call me a month beforehand to schedule an appointment but for whatever reason this time they didn't. Unfortunately they couldn't squeeze him in today because they are a Dr. Short so they gave me an appointment for him for Wednesday. So as it stands I will have to postpone bringing them until next weekend if that is okay, though I understand there probably won't be as many people there who would want to adopt them. So let me know if next weekend is okay and if so I will see you then. I will also do whatever I need to in order to sponsor them as long as they are with you then as well. Thanks again and sorry we can't make it down there this weekend but I'm sure you wouldn't want him down there being a month overdue for shots.
June 09, 2012, Brenda:
I got this; I know you are not coming today. When clinic day is over I will respond more fully. Brenda

June 12, 2012, Brenda's second response:
Okay, bringing them next weekend works for us. Our Saturday is booked we will not be here can you bring them on Sunday?

Perfect! Thank you for offering to sponsor the boys.
You are correct without current documentation they would not have been able to stay, you made the right decision. Thank you for that. Brenda
June 12, 2012, Matthew:
Yes I can do Sunday just fine. I'm pretty sure my mother in law has the weekend off since the wife works Sundays so I should have a place for our son while I'm gone. I Would feel bad dragging a 2 and a half month old all the way down there and back in one day. So all should be well. I have his vaccination appointment tomorrow morning and then he will be all set and ready to go. Thanks again.
June 17, 2012, Matthew:
I should be arriving around 1030-11.