Welcome to Lakeroad Ferret Farm Rescue/Shelter, Inc.
Max & Princess

• Surrendered to the Shelter on November 22, 2014. They found a Forever Home on October 16!
• Max is a dark brown sable male.
• Princess is a brown panda blaze mutt, with mitts, female.

• Would you like to Sponsor these two?
• Read about how they arrived at the Shelter by clicking here, or read their latest updates below.
December 15, 2017:
Max is fine now. Must have been a cold or virus. It was just so weird how much it presented like insulinoma. Weak hind legs, legs slipping out from underneath him, constantly laying on his hip so he could rest. But now he's fine. Good but weird.

Shelter Response: Another one of our adopted kids had the same thing going on - the family ran her to OFD yesterday doc kept her. They live 3 hrs from Doc. - Doc told them he is not sure what is going on but she was dehydrated, lethargic, BG was 60 but it was not low enough for the symptoms she was showing. Hopefully she is in a better place this morning. I am pleased.
November 29, 2017:
Hi Brenda,
I know I recently reported how happy and healthy Max and Princess are, but ironically since that email Max has developed lethargy and weakness in his hips and hind legs. I suspect insulinoma. He isn't himself. I am ready to make an appointment with Dr. Edwards, but that is 4 hours away so I figured I would touch base with you first. Unfortunately, we don't have any ferret knowledgable vets around here. Last time I dealt with an insulinoma I couldn't find anyone who was even capable of doing a blood draw on a ferret. Isn't that sad.
I'll go to Brockport if I have to but is there anything I can do at home. I'm wondering in the future if there isn't a way for me to monitor blood glucose at home. maybe that's not a good idea and I don't mind you telling me so. I want to do what's best for Max and if you say, rush to Brockport, then I rush to Brockport. Let me know what you think.

Shelter Response: Well bummer. Isn't that sad. Yes if you wish I will teach you. Yes we do here. Hey if you can monitor without a 4 hr drive then you monitor. - once we know you may need to see OFD to get him on the meds but we can find out first if that is necessary. Depends on how soon you can get your hands on the meter. You need FreeStyle Lite meter. Once you have that I can walk you through it over the phone. You will have to clip the nail to make it bleed to get the blood. You got it.

Mom's Response: Is this what I should be looking for? I don't want to get the wrong thing.
> https://www.walgreens.com/store/c/freestyle-lite-blood-glucose-monitoring-system/ID=prod3423400-product?ext=gooPLA_-_Home_Medical&pla&adtype=pla&kpid=sku3422240&sst=9d8474ce-d067-4c0f-a9ed-101b2a82856a

Shelter Response: Exactly what you need yes

Mom's Response: Great! I'm on this. I won't be home until around 6. Should I call then or tomorrow? Should I fast Max first? I'm not home to do that now.

Shelter Response: Yes tomorrow is best please. No, No, No - if he is already in trouble that could make worse. What time do you usually get them up? Do you have soup? I would start him on soup ASAP - if his numbers get too low you are not going to be able to get him to eat anything. Give me an idea what time you can call so I can be ready to sit on the phone with you for as long as you need. Brenda

Mom's Response: I have a meter and strips. I will call tomorrow morning. I usually get them up around 7 but I will call whenever it is convenient for you.

Shelter Response: Perfect! I am up at 3 have kids and meds done by 4 settled by 6. It would be good to do the test as soon as you get him up, so if you can get your equipment out, call me, then when we are on the phone and have you set up and ready you can go get him up to do the test.
It will take about 6 min to run you through what you will need to do to prepare. Once we have you set up I will sit on the phone with you while you do the test the first time. How does that sound?
November 16, 2017:
Hello! Just wanted to send a quick word that Max and Princess are healthy and happy. They are both solid and strong, with shiny coats and great personalities. They're living the life here, sleeping in doll beds and begging for treats. We wish all the fur kids could have forever homes, but until then we hope you received our holiday gift via PayPal. We wish we were closer to help more. Please let us know if there is anything else you need.
Happy Holidays,
Danielle, Martijn, Oscar, Mara, Max and Princess!
May 17, 2017:
Everything was perfect at the doc's. Max and Princess are healthy. Max has toned up a lot. Princess lost a bit of weight since her last visit about 2 1/2 years ok, but other than that they are both very healthy. No problems. Doc got a laugh at seeing tiny Princess next to giant Max. They are a great combination.
November 8, 2016:
Hi Brenda,
I hope you and the fur kids had a nice Christmas and New Year. I wanted to thank you for the Christmas gifts you sent for Princess and Max. They love their new toys, blanket, and treats. Both of them are doing well, quite at home here… they own the place! I'll be making an appointment with Dr. Edwards for their annual check-up and vaccines in the next month or so (weather permitting). They are both healthy and happy and I expect this to be just a routine visit.
Thank you for all that you do. I hope 2017 is off to a wonderful start.
Danielle
November 8, 2016:
here is a short video of Max and Princess enjoying the wet bathroom while my son takes a shower.


November 4, 2016:
Oh good! Thanks for letting me know!
Max and Princess are right at home here now. They know the house, and have made themselves comfortable throughout most of it. If we're home, they're usually welcome to come and go as they please. They are so very sweet!
October 25, 2016:
The packet for Oscar and Mara came yesterday. They were thrilled and they told me to tell you thank you! They were so surprised to find the picture of Max and Princess with Santa, and it now hangs on our refrigerator. Mara has colored most of her book and I have attached a picture of one of them. Also a quick update on Max and Princess. Max has discovered how nice it is to curl up with a blanket on the couch while the kids watch tv. And Princess has chosen a desk drawer as one of her favorite hiding places. Max joins her there occasionally. They both love the bathroom when someone is showering. They walk under the tub and get wet and run around all wild. More updates to follow....
Danielle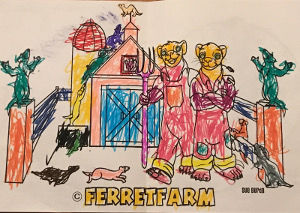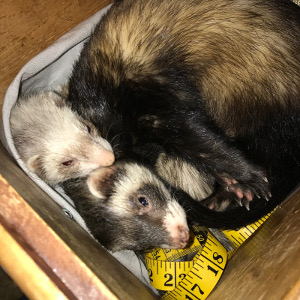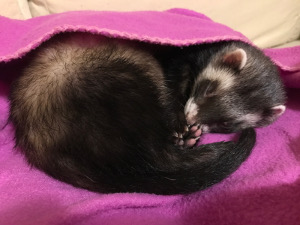 October 23, 2016:
No, Oscar and Mara haven't received their packet yet. Probably Monday. Princess and Max are doing great! They seem like they've made themselves right at home here! They are out of the cage most of the day, and with us for most of that time (unless we aren't home, then it's the cage for safety). We've been letting them explore most of the house for half hour-hour increments. It seems like they are still trying to figure out the stairs so we carry them up and down. Princess dug out her first plant that I thought was high enough but wasn't (it's now higher). They are both so lovable, come when called, and enjoy a good snuggle as well as play. She, of course, was thrilled! My furless kids have been great with them, giving them a lot of attention all the while being gentle and caring. They have been mostly good about litter boxes and we have been placing them around the house as needed. Sometime soon, I would like to place an order for a bag of your food mix and some duck soup mix, just to have on hand. Please let me know how to do that. I'll try for some more pictures today.
Danielle

Shelter Mum's Response: I expect. That is awesome news. I bet they are enjoying the exploration. No need they did our stairs with no problem and would jump the barrier from the upstairs hall into the upstairs bathroom. Like I said they would get over barriers - hanging from the ceiling? LOL I expect pretty proud of herself. I am thrilled to hear they are happy. I saw that when they were here, you have done well Mom teaching them. They are awesome kids. Like I said ferrets can be litter trained but the world is their toilet. I have responded to that request in a separate email. That would be great thanks.
October 17, 2016:
Update #1. The kids did great their first night in their new home. We're about to let them out for the morning and I will try to take some pictures in a bit.
The real news so far is about skunks! A word of caution, don't leave ferratone on one's porch, I guess. We got home late yesterday; it was already dark, so we didn't even give it any thought. We unloaded our supplies and concentrated on getting Max and Princess settled. We put everything else neatly on the porch. Luckily we brought in the food for the kids. So during the night, a skunk came and ate all the treats and drank all the ferratone. I am going to wash all the bedding today and I will replace the lost treats and ferratone today at the store. I am so sorry it went to waste. I feel just awful. I guess I was too tired to remember it was out there. I never occurred even occurred to me that the skunks would come on the porch to claim such a bounty. Ugh!
Danielle

Hi Brenda,
Just wanted to send you a quick note to say that Max and Princess are adjusting really well. Both are playful and curious. They are eating and stooling normal. They are getting lots of love and attention! They have one room to explore so far. When they are comfortable and when we know their habits more we will extend that space. I will certainly keep you updated on their progress. I'm attaching some pictures of them here in their new home.
Thank you for trusting us with their care and well being!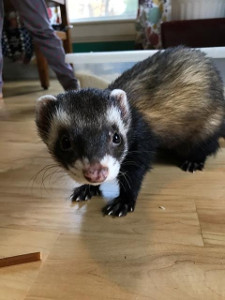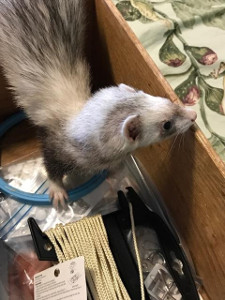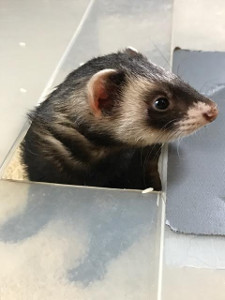 June 23, 2016:
I got the stitches out of Max yesterday. He healed up nicely.
June 23, 2016:
Brockport called Max did well in surgery. He removed the right side adrenal gland.
December 14, 2015:
Last week kept Mum really busy with packages coming in daily for us. We want to share with you, us opening our presents that have come in. The Sims Family Santa's sent us all these presents! Thanks for helpen our Mum take care of us!
Max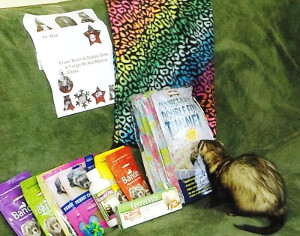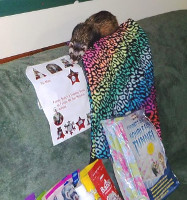 November 9, 2015:
We had some new folks come to the shelter yesterday to hang with us.. Miss Madison wants to adopt a ferret or two.. They spent time with several groups of us. The group that was a hit was Max and Princess. Here are some pictures of them showing Madison and her Mom and Dad just what ferrets can do.
Max was showing them how to jump from point A to get to point B - Princes just ran through the tubes while Max was entertaining the humans.
We hope Max and Princess have found a new home...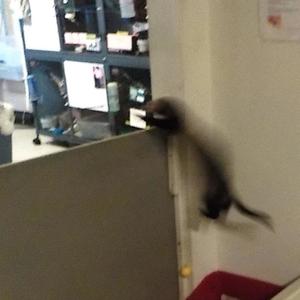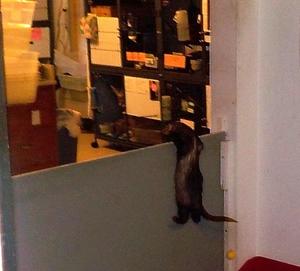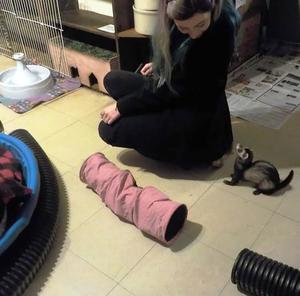 November 9, 2015:
Max was missing for a bit, he was on top of one of the cages in the ferret room. They cannot have the library anymore because he can get out. I discovered him when the pile of blankets fell to the floor and he popped out from them. The camera was up here so I will have to get the picture of where he was tomorrow. How he did not damage himself with a fall that far is amazing. He looked up at me with the look of "what just happened"?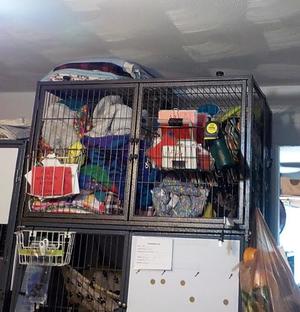 November 2, 2015:
I came home to find Max in the ferret room, he did not need any help he just got over the barrier and then got on top of the island workstation. What a mess.
November 1, 2015:
Mum forgot we were on the other side when she was folding laundry in the ferret room; she tossed a large blanket over the barrier to get it out of her way until she had the smaller things folded. Me and Princess were on the other side, we decided to go up and over to help Mum fold the laundry.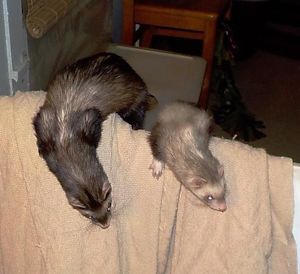 July 25, 2015:
All cages tagged get Moxy even if their poo looks better, they need Moxy for 10 days. Once they are done, I mix the bowls of soup for the kids that need Pred and Moxy but are well enough now that they are eating their full bowl of soup. Then I move on to the ferrets that are on Pred. Once I have meds done I start fluids.
July 22, 2015:
Found icky poo in Max and Princess' cage. Got Max started on meds.
June 15, 2015:
The dining room floor (window end) got washed last night, Max and Princess emptied the fountain I put up yesterday. I had set a pad under it so most of the water was soaked up into that. What a mess they made!
May 4, 2015:
Princess and Cali got themselves mixed with Max and Oryx.. I think what happened was I was pulling Cali and Oryx off the porch and putting Max and Princess on...Princess got down the tube and on the floor before I had both girls picked up so I grabbed Princess thinking it was Cali.. I discovered the mix up as I was getting ready to leave for work. I had to stop and figure out why Oryx was giving who I thought was Cali a hard time. Long story short I figured out who was mixed with who and straightened them out but was running late so I set the 2 girls in the ferret room so I could leave.
April 15, 2015:
I put Big Bandit in the playpen to start, he did not show any signs that he wanted to bite. Max did his thing and got into the playpen so he was introducing himself to Big Bandit. I try to give Max and Princess some time with me in the morning when I am doing meds and settling the shelter because the only rooms they are safe/can't jump out of are the smaller ones I do not get into much during my normal routine. I pulled Max out and put him and Princess in the bathroom.
April 10, 2015:
I put Jack and crew in the window end of the dining room, less than a minute later he was on the other side beating up the girls. That boy is a real PITA. I had to move kids around so they will ALL be safe. Max and Princess are another group that can't be in some rooms because they get out, well Max - Princess she stays put.
March 30, 2015:
Max got out of the room I thought I had secured. Dancer was on the other side so I had to break up a fight. I think Dancer got the best of Max because when I tossed Max back into the room to see if I could catch him get out again he just hid in the tent. Little bugger.
February 27, 2015:
I got Max and Princess moved into the other cage, but I need to work on that tomorrow. Max was trying to stick his head between the bars in the 1 space that is not covered with coroplast. I need to attend to that. He kept digging at the coroplast I had secured to the side and back, I need to make sure there are no gaps.
February 25, 2015:
I am going to move Max and Princess over to the other side of the room where the 2 big cages are, I will only have 3 to clean in that room once A and O go home. That will leave me 6 empty cages in that room.
February 17, 2015:
I have so many groups that can't go in certain places that I have to think hard where to put them. I peeled Max off the playroom windowsill, he was coming from the right corner of the window (see picture). The blinds are down that is what alerted me there was someone up there.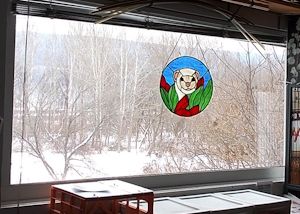 December 6, 2014:
Max and Princess went to Petco with us, we have however decided no more babies on our trips. They are too nippy and that just perpetuates the myth that ferrets bite. Max got my lower lip, KC got a nip on her cheek. I am not sure if Ili got bit or not. They did get to see Santa. They got their picture taken with him.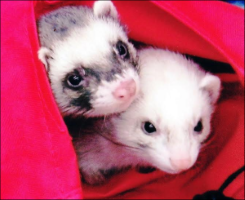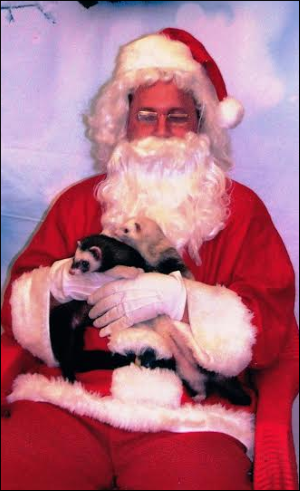 November 24, 2014:
What a beautiful day. It got up to 63 I believe I saw on the school marquee. 60 on the porch. Kids were out there all day.
New kids seem to be adjusting, they still clamor at the cage door when I walk into the room but they will soon learn they will get up every day for a long time. Max is a jumper he jumps at my legs when I walk anywhere near him. Princess is still afraid of her own shadow. She is a blaze mutt so she may be deaf. We will work on that once they are comfortable being here.
---
Initial Contact, November 19, 2014:
Hello,
We are moving and have two approximately year old ferrets that we are unable to take with us. Can you let me know if your shelter has any availability?
Thank you,
Bernita W
Shelter Response:
We have an opening at this time, where are you located? This link will explain all that is required to surrender your ferrets to us. The ferrets must be current on vaccines with documentation.
New York State requires ferrets to be vaccinated with the rabies vaccine yearly, a more important vaccine is distemper. The distemper shots that are given to the ferrets before leaving the breeder are null and void as the FDA label states this vaccine does not work on kits under 8 weeks of age. The kits being moved from the breeder to the stores are 6 weeks when shipped.
Our web sit includes ferret knowledgeable veterinarians available to get this done if you do not have a veterinarian of your own.
Current means 8 months or longer before the ferrets need to be vaccinated again. As the web site states everything that belongs to the ferrets comes with them up to and including the cage.
We do not separate cage mates so it is imperative that if you decide you are surrendering your ferrets to this facility you keep us informed so we keep an appropriate opening for you. We work on a first come first serve basis.
The shelter directors work schedule varies on a day to day basis so we need to determine a time that fits both yours and her schedule. Surrenders generally take 45 min to a hour to complete.
I look forward to hearing from you.
Owner's Response:
Hi Brenda,
We are definitely interested and are able to provide documentation of vaccination. We are located in Syracuse. Would it be possible to bring them on Saturday?
Shelter Response, November 20, 2014:
Is it possible to scan the vaccine certificates and send them by email to this address please? As for Saturday I need to put you on hold for a bit.. we have another surrender coming in on Saturday and I do not know yet what time. I once I have that information we can schedule you in for that day either before or after.
Owner's Response:
Hi Brenda,
Yes we can bring them at 10am. We are taking them to the vet this evening for the vaccinations and I can send you the documentation after.

Update: When we brought them to be vaccinated, the vet said that distemper is not used anymore and we were only able to get the rabies vaccine.
Shelter Response, November 20, 2014:
Your vet is incorrect. Distemper vaccine is more important to the safety of our shelter than the rabies vaccine. Last year a shelter in IL had a distemper outbreak and 65 ferrets died a horrible death...
Our shelter vet vaccinated 29 ferrets for distemper at our clinic in June 2014 and has vaccinated 6 of our shelter ferrets in the last 2 months for distemper. We can't take them if they are not vaccinated for distemper. You can see if you can get them in to our vet Dr Edwards 585 637 6190 he is in Brockport NY.
Keep me in the loop please.
Owner's Response, November 21, 2014:
Hi Brenda,
Do you know of one in the Syracuse area? We took them to North County Veterinary Hospital yesterday and will be unable to take them an hour and a half away to another doctor.
Shelter Response:
We have had 12 ferrets come in from various areas of NY - 5 of which came from your area… the families brought them to Dr Edwards because the other vets do not have, know or care to use the vaccine that Dr Edwards uses to keep our fur kids safe. So the simple answer to your question is no; I know of no one up there.
Owner's Response:
Hi Brenda,
I am able to get the distemper vaccine tomorrow at 10:45 am. Do you have an appt surrender slot available after that?
Shelter Response:
It will take you about 1 hour 30 minutes to get from Brockport to Naples, we will see you about 12:30.