Welcome to Lakeroad Ferret Farm Rescue/Shelter, Inc.
Panda

• Panda arrived at the Shelter on November 16, 2014. She picked her Forever Home Mom, and went home on January 29, 2015!
• Panda is a sable female.

• Read about how she arrived by clicking here, or read her latest updates below.
March 20, 2017:
BB, Panda, and Rocky are happy, healthy and doing well. All three are "dook monsters" and have a way of keeping Lisa and me on our toes. Daisy our golden retriever ignores them, and Owain our corgi loves to play (under our watchful eye) with Rocky. I hope all is well in your neck of the woods. Hopefully I can get over to see you guys before too long.
Pete and Lisa
July 8, 2016:
Hi Brenda: I wanted to let you know that BB is doing well. He is eating soup with the rest of our kids and has been integrated with Rocky, Panda, Dudley, and Squiggles.
Pete
December 20, 2016:
Hi Brenda;: Merry Christmas, and a Happy (belated) Birthday. We received your box yesterday with all the bedding and stuff. One of the dogs ran off with the stuffed football (the kids were unimpressed), but they will gladly put to use all the fleece and flannel. The four boys and Panda are all doing well. BB is a great fit, and is best friends and his cagemate with Bear. Lisa and I are doing well and we are looking forward to (our usual) a low key Holiday. We are wishing you, and all the kids much warmth, good health, and happiness.
Pete, Lisa, Panda, Dudley, Rocky, BB, Bear, and the dogs.
October 22, 2015:
Hi Brenda: Panda, Squiggles, Dudley, Rocky (new kid from Johnson City), Bear, Boscoe and Sookie are all doing well. Rocky was in to see Dr. Chris and he is in good shape and weighs in at just shy of 3 lbs. We figure that he is about 1 1/2 years old. Dudley (last year's Binghamton rescue) was also in, and he now weighs 3 lbs, up from the 1 lbs. 11 oz. he weighed when we brought him in a year ago. Panda, Squiggles, Dudley, and Rocky are all cage mates. This morning all 4 of them were asleep together in one of the soft hanging cubes. Panda and Rocky make quite a team when they are out and about. They are both very active, and love to chase each other around the house. Dudley and Squiggles (see picture) are a little more subdued, but will still join in on the fun. Bear, Boscoe, and Sookie are doing well, though Sookie will be turning 6 yrs. next week and never regained her fur following her des. implant, (except for a little growth recently). I hope all is going well over in your neck of the woods. It is great to see the postings Facebook. I still hope to get over to pay you guys a visit. Thanks for all you do for the kids.
June 8, 2015:
Hi Brenda: I wanted to let you know how much I missed coming to clinic day this year. I don't think that I have missed it for the last 7 years and I sure feel as though there is a big hole in my summer. I was hoping to get out, and really left not coming to the last minute, unfortunately there is just too many things going on and (put off) too be able to bring some of the kids over last weekend.
All the kids are doing okay. Unfortunately we did not get good results as we had hoped for from Sookie's Des implant. She is doing about as well as expected for an almost six year old kid that has insulonoma and is adrenal. She does not seem at all uncomfortable and even does some "bopping around" the house, so we are doing tour best to give her a good life. Her cage mates Boscoe and Bear are doing well,
Panda, Dudley, and Squiggles are all doing very well. They are now quite the trio and have been so since about 5 weeks after we brought Panda home last January. It took them a while to get comfortable with each other, so now that they are generally found in one big pile sleeping together it really makes the heart smile. Lisa and I are really happy that we have been able to take kids that were living alone and be able to give them siblings.
I hope all is going well, and I hope to come over for a visit before the summer is over.
All the best,
Pete, Lisa, and, all the kids.
March 19, 2015:
The kids are doing well. Panda and Squiggles are often found curled up together and I found Panda and Dudley in a sleep sack together this morning Dr. Chris has ordered a des implant for Sookie, Bear and Bosco.
Pete and Lisa
February 7, 2015:
Hi Brenda: I wanted to get a quick update off to you before too much time goes away. Panda is doing very well. She is very playful and active, and is also a little more of a leaper than we've ever had (more ferret proofing). She is doing a very good job of keeping us on our toes. She is eating our mix of food and has also joined the others in evening soup (though she is only so far eating about half of what the others consume.) She is still spending the night solo, but in the daytime she shares a room with Squiggy, and also with Dudley when Lisa and I are around. Things have mellowed out completely between her and Squiggy, and there are only rare spats with Dudley. She gets along fine with Sookie, but Bear and Boscoe are a little much for her so they are out of the picture. Other than that, the only other reports I have is that we have spoken with Dr. Chris and are moving ahead with treatment for Sookie's adrenal issues. I hope all is well with you and all the kids.
Pete and Lisa
January 29, 2015:
Panda left for her new home today, she fell in love with Miss Lisa last week when she brought her other fur kids to camp. When Miss Lisa came today she was standing in front of Panda's cage getting Dudley and Squiggles out of the cage to go home. Panda got up and stood at the door of her cage looking at Miss Lisa. She picked her new 4-ever home.
Enjoy your new home little one. Shelter Mum

PM Update: Brenda: I just want to let you know that Panda seems to be settling in well. She's eating, exploring, and being a little doll. I'll keep you updated on her. Thanks for keeping such good care of our kids.
Pete
January 11, 2014:
Panda with her new stuff set up in her cage. Her Christmas from Miss Mary Ellen.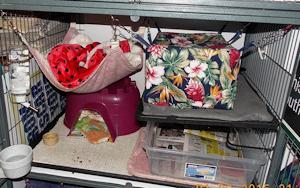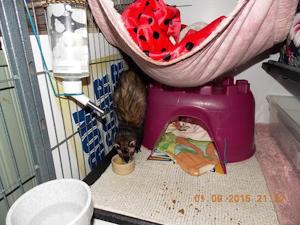 November 18, 2014:
Panda got to open the present Miss Wendy got the kids for Christmas.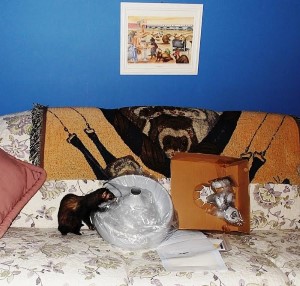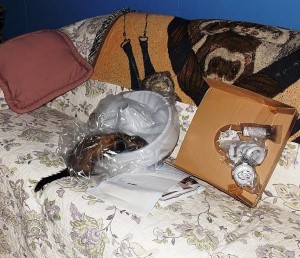 November 17, 2014:
Panda must have eaten something but not much. I did offer her some soup this morning and she ate about 10 mil.. 5 from the dropper and then from the bowl. Panda is a scavenger, she found some crumbs from something I had in the trash she was eating.
November 16, 2014:
Oh boy another fur kid out and about running around out in the weather...Mum got an email to help this little one. She was transferred to our facility on Sunday 11/16/14. It took several volunteers from both facilities to make it happen but Panda is here and ready to settle in to our shelter life. She is going to be surprised at all the things she will find to do here.
We (Mum actually) would like to thank Miss Mary Ellen and Miss Melody for the time they spent on the road moving Panda from one facility to the other and Miss Carrie for being vigilant about getting ferrets to us when they are in need. Kudos to all involved.
Daisy and Wilson
---
Initial contact, November 14, 2014:
Hi Brenda!
We have another ferret here at the shelter in Oswego, NY. She showed up as a stray in the city, and we have had no luck reuniting her with her owners. Her name is Panda, and she is a sable panda ferret! Very nice girl, very clean and docile.
Any way you have room for her? We have someone who can transport her to Syracuse area if you still have a volunteer out that way.

Carrie
City of Oswego Animal Control
Shelter Response:
Hi Carrie,
Oh dear...another wanderer. I like that name, Panda. We have not met a ferret we did not like... so docile or not she is welcome.
Yes we do have room for her...always for you folks. We now have 2 volunteers up your way. Our stand by Wendy and now Mary Ellen has jumped on board, I have included them both in this email...so let's she who fits in with your transportation schedule from you to them so they can get them to Naples. Thanks for doing such an awesome job saving these guys.
City of Oswego Animal Control's Response, November 15, 2014:
OK! I just added Mel who is happy to do a leg of the transport from here. Let us know what works for you and we will try our best to accommodate you!
Carrie
Shelter email to Mary Ellen:
Okay Mary Ellen it looks like you are up, no word from Wendy.. What works for you so we can get this little girl to the shelter.
Shelter email to City of Oswego Animal Control:
Mary Ellen is available to help, this is her first time doing this for us so she is not sure of the procedure. I have asked her to let us all know her availability so Mel can see if it fits with her availability. Then we tweak what works best for all of us. I can work around whatever works for the transporters.
Mary Ellen does not have a carrier so may we borrow yours? When she gets here with Panda we will bring yours back and I will set Mary Ellen up with one of our so we will not need to borrow again when you find another little one out running around.
Mary Ellen and Mel please let us know what works for you.
Mary Ellen's Response:
I am now back from the laundry duty and I am completely free for the rest of the day. I am going to go to 7:30am mass tomorrow and the rest of Sunday for me is free. I could, if it is better for everyone, make the whole journey on my own. If Mel would like to do a leg, we could meet up at the intersection where 690 west turns into 48 or maybe at the gas station a little further up at Moyers Corners.
As Brenda said, this is my first time transporting so I am completely open.
City of Oswego Animal Control's volunteer, Mel's Response:
Sorry just got messages, tomorrow afternoon would work great for me. I'm at the shelter until around noon, so any time after that would work fine. The corner of 690 and 48 or the gas station are both fine with me. Just give me a time and I'll meet you there! I'm sure there would be no problem with you borrowing a carrier either. Also, if anyone needs to get a hold of me faster and/or easier, my cell phone is ---.

Additional Response: Sorry, I accidentally hit send instead of reply all. I do have her rabies certificate, and believe we also have our transfer to rescue paperwork. Thank you for forwarding my messages along. I have my phone on me so I'll be easy to get a hold of.
Shelter Response, November 16, 2014:
That is okay we all have our moments with computers, the real glitch was I go to bed at 6 so that message sat in my in box till I got up to address it at 4 am. Shelter duties at 3 first.
So it looks like you and Mary Ellen will be meeting up today, with one of your carriers to get Panda here. I will be sure that your carrier is ready to be returned and Mary Ellen has one to keep so we will not need to borrow again. Mary Ellen here is Mel's number again ---.
I have attached the transfer document once again to be sure you all have it. Thank you all for all you do to help us save these little bundles of fur...you are a blessing to all 4 legged fur kids that cross your threshold.
Mary Ellen's Response:
OK! It's noon and off I go to transport a ferret to the most wonderful place she will ever know!!! And I will keep telling her that through the whole trip!
Melody, no need to hurry. I have my Kindle and I have my Sansa and, of course, the radio. The time will pass quickly. Do what you need to do to make sure the Shelter is all set before you come.
City of Oswego Animal Control's volunteer, Mel's Response:
Thank you Mary Ellen so much again for picking up panda. I'm sure she will be so happy in her new home! Carrie, I have the paperwork and will drop off to you tomorrow morning or afternoon.
Have a great day everyone!
Shelter Response:
Panda is here, the transfer went off without a hitch. Mary Ellen called at 1 to say Panda had been transferred to our facility she was on her way to Naples. ME made great time she pulled in about 2:30.
I was going to let Panda have the play pen for the night but decided I wanted to be sure she was going to eat so I put her in her cage. That way I know if she eats by how much poo is in the box or not. I offered her soup, she sniffed and decided she did not want it...
Panda is a beautiful healthy girl. The day has been a good one. Good night.