Welcome to Lakeroad Ferret Farm Rescue/Shelter, Inc.



Penny



• Surrendered to the Shelter on August 10, 2011.
• Penny found a forever home on December 11, 2011! Read about how she came to the Shelter by clicking here, or read her recent updates below.

• Penny is a sable female.
February 17, 2015:
Brenda,
I wanted to let you know that Beau passed over the bridge nine days ago and yesterday, Maggie (DMK Munchkin) went to join him. What happened to Beau still isn't clear, but a leading exotic veterinary pathologist in California (Drury Reavill) is working on his case. I'll let you know what she finds, if you want.
Now it's just Penny (from your shelter) and Kit (from Triple F via someone's freezing garage), and Trixie the dog. Penny's about 4 yrs and is on carafate for sporadic tummy issues. She also has an enlarged spleen and is due for a 2nd Des implant in the next couple of months.
December 27, 2014:
Hi Brenda!
BTW Beau had an ultrasound last week, and it didn't show any abnormalities in his lymph nodes, thank God. Only one visible nodule in his pancreas, and a slightly enlarged right adrenal (not too big - seems like the Des implant has been doing its job!). Maggie (your DMK Munchkin) is doing fine; partially blind in her right eye now in addition to being fully blind in her left. I think she's mostly deaf too. She has a terrific appetite and nice healthy poops, though, and gets around very well. She prefers to steal the other kids' treats rather than eat the ones I put right below her nose. Penny is also doing just fine! No return of her adrenalenoma symptoms either, since her Des implant early last year.
Hugs to you & the kids. Hope you had a happy Christmas.
Susann
May 28, 2014:
Penny got her Des implant at the same time Beau did. She's just a sweet, mellow girl who absolutely loves to play.
February 04, 2014:
Thought you'd enjoy this pic of your former shelter kids!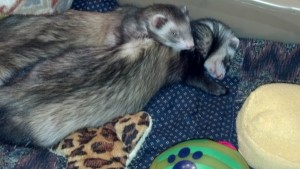 December 03, 2013:
I forgot you had asked for an update on the kids. (We were in NY and Chicago last week to see friends & family over Thanksgiving.)
You recall Luna passed during the drive to Seattle, but she had existing health problems including insulinoma, and the vet we brought her body to said she most likely died from a heart attack or stroke. I have her cremains, and think about & miss her every single day.
Penny is fat and sassy, but showing signs of adrenalenoma. She is increasingly aggressive with the other ferrets, and her tail is almost completely bald. It's progressing very slowly, though. In another month or so I'll get her either a Lupron shot or a Des implant.
There are some distinct differences in vet protocols here vs. New York & New England. With adrenalenoma, for instance, here the thinking is that there isn't much difference between Lupron & Deslorelin, other than the latter lasts for 12-18 months. But the vets don't think there's any real difference in the impact on the adrenal gland(s). They also don't believe that the effect of a Des implant is lessened if the ferret has been on Lupron for some time before. This is different from what Dr. G told me; also I recall Dr. Wagner's research showing that Des might actually shrink - or at least stop the progression of - the tumor(s), while Lupron treats the symptoms. Am I confused about that?
They also routinely pre-treat with Benadryl here, and follow a yearly schedule with distemper. I discussed Dr. Heller's research and the collaboration with vets at Cornell with my new vet here, but she says as long as the ferrets are pretreated the risk of a bad reaction is extremely small - all but nonexistent. For now, I'm keeping all the kids on an 18-month distemper sked.
Beau is doing really well!! He went in for an Xray a few weeks ago to check the progression (if any) of his bone degeneration. The radiographs showed his bones are great, solid and strong, and also that his heart and lungs are in good condition, no discernable tummy problems, etc. He's my gorgeous boy!!! His tail fur is looking thin toward the end. Of course it could be seasonal, or related to the stress of so many household moves in a short period of time. If it gets worse I'll get him an implant too.
Maggie is also doing great!!! She's dancing and dooking, if you can believe it! She's almost seven years old now, can you believe it!!! There has been no change in the size of her spleen, but her poops and appetite are fine. You recall that her left eye is blocked by a cataract; I think she may be having vision problems in her right eye too now, because she bumps into things sometimes. There's no sign of a cataract though, so maybe it's just a depth of field problem with monovision.
Kit (not one of yours) is also doing great. She's gone from a raging flesh-eater into a loving little marshmallow. She just loves to be cuddled and kissed - although she still does bite George, I don't know why!!!
Sad to say we have only the four ferrets now, and won't be able to adopt any more until we can buy a house. There hasn't been one single bid on the place since it went on the market in June. Blah!!!! At least we don't have to carry two mortgages, and it will be rather nice to not worry about moving again for six months...
S.
July 8, 2013:
Hey Brenda,
We all arrived here safely yesterday, and the kids spent their first night in their pen with us in the temporary housing apartment. Geo and I went to visit the Washington shelter and met Kevin as well as Vondelle and Debbie, who actually provide most of the daily care and manage operations. The shelter is gorgeous!! And very well organized!! The ferrets are in fabulous shape but like everywhere, they're getting dumped on en masse right now. I will be an active volunteer as it's only about 15 minutes from here. They've also asked me to help with fundraising and educational outreach in addition to shelter care.
My kids will board with Vondelle & Debbie at their home for the next couple of weeks, until we move into a 2br unit. The kids seem well but I know they miss being able to run around freely. Penny seems in better spirits too and - YES - I found her snuggled with Kit in the pen yesterday morning! They will have expert care - these two ladies truly are experts, and they've learned a ton from some very generous local vets. They know a helluva lot more than I do. Oh, btw - Cathy Johnson was the vet we were talking about she has presented some important ferret medical info to local vet symposia.
This area is simply beautiful. It's clean, the roads and buildings and other infrastructure are attractive and well-maintained, the weather is gorgeous (I guess it does rain a lot in winter, vs. snow) and there are flower and veggie markets, crafts and antique stuff, and LOTS of parks and outdoor activities. That's not even counting the three national parks with mountains, beaches, etc. within a 2-hr drive. It's very upbeat, positive and economically strong - in short, the opposite of most of New York. The whole ambience is inspiring vs. depressing. And the region is not subject to natural disasters the way NY is. I believe we will be happy here - especially once the kids are settled in with us for good. Just a couple more weeks!!!! Sigh ...
Kisses to Big Foot and the others, and wishing you many blessings-
Susann
March 3, 2013:
Beau and Penny are also doing just fine, fat and sassy the both of them. Luna had her Des implant in January and she has already begun to grow a new coat. She looks very funny because most of her old (longer) fur is gone, and the new growth is kind of peachy beige and very short. She has a ferret buzz cut, you could say. Her Mohawk is gone too (from when she was shaved before having the two - benign - skin tumors removed from her back). Her attitude is sunnier too, and she has begun playing again. My fifth ferret Kit, the one from Triple F who ended up in someone's cold garage, is still very happy and has figured out that she doesn't have to bite other humans (at least not ALL the time!).
Oh! I meant to email you about the five starving kids who were rescued. You'd said you could take them but they are still at the small shelter near me, got their final shots last week and have fattened up quite nicely. They really are a sweet group and have integrated well with April's other shelter kids (there are only three or four others, her shelter is very small). Thank you for offering to take them in and I am glad that April was able to afford to get them vetted here, saving you that expense. God knows you probably have your hands more than full, as always.
September 10, 2012:
Kids are doing OK; Maggie has an enlarged spleen that seems to have decreased in size somewhat over the past week, and I brought Beau in for diarrhea so he endured 10 days on an antibiotic that tasted as bad as Metronidozole (sp?) but it helped immensely. Am keeping a close eye out for recurrence of the problem. Luna has now bonded with Penny as well as Beau. She chooses to sleep with them. Sweet huh. :) Kit is the same, loving to me and a monster to everyone else, lol, and Penny is just perfect, very healthy and beautiful.
S.
June 22, 2012:
Beau is fine. His wound has healed perfectly and the stitches came out yesterday. He can run around now with "no restrictions," says his vet. Thank God!!!
Luna is also doing very well. She gets her soup twice a day, loves to sleep in the flannel pajama pants, and she loves Beau. After his amputation she snuggled up next to him and licked his neck.
She's good around Penny too, but gets annoyed when Penny tries to instigate a play session. I haven't introduced her to anyone else. She gets plenty of love from her mom!
February 2, 2012:
Penny says to tell you, "I've made friends with both Maggie and Beau now!" She's bright and happy and playful. Thank you for entrusting another precious little soul to me.
Susann
January 10, 2012:
Penny is fine and happy and sends her love. She is the MOST affectionate little thing!
December 25, 2011 PM:
Enjoying her beautiful new bed from shelter mum. Thanks!!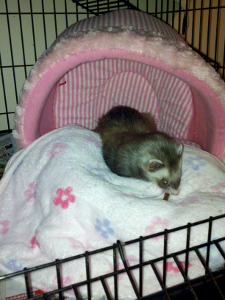 December 12, 2011 PM:
On the pleasant side, Lucky Penny (George's name for her) gave me more kisses throughout the day and she was dancing and laughing. I'll let you know how it goes when I introduce her to the rest of the Brownies ....
S.
December 12, 2011 AM:
She gave me great big face washes this morning. She sends her love to her special shelter mom!
S.
December 11, 2011 PM:
Penny's first night in her new home
Penny had fun tonight! She got to explore her new home, dooked and danced quite a lot, and had a bit of play with her new mommy. She also got a bowl of fresh warm soup but didn't really care for it, because it's different from her Mommy Brenda's soup! She ate her regular food and settled into one of her hammies for a comfy night's sleep. Adorable!
S.
Susann's Initial E-mail, December 11, 2011 AM:
Hi Brenda, We got home late last night and I'm starting to unpack while Geo gets food at the supermarket. Got all the ferret bedding washed and cages cleaned, etc. I don't expect to be at your place before 2 p.m.
Penny can come home with us if she (and you) wants to.
The first time I met Penny was back at your "Christmas in October" day and she gave me lots of kisses. She certainly stayed on my mind after that. When I dropped off the kids for camp, you saw her giving me kisses again and said it was unusual for her to do that.
I've had no contact or information from Ann other than she did send you an email and after a conversation she decided it would be best to wait until she's settled into her new home before looking for a companion for Johnny.
Am eating breakfast now and hope to be ready to shoot out of here by 1, which would put me at your place a little after 3. Hope that is not to much of an inconvenience. I'm sure Penny would integrate well with big lovable Beau and probably Maggie too, and they can all play and sleep separately if Kit proves a bit contrary (which is her nature I think!).
---
Penny's Journey to the Shelter – August 11, 2011:
I was told they called all different places that could not help them so they found our site on the internet – thank you Mindy - after helping them decide what to do with this little one for the night – they got her into a carrier with cat food and water for the night.
The family lives in Syracuse but mom works in Penn Yan at the hospital so I met her there Wednesday morning after my bus run – talk about commutes she goes a long way to work – it was only about 25 minute ride for me to get to her.
The little ferret is a year or younger – tiny little female – looks healthy enough – had fleas so she was treated with Revolution when I brought her in – Jackie and Bob are taking her to Doc for me so I took her to Honeoye last night after work – and getting the shelter done for the day - first thing this morning she got to see doc for vaccines and check up – when I spoke to Bob at 8:30 am he was already on his way home with her – I will pick her up on my way to Honeoye this afternoon.
I am called her Syracuse – for the purpose of getting her on the schedule for check up today but decided last night I was going to call her Penny – so Penny it is.