Welcome to Lakeroad Ferret Farm Rescue/Shelter, Inc.



Roger, aka Dodger, aka Pudge



• Roger was expected to arrive at the Shelter on October 29, 2009, but instead found a Forever Home that day! He left for the Rainbow Bridge on February 21, 2015.
• Roger was a male.

• He was sponsored by the Bologansky family. Thank you for helping Mum take care of me! • Read Roger's story and latest updates below.
On September 25, 2009 I got a call from Greece, NY animal control reporting they had a ferret that was brought in due to his owner being incarcerated.
I sent out a SOS to the Harvey family that this boy needed to be picked up. Dick went up to get this little guy for transport here to the shelter.
Unfortunately what they failed to convey was he needed to stay at the facility for 10 days until the owner's incarceration was defined.
Dick got a second call to pick up this little guy on October 23, 2009 he could be released to the shelters custody. In the mean time I was on the phone with Brockport Animal Hospital to get him in for a check up before coming to Naples.
This appointment was set for October 29th so little Roger stayed with the Harvey's until that morning. Miss Mindy dropped Roger off at the office on her way to work. Our favorite Doc took a look at him and gave him a clean bill of health.
Miss Jackie was in Brockport with the little kitty that I found in my stock room this summer. He was going in for shots and be fixed.
Miss Jackie was going to bring Roger home to the Shelter. What in fact happened was Roger AKA Dodger did not make it to the Shelter; he stayed to live with Miss Jackie and her husband Bob and their other 2 ferrets.
---
February 21, 2015:
Pudge is gone. I let him up out of his pen last night, he could not walk more than a few inches before stumbling and slipping. I picked him up and tucked him in bed with me. He stayed sleeping with me for about 45 min. He shivered the entire time even though I had him in the crook of my arm up against my chest under 2 blankets.
He wanted down so I put him back in his pen, I did not want him out on the cold floor and not able to get to where he wanted to go. This morning he was where I had put him last night.
He is gone.
February 20, 2015:
Pudge was out last night, I found him in the bottom bunk this morning. I do not believe he is eating, if he is it is not much.
February 14, 2015:
I opened the sick pen for Pudge last night, not expecting to see his nose. He got up and headed out of the pen to toddle around the upstairs. He looked bright and happy. I am still not pushing drugs but he is holding on. Go figure.
February 10, 2015:
Pudge is hanging in.
February 5, 2015:
Pudge is hanging in, he did not want to take his meds last night but I got them in him, his pattern is holding he has been crashing once a week on Saturdays so my guess is he is starting to follow that same pattern this week. I think I will try a mid day Pred today to see if that helps.
January 26, 2015:
Pudge is doing well, as long as I feed him his soup while in my arms he eats it all so that is the way we do it.
January 10, 2015:
Pudge crashed, he has been struggling for about a week now - KC found him in the playpen drooling she came to me to ask if that was normal. Thankfully she asked, we tried soup but he was too far gone so we did a Dex shot. He is back for now, but I see he did not finish his soup I left him. I was going to put him in the ferret room for the night but he is still to unsteady on his feet for the tile floor. I left him in the playpen. Easy access to food, water and papers.
November 20, 2014:
Pudge popped his little head out of his sleep box with bright eyes. I have started him on soup and Pred this morning. It is warmer today up to 26 degrees.
November 19, 2014:
I was doing meds and got Pudge up to give him is soup and found him retching, drooling and not feeling so hot. I tried to give some liquid Pred he threw it up. I ended up giving him a Dex shot to get his BG up.
October 25, 2014:
Bob stopped in to see us and Pudge, he was having a hard time today.. said he needs to get the roof fixed on his place then he is going to go see his brother in GA and sister in FL. Get out of the cold for winter. I told him Pudge had a home here with us for as long as he needed it, up to and including forever.
September 3, 2014:
At Camp: Pudge has some icky poo this morning so I am not sure what is going on. This afternoon he was better, willing to eat his soup.
September 07, 2014:
Ili and I got back from Geneseo at 8:30. We had a nice visit and as you can see Jackie was thrilled to see her Pudge. The place is really nice, the room big, Jackie looks better than she did last week but I am afraid the cancer is messing with her brain. She is not making the connection that she is in a hospice facility. She kept telling Ili and I she needed to get up and get moving. She was getting lazy. She told us this can't be her end.
I believe the cancer in her brain is doing that. She and I talked about her illness extensively when she was still coming to the shelter, she told me this was where she wanted to go when the end was near.
Anyway we had a good visit. Bob took Pudge out to show him off to the staff. I also believe Pudge knows his Mom is really sick. He did not want to stay with her last night. He finally settled down on her legs but he was not as cuddly with her this time. He settled down in Bob's arms but he did not want to in Jackie's.
Jackie's room has a deck so Bob takes her out in the wheel chair to get some fresh air. This is a much better place than the hospital hospice wing.
August 31, 2014:
We got Pudge smuggled into see Jackie, look at the faces on Jackie and Bob. I called Bob before we left to let him know we were going to see Jackie with Pudge. Bob was already headed home but turned around and went back to the hospital hospice. Jackie was thrilled to see Donna and I but she was so happy when I pulled Pudge out of the sack.
We were visiting when the Doctor tapped on Jackie's door, Jackie's daughter asked him to wait so we could hide Pudge. Jackie would not give him up. So we let the Doc in while Jackie was holding Pudge. As he walked to the bed he stopped short and looked at Pudge, Jackie and then the rest of us. Jackie said this is my boy! I thought for sure I was going to jail.
The doctor backed up a bit from the bed, asked what species it was. I told him a ferret, that he was staying with me while Jackie and her family were busy keeping Jackie going. Jackie popped up with I know he is not suppose to be here but I needed to see my boy, the doctor looked her square in the face and said he is better medicine than that; pointing to the morphine pump. I see nothing! I will see you in the morning.
We stayed a bit longer but then the nurse came in, she wanted to do some things with Jackie so I held Pudge behind my back Donna passed me the sack and we got out of the room. I want to get back there with Pudge again soon. Rhonda (I think is her name) is Jackie and Bob's daughter. They were thrilled that we brought Pudge. Pudge was sure happy to see his Mom and Dad. We got home about 6:30.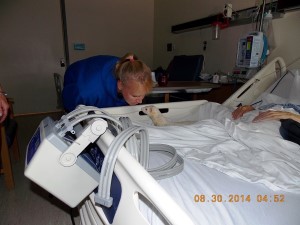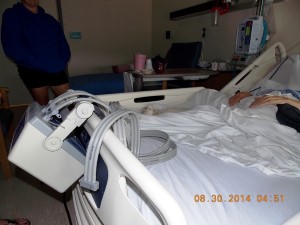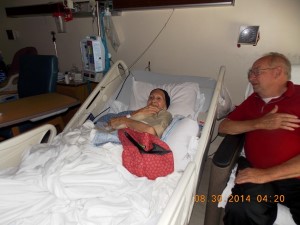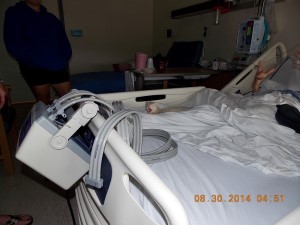 April 7, 2011:
An update on Pudge who now going on 2 - Ahh Pudge is him.
It always amazes me how quickly they take their place in our hearts. This is the essence of him- Pudge always ready to play, he chases after Mateo and pounces on him or stands at the treat drawer with those pleading eyes, or he goes and gets his blue ball and moves it once again or I just sit and watch him eat his kibble or he pancakes on the floor.
I pick him up and he cuddles always on my right shoulder or Bob gives him a warm up in front of the pellet stove but the sweetest part of the day comes at night when I retrieve him from the drawer and hold his sleepy body for as long as he'll let me-this is Pudge!
February 2, 2011:
Pudge is doing great, Mateo has lost some weight so we are keeping an eye on him, how is Luna doing?
July 20, 2010:
Hi Brenda, about my shelter ferret-his name is Pudge and I find it so hard to wrap in a few words what a light he is for me. I may have rescued him from the shelter but he has by far rescued me in some of my most difficult days- he may be little but a big light in my life-I thank God for him and Brenda in my life. - Jackie
February 15, 2010:
Here are some pictures of Roger AKA Dodger AKA Pudge
Jackie brought him over for me to see, and then she took him out to the play yard to check out the snow. Take a look at the fun he had out there!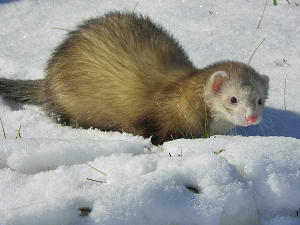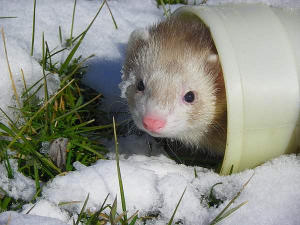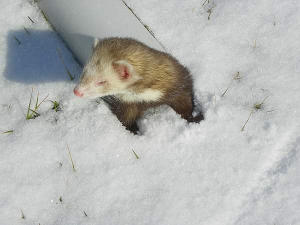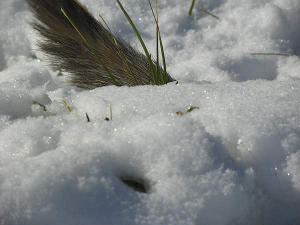 January 29, 2010:
Dodger who is now Pudge is probably a good 3 lbs and a sweetheart. He still thinks the world is his potty but will potty on newspaper-all things considered he is a keeper!