Welcome to Lakeroad Ferret Farm Rescue/Shelter, Inc.
Sarah

• Sarah was surrendered to the Shelter October 17, 2010. She left for the Rainbow Bridge on June 12, 2014.
• Sarah was a sable female.
• Sarah was on the 2010 Ferret Giving Tree!
::::: R A I N B O W B R I D G E N E W S U P D A T E :::::

Saturday, June 14th 2014

The Rainbow Bridge Gazette is happy to announce the arrival of new "kit" reporter Sarah. "We are all happy to have her here part of the crew," said Bridge Head Advisor & Senior Reporter Possum, who has been working diligently at the Bridge Greeter Intake Office. "Sarah has this light that makes everyone want to stand up and take notice, or sit down in their favorite hammie and enjoy the Gazette!"
Sarah wishes to send the very best of her love to her family, and to thank them for knowing when the time was right, and the love was unconditional enough to allow her to leave with grace and dignity. "I love you mom, and look, I made it! I am a Bridge Reporter!!!!" Sarah is looking forward to not only reporting news from the Bridge, but to keep her loved one's updated by sending them newsletters by request, quoted as having said, "All you need to do mom is dash a note off to The Bridge Greeters Office in care of me, and I will be beyond happy to write back to you!!!! Also I wanted to report that both Big Foot and Oscar did more then fly high, they reached the Bridge and were there along with the rest of our Bridge Family waiting with open paws to greet me. I can't tell you just how happy I was to see everyone, especially Possum, Ziggy - Reporter of a Higher Order - and Andy, who is always watching from the Rainbow Bridge.
As she dashed off for her very first assignment she said that she looked forward to becoming a big part of the Rainbow Bridge Reporting Crew, and we here at the Gazette hope to see her continue to be that hardworking, spunky, fun-loving fuzzit we all know her to be!
As for her arrival itself, Pie O' Pah was heard to have said that when she arrived, she lit up not only the Bridge, but the very air seemed to vibrate with this great, fuzzy love. He also was quoted as saying, "I know that her family misses her greatly, but we here at the Bridge thank them for preparing Sarah for being the best darn reporter that she can be here at the Bridge."

::::: E N D S T O R Y :::::
June 16, 2014:
Thank you, Little One. Know you were very special to me and you will always be in my heart. Now, run and play! Be happy and healthy! You were truly loved.
Your loving Far-away Mom, Bonnie
June 13, 2014:
Dear Far away Mom, I wanted you to know I left for Rainbow Bridge last night. When I got here I told the gate keeper you did not know I had left so I was given permission to let you know.
Mum found be not feeling so good so she gave me a Dex shot about noon. When Mum got home from work at 4:30 she checked on me and saw I was not responding to the meds. I looked into her eyes and told her I was tired and I wanted to go, she held me close whispered in my ear to say she understood and I could leave when I was ready. No more hurt sticks or meds. Then she told me she loved me.
I was a lucky little fuzz but to have two moms. Thanks for all you did to help take care of me, I love you far away mom.
Sarah

Hey cyber friends, I have some very sad new to share with you. Sarah our senior reporter left for Rainbow Bridge sometime during the night.
Mum and Miss Ili found her not feeling well yesterday afternoon so they got her a hurt stick to help her feel better, when Mum got home from work she still was not feeling better.
Sarah looked into Mum's eyes and told Mum she was tired and I wanted to go. Mum held her close, whispered in her ear to say she understood and she could leave when she was ready. No more hurt sticks or medicine.
Then Mum told Sarah she loved her and she was the greatest senior reporter ever, Mum passed on the message that Miss Tori loved her too.
Fly high my friend Sarah, I will miss doing the news with you...
Daisy
December 25, 2011:
Dear Miss Peach – mum said you were the one that sent Santa to our house last night – we found presents on our cages this morning when we woke – thanks for telling Santa how to find us! Santa even left mum a present! Sarah and crew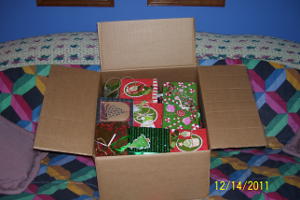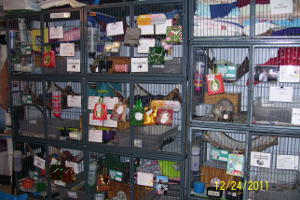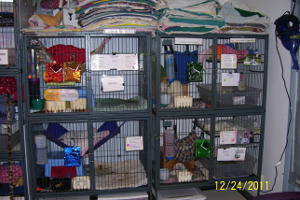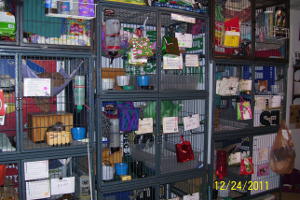 July 25, 2011:
Jenkins and Sarah: I found some iffy poo in their cages this morning but I am not too concerned yet – they are brown not green – it stands to reason this is going to affect each of the fur kids – the younger healthier ones will show signs but not get real sick – hopefully that is the case this morning – these two kids are younger and not compromised with other illness –
November 20, 2010:
Sarah had a good exam – she has gained 4 oz since she came to the shelter – she is in good shape.
October 17, 2010:
Sarah arrived – she is a cutie – no bites – she got to check out the play room for a few hours then I let her follow me up to my space – she is a tiny little thing – seems happy enough to be here – she allowed me to pick her up when ever I wished – She showed no signs of wanting to bite – I think she is going to do just fine.
Christmas, 2010:
Look what her Secret Santa gave her! Thank you Miss Karen!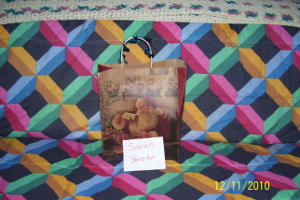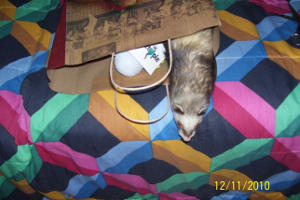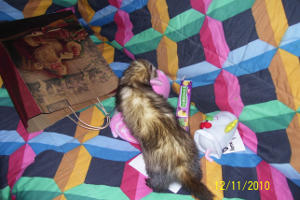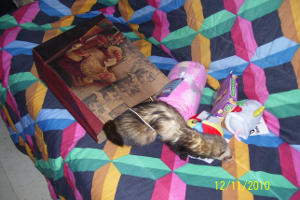 Hey Mr. Tim – I got to open my presents today - I love what you sent us – oh Milo Stevie and Sugar came to our shelter just a couple of weeks ago – so we decided we would share our presents with them – we hope you do not mind – pictures on the way – Sarah