Welcome to Lakeroad Ferret Farm Rescue/Shelter, Inc.
Sasha

• Surrendered to the Shelter September 18, 2014.
• Sasha was a silver female. She left for the Rainbow Bridge November 8, 2017.

• She has a far away family in NM.
• Read about how Sasha arrived at the Shelter by clicking here, or read her latest updates below.
November 9, 2017:
Sasha - I was treating for Insulinoma, which she had, however she also had a neurological issue, I missed that. OFD could not feel anything on the outer part of her lower spine, but she could not use her hind legs.
This is why she was pooping and peeing all over herself. Doc thinks there was a tumor in the spine that was causing the problem. He offered X-Rays but said if that is what we find, we are not going to be able do anything to remove it. He said we could use a Dex regime to see if she improves, I told him when I gave her Dex the BG improved her mobility did not. We scratched that option. She has struggled for weeks it was time to let her go. She laid on the exam room floor the entire time Doc and I caught up, without moving.
November 8, 2017:
I need to pack Sasha for our trip to Brockport. We need to leave at 8.
November 6, 2017:
I got an appointment for Sasha with OFD at 9:45 Wednesday morning.
November 5, 2017:
Old Sasha is still not doing well, I am going to call OFD to see if I can get her in this week. I've done all I know to do. She appears to be uncomfortable Doc needs to use his magic fingers on her.
October 25, 2017:
I put old Sasha back in her cage this morning, she is doing better. Acting more like a ferret and moving about like one. I guess the Moxy is fixing what was going on.
October 24, 2017:
Old Sasha is in the playpen she has been there since last weekend. She was crashing even when she got her meds 2 times a day - I would use a Dex as well. She was not improving, I decided maybe there was something other than Insulinoma going on so I started her on Moxy. She seems to be doing better.
January 17, 2017:
Sasha #1 was showing signs of low blood sugar yesterday afternoon, I took her BG, it was 32 - I am going to move her over to the meds bank and put Gus back on the other side - since he is not on meds.
January 6, 2017:
I took some pictures of Sasha, she was in the ferret room while I was cleaning cages. Look at this face she was being crazy.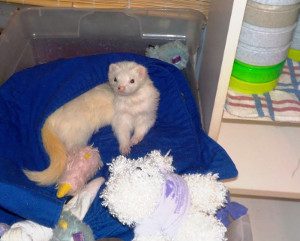 March 12, 2016:
Mum captured some pictures of Sasha playing in a box Mum is putting together with used items for our clinic day raffle. Sasha thought that was the perfect place to hang out in to watch what Mum was up to.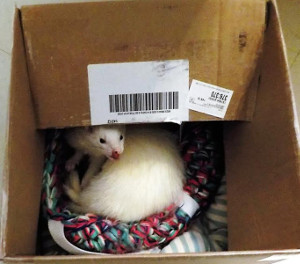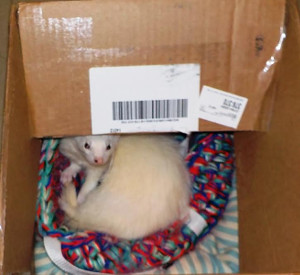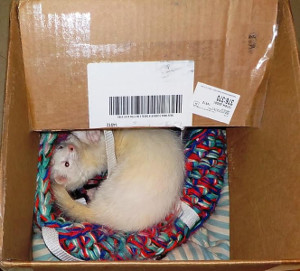 July 25, 2015:
All cages tagged get Moxy even if their poo looks better, they need Moxy for 10 days. Once they are done, I mix the bowls of soup for the kids that need Pred and Moxy but are well enough now that they are eating their full bowl of soup. Then I move on to the ferrets that are on Pred. Once I have meds done I start fluids.
July 22, 2015:
I had to add Angel and Sasha to the list of kids that need meds, when I got them up they had slime in their boxes.
June 16, 2015:
I am switching Bear and Sasha. Bear is continually messing himself and the cage I need him in a cage I can clean without standing on a stool. He should be warmer in the one I am putting him in as well.
May 5, 2015:
I forgot Sasha loses herself in the living room, I put her up here when I first got her up at 11. She is still up here I can't find her. I have Angel out with hopes she will flush Sasha out, so far that has not happened. I expect they will find each other when I am sound asleep and the tussle they have to make fur fly will wake me.
March 8, 2015:
Good morning far away mom, Mum let me take a shower with her. She got me went set me out of the tub to let me dry off. I got back up on the edge of the tub Mum brought me back in and held me in her arms under the shower. Keeping my face out of the water. I just let the warm water fall all over me lying in Mums arms soaking it all in...
It is 32 degrees here this morning - heat wave! I love you Sasha

You are a little rascal, Sasha! Glad you liked your shower.
Hugs to you,
Far-away mom, Bonnie
February 25, 2014:
I left Sasha in the kitchen and able to come to the living room when I left for work this afternoon, I can't find her. I have no idea where she is sleeping so I expect I will be getting up sometime during the night to take her to her cage. I am not sure where the day went, one minute I was walking in from my morning run the next I was walking out to go to my afternoon run.
December 26, 2014:
Before Mum came up to bed last night she stripped 2 of our cages that we were going to be put in this morning. Mum put our new bedding in our cages this morning before she put us away. Sasha (me) has so much Mum could not get it all in my cage so Mum put one of my pieces in Bandit's cage with the piece he got for Christmas from his far away Mom. We Kids get to use our gifts first then once it is washed it goes in the general use pile. But since I could not get another piece in my cage I told Mum to let Bandit use it.
Thank you for all the beautiful bedding we got for Christmas
Sasha and Bandit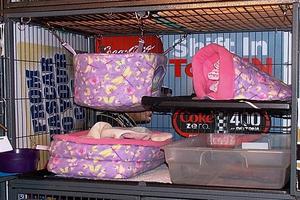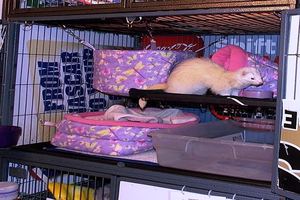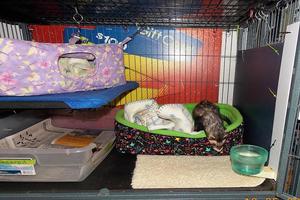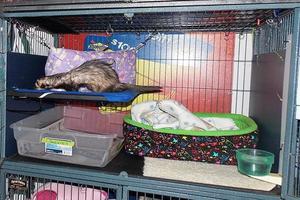 December 6, 2014:
Sasha got the last of her Christmas from the Roubin family. Mum got the pictures taken of her checking out her Sandy bedding. Her digs are going to be all color coordinated. Thanks for all the wonderful Christmas presents. Thanks for helpen Mum take care of us.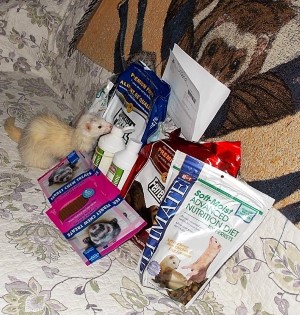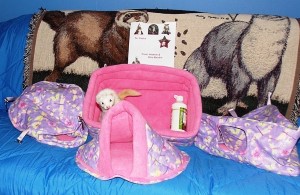 December 1, 2014:
Sasha's last Christmas box got here today...that family is incredible they bought her 4 pieces of Snoopy Snuggler bedding all matching in pink. I got a picture of the bedding tonight, tomorrow I will get her picture with it so we can share it with the family that got it for her. It is a beautiful set.
November 14, 2014:
Ho! Ho! Ho! - Christmas has begun at the shelter! Sasha's got her presents this week, we were told more are on the way. Mum lets us open our presents when they come in because Mum takes pictures of us getting into them so our Santa's can see us and the presents. We are sharing the picture Mum took with the first box Sasha got, before we knew there was more on the way.

Thank you Andrew and Dina for making Sasha's first Christmas here at the shelter special.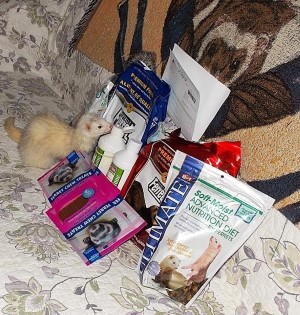 November 12, 2014:
Dear Santa Andrew and Santa Dina. Mum let me get into my presents this morning and she got pictures of me checking them out. WOW you sure sent me a lot of awesome stuff.. Ferretone is the BEST! I love every single thing you sent!
Thank you for all my Christmas presents, thank you for picking me to be your Giving Tree kid, thank you for helpen Mum take care of me!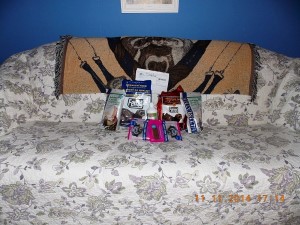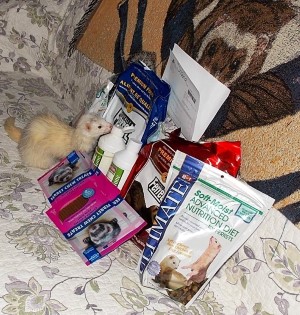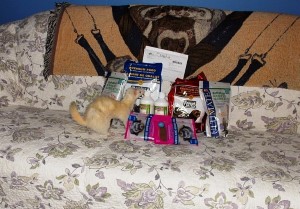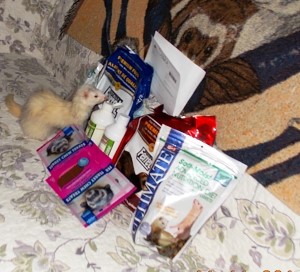 October 1, 2014:
Sasha hanging out in Mums space.. she has settled in nicely to our shelter routine.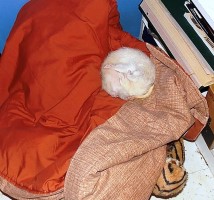 September 18, 2014:
Melissa and a volunteer from the Humane Society of Schuyler County bring Sasha.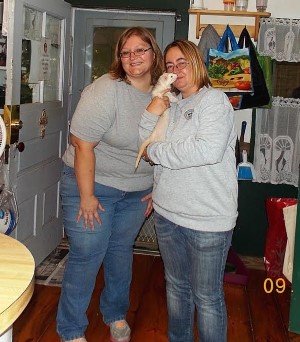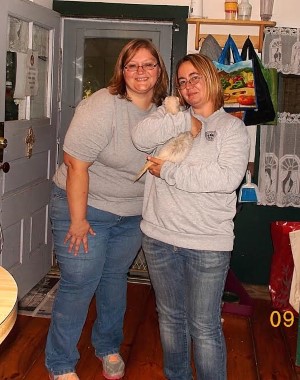 ---
Initial Contact, September 11, 2014:
Hi! My name is Melissa Clark from the Humane Society of Schuyler County. We recently got a female ferret in as a stray at our Dog Shelter. Very friendly sweet gal, who was covered in ticks of all shapes and sizes. We took her to the vet, got her vaccinated for Rabies, and have all the ticks off her.
We have heard great things about your organization, and were hoping to get more information. We are aware we are not quite equipped or experienced in re-homing ferrets. Sasha is our first. It can not be all that great for her to spend time here with us, with the dogs barking and all of the daily things we do. Although she seems to be very content, we are reaching out to find a place more suited to her needs to find her Forever Home.
Sasha is perfect, and very healthy. Extremely playful and friendly. She deserves to be in a home.
Please feel free to contact me via email or on my cell to talk about Sasha. My cell is ---. I look forward to hearing from you soon!

Sincerely,
Melissa Clark
Canine Shelter Manager
Humane Society of Schuyler County
Shelter Response, September 11, 2014:
Shelter Mum called Melissa because she was in AZ at the time of contact. Mum told them we would take the little one when she got home.
Shelter Response, September 15, 2014:
Melissa I am home from vacation, has the board decided if Sasha is coming to Naples to us? If so I will start looking for a ride for her to get here.
Best, Brenda
Humane Society of Schuyler, September 16, 2014:
Hi Brenda!
I hope you enjoyed your vacation! I was going to wait until tomorrow to contact you. Yes, the board is going with my recommendation to transfer her to your facility. I would like to ask that I could possibly email for updates on her? Or could you please let me know when she gets adopted? My staff and I have grown quite attached to her.
I would like to set up a convenient time possibly in next few days and bring her up myself if that's ok? I would love to meet you, and see the place she is going.
Shelter response, September 16, 2014:
A once in a lifetime opportunity that I am pleased I did not turn down. Thank you.
Oh my; that will not be a problem keeping you updated, we post all transactions of all intakes from start to finish on our website so you will be able to see what she is up to and how things progress. She already has a far away Mom set up to help support her when she gets here. That means she has a family from NM that is interested in sending her money to help take care of her. So yes we will certainly keep you informed.
Again yes we keep all that information on our public website and we will keep you personally in the loop.
That would be awesome to have you bring her to us, Yes let's do that. Perfect I think that is wise, I would like to meet you as well. - I go back to work on Thursday, I drive school bus so I am in by 8:15 am back out at 1:30 back home at 4:45 pm. Let me know what works for you and we can tweak it to make it work. If the weekend works better that is fine too. I plan to stay home and get some fuzzy fur time, I sure missed having them to wake up to. I look forward to your arrival suggestions.
Humane Society of Schuyler County:
Hi Brenda!
Could we possibly do mid-morning on Thursday? Around 10-ish? If not, we can try to work out a different time.
Shelter response:
Hi Melissa mid-morning around 10-ish works perfectly. I will see you on Thursday. Please bring what you are feeding her so I can be sure she continues to eat until she acclimates to our food mix.
Humane Society of Schuyler County:
Perfect!! Thank you! Will see you then! I will bring her food, treats, etc.