Welcome to Lakeroad Ferret Farm Rescue/Shelter, Inc.
Squiggles




• Surrendered to the Shelter on June 19, 2012. She found a Forever Home on June 14, 2014!
• Squiggles is an albino female.

• Squiggles had a far away Mom.
A phone call came from a woman in Charlotte, NY. She had found a ferret running around a 4 lane highway. She captured the little one and got her home. The woman then called us to see if we could take her. I called Brie to see if she would make the run to pick this little one up. Brie went to Charlotte to meet with this lady to pick up the munchkin, aka Squiggles.
---
July 8, 2016:
Hi Brenda: I wanted to let you know that BB is doing well. He is eating soup with the rest of our kids and has been integrated with Rocky, Panda, Dudley, and Squiggles.
Pete
October 17, 2016:
Hi Brenda: I is with a great deal of sadness that I have to let you know that Lisa, I, and Dr. Chris helped Sguiggy (aka Sguggles) across the bridge this morning. She had been in failing health for the last few months, and she became very sick over the weekend. Rather than try to do 'heroic measures" to treat her we decided that it would be best to let her go. She was a very sweet girl and was able to live all her days with us surrounded by love and the companionship of other kids. As with all that have gone before her, she will be greatly missed.
Pete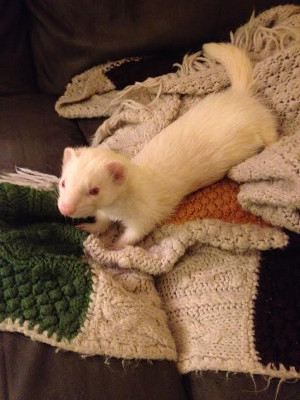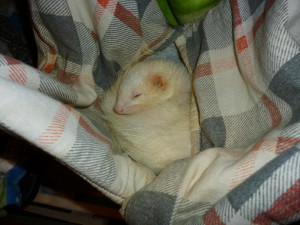 October 22, 2015:
Hi Brenda: Panda, Squiggles, Dudley, Rocky (new kid from Johnson City), Bear, Boscoe and Sookie are all doing well. Rocky was in to see Dr. Chris and he is in good shape and weighs in at just shy of 3 lbs. We figure that he is about 1 1/2 years old. Dudley (last year's Binghamton rescue) was also in, and he now weighs 3 lbs, up from the 1 lbs. 11 oz. he weighed when we brought him in a year ago. Panda, Squiggles, Dudley, and Rocky are all cage mates. This morning all 4 of them were asleep together in one of the soft hanging cubes. Panda and Rocky make quite a team when they are out and about. They are both very active, and love to chase each other around the house. Dudley and Squiggles (see picture) are a little more subdued, but will still join in on the fun. Bear, Boscoe, and Sookie are doing well, though Sookie will be turning 6 yrs. next week and never regained her fur following her des. implant, (except for a little growth recently). I hope all is going well over in your neck of the woods. It is great to see the postings Facebook. I still hope to get over to pay you guys a visit. Thanks for all you do for the kids.
June 8, 2015:
Hi Brenda: I wanted to let you know how much I missed coming to clinic day this year. I don't think that I have missed it for the last 7 years and I sure feel as though there is a big hole in my summer. I was hoping to get out, and really left not coming to the last minute, unfortunately there is just too many things going on and (put off) too be able to bring some of the kids over last weekend.
All the kids are doing okay. Unfortunately we did not get good results as we had hoped for from Sookie's Des implant. She is doing about as well as expected for an almost six year old kid that has insulonoma and is adrenal. She does not seem at all uncomfortable and even does some "bopping around" the house, so we are doing tour best to give her a good life. Her cage mates Boscoe and Bear are doing well,
Panda, Dudley, and Squiggles are all doing very well. They are now quite the trio and have been so since about 5 weeks after we brought Panda home last January. It took them a while to get comfortable with each other, so now that they are generally found in one big pile sleeping together it really makes the heart smile. Lisa and I are really happy that we have been able to take kids that were living alone and be able to give them siblings.
I hope all is going well, and I hope to come over for a visit before the summer is over.
All the best,
Pete, Lisa, and, all the kids.
March 19, 2015:
The kids are doing well. Panda and Squiggles are often found curled up together and I found Panda and Dudley in a sleep sack together this morning Dr. Chris has ordered a des implant for Sookie, Bear and Bosco.
Pete and Lisa
August 27, 2014:
Hi Brenda: I did not want to keep you out of the loop for too long. Sguiggy is doing very well and has made herself at home. We are still running two groups, keeping her away from Boscoe and Bear, the two younger boys when Lisa and I are not around. The good news is, is that we caught her snuggling with Bear two nights ago, and much of the squabbling with Boscoe has died down. Life is good for all of us.
June 16, 2014:
Hi Brenda: Squiggles is making herself right at home, she's very curious and is exploring every inch of the house. She has had a chance to meet all the other kids, but only for a few moments so that they can sniff each-other over. We are going to take things very slowly with her because she is a little timid and we don't want to overwhelm her. Other than that she is eating and drinking fine, loves her tone, and gobbled up a Bandit treat this morning.
Pete
June 30, 2014:
Brenda: I apologize, I've been meaning to get a note off to you but everything seems to be happening at once. Squiggles is doing very well. She has a healthy appetite, is now eating soup, and seems to be enjoying her new humans and her new surroundings. We have introduced her to the rest of the crew, and though there have been some minor squabbles, there is nothing to be alarmed about. She still sleeps in her own cage, but we are now comfortable leaving her with Buddy and Sookie (both are very passive) during the day, ( we have even caught her snoozing near the two of them.) We still keep an eye when she is with the others so she does not too overwhelmed. I think that because she has been a solo ferret for so long it will take time for her to adjust to her new mates, but I am not at all worried that she will not ever fit in.
Pete
June 14, 2014:
Squiggles' far away Mom, Janette, saying goodbye before her new Dad, Mr. Pete takes her to her new home!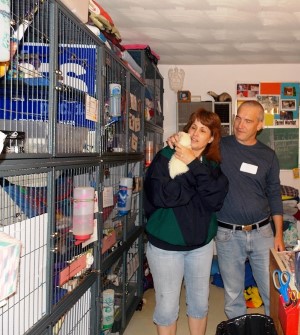 March 20, 2013:
Dear far away mom, I found Mum's box of Hall's cough drops she keeps next to the couch, I got one out for myself and she told me I could not have one! Mum took it right out of my mouth and I almost had it completely unwrapped! She fixed the box so I can no longer get into it, Will you tell her I can have a cough drop?
I love you far away mom,
Squiggles

Oh My Dear Squiggles...Hall's aren't for ferrets...and Mum is taking it away, not to be mean, but to protect you! I know you don't have a cough...lol...ask her for something you CAN chew on--I'm sure she has something for you. You be a good girl. We love you--Janette-n-Stitch.
December 30, 2012:
Dear Miss Priscilla, Thank you for my Christmas presents! I love them all! - Squiggles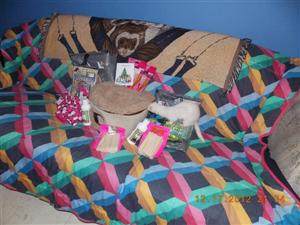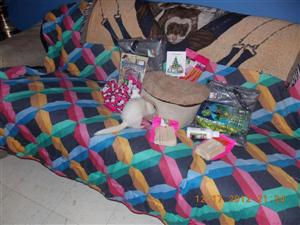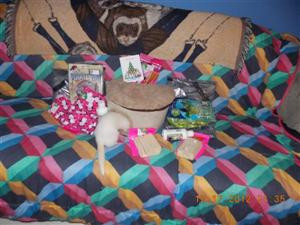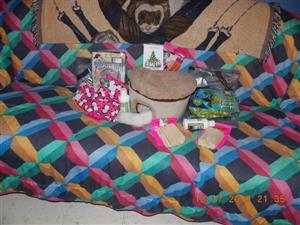 August 26, 2012:
Squiggles has settled in nicely to shelter life, she loves checking out Mums space.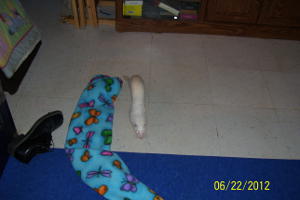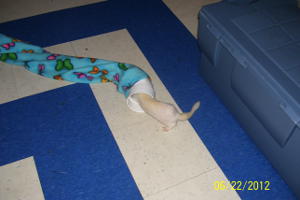 June 20, 2012, Brie:
Dr G doesn't have any specific openings but he said that if I drop her off before noon he will check her out by the end of the day. So I'll take her in tomorrow and bring her down to the Shelter on Thursday.
It turns out he's by himself this week. The other vet must be on vacation or something.
June 19, 2012, Brie:
Here she is! This little one is full of energy!! Her fur is in the process of growing back in and it's extremely soft. She's not afraid of dogs, poops in the litter pan and was eating/drinking just fine. I'm willing to bet she escaped from home....
Anyway, I'll let her get settled then give her some duck soup tonight. She does need her nails trimmed so I'll see how she does with ferretone and do that tomorrow.