Welcome to Lakeroad Ferret Farm Rescue/Shelter, Inc.
Other Animal Stories

We have many wildlife rescue and veterinarian friends that are part of our lives here at the Shelter. On this page you will find stories and antics from these other caregivers, as well as animals we have helped along the way.
The humans that have some of these animals in their care are expert, trained caregivers to these animals. The Shelter director and our staff do not in any way suggest you try to care for some of the animals we share stories about on this page! Please leave caring for wildlife to the trained experts.
Ontario County Humane Society Geese:
March 5, 2016: the geese (4) they could not catch the other 3 got here about 9:30. Bill and I got them out into the stall with food and water, Lita got here about 10:30 with the 2 bales of hay, she and I got one of the bales spread over the ground in the stall. The geese were frightened but did not try to hurt us while we were in the stall with them.
The geese are settled, I went out with Marcia at 3 to check on them they had been eating and drinking and seemed more settled. They did not run to a corner when we came in to check on them.

March 6, 2016: the geese got out of the pen and were hanging in barn. I discovered them out of the pen about 9 - I had fed and watered them about 7 when I got back from town they had gotten out of the pen. When Donna got here we went to secured the barn so if they get out of the pen again they can't get out of the barn.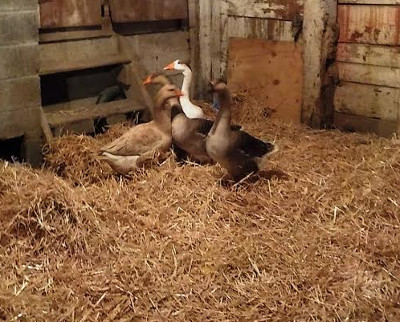 March 7, 2016: This is what and how we got involved with the geese. The 3 are hanging out in the stall doing okay. I tool some lettuce out to them when I got home from work this afternoon.

March 17, 2016: The geese that are here will be going to the farm next week. Lita needs to get things set up for them to be safe.

March 20, 2016: Lita was here at 9:30 we got the geese rounded up, wings clipped, a new learning experience for me, and crated for the ride to their new home.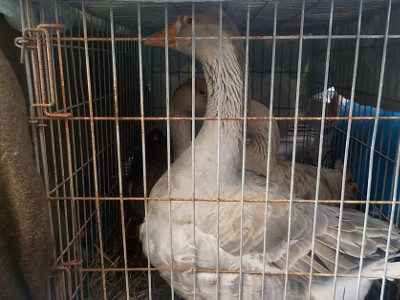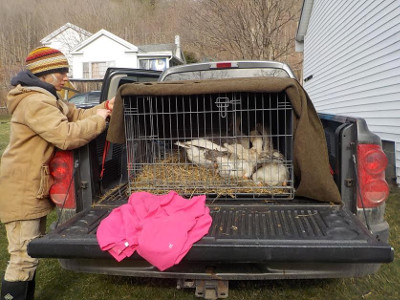 March 21, 2016: Here is a picture of the geese in their new home. Lita said they were looking happy and settling in this morning. They have an enclosure but she does not believe they used it. They are preening and stretching their wings picking at the grass and bugs in the yard. I am thrilled they are going to have a good life now.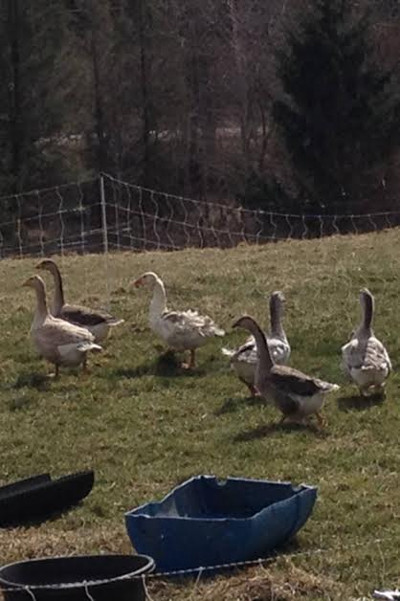 Bits, the cat:
Doesn't seem possible but it was October 31,2009. Bits will be with us 6 years this year. She was so small, she fit in the palm of my hand. Haven't seen you to brag about the Bits, since I retired. We found a chair just her size!
Hope things are going good
Martha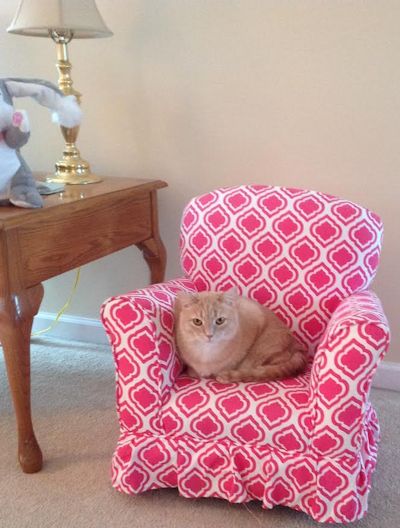 Winston, the dog:
December 28, 2013:
Today Chris and I observe a holiday more important than all the other holidays falling at this time of year: the anniversary of the arrival of Winston in our lives. You all remember Winston. He's this fine fellow (photo by Marsha DeNee):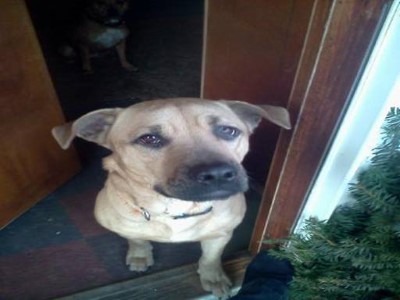 For those of you who do not remember his tale (or who have not heard all the details), I shall recap:
On December 20, 2012, I (along with the many other people on the Lake Road Ferret Farm list) received a message from Brenda Johnson (the lovely lady who runs that fine ferrety place) about the urgent need for a foster home for a dog in the Rochester area. The poor fellow's only crime was being unwanted, as he was about 2.5 years old and extremely friendly with all whom he met. His humans (using the term loosely) were going to euthanize him if they couldn't find him a foster home that very day. They had generously let him stay in their abandoned apartment with no heat and had thrown the occasional food in there for him, but they weren't willing to give him houseroom themselves and they weren't going to even leave him in the apartment anymore. So it was on to the scrap heap for poor Kilo (as his name then was—what, you suppose such people would even grant him a decent name?).
Knowing him as we now do, we hypothesize Winnie was treated much worse than this. He gets *very* frightened if we get at all angry at him (if, say, he steals one of Shady's toys and hides it in his crate). He has some very strange phobias that indicate to us that these things figured in his life in a very unpleasant way. For instance, he loathes garbage cans. When taken on a walk on garbage pick-up day, he barks at them. Chris's guess is that he got into the garbage as a youngster and the humans overreacted. We are all but convinced that they tried to drown him in a bathtub. When Chris tries to bathe him upstairs (as she must do in the winter), an unquestionable survival reaction is triggered. He doesn't try to bite (he is a *very* good boy!), but he definitely thinks he is in clear and present severe danger.
To get back to a year ago, of course I am not in the Rochester area, but I was dogless at that time and figured I could take in the furry guy. What is the point of paying a mortgage if you can't help out the occasional furry in need?
So I wrote Brenda, who passed me along to Mylene Lopez Mafuz, the point person for this poor guy. He had found immediate shelter with the person who had told Mylene about him, Marsha DeNee. Marsha and her husband, Craig, just loved the big guy, but Marsha's pack of pooches had made it clear that he was not allowed to stay. A new young unfixed male is just such a disruption in any pack.
We had hoped to get the woofus in time for Christmas, but Marsha wanted to keep him with her, and we couldn't really argue, after all she'd done for him. His arrival was also delayed by a small snowstorm, but finally, on December 28, 2012, Mylene and Marsha drove all the way down to Ithaca with him. We recently found a photo Marsha took of him on the trip, and it just broke our hearts to see how obviously frightened he was. After all, he'd been rescued from a really bad place and had a taste of the good life. He had no way of knowing it wasn't going to end with that car trip.
I forget who bought the new dog his basted rawhide bone (I think it was our friend Deb, who came to meet the new baby), but as soon as he got it, he lay down on the blanket Marsha had given him (it now lines his beloved crate, a.k.a. "Winnie's Man Cave") and chewed it. For at least three hours, I think. Meanwhile Marsha and Mylene cross-examined me and Chris, to be sure they were leaving him in a decent home. I forget how it came up, but I finally opened the basement door, which is also called the "Dog Treats Door" because it has one of those wire storage racks on the inside and the rack is full of dog treats. Both the rescuers laughed and said we just should've shown them that when they arrived!
Also during chew time, we discussed what the fellow's new name should be. Chris and I had quite a list of possibilities, but we were rather abashed that Mylene and Marsha didn't seem to like any of them. When we reached "Winston," however, everyone—Mylene, Marsha, Deb, Chris and myself—agreed that he looked like a Winston. Chris and I did mull it over for about a day more, but he was soon permanently dubbed Winston and generally called Winnie. (Hey, it is too a boy's name! Don't forget Winnie the Pooh!)
The early signs were not promising. Winnie did not settle in quickly or easily. At the time, we considered him a foster and were not sure about keeping him, so we began to lean to finding him a new home. Our yard isn't big, and he would run back and forth across the first floor every morning, doing what we called "chuffing," a noise somewhere between a whine and puff. Now we know that it is a general sign of stress, but we thought that he was demanding more exercise. So we made contact with Cayuga Dog Rescue and everyone else we knew, to get the guy a home with enough room for him.
But things have a way of changing your plans. While we were looking for alternative arrangements, Winston became deeply devoted to Chris, who (because of my illness) had primary care of him. He followed her around with big worshipping eyes, snuck stealth kisses when she wasn't looking (Chris doesn't like ucky-wet doggie kisses!), and moped whenever she went out. Chris came to the conclusion that he was too bonded to her for a move elsewhere not to be traumatic, especially considering his history. I mean, at his previous home, no matter how badly he was treated, a dog like Winnie would have bonded to someone and that someone had clearly betrayed his trust. We agreed that it would be very harmful for him to suffer that again. So the family cat person suddenly found herself adopted by seventy-five pounds of mastiffly mongrel, and she just didn't have the heart to say no.
Since then, things have gone well for Winston. His health has improved: we de-manged him, de-acned him, and de-masculinized him (yes, gents: castrated males live longer than uncastrated ones). His monkeys have undergone being-owned-by-doggies training. He has his very own "Man Cave" and anything that he can carry into it to hide there. Soon, his mommy will have built a loft over her former bed, so that he can sleep on her former bed in her room without her having to actually share a bed with a very large dog. He has learned to appreciate his hoodie (although we can't leave it on him unobserved because he tangles himself in it by trying to cover his little cold tootsies). In a way, he even has his own dog. We adopted Shady primarily because he and Winnie seemed to play so well when they met at the shelter. At first Winnie wasn't thrilled, but now he mopes if Shady isn't around, like when Shady goes to the groomer's.
And he is one of the few things that was nice about the last year! He and his endlessly entertaining "origami ears" and his cute and slurpy devotion to his mommy have brightened our lives.
So, a new Hindall Holiday is added to the calendar: Winston Day!


Bon Bon, the rabbit:
February 2, 2013 - Mylene:
Hi Brenda,
I just got a call and I'm going to pick up a bunny later this evening. Do you know any bunny rescues in the area?
February 2, 2013 - Brenda:
Joanne; Mylene has a person that is looking to re-home a bunny – she came to me looking for a connection so ladies here is the connection – Joanne is the only bunny person I know - Brenda
February 2, 2013 - Joanne:
oh boy I am jammed in here but let me see what I can do, I cant let you down you have helped me so much!!! (I am right now over by 4!!) let me see if I can find a foster or something for you!
February 8, 2013 - Mylene:
Thank you Brenda, you rock!
Here is some information on the bunny:
His name is Bon Bon. He is a 3 year old small male bunny with buff and gray coloring. The current owner got him from Craigslist a few months ago and her son is allergic to him. He is litter trained and gets along with cats. He hangs out outside the cage but will go back to the cage on his own at night.
I am picking him up tonight at 7 pm, along with his cage, food, litter and carrying case.
Any help would be appreciated.

PM Update: I haven't heard from Joanne yet so he's at my place for the time being. Pictures of him can be found here. He is a cute little guy!
February 8, 2013 - Brenda:
I just sent a message about him to a friend here in Naples she has a bunny maybe she will take Bon Bon.
February 8, 2013 - Mylene:
Thanks Brenda. I have to send out an email to my contacts about him. I was waiting to have him safely with me and to get pics of him - which I now have. He loves playing with the kitties. lol.
February 8, 2013 - Joanne:
Brenda, I am in contact with Mylene now I am out sick today but busy of course between phone and emails doing business work!!!! I cannot deny helping her because you have never said no to me!!!
March 4, 2013 - Joanne:
Mylene
OK! That will be great otherwise, we could probably get him here via a transport network somehow, I know you are 2 1/2 hrs away, I used to do the RIT run almost every weekend!!!! Hope all is well!!
February 11, 2013 - Mylene:
Brenda and Joanne,
I want to send you a sincere thank you for helping me with Bon Bon, the bunny. I dropped him off at Spring Farm CARES on Saturday afternoon (see picture of him in the bunny room).
I couldn't have done it without you both. Thank you so much.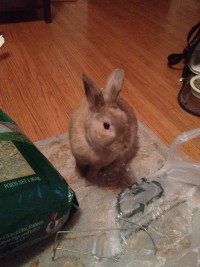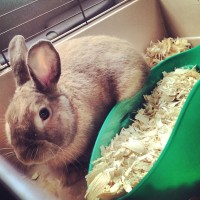 May 14, 2013:
BONBON got adopted today!!! He went to a great awesome LOVING HOME!!!! yea!!!
Thanks for binging him here, what a love~!!!
Joanne @ SFC
Viper, the rat:

March 9, 2013:
Master Viper and his new best friend, Miss Belle.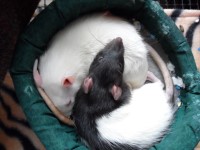 Initial Post - Large Rat posted on Craigslist, Jan 28, 2013:
So yesterday I bought a rat to feed to one of my ball pythons, he will not eat it since the snake is male and off feed for breeding season. Now i have 2 choices. 1. Finding someone who wants the rat or 2. Finding someone who could give me a cage to keep it in. (i have no money to offer) As of right now he is in a small critter keeper and i have no supplies for him. If anyone can help please text or call me.
Jan 28, 2013 - Betsy:
I just got off the phone w/ Patty, owner of the serpent who won't eat the rattie--I told her I wanted him for a pet. She was busy and asked that I call her tomorrow. I told her I'd be busy but that my friend Rachel would call and make arrangements to pick him up.
January 29, 2013 - Betsy:
PLEASE CROSSPOST TO RESCUE CONTACTS TO SAVE REJECTED FEEDER RATTIE
Hi-- I help a rescue in Rochester NY by going through Craig's List for the free rodents. Tonight I found a free one in Oswego -- a large rattie rejected by the owners Boa. I contacted the owner and she is expecting a call from my friend to make arrangements to pick him/her up. Unfortunately Rachel is 90mins away and stuck working and her volunteer is without a car. I am reaching out to anyone (found you - Lakeroad Ferret Farm Rescue Shelter - on petfinder in that general area) who might be able to pick up and hold the rattie til Rachel can arrange for pick up this week.
Can you or any of your rescue contacts help -- this is only a matter of pick up and hold--Rachel's group will take and there's a potential home for him here in CT.
I am copying Rachel and my CT small and furry rescue groups who have been following this all evening.
Thanks so, so much. Below is my first help plea--below is her ad. This'll be one lucky rattie if we can get him. At this point Patty is expecting a call from Betsy's(me) friend on Tues to set up a pick up. I guess I am the contact til it can be coordinated with Rachel in Rochester NY Nothing else is set except Rachel will take. - Betsy
January 29, 2013 - Brenda:
I passed this along we are 4 hrs away from them I hope this little guy can get help. - Brenda
January 29, 2013 - Betsy:
The Boa owner is holding the rattie for me--he's got a place to be held then come to his new home in Ct--just a matter of pick up at this point which I am working on --Would you let whoever you forwarded to that its being worked on only because its going to get confusing if the woman starts getting a lot of calls? I have her included in this email – I hope you get to him. I'm the contact if it turns out that anyone you sent the info to is able to get him/her to hold for Rachel who is in NY but can't get there til the weekend.
January 29, 2013 - Brenda:
Thanks so much for your response--Didn't think your were so far away. I sent this off to folks that are closer – exactly what you sent me so all the information you had got to them as well.
January 29, 2013 - Betsy:
This is really hard to do from CT but I totally agree--sick beyond belief to feed serpents live creatures. I just texted the owner saying my son is sick and can she hold a couple of days--waiting to hear back. At least her post on CL is down. She has no supplies for him/her so I told her a bowl of water and dry cat or dog food ought to be ok--this is what I found online...I'm a cat and small breed dog rescue w/ no rattie experience so hoping I told her the right thing.
January 29, 2013 - Mylene:
Please share with your rescuer contacts. Transportation and temporary foster home needed for a rejected feeder rat. It will be picked up by a rescue this week in Rochester, NY. The rat is currently in Oswego.
January 29, 2013 - Susan:
Hi Mylene. You shared this message and it got the rat saved. I picked her up tonight and will keep her for about a week til the next transport heads out.
January 29, 2013 - Betsy:
Hi--really good news--rattie is being picked up tonight with a transport to his new home in CT being set up. S/he's going from a snake pit to a rattie rescuer in CT.
January 29, 2013 - Betsy:
Hi All--this is from Brenda -- a ferret rescue in upstate NY. I contacted her last night off of petfinder. Brenda was kind enough to network the rattie up her way. Susan, who responded for pick up tonight may have heard about the rattie through Brenda as the email was forwarded to multiple people.
Thank goodness for the internet and networking!!
January 30, 2013 - Donna:
Ladies,
THANK YOU ALL for caring so much for this little rat! She is adorable, and she will be very spoiled living on Morgan's Pirate ship.
Since she was rescued from Viper Vixen - her new name will be Vixen. For now I think when she comes I'll do a 2 week quarantine in the Ratputer room for her. Once we are sure she's healthy - I'm going to try introducing her to the girls.
Morgan will be thrilled to have a rat in the computer room for a while.
I have two sets of them - 3 in my single Critter Nation which are my Elliot Rats - a horrific rescue in Maine. I have the 5 Baby Shanks from Hanky Spanky a breeder in NH in the double Critter Nation. The third cage is baby JR a blue dumbo and Delilah a spayed female.
Thank you to Linda for telling me about her, and thank you to Betsy for being so persistent in making this happen! Thank you to Susan for picking her up and keeping her until Amanda can drive her down to me.
If any of you are on Facebook - please feel free to send me a friend request. Vixen will have lots of updates done on there, and she'll also be a spokesrat on the Morgan's Beds Fan Page.
Now to decide when to tell my husband another rat is moving in...
Thanks everyone!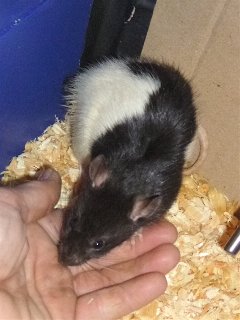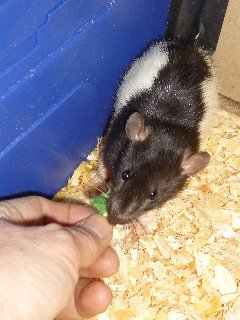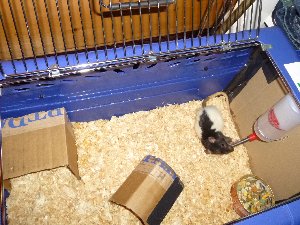 February 21, 2013 - Donna:
Hi Brenda,
I am happy to have you share Viper's Story (we changed the name to Viper when we found out he has walnuts) - and if anyone wants to see updates on him - since he's now part of Morgan's Pirate Crew he'll be posting on Morgan's Facebook Page. (I make cat beds and other crazy things to pay for Morgan's on-going expenses - and the page is run by the cats and rats - you never know what will be posted by them. It's a lot of fun - and a lot of laughs.)
He's doing great - finished his second meds and rarely sneezes anymore. He loves to hang out in my hoodie and play on the bookshelf which is Rat City. That sounds crazy - but it has a 4 room Rat Manor (doll house), a 2 room Rat Manor, Chairs, things to climb on, and today I finished a bed for it. He also seems to love Morgan and his preferred spot is next to Morgan when he's in his Yankee's Bed.
Morgan is a tiny long hair cat who was born in Puerto Rico. Long story was when he came to CT he was diagnosed with diabetes and cataracts at 12 weeks old. He's always been known as Morgan the Pirate Gato because he sailed his ship across the ocean to his new life.
He had a rat named Sam that he loved - and when he had cataract surgery and had to be crated, I had to put Sam's cage on the floor next to him because they were both depressed. He's never bonded that way with any of our other rats - but for some reason he and Viper are beginning to.
We have a spayed white female coming this weekend from Mainely Rat Rescue that we hope will steal his heart. Belle also had a tough beginning - so hoping we have a love connection.
Betsy,
Viper sends kisses - he just had his first chocolate mint. Not spoiled is he?
Thanks to everyone for helping Viper to come home!
Donna


Jen & Sadie:
Our first day of 2012: GORGEOUS weather New Year's day (sunny, mid 50's which is unseasonably warm for us this time of year) so I took Sadie to the dog park and, of course, she just HAD to plop herself down in the ONE mud puddle in the ENTIRE park!!!!!!!! OMG!!!!
Well, I wonder if she was thinking about that mud puddle while I was hosing her down in the tub! HA! That'll teach her! BUT . . . now she's all nice and pretty and soft and smells wonderful as you will see in the final few photos! Don't know how long that will last though; she's already been tearing up the backyard this morning - HA!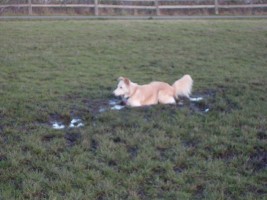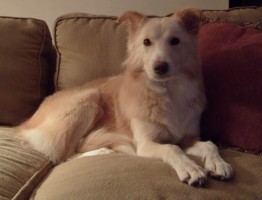 Oly & Quinn:
The first rule of visiting with the squirrel boys is not to take anything into the room that you aren't willing to relinquish. I know this rule better than most, but will often "bend" it slightly by hiding my snack and making sure the boys have something available that they like to nibble on (like a nut) and then eating my snack REALLY fast.
The second rule is to never have a closed fist. A closed fist ALWAYS means you are hiding something and you will pay immediate consequences, including the shredding of every bit of skin that was ever attached to the evil hand which HAD to be hiding an acorn.
The third rule is that they will try to copy human behavior whenever something unnatural presents. Oly will try to spoon feed himself, and Quinn actually drinks from glasses (not just laps the top).
So, I was hopeful of drinking a quick glass of cranberry juice while the boys worked on brazil nuts. The urologist told me to stay well hydrated, and I figured I could down 12 ounces of juice while they worked on their nuts. Brazil nuts have a thick shell, and it will generally take several minutes to get the job done. I set the nuts on the "nut stand" in the middle of the room (since I can't hold the nuts, there is a dedicated "nut gathering area") and hid my cranberry juice on an unobvious corner of the nightstand.
Quinn dashed out of the cage, and was immediately obviously suspicious I was hiding something. Instead of diving for the Brazil nuts, as he normally would, he did a quick lap around the room first. I let Oly out of his cage, and made a quick dash towards the nightstand. I'm not quite up to speed yet since the surgery, and I have never been a match for a squirrel on a mission.
You probably already know where this story is going.
Quinn found the cranberry juice seconds before I got there. He grasped the 12 ounce glass firmly in both hands and sat up on his haunches, since the glass is almost as tall as he is. Like a weight lifter, he took a deep breath and hoisted my glass up towards his face. And up. And higher. And OVER! He lost control of the glass as it got near his head, and dumped the ENTIRE glass of juice on his head.
Not only did I have a HUGE of sticky juice spreading out along the top (and sides) of the nightstand, but I had a drenched, sticky squirrel racing around the room in a combination of delight, excitement, and pride of discovery - wearing a plastic juice glass on his head.
Needless to say, the WHITE carpeting and winter flannel sheets all took a beating. As did the mirror, nightstand, and every other piece of exposed wood in the entire room. Oly had to be involved, as well, so he "helped" me chase Quinn around with a t-shirt (the first item I saw capable of sopping up some of the juice he was spreading everywhere!).
Life with squirrels never gets dull....


I fed the squirrels dinner around 7pm -- they get fruit for dinner (veggies for breakfast) in addition to their squirrel food. Quinn is a consumer, but Oly is a saver - often choosing to eat his fruit for breakfast the next day instead of immediately.
When I eat dinner around 8:30pm, I often share a little with them. Tonight, I made Pillsbury Crescent Rolls to go with my dinner - and I thought those, warm out of the oven, would be the perfect bedtime snack for the boys.
Oly took his piece of roll and disappeared upstairs, which is odd for him. He came out with his strawberry from dinner which he had hidden away in his stash. He very carefully rolled up the strawberry in the warm crescent roll -- and had a little strawberry sandwich for dinner!
Isn't that just adorable! Such smart animals.