Welcome to Lakeroad Ferret Farm Rescue/Shelter, Inc.
Rocky

• Rocky found a Forever Home on August 16, 2015.
• Rocky is a champagne male.
March 20, 2017:
BB, Panda, and Rocky are happy, healthy and doing well. All three are "dook monsters" and have a way of keeping Lisa and me on our toes. Daisy our golden retriever ignores them, and Owain our corgi loves to play (under our watchful eye) with Rocky. I hope all is well in your neck of the woods. Hopefully I can get over to see you guys before too long.
Pete and Lisa
October 22, 2015:
Hi Brenda: Panda, Squiggles, Dudley, Rocky (new kid from Johnson City), Bear, Boscoe and Sookie are all doing well. Rocky was in to see Dr. Chris and he is in good shape and weighs in at just shy of 3 lbs. We figure that he is about 1 1/2 years old. Dudley (last year's Binghamton rescue) was also in, and he now weighs 3 lbs, up from the 1 lbs. 11 oz. he weighed when we brought him in a year ago. Panda, Squiggles, Dudley, and Rocky are all cage mates. This morning all 4 of them were asleep together in one of the soft hanging cubes. Panda and Rocky make quite a team when they are out and about. They are both very active, and love to chase each other around the house. Dudley and Squiggles (see picture) are a little more subdued, but will still join in on the fun. Bear, Boscoe, and Sookie are doing well, though Sookie will be turning 6 yrs. next week and never regained her fur following her des. implant, (except for a little growth recently). I hope all is going well over in your neck of the woods. It is great to see the postings Facebook. I still hope to get over to pay you guys a visit. Thanks for all you do for the kids.
August 21, 2015:
Brenda: Rocky is doing great. He spent his first night in a large cage with Dudley, Squiggles and Panda. Panda adores him.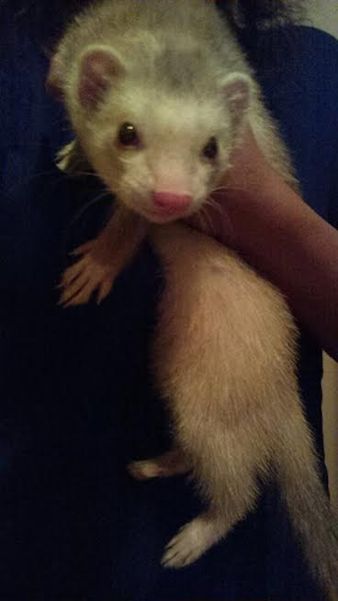 August 17, 2015:
Hi Brenda: I wanted to let you know that Rocky is doing very well. He is eating, drinking and pooping normally. He has taken a liking to soup, and loves his ferretone. We introduced him to Panda, Squiggles, and Dudley yesterday, and it was one of the most trouble free introductions Lisa and I have ever witnessed. This morning when I had them together they were playing and dooking up a storm. I believe that Rocky feels as though he has found his "tribe". He is a very sweet ferret that loves attention, though he is also easily spooked by sudden movement or noises. I suspect that he was mistreated, and will need some TLC. He reminds me a lot of Stewart, (of Brian, Sophie and Stewart). Other than being slightly under weight he seems to be in great shape. Lisa and I will be getting him in to Dr. Chris for rabies and distemper in the near future, and though he will have a cage to himself at night for a while I do not expect that it will be long before we have him in with Panda's group. I will send pictures soon.

Brenda's Response: I am thrilled you have him and he is doing well. Karen said she had him vetted they did not do vaccines? She said she was going to get that taken care of and he was into whatever vet she uses last Tuesday thanks for the update… Picture of him please for the web site. I will look at emails for you - I think I kept you in all of them. But will look. Thanks again.

Pete's Response: Lisa said that when she picked him up from Karen, Karen told her that they did not do any vaccinations at the vets office.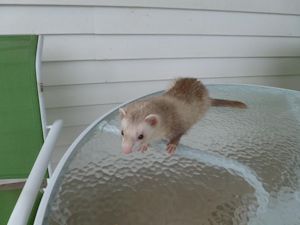 ---
Initial Contact, August 6, 2015:
Hi, my name is Karen, I found a ferret last week, I am a wildlife rehabilitator, I thought it was an opossum at first until I got closer and realized it was a ferret, so I picked it up and brought it home, it was on a road where there is a lot of wooded area and a cemetery, and really no houses that close to where I found her, I think it may be possible that a truck dumped her as there was a truck pulled over and left as soon as I started coming up the hill, and she was in the road across from where the truck was. Unfortunately, I can't keep it, my dog is scared of it and he just had a leg amputated due to a cancerous growth not too long ago. I found and removed three ticks on the ferret and there is another one on her face that I am going to have removed by my vet, as well as get her checked out. I need to find a good home or rescue for her where she can have the attention she deserves and can have a good life. I am going to ask my vet's office if they know anybody decent who might want her, but if not, is there any chance your rescue could take her if I bring her to you? I am in the Binghamton area.
Shelter Response:
Hi Karen, we have folks down your way that may be able to help get her to us we will take her. I have added Pete and Nicky to this email to give them a heads up both these folks are shelter volunteer supporters.. they are in the CC line so please reply to all so we can all stay on the same page.
Karen's Response:
Ok, thank you very much. I am going to stop in my vet's office and see when they can get her in and remove the other tick, it is on her face, so although it needs to be removed asap, I just don't feel comfortable doing it myself because of where it is. I will also see if he can tell me her approximate age, and see what else he thinks about her and if he feels she needs anything, tests, meds, etc, I am sure he will suggest something given the fact the she had ticks. I just want her to be healthy and have a good home, she is a pretty and sweet girl. I will let you know asap when I talk to the vet, and we can make arrangements. Thank you so much for your help! In the meantime, any tips on how to get her to potty in a litter box? :)
Pete's Response:
Hi Guys: I am available for transport if needed. I am uncertain if I can give her a home, but there is a possibility. I can only accommodate the two groups I currently have, so much depends on being able to integrate her into one of the groups. So, if transportation is needed or, you are at the end of your ropes finding a home for her, I can help.
Shelter Response:
Thank you Pete we appreciate your willingness to help transport, if you can't keep her will make room for her. Please keep us in the loop Karen.
Karen's Response, August 7, 2015:
I stopped in my vet's office, I have an appointment for her on Tuesday for a check up and to have the other tick removed, and see whatever else he may suggest, I will get back to you after that. I should be ok to transport her, I just want her to have a good home, I feel so bad for her. Thank you all for your help!
Shelter Response:
If you have any frontline you can put 3 drops between the shoulder blades to deal with the tics. Thanks Karen for all you are doing for her.
Karen's Response:
Ok, thanks, I will also have that taken care of at her vet appointment on Tuesday. You're welcome, and thank you!
Shelter Response, August 10, 2015:
Good afternoon Karen how is the little one doing? I got word from Pete he and his wife Lisa would like to adopt this little girl once you get her vetted and are ready to turn her over. This family is an awesome ferret family so she will be in the best hands. Here is a picture of Lisa with little Panda last January, Panda fell in love with Lisa the minute walked into the room.
Karen's Response:
She is doing well. She is so funny, cute, and has a sweet personality. My mother had a cat, so we had a little cube play center thing that I have let the ferret use, she likes to grab a bunch of chicken and run into the cube and hide it in the corners lol :) I also have some little cat toys that I gave her, so they can go with her. I liked your rescue page on Facebook and sent you a message with a post I made on Facebook when I found her in the road, there is a pic of her, I made it public so you can see it. If you don't see it in your regular messages, it may be in your "other messages" folder. Her vet appointment is tomorrow, so I will email you after that, and if all is well, I can transport her this coming Saturday.
Shelter Response, August 11, 2015:
I am so pleased to hear she is well and happy… Pete lives down your way so it would make more sense to take her to Pete or let Pete come get her, I have attached the transfer document for you to fill out for us, I will send the adoption form to Pete. Thanks so very much for saving this little one.
Karen's Response:
We went to the vet today, the vet tech and vet both examined the ferret, then at the last minute, putting the ferret in the carrier, the vet said wait a minute, and looked closer, then said it is a boy lol. Pete, are you still interested? The vet is guessing it is maybe 3-years-old, appears healthy, and the vet put three drops of Revolution flea treatment on him. I apologize for thinking it was a girl, but he had us all fooled until the last minute. Let me know if you are still interested and if so, we can work out the rest, thanks!
Pete's Response:
Yes. Absolutely.
Brenda and Karen: We are looking forward to bringing the little girl into our household. Saturday delivery will be a little tricky. Lisa is working until about 4:00PM (Elmira Wegman's), and I am going to be out of town attending a conference. I will be driving home from this conference on Saturday evening through Binghamton, but not until about 10PM. If this time is not too late for you I could stop by. I could also drive down to pick her up tomorrow, or Thursday evening. Lisa could also meet you after 4PM on Saturday somewhere between Elmira, and Binghamton. Karen, please give me a call, and we can work out logistics.
Karen's Response, August 14, 2015:
Hi, sorry, things have been hectic here, my dog developed hives from an allergic reaction to something, but we have no idea what since nothing has been different, the vet said he may be allergic to the ferret, even though they have not had contact, I have never heard of that happening lol. Also, I have been waiting to see what is going on from my side on Saturday. Do you have a plastic carrier to transport the ferret once I drop him off? Because he digs to get out of the mesh one that I had him in when I took him to the vet. I have a concert to go to tonight, I can try to call you on my way to that. Which would work better for you on Saturday, to meet Lisa maybe in Sayre after work or on your way home?
Pete's Response:
Karen We have a carrier for him. Lisa's phone number is X. Please give her a call to make arrangements.
Karen's Response:
Ok thank you!
Pete's Response, August 17, 2015:
Hi everyone: Rocky is home with Lisa and me. Lisa picked him up I last night from Karen down in Johnson City. He is a beautiful champagne colored boy, very active and in good health. He is very calm, and. A little shy, though a few minutes ago broke out in a full on weasel war dance. Thank you Karen for taking him in. Lisa and I will give him a great home with lots of love and care.