Welcome to Lakeroad Ferret Farm Rescue/Shelter, Inc.
Reporter Possum left for the Rainbow Bridge on February 13, 2012. Reporter Sarah left for the Rainbow Bridge on June 12, 2014.

Reporter Daisy's special additions to the Newsletter

Rants from 2015, 2014, 2013, 2012, 2011, & 2010.
December 14, 2013:
From our house to yours we wish you a very Merry Christmas and a Happy New Year. May you be warm with the glow of love of family, secure in the knowledge of help and caring from friends. Lakeroad Ferret Shelter fur kids and Mum wish for you all the love and kindness you show to us throughout the year. Shelter Mum and fur kids.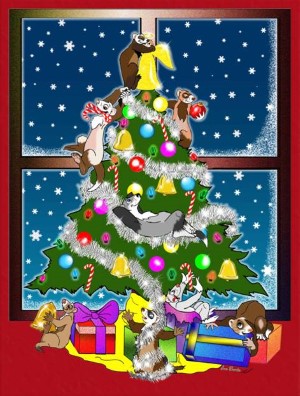 December 14, 2013:
Miss EB got here about 10:30 apologizing for being late Mum asked her what made her think she was late? Miss EB says Mum told her to come at 10, Mum laughed and said she told her 10 because she wanted her here at 10:30 it was a safe bet she would be on time if Mum told her 10. Mum tells Miss EB all the time she is going to be late for her own funeral. Miss EB laughs at Mum when she says that Mum and Miss EB have been friends for almost 20 years.
Because Mum was putting Miss EB to work she prepared a dinner for them to eat before getting to work. salad, chicken Alfredo and homemade rice pudding for dessert. Once Mum and Miss EB ate dinner Mum got to work opening the packages you spent time picking up and getting to us for the surprise we put together, Miss EB took pictures of it all.
Miss Sheilla made sure it all came together without a hitch. Thanks Miss Sheilla for being there for us, thanks Miss EB for recording it in pictures.
We got enough filters for our fountain to last till next fall. The box tells Mum to change them every 2 weeks. Mum can replace all the nail clippers in every room she keeps them in and put some in rooms that have none. We got a new steam mop for the other side of the shelter, now Mum does not have to carry the steam cleaner over 4 barriers she only has to carry it over 2. That makes Mum really happy and the floors much cleaner!
Q-tips to keep in several areas so when Mum needs some they are handy in the room she needs them in. Batteries for the smoke alarms in each of the play areas, 6 of them needed new batteries and were hanging open waiting for replacements.
Magic sponges galore, she does not use them on anything we eat or drink out of or take our treats or ferretone off of. Mum says if it will take the color out of leather it is not safe to get in our little bodies but she can use it on the trays under our poo pans and the poo pans when they are stained. The 5 ml medicine droppers are on order they will be here after Christmas.
When all was opened and recorded, Mum got a picture of Miss EB being silly, Mum and Miss EB get silly a lot when they are together!
Thank you so much for helpen us fur kids make Mum smile for her birthday and Christmas we love each and every one of you!
Sarah and Daisy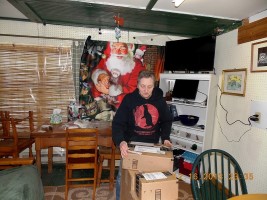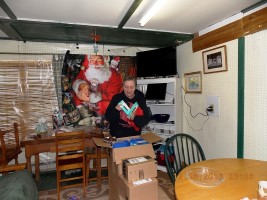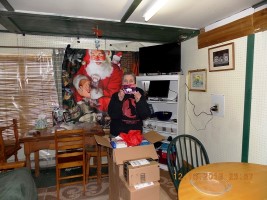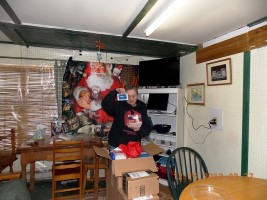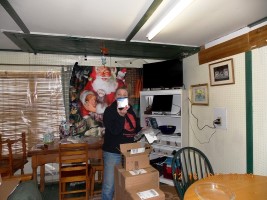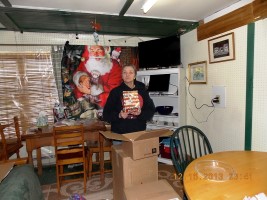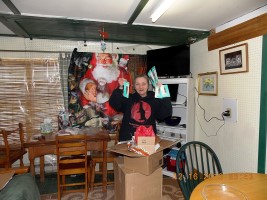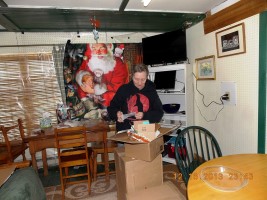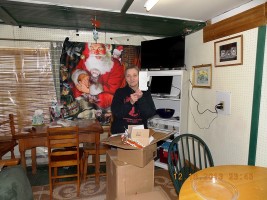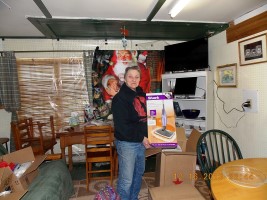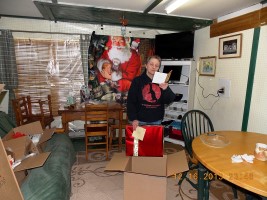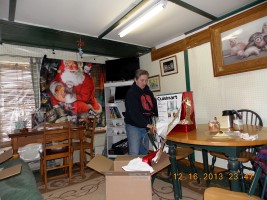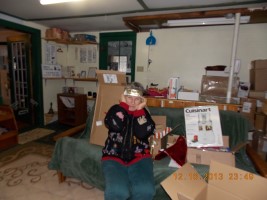 December 14, 2013:
Hey cyber friends, our favorite doc's birthday is Sunday December 15th, he and Mum share their birthday on the same day. Mum is 2 yrs older than Our Favorite Doc so take a look what Mum ordered for him to share with the crew at his work! Miss Donna Z made sure it happened for us! Thanks Miss Donna!
Sarah and Daisy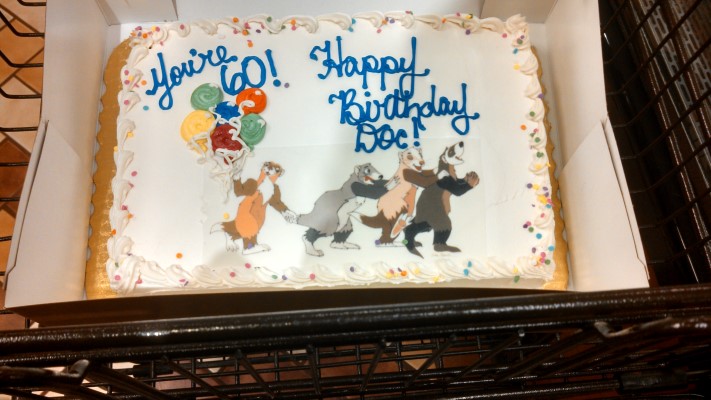 September 20, 2013:
Many of you contacted Mum asking her about the outbreak of distemper in the Chicago shelter.
Here is an article for you to learn more about the disease and how devastating it is to us furkids. Vaccinations are what keep us safe PLEASE vaccinate your fur kids!
Keep us happy and healthy by seeing your vet regularly.
Sarah and Daisy
September 20, 2013:
Well POO, ya know how Daisy and me said in our September news it was wild around here? Well it has gotten even wilder and now we have some sad sad news to report.
Due to many circumstances beyond our (Mum's really) control the Christmas in October Even has been canceled.
Mum, Miss Wendy and the LFFR/S board all agree there are far too many factors that would make going forward with this event a hardship on us fur kids. Mum says WE come first and going forward with CIO would make it hard for Mum to keep us as her top priority.
THEREFORE, the Christmas in October is not going to happen this year but Mum says they are shooting for next year to make it happen.

We are sorry if this disappoints you but Mum says she needs to be true to her word and us fur kids and if she went forward with the event, she would not be.
&nbspThanks in advance, for your understandingÖ Hey Daisy don't we sound smart in this report?
Sarah and Daisy
August 10, 2013:
Hey shelter friends you have another chance to vote for our shelter here is the link, the challenge starts Monday 8/12/13!

Shelter Challenge
Thanks in advance for your vote
Daisy and Sarah
August 07, 2013:
Hey Cyber friends Daisy and Sarah here Mum asked us to connect with you to see if you can help.
Mum has this new project going; she and our volunteers are turning the store into an activity center for our shelter. There is a very big window out there that Mum wants to cover but before she spends money on bamboo shades she was wondering if maybe someone out there in cyber land has one or 2 or 3 -
The reason she is asking is because one day she was telling another bus driver she was going to order a bamboo shade to use between our enrichment room and the kitchen to keep the cold air in our room for us, and he told her he had one in the attic we could have.
SOOOOOOOOO we figured we would ask before we spend money if you can help great if not that is good too we just want to recycle if we can.
Thanks for helpen Mum take care of us and helpen us take care of our Mum!
Daisy and Sarah shelter news kids


Update:
Have Daisy and I told you lately YOU GUYS ROCK? Well you do, our shout out this morning found us some bamboo shades; they are coming from Miss Ili.
Miss Ili was here today helpen and we heard her tell Mum (our digs are strategically set so we get to see and hear everything that goes on in the shelter) Miss Ili has 2 large bamboo shades she bought but is not using so she will be bringing them to us to use in our new activity center.
Once again you come through with what we need and we get to recycle it for use here at the shelter!
Thank you all for all you do to help our Mum take care of us! Thanks Miss Ili.
Sarah and Daisy
July 18, 2013:
Good day cyber friends, Snowy Bowie here for your entertainment! Well actually it is more for your information. Daisy and Sarah are letting me do this email because I begged and pleaded to do so, they said yes but with concessions.
See MY far away mom Lauri is in Naples visiting me and Mum, well the other shelter kids too but mostly because of me my far away mom came all the way from Minnesota to visit us.
The concession is I had to allow my far away mom time away from me to be interviewed by the girls. I wanted you to know all this because Mum is staying busy keeping up with shelter duties and trying to get far away mom out and about to see things here in Naples.
Mum told me to tell you she will catch you all up on the week when my far away mom Lauri after Mum gets her on the plane to head home.

TaTa for now
Snowy Bowie loved by his far away mom Lauri
June 22, 2013:
Hey Cyber friends! Daisy and I need your help so we can help Miss Sue B please read below what is going on.

The Mountain is releasing some of their designs on other clothing like tanks and sweatshirts and I contacted Mike to see if ferret will be one of them. He said it was a sales decision. Sooooo if you can get some of your contacts who may be on Facebook to simply want this design to go on other mediums, the push might convince the sales team to add ferret to that lineup.
So can ya spread the word? Just have them go to The Mountain's Facebook page and post there.

Let's get the attention of this company.
Mum told us to give you the link to their web page because she has no idea how to tell us how to get you to their Facebook page. We need to get Miss Sheilla to teach Mum how to do that stuff.
Anyway thanks for helping us help Miss Sue
Daisy and Sarah
June 8, 2013:
Whoop-dee-doo waving the flag of honor to Miss Mary B the winner of the Rodent Pro $50.00 certificate!
We are up to our ears in poopy pick up papers; well actually up to Mumís ears is more like it! You humans did it again we ask, you deliver! Once Mum gets them all put away she will get pictures for you. More came in clinic day so she needs to find room for them.
Mum says we are swimming in paper towels and napkins! Thank you for all you do to help our mum take care of us!
Far away or across town you are there when we need your help, you guys rock!
Thank you,
Sarah and Daisy
June 5, 2013:
This was taken from the Ferret Mailing List (FML) we wanted to pass it on to you; to keep you informed about the positives of ferrets and what is going on around the world. Our shelter is going to be a part of a new kick off grant program that has been developed. June 8th is our clinic day one of the traveling "plush" guys will be joining us and watching over our Favorite Doc as he does vaccines and check ups.
As more information comes in we will share it with you.
Shelter Mum Brenda

Subject: Facebook Emergency Canine Distemper Medical Fund - Part 1

We want to make readers aware of an international Emergency Canine Distemper Medical Fund that has been established to help any ferret shelter that may be stricken in the future by CD. It was established by an international group on Facebook. The fund was established by a group following an outbreak of CD in the UK in the fall of 2011. After an inauspicious start, the group restructured in October 2012 and was re-named "Xavier -- a Ferret Abroad." The Ferret Association of Connecticut now acts as the fiscal sponsor ensuring assets are protected and accounted for and are earmarked as "restricted funds" by FACT.

Since the restructure, the group has paid off a large vet bill from that outbreak, has created the emergency fund, and is now ready to start providing small grants to shelters for CD vaccination clinics.

We hope to never need to use the emergency fund. But as any shelter like FACT knows who had CD, when you are hit with it, you need access to cash immediately: for booster vaccinations and supportive therapy.
As we ALL know, too many of our ferret shelters operate on a shoestring and do not have any resources immediately available to them to deal with an outbreak or the after effects. The ferret community can help but by the time the word gets out and funds accumulated, it is often too late for the ferrets affected.

------------------------------
Subject: Facebook Emergency Canine Distemper Medical Fund - Part 2

We want shelters to have a source to access funds immediately for those expenses. No shelter should have to face a huge debt on top of the crushing losses due to an outbreak of a disease as emotionally devastating as canine distemper.

We raise funds by folks sponsoring one of our traveling "plush" ferrets located in one of our 3 regions (UK/Europe, US/Canada, Australia/Oceania) and post images of their adventures to the group.

If you are a member of Facebook, we urge you to join the group! It's fun and you do not have to donate to participate.
Tomorrow I will provide information on the CD Vaccination clinic grant program which we hope will be of more immediate and positive value to everyone. Ann Gruden
May 23, 2013:
Researchers Find Bird Flu Is Contagious Among Ferrets: Shots - Health News: NPR
This was passed on to us from Our Favorite Doc. Edwards we are passing it on to you.
Interesting, eh?
May 1, 2013:
Extra! Extra read all about it! Hey cyber friends a gentle reminder that clinic day is just 2 weeks away >>> June 8th
If you are going to join us for fun and comradery no need to do anything special, a dish to pass for our picnic would be nice. Hot dogs and soda provided. Miss Wendy will be here with her camera to capture all the activities and goings on. Miss Mary will be here to entertain you with her antics while doing the auction for us.
However if you are bringing your fur kid(s) to see Our Favorite Doc a registration form is needed with $25.00 deposit this needs to be in Mum's hands by May 31st so she can let Doc know how many hurt sticks he needs to bring with him. It is hard to believe that we have been hosting this event for 16yrs and every year it gets bigger and better!
We look forward to seeing you please come join the fun. My far away mom is going to be here to take me out for the day so I can take notes and keep track of what needs to be in our June news.
Please remember registration forms for Doc need to be in Mumís hands with deposit by May 31st 2013.
Look forward to seeing you in two weeks
Daisy and Sarah
May 1, 2013:
Hey cyber friends, Daisy and I need your help again!
We are getting extremely low on paper products, to be exact paper towels and napkins; Mum uses these to pick up our landmines (poopies) so we want to offer you a chance to win a $50.00 gift certificate from RodentPro.
The drawing for this certificate will be Clinic Day June 8th 2013. No need to be present for the drawing but we would love for you to join us if you can!

Package of 200 count napkins = 1 ticket
2 = 200 count = 2 tickets
3 = 300 count = 3 tickets

A package of 3 rolls of paper towels = 1 ticket
6 rolls = 2 tickets
9 rolls = 3 tickets and so on >>>>>>>

If you would rather send $ for the equivalent so Mum can buy them we will send you tickets for the amount she can buy with your donation. You will find our PayPal button on the front page of our Web site.
Mum does not have any real preference on brand; we just go though a lot of both, she says it is our fault we are little pooping machines.
Thanks in advance for your help!
Good luck!
Sarah and Daisy
April 23, 2013:
Okay Miss Brie, Sarah here, we thought after we pointed out the last mistake you made as secretary that you would get your act together! This is soooooo NOT COOL to send out the VIN with all email addresses exposed for everyone to see. You keep this up you're gonna get fired from the secretary's job!
Oh Sarah you do not fire volunteers, so get a grip and stop picking on Miss Brie, sending the news out is all new to Miss Brie, she is allowed a learning curve even if she is using up that allowable curve a lot lately!
Sarah and I are sending our sincere apology for this address mistake on the news this month, Miss Brie has already set up a system so this does not happen again.
We hope you will forgive Miss Brie for this grievous mistake.
Many giggles from the perfect news reporters at the LFFR/S,
Sarah and Daisy
March 23, 2013:
Sarah and Daisy know you are probably getting tired of our intrusion into your emails but we had this idea, well it was Miss Brie's idea but we decided to steal it from her; you know the ferret property laws, it's our idea now!
Anyway here's the idea: we are going to do interviews with the humans that help Mum take care of us, on site and off! We are going to start with Miss Brie because she is the cause of us losing our cyber shelter friends! We thought we would start with her so she could help us fix the misunderstanding that caused us too loose some of our cyber friends.

Sarah: Miss Brie, you're the board secretary. What do you do?

Miss Brie: Well, I take care of organizing the board meetings, updating our contact lists, and making sure that all the board members are in the loop, that kind of stuff.

Daisy: OH!!! So you're the reason Mum's so worried about losing our friends!....We heard her talking about how people would see "Volunteer Registration" on the recent form and think that since they aren't nearby they won't be able to keep getting our news!! Why are you trying to get rid of our cyber shelter friends? Not much of a secretary if you ask me...grumble, grumble....

Miss Brie: Ah, yes, uh that is rather embarrassing. I was so preoccupied when writing that I chose some poor words to describe the form correctly. Now that I think back I probably should have titled it "Mailing List/Contact Registration" or something close to that at least. But I didn't think about it since I consider all of our friends to be volunteers, whether they read the newsletter or come to help out at the shelter. I guess in my eyes it doesn't matter what they're doing. As long as our friends have a relationship with us, no matter what kind, they're volunteers. Don't get me wrong, I will absolutely consider my choice of words much more carefully from now on!

Sarah: Well....alright, we can accept that. Just be careful and don't go losing our shelter friends due to a poor choice in words! Ah, Mum's calling us. Guess we'll have to finish this interview another time.

HEY, email friends, send in those contact forms AKA Volunteer Registration forms. Don't miss out on our Ferret Farm good news! If you don't have them any more email Miss Brie at lakeroadferretfarm@gmail.com and she will get another out to you!
Me and Daisy are extending the dead line until April 7th just to cover Miss Brie''s tail.
We hope you understand that Miss Brie is human and humans are NO where near as perfect as we fur kids are.

Happy reading
Sarah and Daisy
March 20, 2013:
Good Morning Cyber friends, this came in off the FML - Mum personally knows this shelter Mum and when she saw she needed some help, no monetary cost just a minute of your time to vote for her site.
See below her call for help, thanks in advance Sarah and Daisy


Date: Tue, 19 Mar 2013 14:33:21 -0400
From: Randy FerretAid
Subject: Ferret Aid Society needs help

Hello fellow ferret lovers! It's been a VERY long time since I've written and an even longer time since I've asked for your help and support. Many things have gone on with our shelter over the last few years, many of which had a lot to do with a mysterious illness I have been dealing with for almost 3 years now. It's been a little hellish but I have been blessed to have the terrific volunteers that I do who have filled my shoes the best that they can.

I am so sorry I have been out of touch with all of you, my dear friends who have been there for me during the last 18+ years the shelter has been with me. I am calling on you again now to help me with something that would mean a LOT to my shelter and to my hard working volunteers.

We have been nominated as on of Canada's Worst Charity web sites. I know, sad right LOL??? WELL, as a finalist of 12 of the worst of the worst, we have a chance to get a free web site make over and this is where I need your help. The winner is decided by voting and I'm asking you all to vote for us please. You can vote daily so I will pop into the FML on occasion to ask you to please remember for us. I ask that you get your friends and family to vote too. If there is one thing I know about the community on the FML, we have always been great pulling together for the same cause and I'm hoping you will all do that for our shelter now.

Please go to www.WorstCharityWebsite.ca and vote for our shelter.
Again, please vote daily and encourage anyone you know to help too.
You guys have always been so awesome and I know you'll do great helping us now.

Love you all!!!
Randy Belair
www.ferretaid.org
March 2, 2013:
Our stamp campaign was a huge success! Mum told us that we received 22 sheets of stamps. Miss Tori pulled the winning ticket for us, Mum says we make too much of a mess when we do it.
<<<<<<<<< The winner is Jim C, in Getzville NY! Congratulations Mr Jim! >>>>>>>>>>>>>>>>
Mum says this means we fur kids can continue to send thank you cards to all the folks that help Mum take care of us, saving Mum enough money to buy us 2 - 50# bags of Totally Ferret Food and you know how we love food!
We are the luckiest fur kids in the world, thank you for making our stamp campaign such a success!
YOU GUYS ROCK!
Daisy and Sarah News Reporters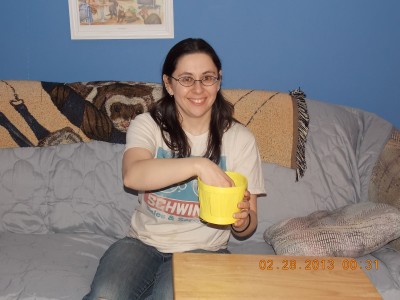 February 10, 2013:
Mum just got word about this auction site; we asked her if we could share it with you. Mum was agreeable so here are the links, 100% of the proceeds go directly to the "Featured" Shelters Veterinary Acc't.
We thought this was a pretty cool idea - Sarah and Daisy

List of items up for auction here.
Clause for Organization: USS Prezzies in Da Pawz.
February 10, 2013:
Hello out there in cyber land, Daisy and Sarah dropping in to say hi and give you some updated information on our postage stamp campaign. Several folks sent Mum a sheet of stamps and said they did not want Mum to give them a ticket to win the shirt. They told Mum it was either too big or too small. We have a great idea to help you help more then our Shelter in this campaign.
For each sheet of stamps you get a ticket, if you are not interested in the ticket to win the "Solo Face", the newest design by Sue Burda; Mum will put the ticket in the jar anyway, if YOU win she will donate the shirt to SOS in your name for their next raffle.
Daisy and I thought this up all by ourselves, isnít this a great way to help more than just our shelter?
Thanks for all you to do help Mum take care of us!
Sarah and Daisy
February 4, 2013:
HELLO out there in cyber land! Daisy and I have this really cool idea to run by you.
Mum is getting low on the stamps she bought so we fur kids can send out our thank you notes to all the special folks that help Mum take care of us. We were thinking we would like to do a raffle, and also help Miss Sue get the word out about her newest greatest ferret design she has on the market "Solo Face." Here is your chance to own one of these special shirts; we have 1 adult XL and 1 youth M design by Sue Burda.
If you send 1 sheet of 20 stamps to Mum you will get 1 ticket for your choice of shirt - each additional sheet will get an additional ticket - PO Box 698 Naples NY 14512
The Raffle starts now and ends February 28th!
Good Luck, and thanks for helpen Mum take care of us!
- Sarah and Daisy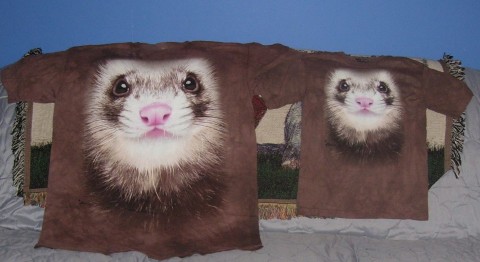 January 6, 2013:
Man oh man our shelter friends ROCK! We have had many responses about our request for a copier, scanner, and printer.
We have one coming so we are all set to go! Mum sits here shaking her head at the responses we get when we need help. To say we are blessed is an understatement; we have the most awesome support crew in the country! Many of you are afar and still you respond to our needs. Mum says YOU make it easy for her to take care of us because YOU make things happen when we need it!
Thank You, thank you, thank you, thank you! Thank You, thank you, thank you, thank you! Thank You, thank you, thank you, thank you!
- Sarah and Daisy, Shelter Reporters
January 5, 2013:
Mum needs some help, see our Kodak all in one printer, scanner and copier died, she was out looking about to find a replacement and Daisy and I started to jump up and down to get her attention, well Daisy mostly because that girl has goat blood in her!
Anyway here is the deal, we want to know if anyone has such a beast hanging around collecting dust, Mum is more than willing to recycle used items into our daily lives and not spend money on something new if we do not have to. So if you have something that will do the trick and you would like to get that beast and the dust it is collecting out of your house let me and Daisy know and we will tell Mum.
Thanks for your attention, you can stop jumping up and down now Daisy the email is on its way out to the folks. Sheeesh she makes me dizzy with all her jumping and climbing.
Many thanks in advance
Sarah